I could feel a chill run down my spine as I walked through the corridors of J-Ward, a former gaol (jail), later transformed to J- Ward lunatic asylum for the criminally insane.
Nestled in the small town of Ararat in Victoria Australia, J-Ward closed in 1991, and many former employees and past patients still live nearby.
Our guide was John, a man who had grown up in Ararat and who has heard the stories first-hand.
As we walked, he pointed out details, paraphernalia, and unmarked graves, while he told stories that left me both mesmerised and horrified.
It is these stories that make the tour so fascinating.
A brief history of J-Ward
It opened in 1859 as a goldfield prison. However, when the gold ran out, the miners moved on.
Then, the Lunacy Department of the nearby Aradale Asylum acquired the building. It became the hospital's ward (J-ward) for the worst and most dangerous men in the state of Victoria.
J-Ward inmates were:
Convicted murderers
Accused of murder
Too violent to be in a normal prison
Sentenced in Victoria and became insane while in prison
J-Ward newer wing
We started in the newer wing, and as desolate and lonely as it appeared, it was only going to get worse as our tour progressed.
First, we entered a typical patient room in the newer wing. The carpeted room held a bed, blanket, pillow, and a chamber pot.
The downside to the nurses, they often needed to take caution when entering in the morning for fear of a "flying chamber pot."
In contrast, a special mattress and pillow sat on the floor of the uncarpeted room of patients on suicide watch.
All patients who died in this asylum were autopsied on-premises.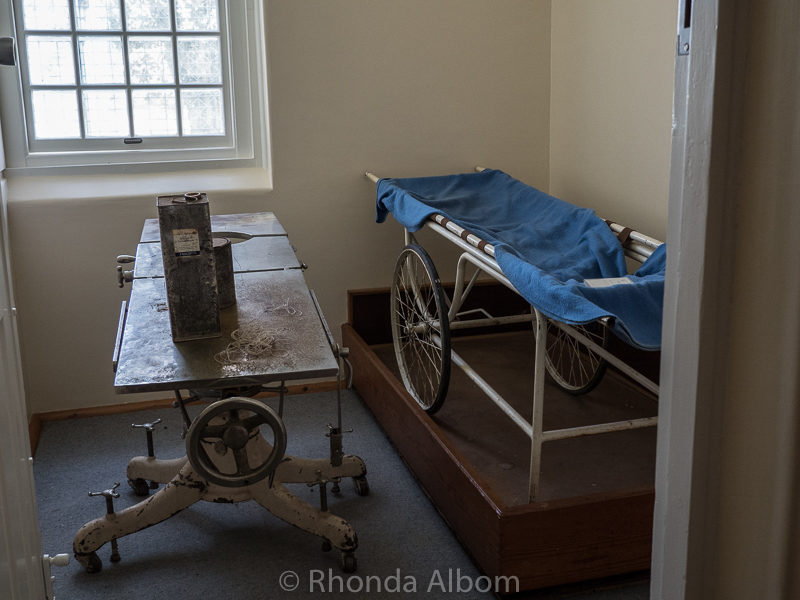 J-Ward's original cell block
Next, we entered the original cell block, converted from the old prison.
The original cell block contains similar cells on two levels.
Gallows hauntingly hang at the top of the stairs, although they were used only when it was a prison, not when it was a hospital for the criminally insane.
It was at this point that I began to wonder if I should have waited until evening and taken the ghost tour.
As our tour continued, he showed us a straight jacket and restraints. Patients were often kept in these for extended periods of time. Therefore, hands were restrained at their sides rather than crossing the body.
There was also a demonstration of electroshock therapy in one of the cells. However, rumours tell us that this treatment took place out in the centre of the ward, where the others could see.
The oldest areas
And if the above wasn't bad enough, he took us into the original kitchen and then showed us the patient bathtub.
J-Ward courtyard
There were two parts to the courtyard, which people from outside could see, and where the patients had access. Needless to say, one was nicer than the other.
This first building was the single man's quarters. This is where the guards and nurses lived. Married staff lived in the next building to the right.
On the opposite side of the courtyard was the governor's house. Neither he nor his family ever needed to enter a courtyard.
Although there was a large main gate, visitors entered through a smaller door and into a lovely courtyard. Visitors never saw what life was really like in the back rooms.
Four watchtowers cornered the courtyard. From here, the guards could look down onto the patient exercise yard. Not that the tower in the photo is rebuilt to original specs.
Patients had no privacy. Even the toilets in the exercise yard were open so patients could always be watched.
Daytime visits to the J-Ward lunatic asylum
J-Ward is easy to find at the end of Girdlestone Street in Ararat, Victoria, Australia
Daily tours are at 10, 11, 1, and 2 pm with additional tours at noon and 3 pm on Sundays and public holidays.
Over 10,000 people visit each year, that's more than the population of Ararat.
Read more about it on their official website.
While in Ararat you might also want to visit Aradale (the asylum) and the Gum San Chinese Heritage Centre.
Is it a haunted insane asylum?
It didn't take much to convince me that this lunatic hospital must be haunted. How can it not be?
If you're brave enough, you can take an evening ghost tour.
Whether it's the stories of notorious prisoners, insane asylum patients, horrific lunatic asylum treatments, or the supernatural events that occurred here, your guide will have you suspiciously looking over your shoulder.
The minimum age to join the J-Ward 2-hour ghost tour is 12. Check for discounts and reserve your J-Ward Asylum Ghost Tour here
Want more?

Don't miss the 2-hour ghost tour at the nearby Aradale, the main lunatic asylum in the region. (Remember, J-Ward was for the worst of the criminals). Claiming to be one of the best ghost tours in the world, you may be able to get a discount and reserve your spot on an Aradale ghost tour.)
We stopped in Ararat on the return loop from Melbourne along the stunning Great Ocean Road.
Save on your Australia trip with these resources
These are our go-to companies when we travel. We believe this list to be the best in each category. You can't go wrong using them on your trip too.
Flights: we use Expedia for the best and cheapest flight options.
Accommodations: we use Booking.com (hotels) or VRBO (self-contained).
Cars (gas or electric): we use RentalCars to search for deals and dealer ratings.
Campervans or Motorhomes: we use Campstar where Albom Adventures readers get a 3% discount
Activity discounts: we check Bookme.com for discounts of up to 70% on activities.
Private guides: we love the private guides at Tours by Locals
Travel Insurance: we start at InsureMyTrip as they are the best option to compare plans and find the right coverage for you.
Check out our travel resources page for more companies that we use when you travel.
Save for later
If you enjoyed this article, please share it on social media and save it for later on Pinterest.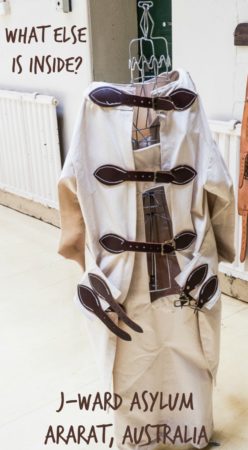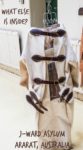 Had you heard of J-Ward before today? Will you visit if you find yourself in Ararat?

Disclaimer: We were provided with a complimentary tour of J-Ward for the purpose of this review. However, the opinions expressed here are strictly my own.