Melbourne is one of my favourite cities for a romantic getaway. Australia's second-largest city has a small-town charm. From relaxing in a laneway cafe to discovering outrageous street art, there are seemingly endless fun things to do in Melbourne for couples.
It's a city that holds a special place in my heart as years ago it became the first place Jeff and I travelled to without our kids. Since then, we have been back three more times.
Melbourne is a city to explore, filled with interesting history, a beautiful river and inland landscapes, and, we have to admit that an overwhelming proportion of our fun things to do in Melbourne for couples revolve around food or drink.
Fun things to do in Melbourne for couples: coffee, tea, and dessert
There is a definite coffee culture in Melbourne, just waiting to be explored by everyone who visits.
Enjoy the Melbourne coffee culture
Laneways are one of the things that make Melbourne special. Where other cities use alleyways for rubbish collection, car parking, or nefarious activities, Melbourne has built an entire coffee culture along them. Tables line the laneways, and cafes offer coffee, tea, snacks and meals, most often breakfast and lunch.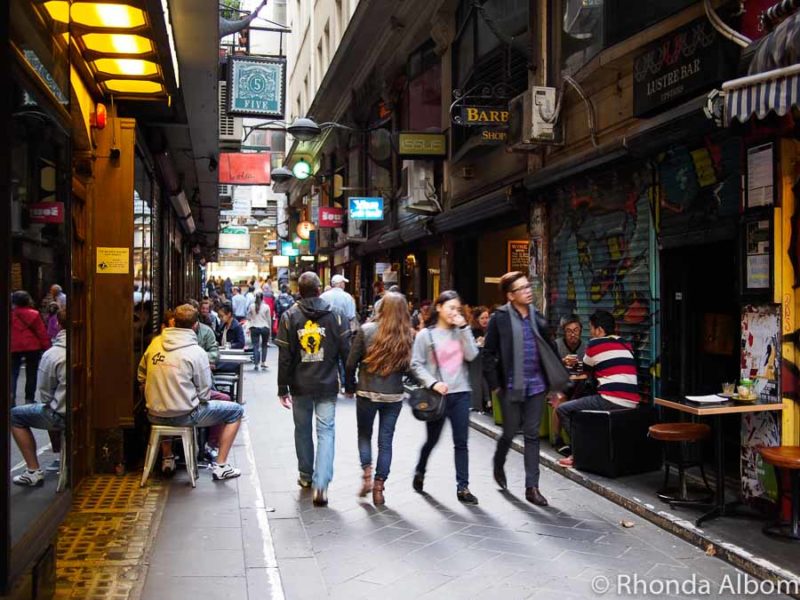 Spoil yourself on a chocolate tour
The only thing better than coffee is chocolate (although, first thing in the morning, coffee will win out). One of the more fun tours in Melbourne is the 2.5-hour Chocolate Wonderland Walking tour that teaches chocolate-tasting techniques, samples 10 chocolates, and concludes with an indulgent afternoon tea.
If that's not enough, you walk away with a tasting bag and an "I'm a chocoholic" badge. The tour is available on Wednesday, Friday, Saturday, and Sunday. ⇒ Reserve your Chocolate Wonderland Walking tour here
Trending on Albom Adventures
Become mesmerized at Hopetoun, an old-world tea room
The allure of a display cabinet filled with decadent cakes pulled me in as we attempted to pass the Hopetoun Tea Rooms in the Block Arcade. Whispering out of fear of waking from this sweet dream, I was barely audible as I asked for a table. Eventually, I looked around the room and discovered its most striking feature, an original mirror from the late 1800s when the tea rooms were first set up for the Victorian Ladies Work Association.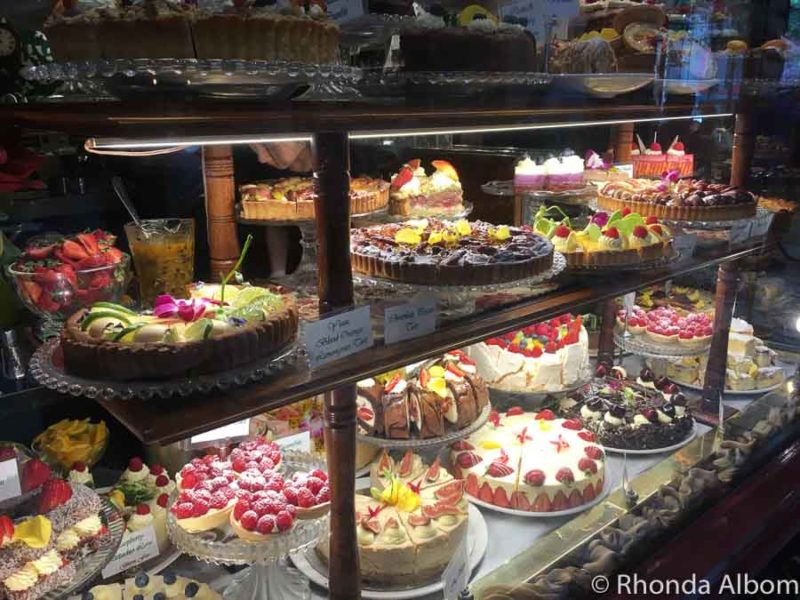 Treat yourself to a traditional Wedgewood high tea
If it's a more traditional high tea you desire, there is none better than the elegant and exquisite Langham Afternoon Tea with Wedgwood. Welcomed with a glass of sparkling Yarra Valley wine, the day's stress melted away even before we were offered an extensive tea menu.
The tea sommelier guided us to find the perfect tea, a skill acquired from successfully completing an 8-hour Wedgwood training course, and marked by a special Wedgwood ceramic broach that she wore. Our delicious savoury and sweet treats were served on traditional three-tiered cake plates. The Wedgwood china featuring the Langham rose added a touch of sophistication.
Of course, Langham successfully accommodated our dietary requirements.
Have dessert in St. Kilda, and then watch the penguins come home
On a prior trip, we headed to St. Kilda, where we found one cake shop after the next, each tempting us with a huge variety of sweets.
Of course, we indulged, and just after the sunset, we headed to the pier where hundreds of penguins used to sleep for the night. We have been told that today, penguins are a rare sighting. We've also heard St. Kilda is a "wild" and fun place to go at night.
Fun things to do in Melbourne for couples: explore the city
Discover impressive street art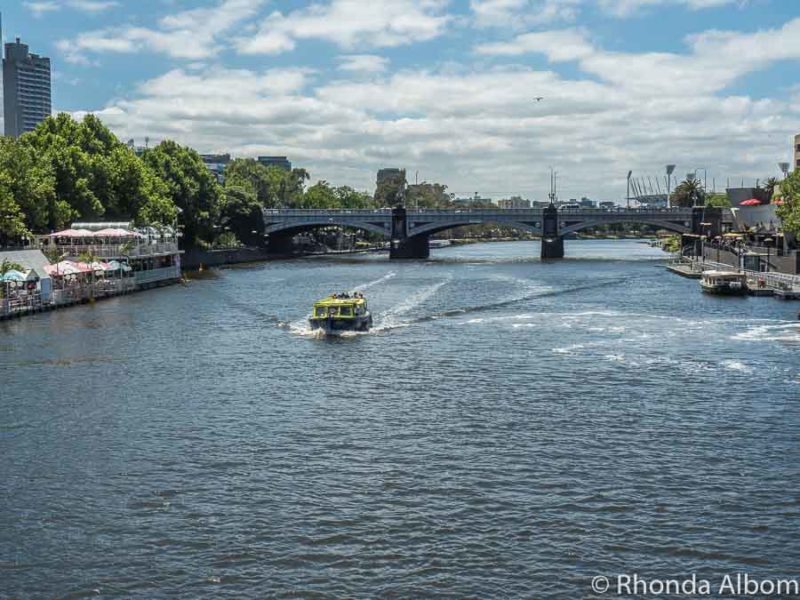 Melbourne is world renowned for its colourful street art ranging from the lifelike art of Matt Adnate to graffiti. It is found on "approved outdoor locations" throughout the city. We opted to get a free street art map from the Melbourne information site and discover Melbourne's eclectic mix of street art on our own. At one point in our self-discovery, we met up with a tour and realized how much background information we were missing. ⇒ Click for our recommended street art tour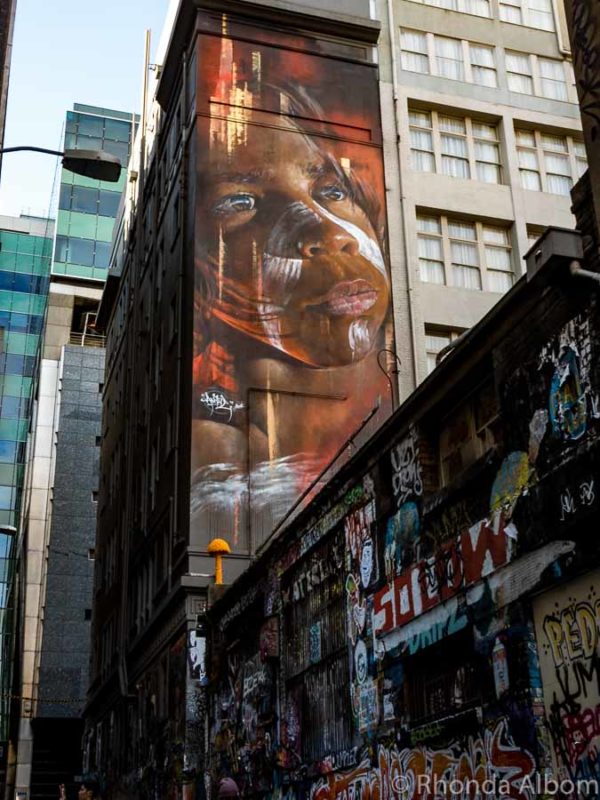 Be haunted at the Old Melbourne Gaol (jail)
Everyone has a different definition of romance. If a gaol is your idea of fun, then the Old Melbourne Gaol might be just the perfect choice. It's a fascinating place occupied now only by the ghosts of the 135 people hung there between 1842 and 1929. Some of the most notorious include bushranger Ned Kelly and serial killer Frederick Bailey Deeming. ⇒ Reserve your ticket in advance here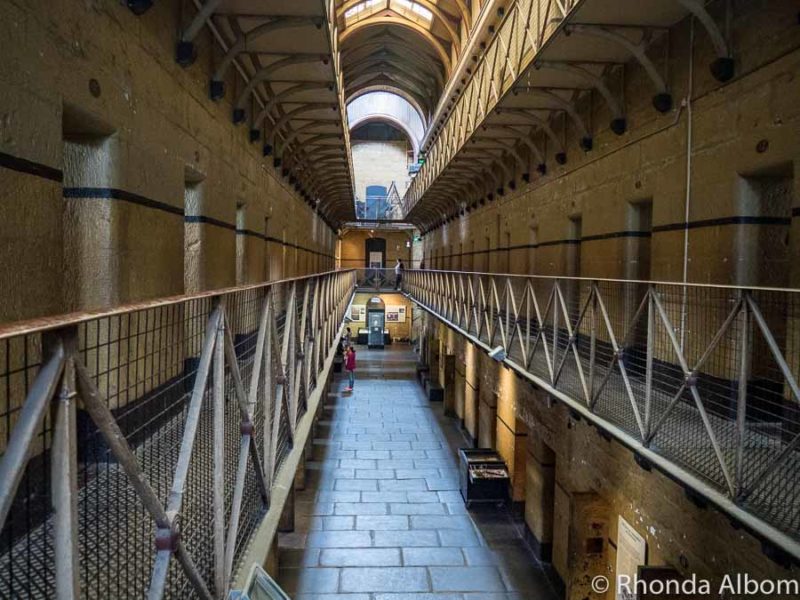 If a gaol ghost tour is more your speed, we have heard that Pentridge Prison is the place to go. Home to the last man executed in Australia, the prison is about 8 km north of the Old Melbourne Gaol. Opened in 1850, it took over as the main prison in 1929, finally closing in 1997. Here the ghosts of 44 bodies buried onsite will have you shaking in fear and cuddled in your partner's arms.
⇒ Book the ghost tour early so you don't miss out
More romantic things to do in Melbourne
We will admit that we are not the most romantic couple out there. We just like spending time together, strolling hand in hand while exploring and discovering. Here are a few of the unique things to do in Melbourne for couples, or really anyone.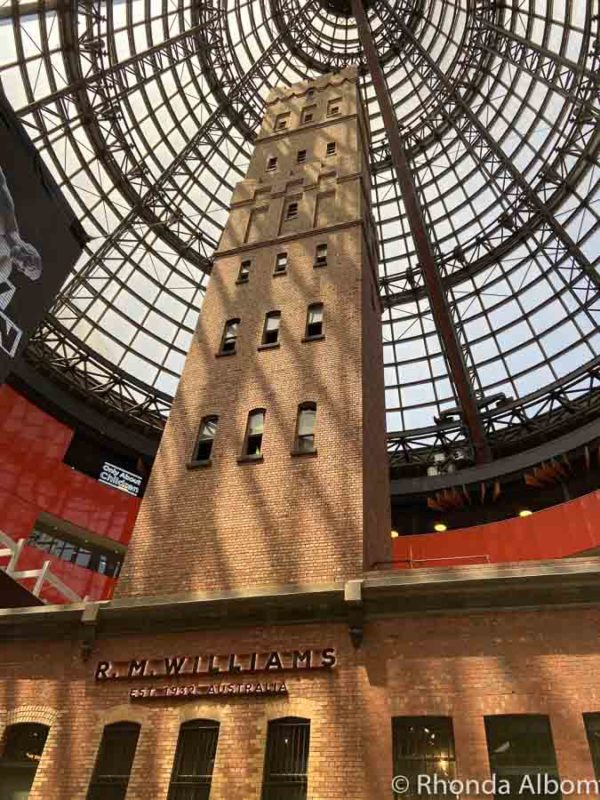 Fun things to do in Melbourne for couples: rejuvenate
After a day of city and laneway exploration, way too much tea and coffee, and overindulgence in sweets, I need a siesta before I can head out for the evening. (No, I don't do all of the above on the same day!) For me, this means heading back to our Southbank hotel for a quick dip in the pool, a rest, and a shower, and I am ready to go.
It's all about where to stay in Melbourne – and for me, that's the Langham
If relaxing in pure luxury is your type of getaway, then the Langham Melbourne is it. It's all in the attitude, "relax Mrs Albom, let us take care of it for you." And they do. From handling the luggage on arrival to turn down bed service, no detail is missed. Even the flowers are freshened daily.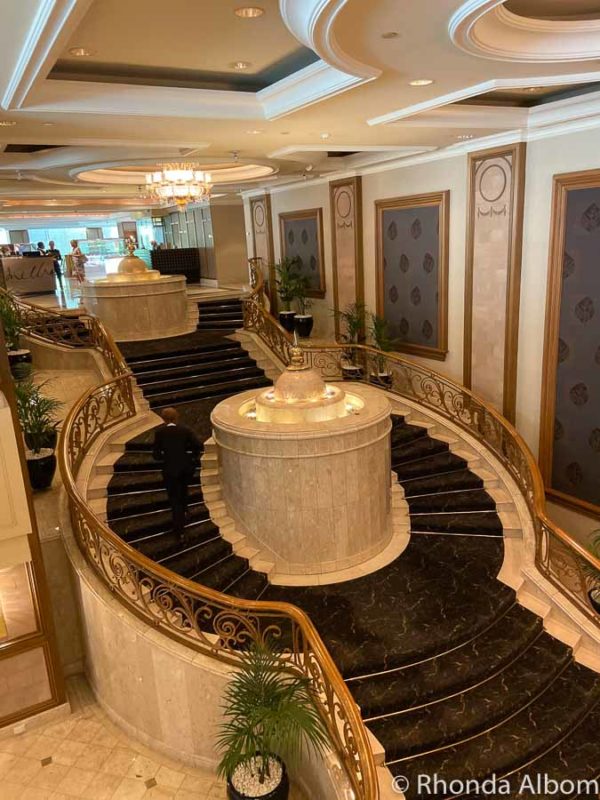 Our deluxe river corner room's sophisticated decor fought for our attention with the spectacular views of the Yarra River from our massive windows. Langham is well known for comfortable beds, and our night's sleep was refreshing, as was our stay with Langham in Hong Kong.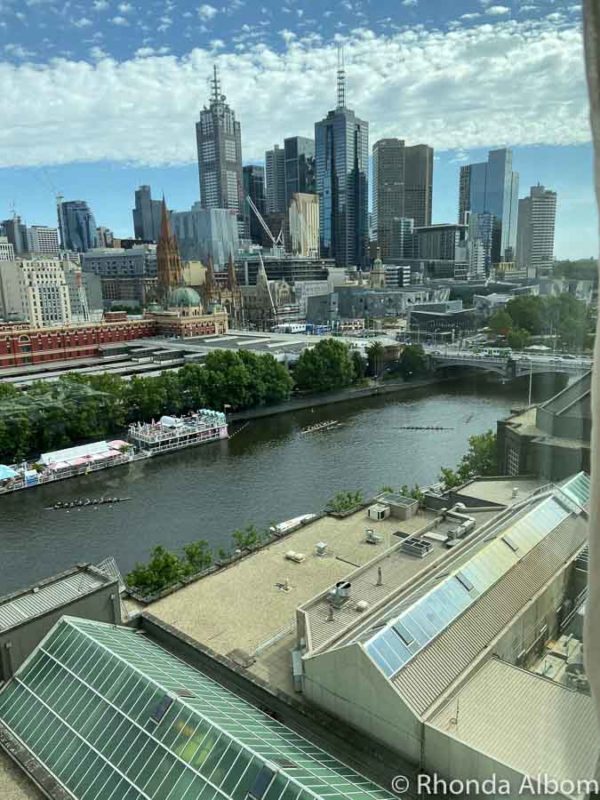 ⇒ Click here to book your stay at Langham
Langham executive club
Club access meant breakfast on the 24th floor in the exclusive Langham Club, afternoon tea, pre-dinner drinks with hors d'oeuvres, plus butler services.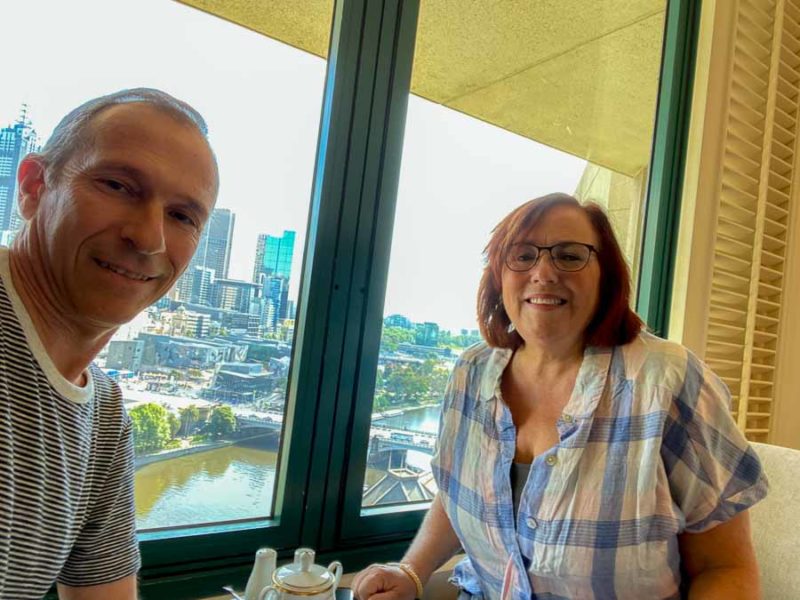 Although we have only been to Melbourne four times, there is no question in my mind that the Langham is the best place to stay. And if you don't want to take my word for it, note that Langham Melbourne was named the number one hotel in Australia and New Zealand in the Condé Nast Readers' Choice Awards 2019. ⇒ Reserve your stay at the Langham here
Fun things to do in Melbourne for couples looking for a romantic night
After a bit of relaxation, we are ready to head out for the evening. However, between the summer heat and the over-indulgence during the days, we found ourselves too tired to enjoy the late nightlife.
Have a drink at a mysterious location
We opted for before-dinner drinks at Di Stasio Città, an Italian restaurant at 45 Spring Street. The oddest thing about Città is the lack of signage, just a clear glass door with a red button to press for entry. Yet, there were no empty tables. Fortunately, there were two bar seats available.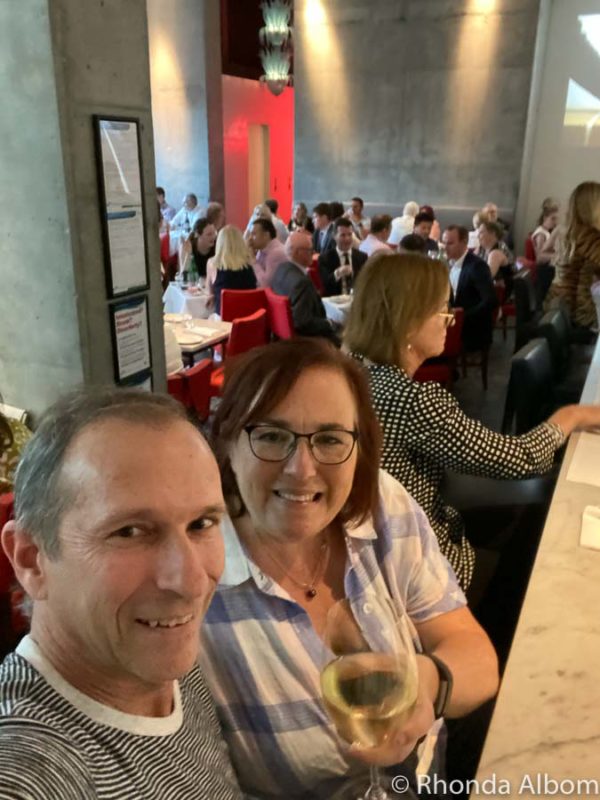 Romantic Dinner at Dainty Sichuan Hot Pot
Instant flashback to our time in the Sichuan province of China, Dainty Sichuan Hot Pot offers a genuine and unique experience. Crowded at dinner, we were taken here by friends for lunch when we had plenty of time to fully enjoy the flavours and the experience.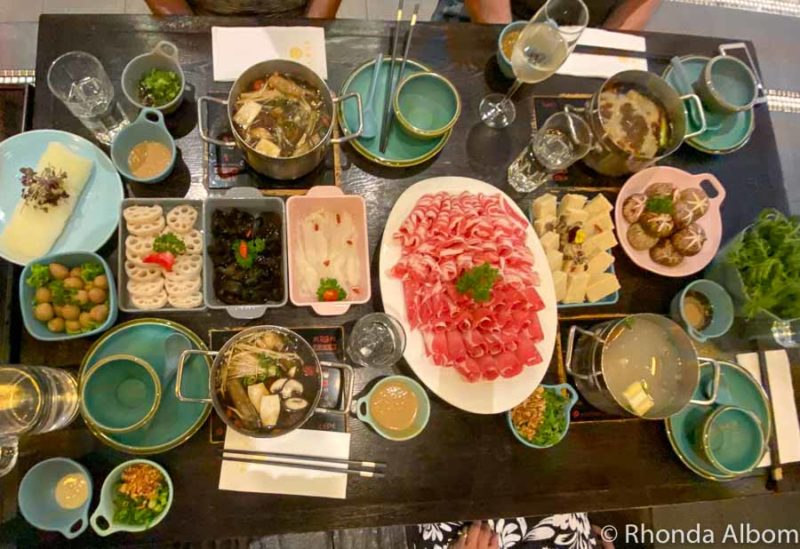 If you're still hungry, check out these great dinner options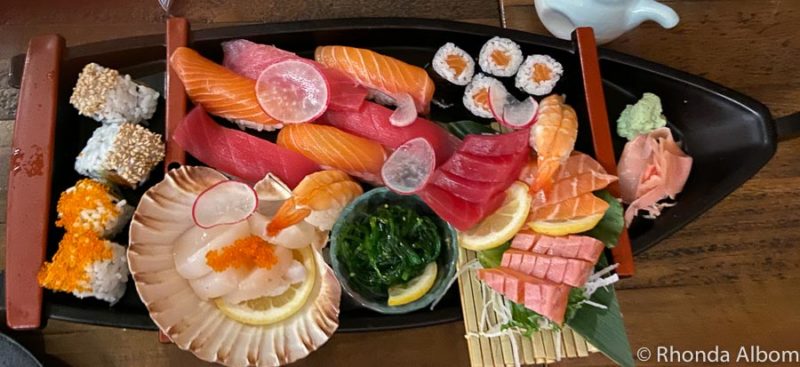 KoiKoi Izakaya Japanese Restaurant in the Northcote neighbourhood.
Black Waffle (also in Northcote) for gluten-free, vegan, and classic waffles, ice cream and other desserts.
Fatto Bar and Cantina in Southbank for Italian food.
Stokehouse in St. Kilda Beach for great views and seafood.
Pontoon St Kilda for beachside bar and eatery.
Gaze at the Melbourne's night sky
We found the Melbourne observatory to be fascinating. We were lucky to have a friend who gave us a private tour, but it was similar to the public options, and one that I would recommend.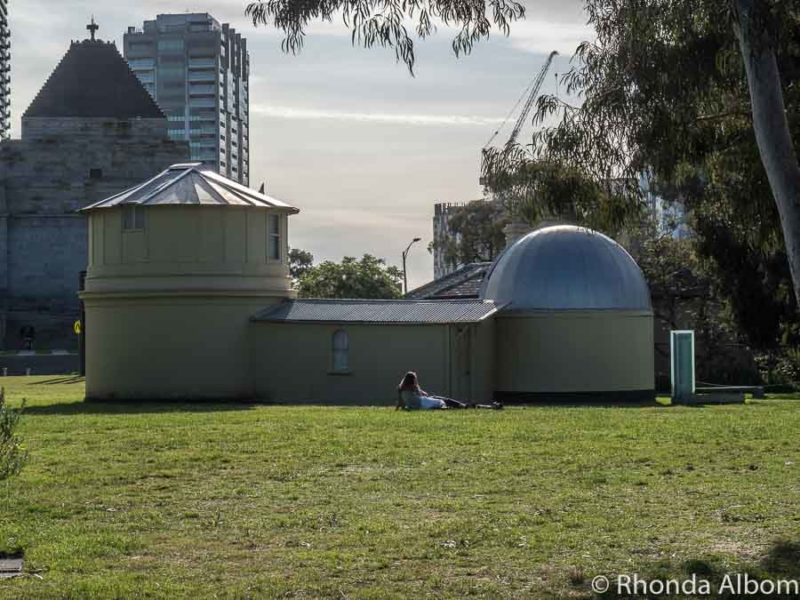 Fun things to do in Melbourne for couples that we haven't tried . . . yet
Add an extra 2 or more days for the Great Ocean Road
Don't miss these highlights of our Great Ocean Road Self Drive
Save on your Australia trip with these resources
These are our go-to companies when we travel. We believe this list to be the best in each category. You can't go wrong using them on your trip too.
Flights: we use Expedia for the best and cheapest flight options.
Accommodations: we use Booking.com (hotels) or VRBO (self-contained).
Cars (gas or electric): we use RentalCars to search for deals and dealer ratings.
Campervans or Motorhomes: we use Campstar where Albom Adventures readers get a 3% discount
Activity discounts: we check Bookme.com for discounts of up to 70% on activities.
Private guides: we love the private guides at Tours by Locals
Travel Insurance: we start at InsureMyTrip as they are the best option to compare plans and find the right coverage for you.
Check out our travel resources page for more companies that we use when you travel.
Save for later
If you enjoyed this article on fun things to do in Melbourne for couples, please share it on social media and save it for later on Pinterest.
Disclaimer: We had a media rate at The Langham Melbourne. However, the opinions expressed here are strictly our own.