Melbourne street art is amongst the best in the world. A mix of world-famous street artists and locals create a dynamic and colourful collection of vibrant laneways and alleys. Add to that an ever-changing and vivid Melbourne graffiti, and you can begin to understand Melbourne's street art culture.
It all fits with Melbourne Australia's diverse, modern, and fun attitude. We visit for relaxation, drinking coffee in laneway cafes, walking the neighbourhoods, shopping, and exploring Melbourne street art.
Australia's second-largest city is internationally known for its colourful and eclectic street art found in "approved outdoor locations" throughout the city.
As street art is fluid, and the wall art is always updating, Many of the images here no longer exist, as they have been painted over.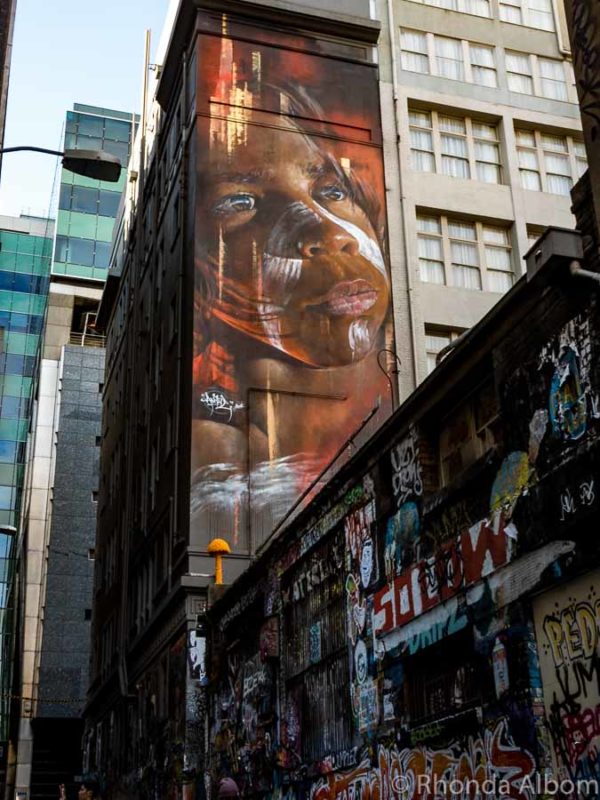 Where to find the best street art in Melbourne
In truth, finding Melbourne street art is often as easy as turning your head as you pass an alleyway or laneway.
However, finding the best street art in Melbourne requires a bit of guidance. If you are like us, stop by any information booth and ask for a Melbourne street art map, or download your own from the city's website and enjoy a self-guided journey.
Melbourne street art tours
However, if you want a more comprehensive understanding of the history, the artists, what's new and what's missing, you will want to take a Melbourne street art tour from a local street artist.
No one would know what it's like better than one who is living it. Plus, the artists tend to know the new and secret works.
We like the look of this walking tour guided by a local street artist. Emersed in the community, the fresh perspective is fun, interesting, and not really available any other way.
It's not a preset route, as the ever-changing world of street art doesn't allow for it. But you will visit the key laneways as well as end with an exclusive studio tour of Blender Studios, where you may meet artists as you enjoy a snack of cheese, wine, and beer. Reserve your street art tour here.
Rutledge Lane and Hosier Lane street art – Melbourne
No question about it, if you only have the time or inclination to visit one of the Melbourne graffiti lanes, Hosier Lane is it.
And as you walk about halfway down the street, you can't miss Rutledge Lane, a Melbourne graffiti alley intersecting Hosier Lane. Ever-changing, and overwhelming, Rutledge Lane was painted over in solid blue in 2013 by street artist Adrian Doyle. Funded by the council, it was an attempt to breathe new life into the graffiti-laden area.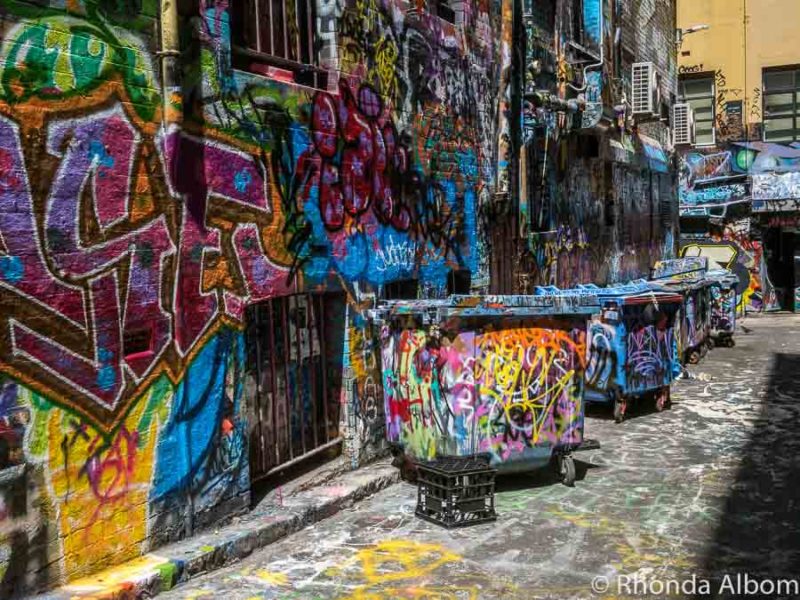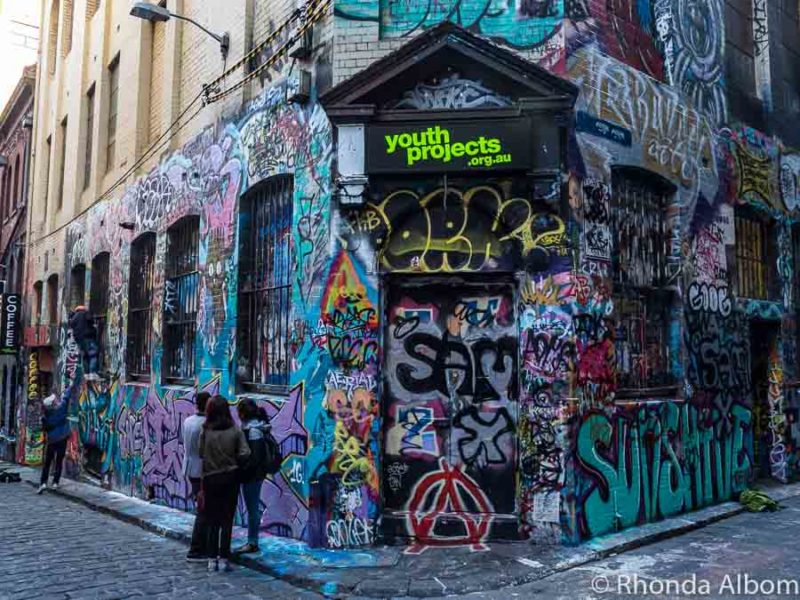 More key Melbourne street art locations
AC/DC Lane
AC/DC Lane is probably most famous for being the former home of five works of Banksy street art (of nine Banksy Melbourne creations that appeared following on a secret visit in 2003). Unfortunately, three were destroyed during construction in 2016 after the first two had been ruined in 2014.
In fact, only two Banksy pieces still remain in Melbourne, and according to the Sydney Morning Herald, there is a push to preserve them.
At one end of AC/DC Lane is an impressive four-storey mural painted by Queensland-based artist Fintan Magee. We also found a tribute to Prince amongst the other interesting art on AC/DC Lane.
Don't miss Duckboard Place, around the corner from AC/DC Lane.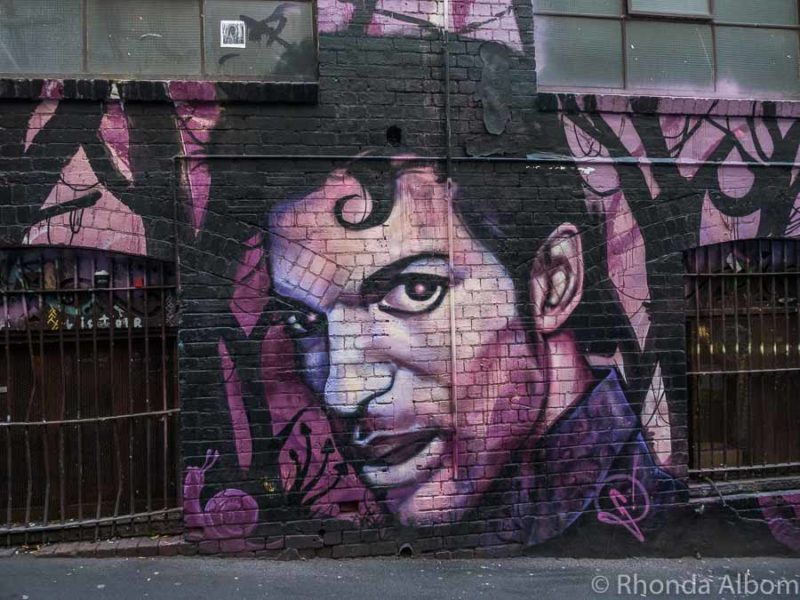 Drewery Lane
With over 1,000 ceramic tile pieces on display, Drewery Lane is a different example of Melbourne laneway art. Organized and taught by Sanker Nadeson, the ceramics are for Legacy House, an organization committed to caring for families of those who lost their life or health to defend the nation.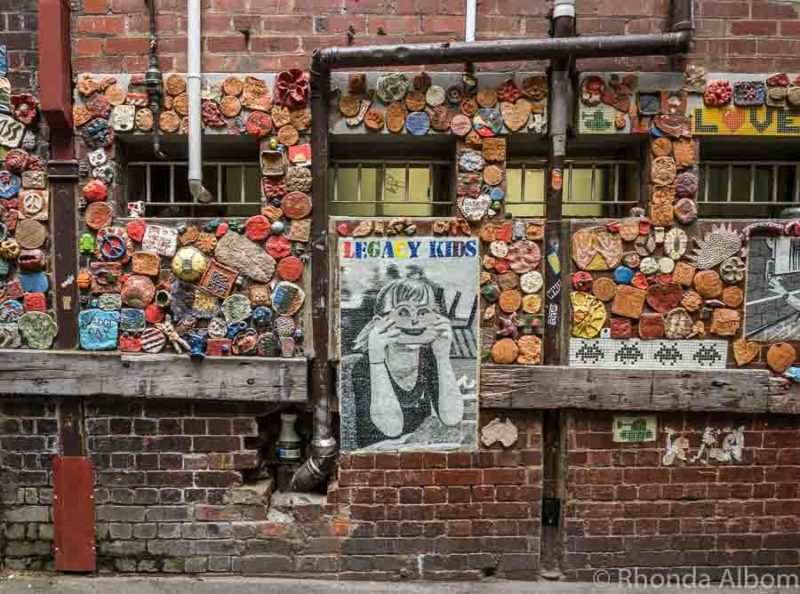 Sniders Lane (off of Drewery Lane)
Sniders Lane is a side alley off Drewery Lane, and a quick reminder to always turn your head and look down every laneway and alleyway, as you never know what you will find. It is here we found the famous topless selfie of Kim Kardashian and Em Ratajkowski on Instagram, reproduced larger than life by Australian street artist Lushsux at the end of Sniders Lane.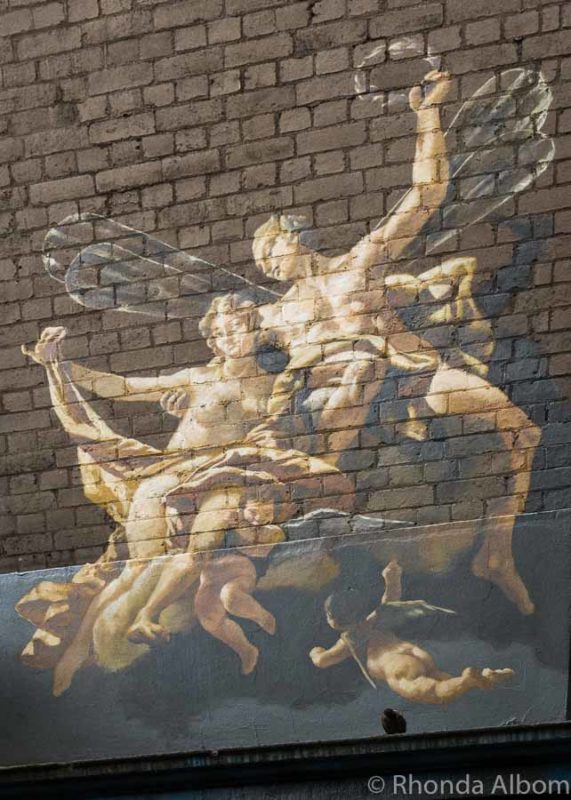 Union Lane
Union Lane is another of the famous Melbourne street art laneways.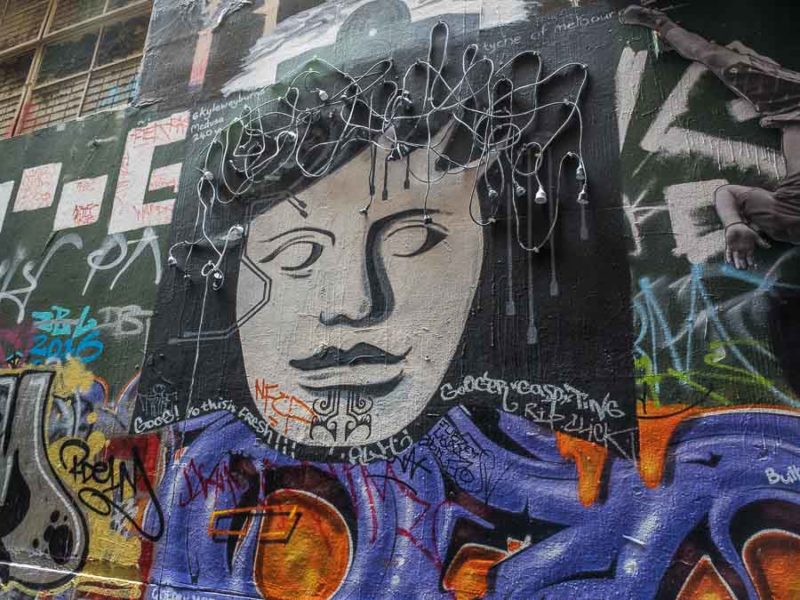 Coverlid Place / Croft Alley
Labelled on the official map of Melbourne street art as Croft Alley, the sign at the street is Coverlid Place.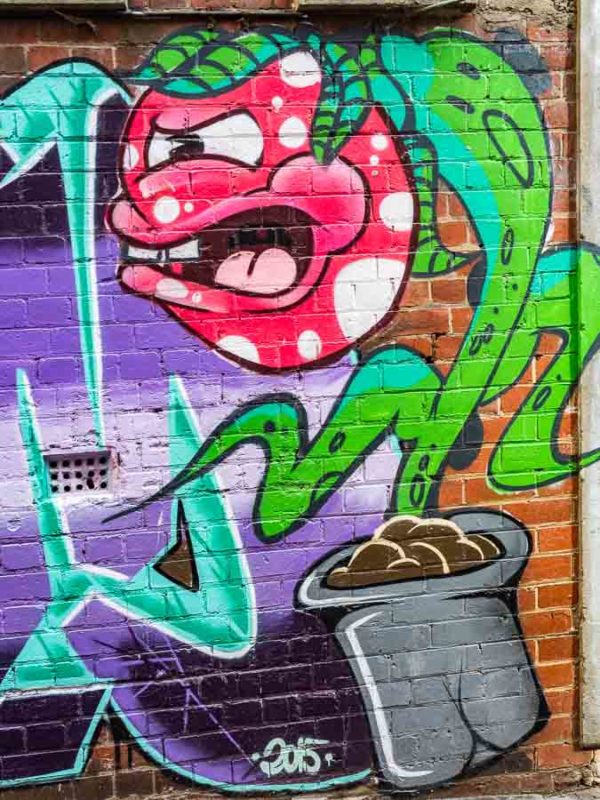 Melbourne street artists
If you know where to look, you can find the art of some of the world's best street art artists like Rone, Phibs, Alexis Diaz, Ghost Patrol, Lush, Askew One, Sofles, Adnate, and others. Possibly the most famous are the two remaining stencil street art creations by British street artist Banksy.
While we didn't meet any of the famous artists mentioned above in Melbourne, we did meet Matt Adnate on a recent visit to Perth. However, we did see a few up-and-coming artist creating their own street art illusions.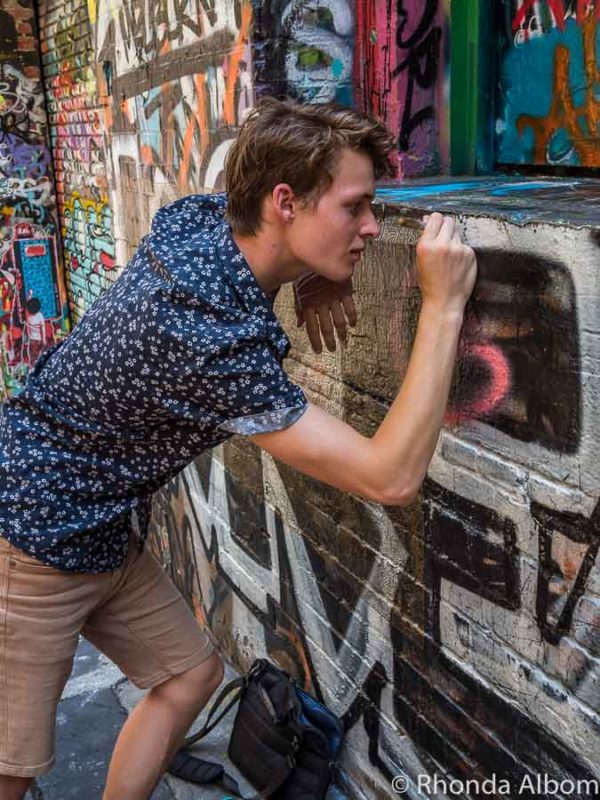 Political street art
Street art is also a platform used for political commentary.
Practical information on Melbourne street art
Lonely Planet included Melbourne street art on its list of the top cities to enjoy this modern artistic expression. And, of course, Melbourne Australia is prominently featured among the 42 countries in Lonely Planet's guide to street art book.
Hosier Lane and Rutledge Lane are considered to have the best street art in Melbourne, as well as the most comprehensive.
Bring a camera.
Remember to turn and look up and down alleyways and laneways; otherwise, you might miss something special.
Take the shot when you see it, Melbourne graffiti laneways are continually changing, and the same graffiti art may not be there the next day.
If you want to add your own cool street art, be sure to check out the current laws surrounding it first, as it is only legal in specific areas, with plenty of restrictions.
If you have more time, head to some of the neighbourhoods. We have heard incredible things about Fitzroy street art.
Melbourne is not the only street art city. If you're a fan, be sure to check out some of my favourite New Zealand street art in Auckland and Christchurch as well as this series from travel bloggers around the world including, Australia and New Zealand, North America, Asia, Central and South America, and Europe.
There's more Melbourne than laneways and street art
To date, we have visited this city four times, travelling here both with and without our teen/adult children. We drank coffee, ate some fabulous meals, and visited a few landmarks like the State Library of Melbourne, St. Paul's Cathedral, and Queen Victoria Market. And of course, shopping, lots of shopping. There is nowhere better within four hours of our home in Auckland, New Zealand.
Save on your Australia trip with these resources
These are our go-to companies when we travel. We believe this list to be the best in each category. You can't go wrong using them on your trip too.
Flights: we use Expedia for the best and cheapest flight options.
Accommodations: we use Booking.com (hotels), VRBO (self-contained), or Hostelworld (budget).
Cars (gas or electric): we use RentalCars to search for deals and dealer ratings.
Campervans or Motorhomes: we use Campstar where Albom Adventures readers get a 3% discount
Motorcycles: we have heard good things about BikesBooking.
Activity discounts: we check Bookme.com for discounts of up to 70% on activities.
Private guides: we love the private guides at Tours by Locals.
Travel Insurance: while not required, we always opt for travel insurance and start at InsureMyTrip to compare coverage plans.
Check out our travel resources page for more companies that we use when you travel.
What do you think, Melbourne Graffiti or Art?