As a lover of street art, I have always been captivated by the vivid colors and unique messages that adorn the walls of cities around the world. This is part of a virtual journey across Canada and the United States in search of some of the most incredible examples of American street art.
I call it virtual, as I connected online with fellow travel bloggers who contributed their own personal favorites to create this collection of awe-inspiring street art in North America.
I found it interesting that when I asked top travel bloggers to share photos of their favorite Canadian and American street art, nearly all sent photos of people. Is this a trend in North America, or simply a coincidence?
Whether you're a fan of graffiti, murals, or installations, there's something for everyone in this collection of American street art. Join me as we explore some of the most breathtaking examples of street art from across the continent.
A few examples of Canadian street art
British Columbia
Hidden in Downtown Vancouver off of Cordova Street is one of the most impressive street art mural collections we've ever discovered.
Photo contributed by Lance and Laura of Travel Addicts. See more at Vancouver's Surprising Street Art Mural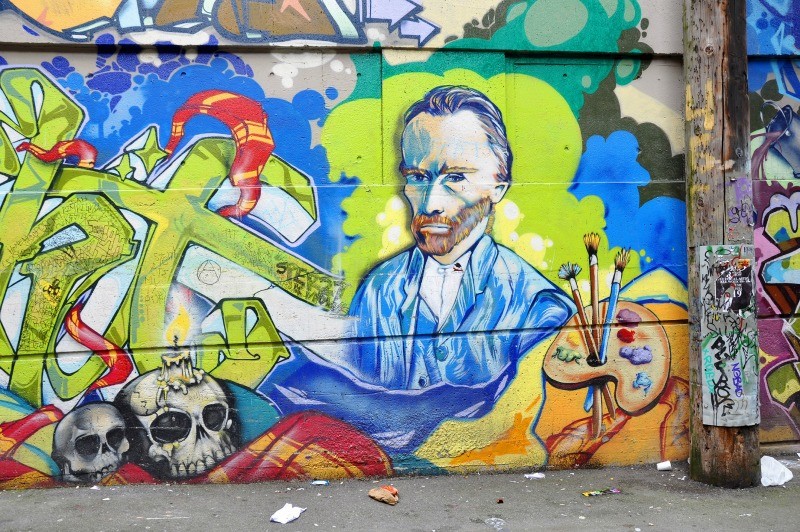 Ontario
Toronto's Rush Lane has one of the largest and densest collections of street art in the world. Hundreds of murals extend for over a kilometre. Nearby Chinatown has its own graffiti alley.
Photo contributed by Lance and Laura of Travel Addicts. See more at A Walk Through Graffiti Alley in Toronto.
Quebec
Here are two examples from the French province of Quebec. Both contributed by Paula McInerney of Contented Traveller. The first is from Quebec City, while the second is from Montreal.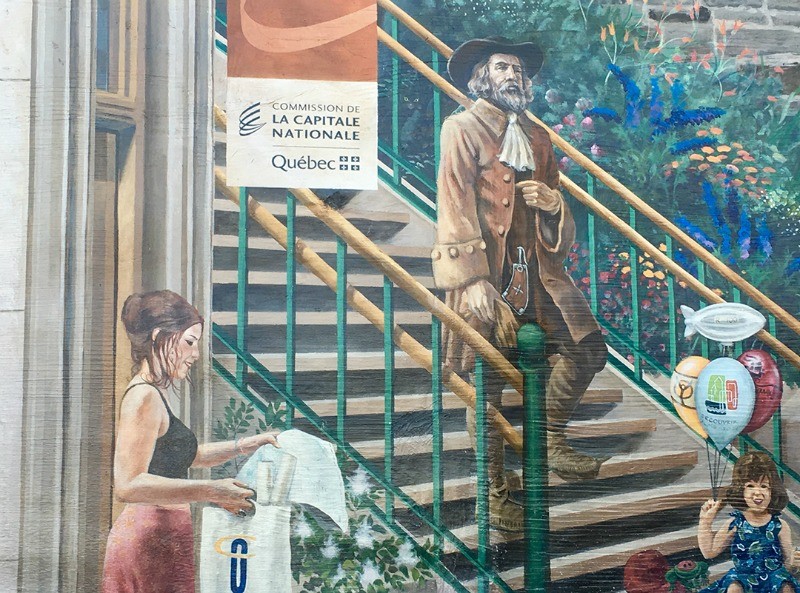 A few examples of American street art
California
San Francisco is a city defined by its urban art. Murals in the Mission District depict everything from struggle, to satire, to cultural legacies lost. This Art by CK1
Photo contributed by Taylor and Daniel of Travel Outlandish. See more at Gritty is Pretty: Street Art in San Francisco, USA
Oregon
Starting the American street art section with a shot I took, this piece is from one of the Lovejoy Columns. From 1948 to 1952, long before street art was popular a railway watchman kept himself occupied by painting on these columns, often from the top of train boxcars as they waited at the crossings. See more at 14 Free Things to Do in Portland: Explore its Natural Beauty
New York
Two contributions from New York:
Entitled Dream, the first was spotted in New York City. It was painted by Iranian street artists Icy and Sot, and contributed by Paula Morgan of Expert Abroad.
The second was photographed in Toofly Welling Court in Astoria, a neighbourhood of Queens, New York City. This photo was contributed by Ben and Jazzy of Road Affair.
Texas
The city of Austin is the least 'Texas' thing about The Lone Star State. Populated by ultra-cool looking people and decorated in impressive street art, Austin has got it going on. Some of the most notable street art in Austin is found at Castlehill, close to the hipster So Co area. We actually took advantage of the skilled artwork during the photoshoot of our secret elopement in Austin, posing in front of the Frida Kahlo print (not shown).
Other cool spots to find is the 'I love you so much' wall as well as the 'I hate you so much' counter graffiti! Snapping street art is one of the many cool things to do in Austin.
Photo contributed by Gemma of Two Scots Abroad. Photo Credit: Corey Mendez Photography for Two Scots Abroad.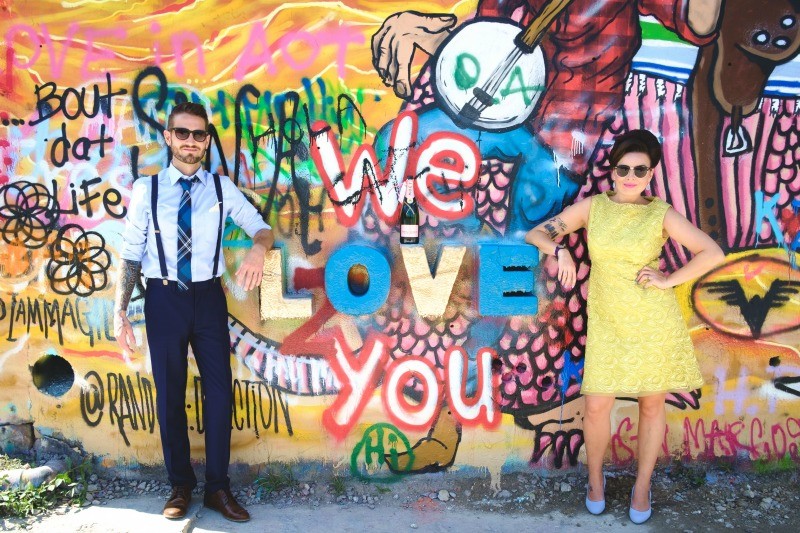 Thinking about becoming a street artist?
Often larger than life, creating street art takes a certain set of skills. If you're thinking about becoming a street artist, this "cookbook" might be useful: Street Art Cookbook: Street Art Cookbook: A Guide to Techniques and Materials.
Save on your trip with these resources
These are our go-to companies when we travel. We believe this list to be the best in each category. You can't go wrong using them on your trip too.
Flights: we use Expedia for the best and cheapest flight options.
Accommodations: we use Booking.com (hotels), VRBO (self-contained), or Hostelworld (budget).
Cars (gas or electric): we use RentalCars to search for deals and dealer ratings.
Campervans or Motorhomes: we use Campstar where Albom Adventures readers get a 3% discount.
Motorcycles: we have heard good things about BikesBooking.
Private guides: we love the private guides at Tours by Locals.
Travel Insurance: while not required, we always opt for travel insurance and start at InsureMyTrip to compare coverage plans.
Check out our travel resources page for more companies that we use when you travel.
Save for later
If you enjoyed this street art, please share the article on social media, including Pinterest:
Any favorites among the Canadian and American street art?