New Zealand's largest city is a cosmopolitan mix of culture and diversity that is powerfully portrayed in the Auckland street art scene. With an ever-changing mix of colour and style, there is a seemingly unlimited example of talent found in our communities.
You would be hard-pressed to find a business district in the city that didn't have some sort of public art. Auckland street art ranges from classical painting to modern graffiti-like styles. Similarly, the city's sculpture covers a range from traditional Māori carvings to random and contemporary.
Historically, the rules around street art have changed over the years from the illegal tagging of the 90s through today's frequently sponsored and often commissioned Auckland street art. Below you will find both permanent and temporary work.
If you ask the artist, there is a story behind every work. Below, we have focused on five key artwork themes: community diversification, Māori heritage, pacific culture, nature, and those that are primarily fun and funky.
First, let the city itself inspire you …
Street art focused on the blending of cultures
In 2016, Heart of the City commissioned several talented New Zealand artists (Dick Frizzell, Askew One, Sara Hughes, Chris Heaphy, and Flox) to create heart-shaped public art.
One of these is this predominantly red and black piece entitled Dragon by Chris Heaphy. It represents New Zealand's blend of Māori and European cultures. Located on Federal Street, it was featured at Art Week 2016.
Notice the Maori warrior proudly standing on the whisker of the dragon and the European on horseback upon the claw.
Taking a lighter approach, check out this K Road Auckland street art. It is a fun and funky representation of the cultural diversity that is Karangahape Road.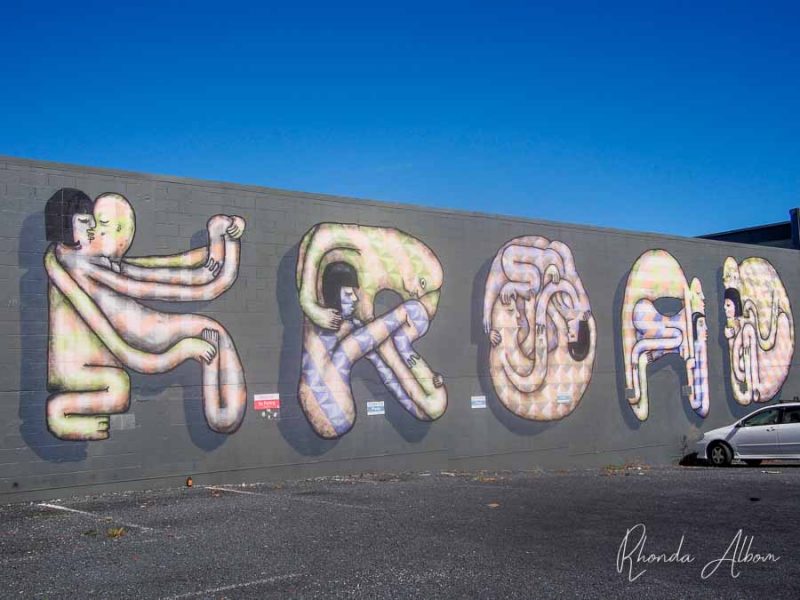 Auckland street art that embodies Māori culture
Māori inspired artwork can be found throughout the city. Often depicted in sculpture, here are a few of our favourites.
"A Maori Figure in a Kaitaka Cloak" sculptured by Molly Macalister. The unconfirmed story told by one of our guides is that this piece was originally commissioned to sit outside of Britomart station, but it was moved.
Pou Tū Te Rangi by Chris Bailey is seven pou (carved wooden posts) that protect a courtyard in Britomart and provide a symbolic link between the locals and earth and sky.
Te Waharoa o Aotea is a gateway carved by Selwyn Muru. Located on Queen Street at the entrance to Aotea Square, it symbolically transforms the square into a marae (meeting place) and the Aotea Centre into a meeting house, according to Auckland Live.
Auckland street art that reflects our Pacific neighbours
Bright and colourful, this Tongan-influenced piece by Benjamin Work is entitled: Tu'i 'o e ngaahi Tu'i. It is on Fort Lane, just outside Everybody's Bar.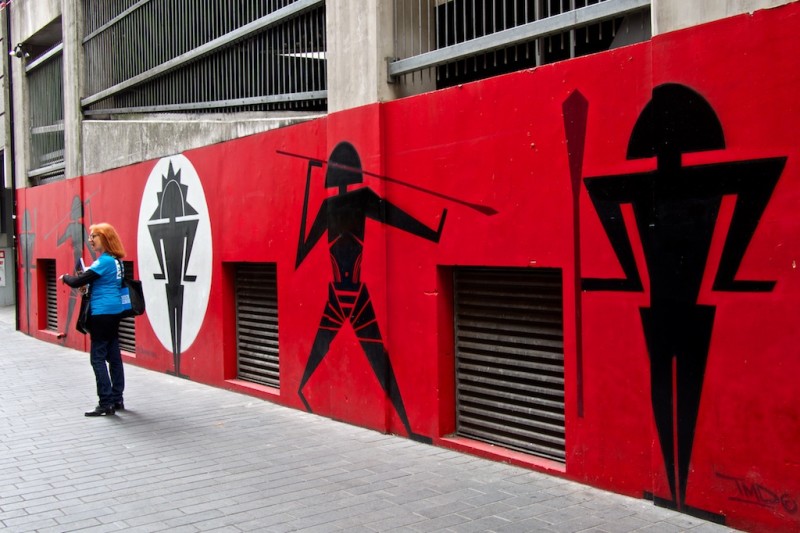 Our natural beauty reflected in street art in Auckland
This critically endangered takahe painted by Flox (Hailey King) is one of 16 New Zealand bird murals in the Britomart car park. Each level of the car park features a different bird, all by Flox.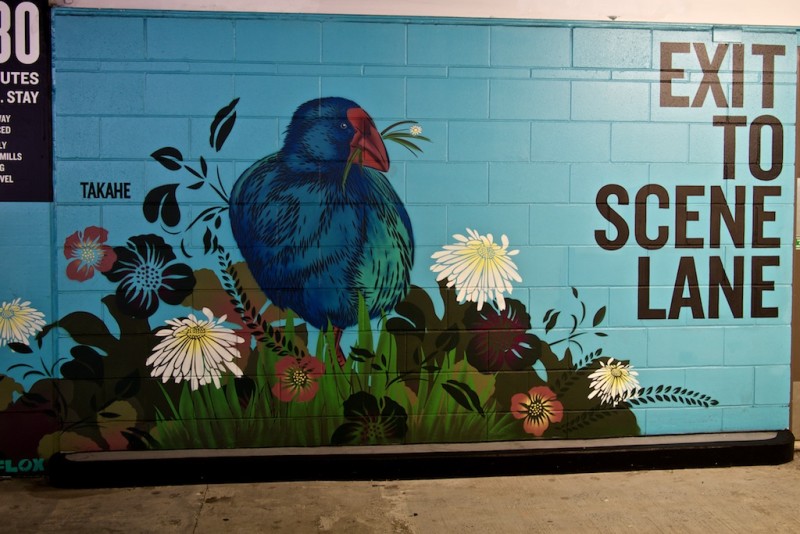 Fun and funky street art in Auckland
While I am sure there are significant stories and often cultural significance between much of the city's public art, on our visit, we just saw these as fun and funky. How about you?
We don't know the titles and artists of all of these; however, this is what we know:
"Lane Change" is a relief piece by John Radford on Mills Lane in the Auckland CBD
Fire Window by American Artist Eric Orr, 1996. If not for the weather, there would be flames at the top.
We discovered this black and white piece in a Ponsonby alleyway.
Another colourful piece is found in a Ponsonby alleyway.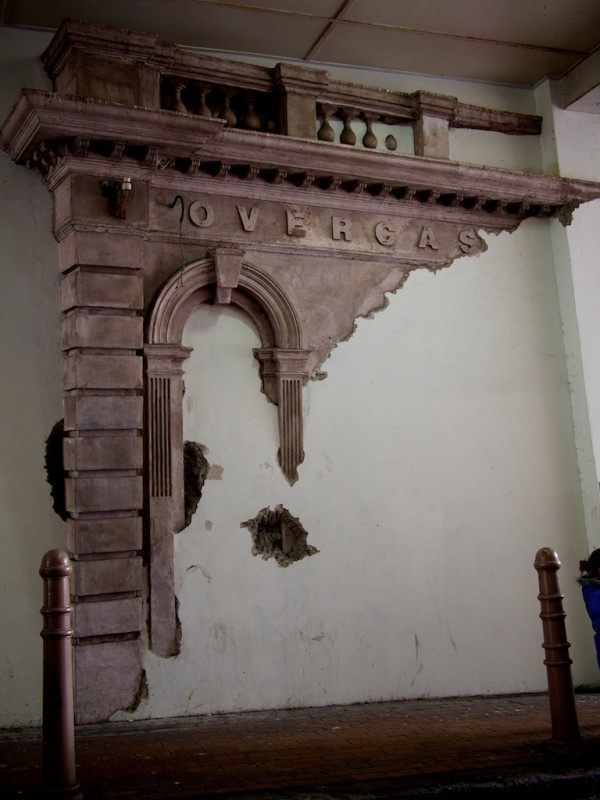 More fun and funky art
Memorial art
A mosaic memorial is embedded in the footpath at the port where the Rainbow Warrior was sunk in 1985.
Street art that no longer exists
One thing about street art, it's not permanent. And, while I haven't returned to check, I believe the three here no longer exist.
The first two are from restaurants in Auckland. Bellota, an authentic Spanish tapas eatery, chose to close, while the piece on Mexico Restaurant's exterior wall was peeling the last time we saw it, which was during a city tour. Our guide pointed out that it is a good example of paste-up paper art, tailing on from the days in which street art was illegal. It was quicker to do part of the art on paper and then paste it up.
The third piece, commissioned in 2014, is one of my favourites, as I am partial to staircase art. (We saw an extensive amount of this type of street art in Valparaiso Chile. It is a collaboration between Askew One, Elliot Francis Stewart, and Gary Silipa.
How to see Auckland street art
The easiest way to enjoy public art in the city is simply to walk around, aware of your surroundings. It's everywhere. Look up at buildings, down alleyways, and all around. If you want a more formal environment, here are a few options.
For more fun things to see and do in Auckland, read about the free things to do in Auckland.
Save on your NZ trip with these resources
These are our go-to companies when we travel. We believe this list to be the best in each category. You can't go wrong using them on your trip too.
Flights: we use Expedia for the best and cheapest flight options.
Accommodations: we use Booking.com (hotels), Bookabach (self-contained in NZ) or Hostelworld (budget).
Cars (gas or electric): we use RentalCars to search for deals and dealer ratings.
Motorcycles: we have heard good things about BikesBooking.
Campervans or Motorhomes: we use Campstar where Albom Adventures readers get a 3% discount.
Activity discounts: we check Bookme.com for discounts of up to 70% on activities.
Private guides: we love the private guides at Tours by Locals.
Travel Insurance: while not required, we always opt for travel insurance and start at InsureMyTrip to compare coverage plans.
Check out our travel resources page for more companies that we use when you travel.
Save for your next visit to Auckland
If you enjoyed this article, please share it on social media and save it for later on Pinterest.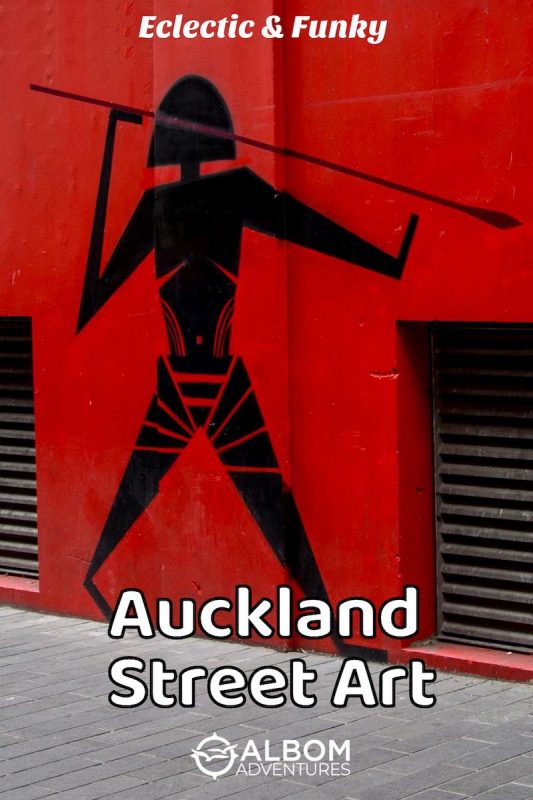 What do you like best about Auckland street art?
More regions in New Zealand in which we featured street art: