Home to New Zealand's top-rated beach, kiwifruit farms, glow worms, street art, and so much more, the region is aptly named the Bay of Plenty. Whether you are looking to relax or for some excitement, you will find plenty of fun things to do in Tauranga (the largest city), Mount Maunganui (coastal beach town), and the surrounding region.
It is a local's playground, a weekend getaway for other New Zealanders, a key cruise port, and a haven for international visitors.
Unlike cruise visitors, we had several days to explore. While our personal goal was a bit of relaxation, we couldn't resist many unique and fun things to do in Tauranga and the surrounding area.
Be inspired by New Zealand
Where is the eastern Bay of Plenty?
We explore the eastern Bay of Plenty from Mount Maunganui in the north through Tauranga, Papamoa, Kiwifruit Country, and Whakatane before heading to Opotiki to tour the east cape.
Things to do in Mount Maunganui
With so many things to do in Tauranga and in Mount Maunganui, we opted to start with the icon – the extinct volcano rising up from sea level, which is both a sacred mountain to the Māori people and the entrance to Tauranga Harbour.
Hike up Mount Maunganui or walk around the base
The extinct volcano's Māori name is Mauao, which translates to "caught by the dawn." Rising 230 metres above sea level, Mount Maunganui's coastal views from the summit track are unforgettable.
Due to a random turn of events, we didn't make it to the top and had to turn back about midway up. To that point, the walk was steadily uphill but not too steep. It's a popular walk that is now labelled "the best" by one of the Game of Thrones stars.
If climbing Mount Maunganui isn't your thing, another popular track is the 3.4-kilometre path around the volcano's base.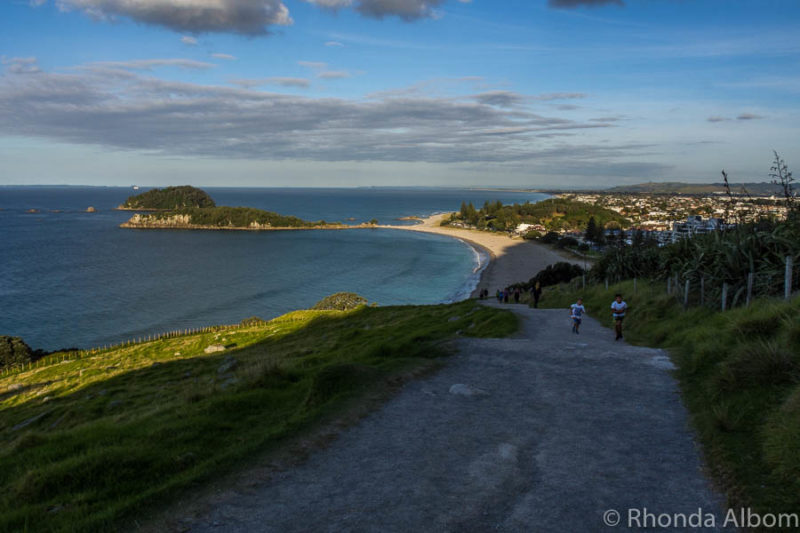 Swim or surf at Mount Maunganui Beach
No question about it, Mount Maunganui Beach is paradise. The seemingly endless white sand and surf make this a popular destination in the summer. It was included on TripAdvisor's list of the world's top 25 beaches in 2016, as well as being voted New Zealand's number one beach.
Hard to believe from the calm day we photographed, but it is also a popular surfing area. You can rent a board, with discounts depending on the time and day you select.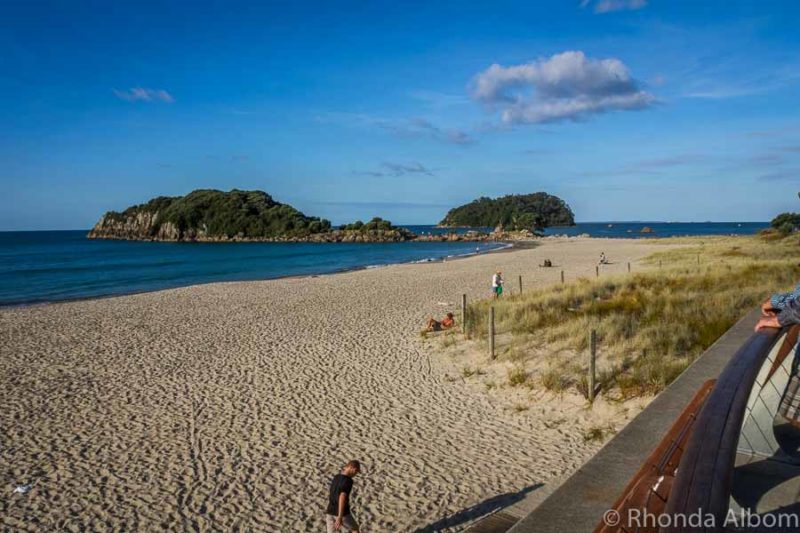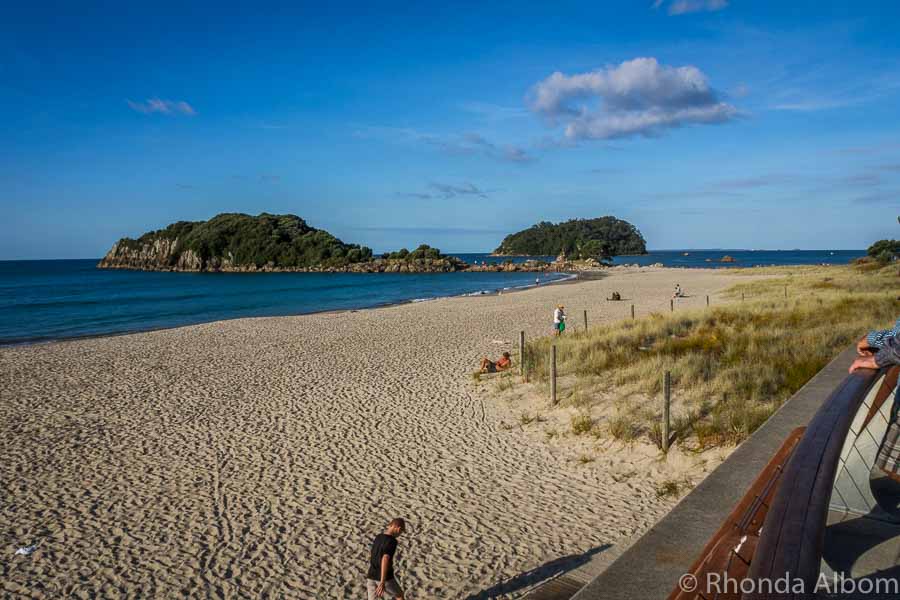 See the blowhole on Leisure Island
Moturiki (Leisure Island) is a tiny island accessible via a manmade land bridge from Mount Maunganui Beach. You can see the island in the photos above. The blowhole shoots seawater up at high tide on days with wild surf.
We visited on a calm day, so despite the proper timing, there was no splash. However, the island has a lovely nature walk, offering plenty of rock pools and endless views.
More things to do in Mount Manganui
Relax and rejuvenate at hot saltwater pools (or if you have toddlers, enjoy their water slides). Check for discounts here.
Take a self-guided street art crawl and discover works from well-known street artists like Askew One, Flox, or Andrew Steel. Ask at any i-SITE for a free street art map or see it here.
Join the locals fishing off the rocks near Leisure Island.
Watch the sunset behind Mount Maunganui.
Fun things to do in Tauranga
Tauranga is the largest city in the Bay of Plenty. Tauranga harbour welcomes nearly a quarter-million cruise ship visitors annually, and the port of Tauranga is now the largest cruise port destination in New Zealand and consistently voted the favourite.
If you are arriving via cruise ship, be sure to check out our recommended excursions lower on the page. If you are NOT arriving via cruise ship and your plans are flexible, you might want to check the port of Tauranga cruise ship schedule and avoid crowded days.
Night kayak to see glow worms
The thrill of night kayaking and the magic of glow worms made our kayak tour on McLaren Lake a truly memorable event. Recently, we discovered discount pricing on the same Waimarino glow worm kayak tour depending on the day you select.
If you have young people in your party, make a full day of it by spending the afternoon at Waimarino Water and Adventure Park. Get deals on a family pass here.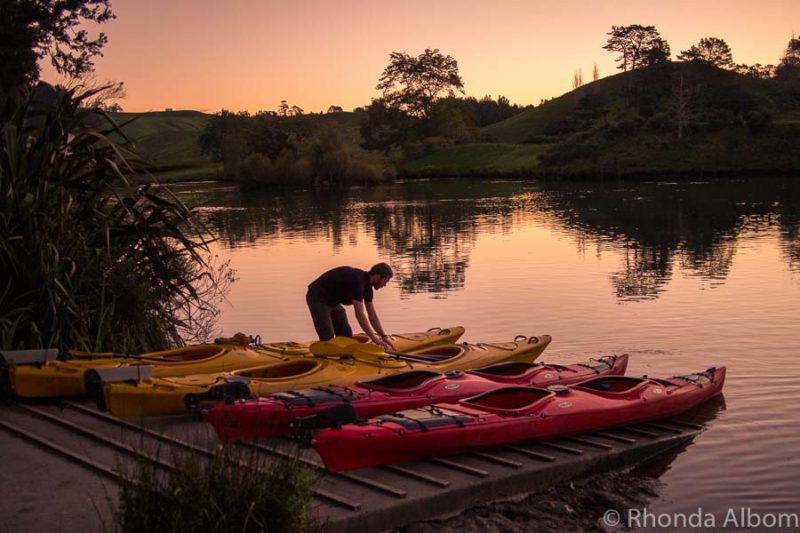 Discover Tauranga street art
Like Mount Maunganui, Tauranga has impressive street art. You can pick up a free street art map at any i-SITE or see it here.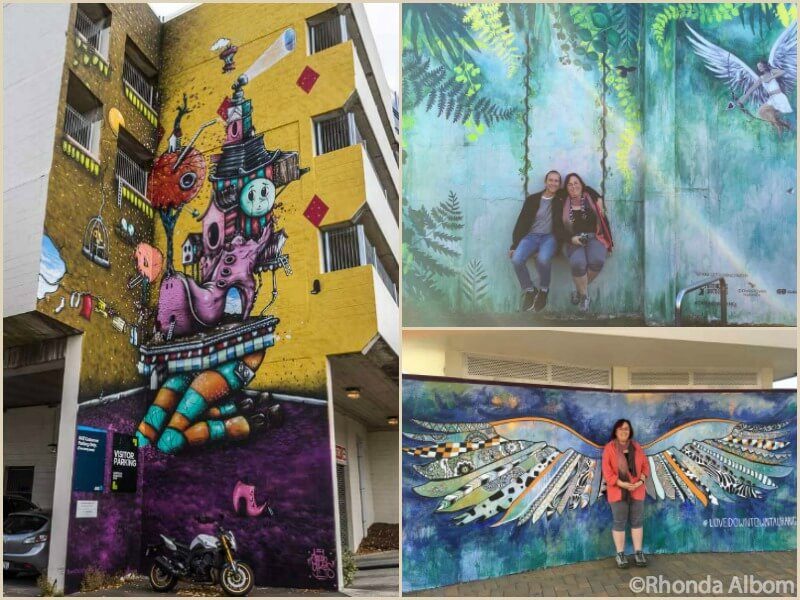 Be impressed by the Tauranga Art Gallery
Tauranga Art Gallery is a fascinating regional art museum featuring a collection of historical and contemporary art in a modern building. It is open every day, and admission is free.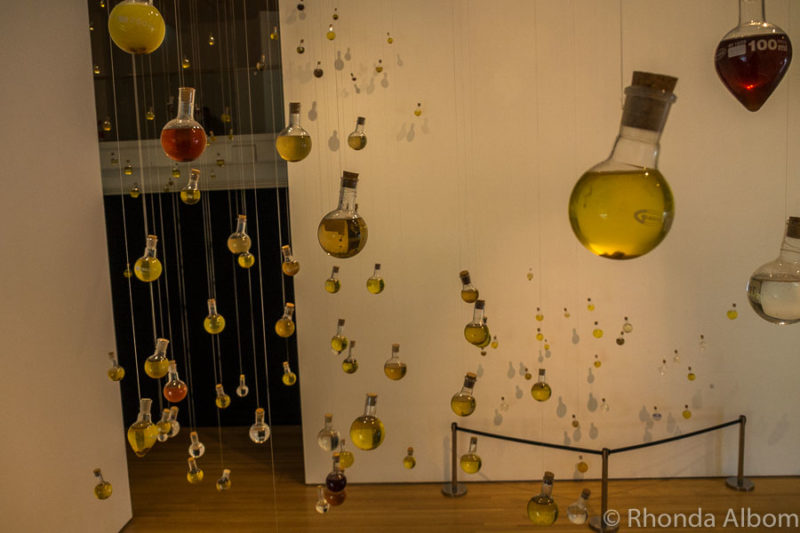 Hang out on the Strand
One of the best things to do in Tauranga is to hang out downtown on the Strand. We choose to have coffee at a cafe on Wharf Street. There is shopping, cafes, restaurants, the art museum, and more in this modern part of the city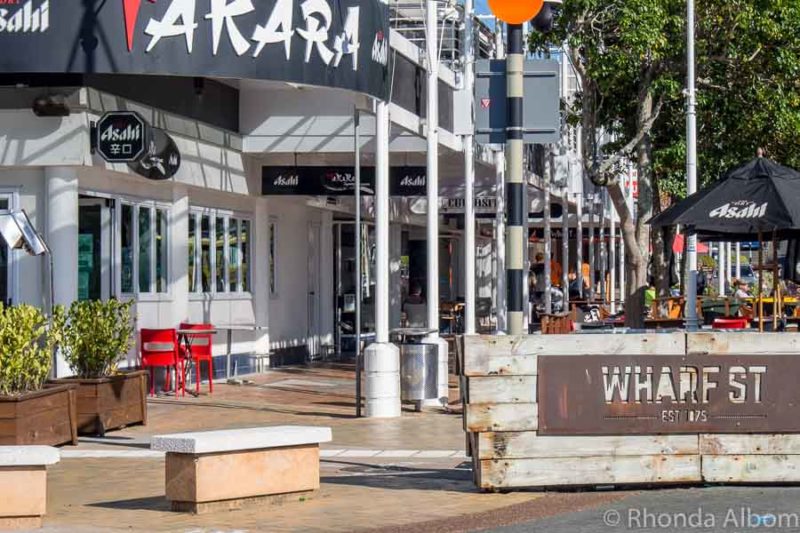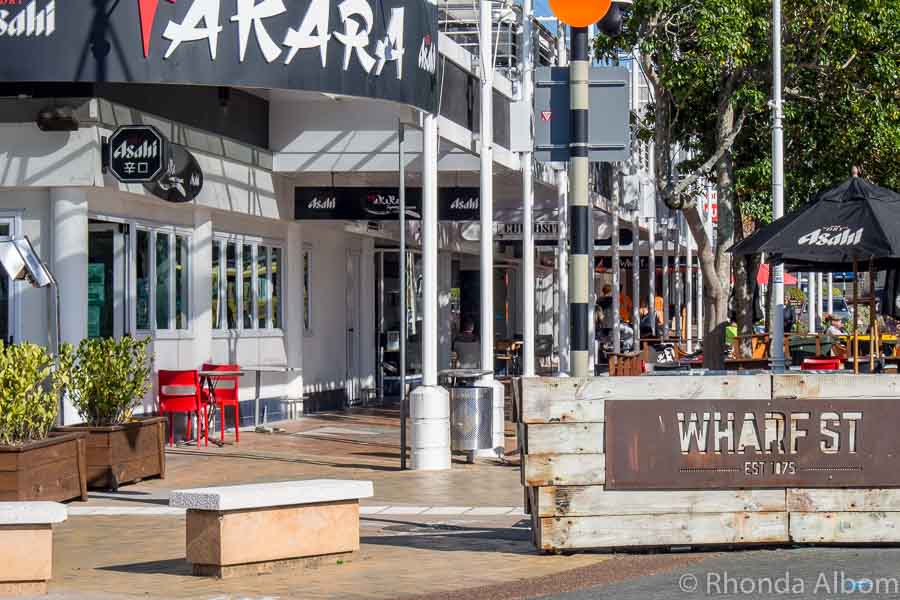 Swim with wild dolphins
This five-hour boat trip offers an opportunity to view wild dolphins or actually to get into the water and swim with them. Award-winning guides keep both you and the animals safe. All necessary gear is included, but you will want to bring your camera. Reserve your swim with wild dolphins here.
For those who prefer to stay out of the water, check out this dolphin and wildlife cruise. Also a half-day adventure. Check for discounts on Dolphin and wildlife cruises here.
Waterfront playground and water park
If you're travelling with children, there are plenty of things to do in Tauranga with kids. One of the best is a giant waterfront playground with climbing structures, water play, and swings.
At the waterfront edge of the park, there are bronze statues of Hairy Maclary and his crew of five kooky canines. The Hairy Maclary series of children's books were written by Tauranga author Dame Lynley Dodd.
In summer, there is a Tauranga water park. Claiming to be New Zealand's largest floating waterpark, it tops my summer list of fun things to do in Tauranga with kids.
Other things to do in the Bay of Plenty
Aside from being a beach community, there are a few other interesting and unique things to do in the Bay of Plenty.
Kiwifruit Country
We loved our kiwifruit plantation tour. Allow a bit of extra time to visit the cafe after the tour for samples and then get a scoop of kiwifruit ice cream.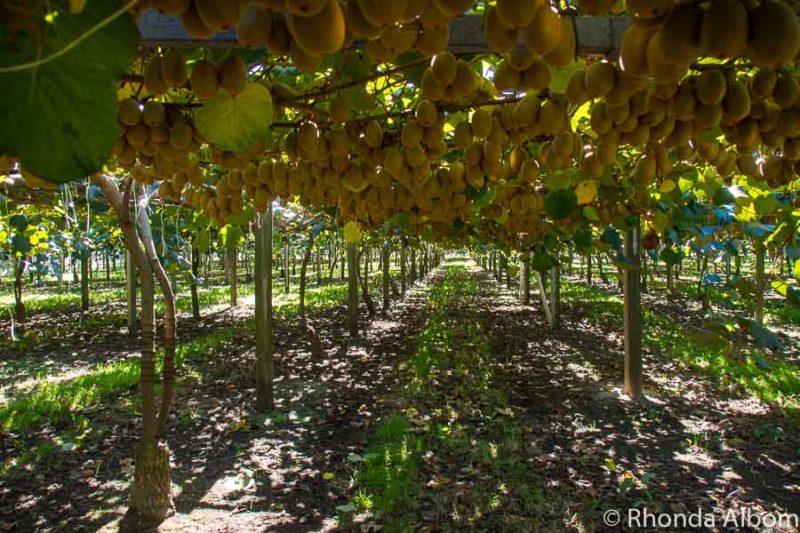 Hobbiton
If you're a Lord of the Rings fan, a tour from Tauranga to Hobbiton is the easiest way to explore the Shire. However, if are happy to drive yourself to Matamata (a 45-minute drive), you may want to purchase your Hobbiton tickets in advance. Nothing is worse than arriving only to discover that they are sold out for the day.
Read next: New Zealand Lord of the Rings Filming Locations You Can Visit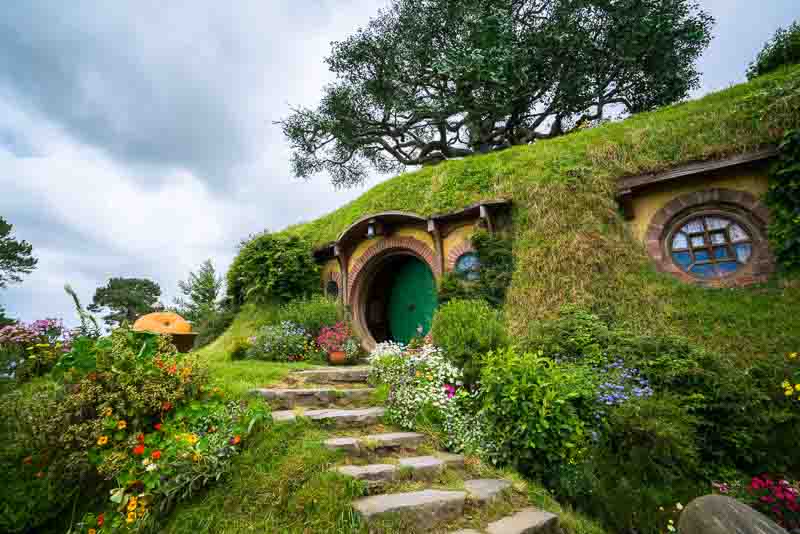 Visit Rotorua and explore a Māori village
If you haven't included Rotorua as a destination on your travels to New Zealand, then you may want to take a tour of this geothermal region.
Reserve your Rotorua highlights tour from Tauranga here
White Island volcano
Update: White Island erupted on December 9, 2019. At this time, all tours to the island have been suspended.
White Island is New Zealand's (and possibly the world's) most active marine volcano. Some compare the lunar landscape and active geothermal vents to their image of walking on the moon. The Māori name 'Te Puia o Whakaari' translates to 'the dramatic volcano'.
At 50 kilometres off the Bay of Plenty coast, White Island boat or helicopter tours were quite popular before the eruption. Some White Island aerial tours are still operating, but personally, I would avoid them as there are more than enough other fascinating things to do in the Bay of Plenty. For that other-worldly atmosphere, head to Rotorua's Wai-o-Tapu or Waimangu Volcanic Valley.
Arriving via the Tauranga cruise port
If you are arriving via the Tauranga cruise terminal, you will most likely have limited time to see the highlights of the region. While cruise ships offer plenty of Tauranga shore excursions, we generally find independent tours to have smaller groups with considerably lower prices to see the identical venues. Many companies, like Viator, even offer a worry-free shore excursion guarantee on some tours.
Tauranga shore excursions
Where to stay in the Bay of Plenty
We opted to stay at the Papamoa Beach Resort (see our full review). Our beachfront villa was a perfect choice. Papamoa is only a short drive to either Mount Maunganui or Tauranga city, but more importantly, it's a beach destination on its own. Reserve your stay at Papamoa Beach Resort here.
Save on your NZ trip with these resources
These are our go-to companies when we travel. We believe this list to be the best in each category. You can't go wrong using them on your trip too.
Check out our travel resources page for more companies that we use when you travel.
Save for later
If you enjoyed this article, please share it on social media and save it for later on Pinterest.
We included the Bay of Plenty at the end of our recent North Island driving adventure and arrived after driving around the East Cape. Then we returned to Auckland using this itinerary.
Which of the things to do in Tauranga or anywhere in the Bay of Plenty will you try?
You might also like:
Disclaimer: We worked with Tourism Bay of Plenty. Also, we were provided with many complimentary entrances, tours, sample items, or media rates to assist in the writing of this review. However, the opinions expressed here are strictly our own.
Photo Credits:
All photos on this page are either shot by our team and watermarked as such or stock images from Depositphotos.