Sadly, Kiwifruit Country had to close its tour operations. However, we have kept this article for its historical significance and to share the process of growing and processing commercial kiwifruit in New Zealand.
Green or gold, kiwi fruit is a delightful mix of tart and sweet. Living in New Zealand, we eat them often, but until we visited a kiwi fruit farm in the Bay of Plenty, I had no idea what goes into the process. We arrived just days before the harvest. It was quite surreal to stand in the kiwi orchard surrounded by 1,000s of kiwi fruit still on the vine.
As it turns out the western Bay of Plenty produces 80% of New Zealand's kiwifruit crop. We toured Kiwifruit Country, a kiwi fruit farm that is one of the larger orchards in the region at 75 acres. This compares to an average size of 10 acres.
Where is Kiwifruit Country?
The majority of New Zealand kiwifruit grows in the western Bay of Plenty, well south of Tauranga and north of Opotiki (East Cape).
Kiwi fruit grows well in the Bay of Plenty due to its temperate climate, volcanic ash soil, topological conditions, and coastal location. The city of Te Puke is the self-proclaimed kiwifruit capital of the world.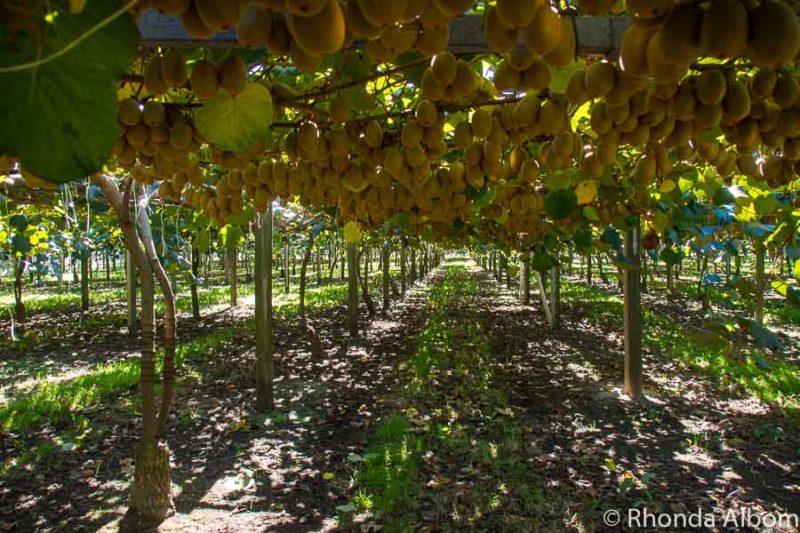 Kiwi fruit is a New Zealand icon. Have you tried one? It offers a surprisingly delicate flavour packed in a green or gold berry. Often mistakenly called a Kiwi fruit tree or kiwi plant, the fruit actually grows on vines. Newly planted vines take four years before producing fruit.
In New Zealand, many of the vines producing viable fruit are 35 to 90 years old. Amazingly, there are 600-year-old wild vines in China that still produce viable fruit, although they call it a Chinese gooseberry.
Kiwi fruit or kiwifruit: a large berry fruit. Its is grown commercially in New Zealand, Italy, Chile, South Africa, and the USA (California).

Kiwi bird: a flightless nocturnal bird found only in New Zealand. With similar shape and colour, it's no wonder the little fruit bears the same name.

Kiwi: nickname for a person who lives in New Zealand.
Kiwifruit Country – a tour of a kiwi fruit farm
Kiwifruit Country is one of New Zealand's largest growers of kiwi fruit, producing 1,500 tonnes annually. That's a lot of fruit, especially when you think that each piece is handpicked. We toured their kiwifruit orchard just days before the start of the annual ten-week picking season. The fruit on the vines was plentiful.
I had to smile when I first saw the giant kiwifruit-shaped carts that transported us as we toured the kiwi fruit farm. We did get off to explore both the green and gold kiwi orchard, and then we returned to the shop for tastings.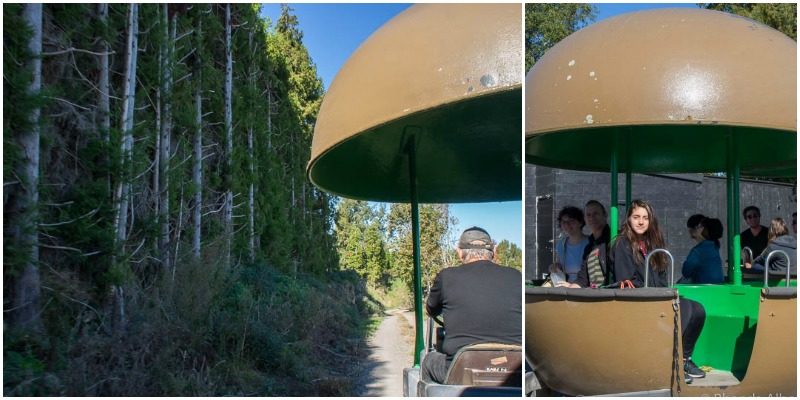 Green kiwifruit orchard
Our driver knew everything there is to know about the orchard, as he has been part of the team for over 15 years. Furthermore, he happily shared it all with us. Our first stop was the green kiwifruit orchard, as it is the primary crop of Kiwifruit Country.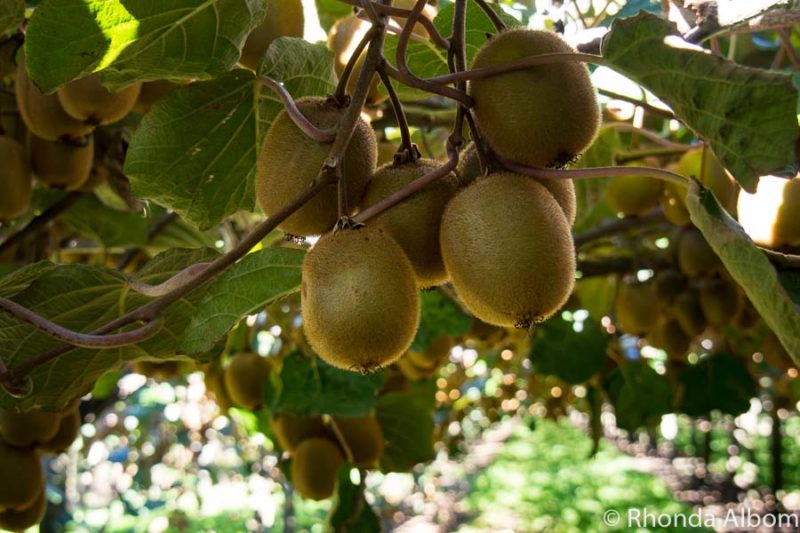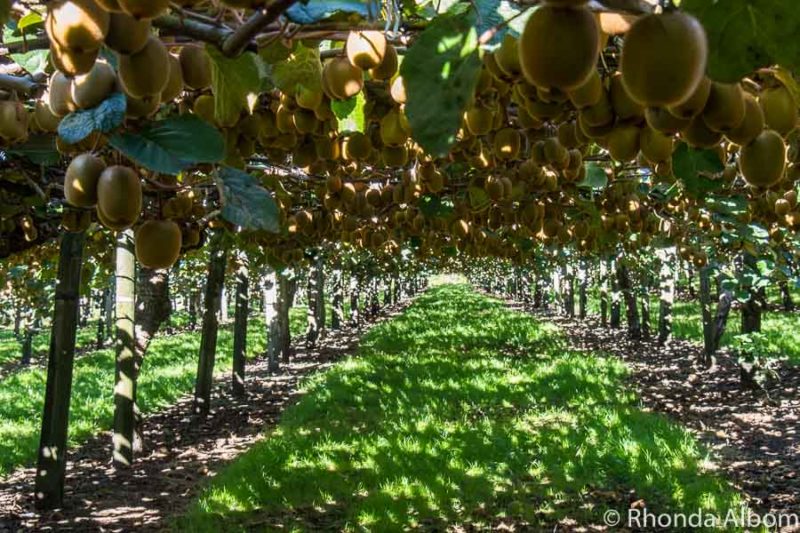 Do you eat the kiwi fruit skin?
It is loaded with vitamins and nutrients. But don't worry if you don't, as it turns out, only 10% of consumers eat the skin.
Golden kiwifruit orchard
Golden kiwi fruit vines are started a bit differently than the green ones. Using the "tipi effect" the canes grow stronger. Although once established, the golden fruit vine grows similarly to the green fruit.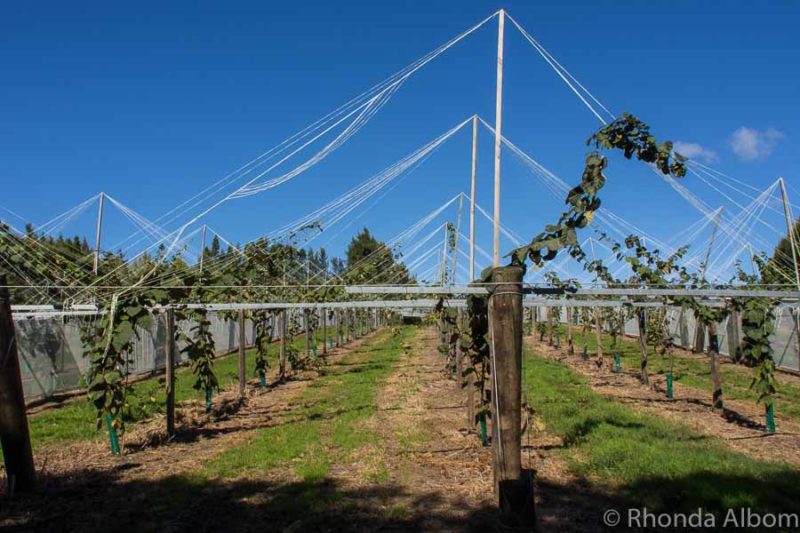 Protecting the fruit from frost
One concern in both winter and spring is frost. The images below highlight some of the protections in place. A frost fan stands tall above the kiwi orchard. It keeps frost off the flowers and is activated when temperatures drop to 1.6c (35f). Also, frost cloth serves as a windbreak.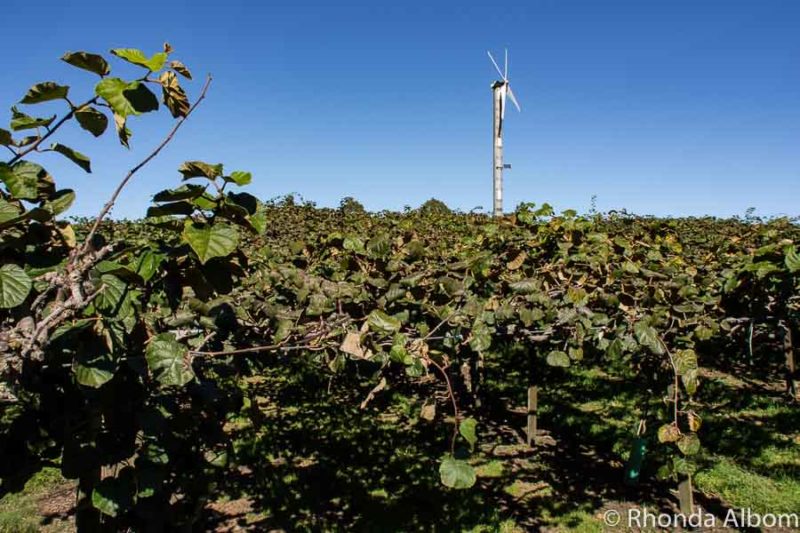 Kiwifruit Country tasting
After an hour surrounded by all that kiwifruit, I could hardly wait to taste the smooth fruity flavour. A bit of a cross between strawberry, banana, and possibly pineapple, the kiwifruit has a distinctive character that is difficult to define.
Then there is the gold kiwifruit, a bit smoother with an added flavour some describe as mango. We tried both, plus the ENZA red kiwi fruit that isn't grown at Kiwifruit Country. Zespri has images and descriptions of each type of kiwifruit in New Zealand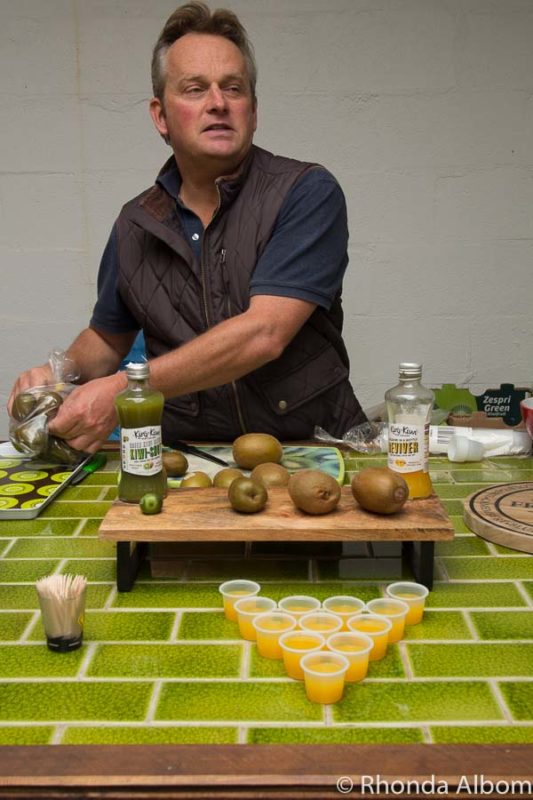 More on Kiwifruit Country tours
The kiwi fruit farm is located at 316 State Highway 33 in Paengaroa.
Hourly tours run from 9 am to 4 pm from September to April, with reduced hours from 10 am to 3 pm during harvest season (May and June). Winter tours are on-demand and require booking ahead.
After the tour and tasting, grab a snack in the cafe. I recommend the kiwifruit ice cream.
We visited the region as part of a massive North Island road trip.
Cruise ship excursions that visit a kiwi farm from Tauranga
A visit to Kiwifruit Country is great on its own or as part of a cruise ship excursion from the port of Tauranga. You can usually save money by booking an independent cruise excursion over one offered by the ship. Here are two tours that include a visit to the kiwifruit orchard in addition to other stops. Note that one goes to Rotorua, the other does not.
Tauranga shore excursion – Te Puia Geyser Valley & kiwi fruit orchard: This top-rated 5.5-hour tour takes full advantage of the time onshore. It visits Kiwifruit Country, learns a bit and has a tasting, but note that it does not do the full tour. However, this tour does spend two hours at the geothermal wonderland of Te Puia in Rotorua, home to the southern hemisphere's largest geyser. It also makes photo stops at the Rotorua Museum in the Government Gardens, Blue Baths, and Lake Rotorua.
Check price and availability
Tauranga shore excursion – Bay of Plenty afternoon highlights tour: This small group 3-hour tour hits three of my favourite spots. First, a tour of Kiwifruit Country followed by a visit to Papamoa Beach and then Mount Maunganui's main beach. Note: This tour does not visit Rotorua.
Check price and availability
Kiwi fruit picking jobs and other related opportunities
Fruit picking is a labour-intensive job, and New Zealand brings in almost 20,000 people to pick and pack for ten weeks. It's an opportunity for people to visit New Zealand and earn enough to pay for their travels. Click here for current information on kiwi fruit picking opportunities.
This is what you will look like: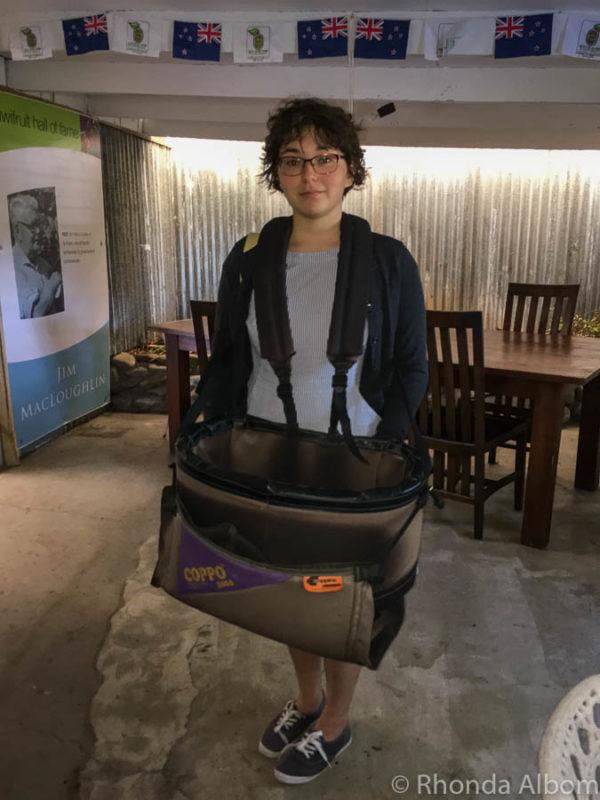 Different seasons bring other opportunities. In winter, the kiwi plantation crew prunes the trees and sets the foundations for the following year. Spring is for flowering and pollination. An interesting fact: the flowers have no nectar, so sugar water is provided for the bees.
Save on your NZ trip with these resources
These are our go-to companies when we travel. We believe this list to be the best in each category. You can't go wrong using them on your trip too.
Flights: we use Expedia for the best and cheapest flight options.
Accommodations: we use Booking.com (hotels), Bookabach (self-contained in NZ) or Hostelworld (budget).
Cars (gas or electric): we use RentalCars to search for deals and dealer ratings.
Motorcycles: we have heard good things about BikesBooking.
Campervans or Motorhomes: we use Campstar where Albom Adventures readers get a 3% discount.
Activity discounts: we check Bookme.com for discounts of up to 70% on activities.
Private guides: we love the private guides at Tours by Locals.
Travel Insurance: while not required, we always opt for travel insurance and start at InsureMyTrip to compare coverage plans.
Check out our travel resources page for more companies that we use when you travel.
Save for later
If you enjoyed this article on this kiwi fruit farm, please share it on social media and save it for later on Pinterest.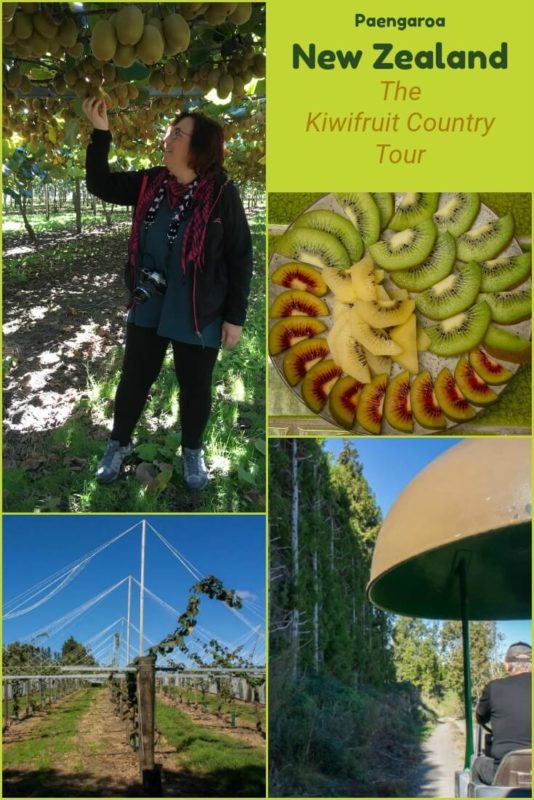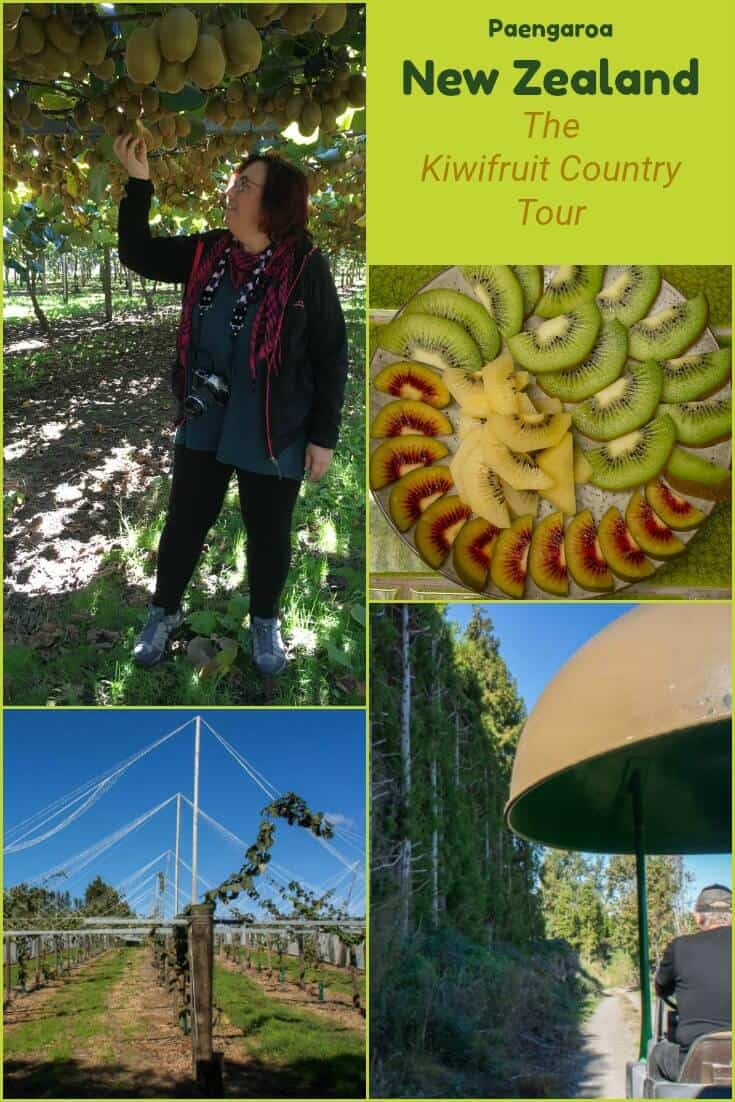 Which do you prefer, green or golden kiwi fruit?
You might also like:
Disclaimer: We were media guests of Kiwifruit Country. However, the opinions expressed here are strictly my own.