Along the east coast of the North Island, and often overlooked by tourists, East Cape NZ juts out into the ocean. A piece of real New Zealand, an East Cape road trip is nature, history, and culture.
The dramatic coastal drive from Gisborne to Opotiki is 334 kilometres, a 5.5-hour drive over mostly paved roads. It can easily be driven in a day, but why?
That is the question that plagued us all day. Why did we allocate only one day to venture deep into a region steeped in Maori culture, beaches, and hiking trails? Everchanging coastal and mountain views are dotted with horses and Marae. We found it different here, rural, friendly, and even more relaxed.
Driving Itinerary: East Cape New Zealand from Gisborne to Opotiki along State Highway 35
The suggested stops below are featured on the map. Click the expand / collapse icon in the upper left corner of the map for the details.
Starting out in Gisborne in autumn at first light, we had fewer than 12 hours of daylight. We made the most of it. In hindsight, we should have stayed near Hick's Bay or started from Tolaga Bay.
Our highlights and recommendations are below.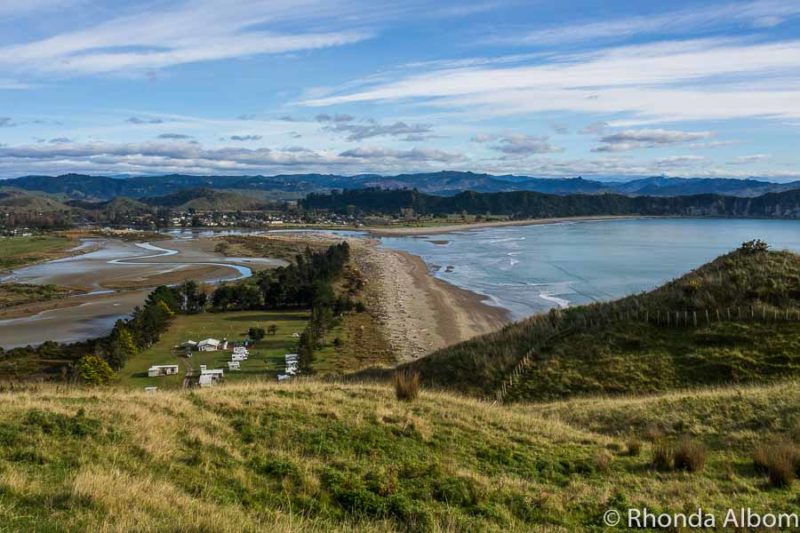 Gisborne
(starting point for our East Cape road trip)
(334 km from Opotiki)

We spent two nights enjoying Gisborne before heading off around East Cape NZ. There are plenty of things to do in Gisborne, ranging from relaxing (hot springs, the National Arboretum, and watching the east cape sunrise) to more adventurous (hand-feeding stingrays, natural rock slides, and surfing).
Whangara Bay
(29 km from Gisborne, 298 km from Opotiki)

Whangara Bay is 3 km off the main road and is now famous as it is home to the marae used in the New Zealand movie Whale Rider. We did not stop here.
Tolaga Bay
(55 km from Gisborne, 279 km from Opotiki)

Tolaga Bay was our first stop from Gisborne to Opotiki. Here, we quickly discovered that things are different in East Cape NZ when the road sign read, "No Skateboards, Scooters, Bikes, and Horses to be ridden on the footpath."
Our Tolaga Bay things-to-do list included a walk to the end of the 660-metre wharf. Completed in 1929 and restored in 2002-2006, the Tolaga Bay Wharf claims to be the longest wharf in New Zealand and the second-longest in the Southern Hemisphere. Allow about 30 minutes to walk to the end, longer if you want to join the locals and drop in a fishing line.
NOTE: It may not actually be the longest wharf in NZ as Tiwai wharf on the South Island is much longer, according to this article.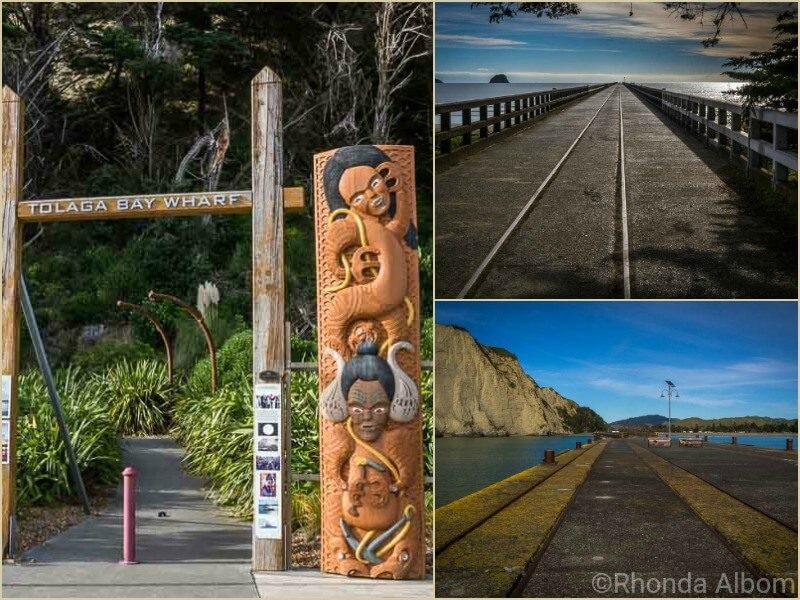 Not far from the wharf is a trailhead marker for Cook's Cove Walkway, a 2.5-hour hiking loop to one of the landing spots of Captain James Cook and his ship, the HMS Endeavour, as they circumnavigated and charted New Zealand.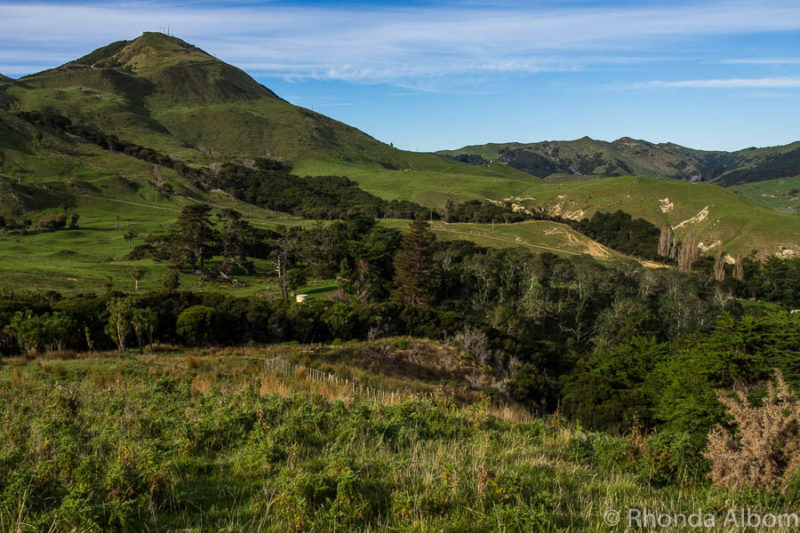 In retrospect, we should have started out at first light in Tolaga Bay, ideally having visited the wharf and hiked Cook's Cove walkway the day before. Historians and backpackers stay at the Historic Tolaga Inn, a 1930s original waiting for a renovation, and our recommended Tolaga Bay accommodation.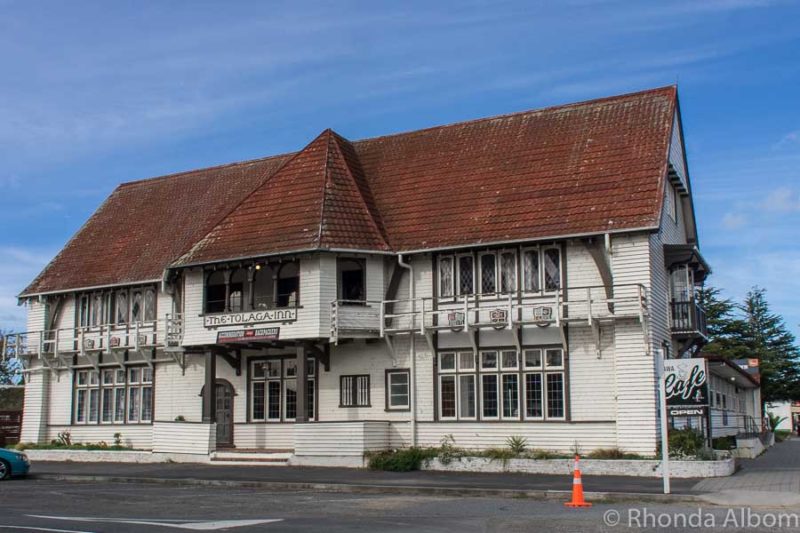 Tokomaru Bay
(91 km from Gisborne, 243 km from Opotiki)

Tokomaru Bay is home to another sizable wharf, this one still in need of restoration.
There are also an old freezing works, several heritage buildings, and multiple marae. We were too early to stop for lunch at the Te Puka Tavern and not even hungry enough to try a paua pie at Cafe 35 (the recommendation of a local boy we met on the street).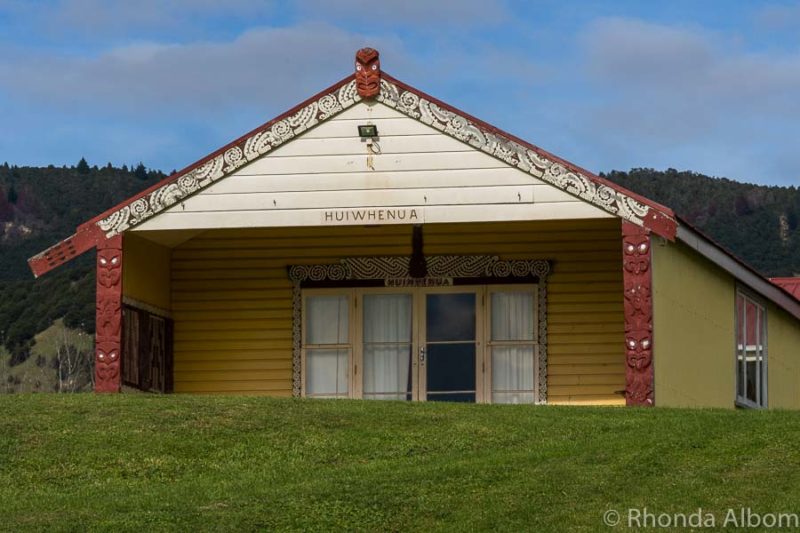 Te Puia Springs
(102 km from Gisborne, 233 km from Opotiki)

We couldn't resist stopping at the charming Te Puia Springs Trading Post, where one could get pies, chicken, snacks, and just about any sweets you can imagine. We purchased a bag of hot peppers. Next door to the trading post was "KFC – Kai (meaning "food") for Coasties. The "closed" sign was up so we never had a chance to see the menu.
As for the hot springs, we never found them. We knew they are near the hospital as it was built last century to capitalise on the medicinal healing properties of the springs.
Ruatoria
(128 km from Gisborne, 206 km from Opotiki)

Ruatoria is the gateway to Hikurangi, the mountain overlooking the town. Near the top stand several pou carvings best seen at sunrise (this is another spot that boasts seeing the first sun of the new day). Four-wheel drive is required to get to the carvings. Without it, you can get within a 1-2 hour hike. Many people spend the night in the DOC huts on the hill.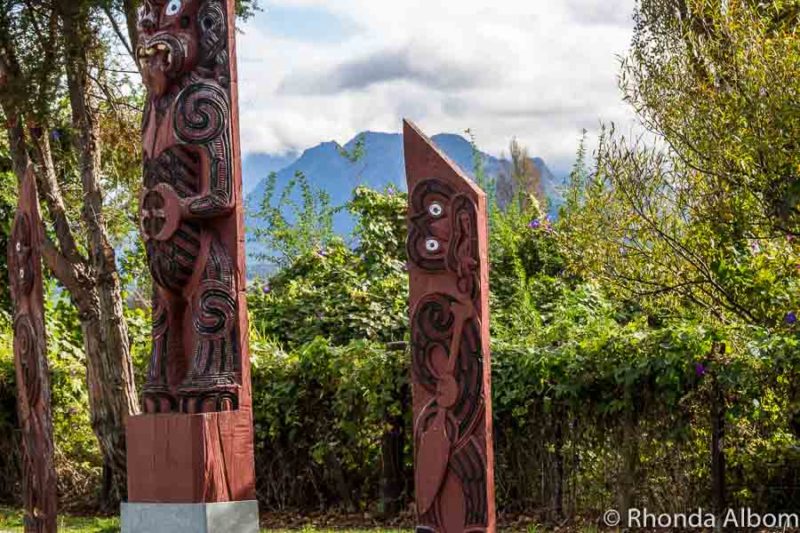 In town, we stopped at Hati Nati, a delightful cafe with a varied menu, delicious food, and the coffee . . . it was perfect. A family-run business, they went out of their way to suggest and create a meal for even the most restricted eater in our group.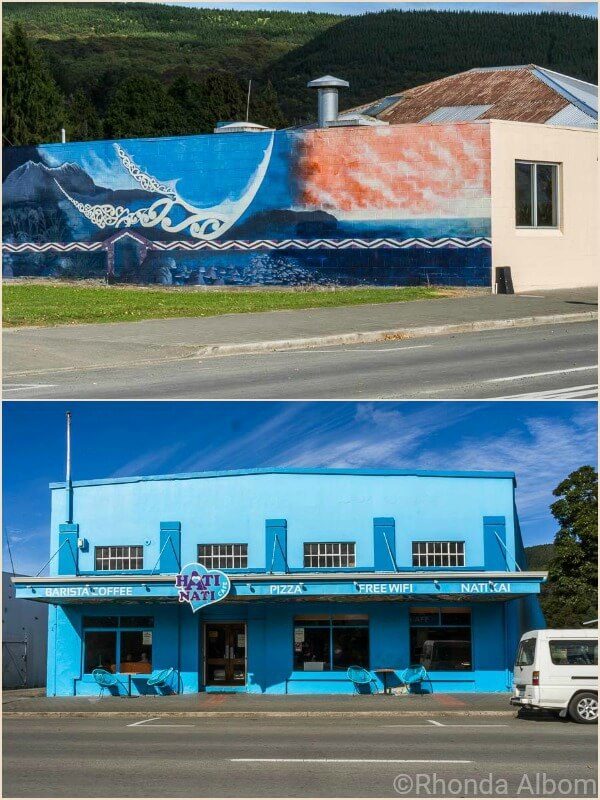 Tikitiki
(147 km from Gisborne, 187 km from Opotiki)

St. Mary's Church in Tikitiki is one of the highlights of our trip around East Cape NZ. A visit to this Māori-decorated church topped my regional bucket list. Entry is by gold coin donation through an honesty box. Also, in Tikitiki is a giant waka in an open paddock.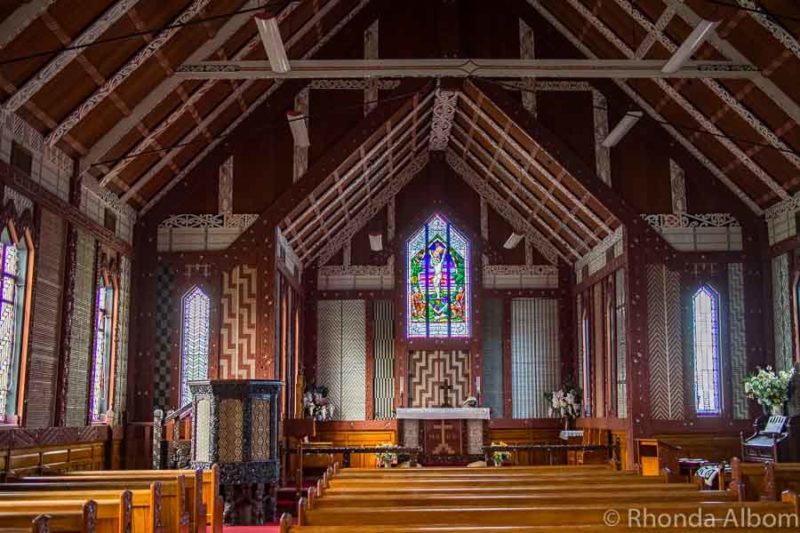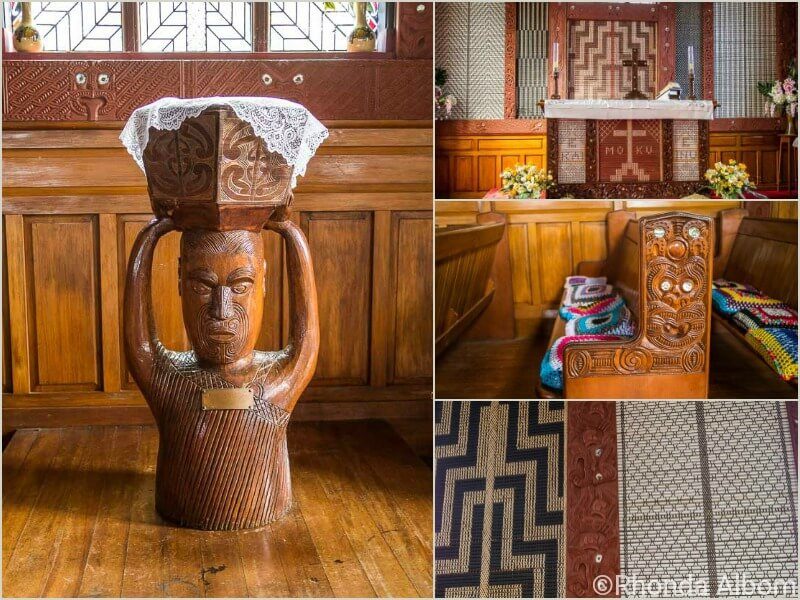 Te Araroa
(174 km from Gisborne, 160 km from Opotiki)

Near the midpoint of the driving time, Te Araroa is home to another great coffee shop, the Cape Manuka Café. We didn't have time to visit the manuka factory on-site but did bring home a jar of our favourite manuka honey.
The two other things most people come to Te Araroa for are to see the giant Pohutukawa Tree and the East Cape lighthouse. The tree is easy to find along the beachfront.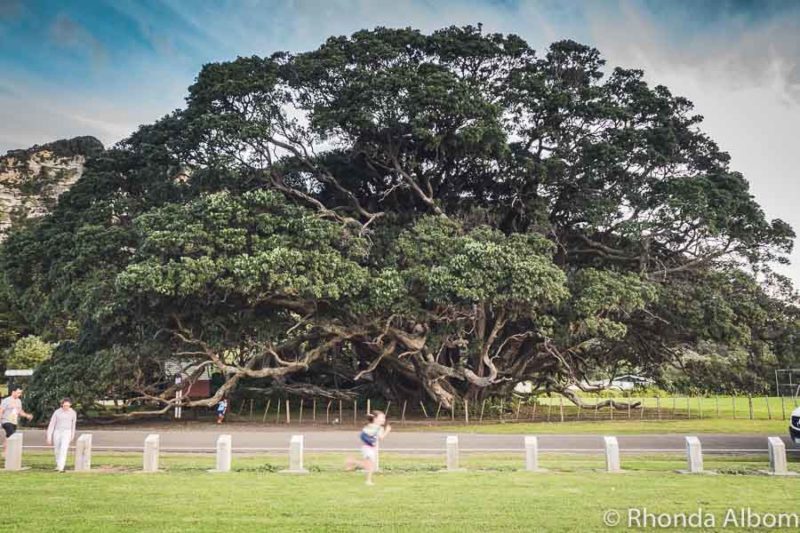 Enthusiasts will want to see the sunrise from the lighthouse. The easiest way to do this is to spend the night at Nga Puriri B&B in nearby Hicks Bay and drive the 20 km partially unpaved road to the lighthouse early in the morning.
Then you will climb the 700 steps to reach the lighthouse and be rewarded with a sunrise from the easternmost point in New Zealand. It is one of the spots that claim to be the first in the world to see the sunrise each day. If you don't want to get up early, don't worry, the views are reported to be spectacular any time of day.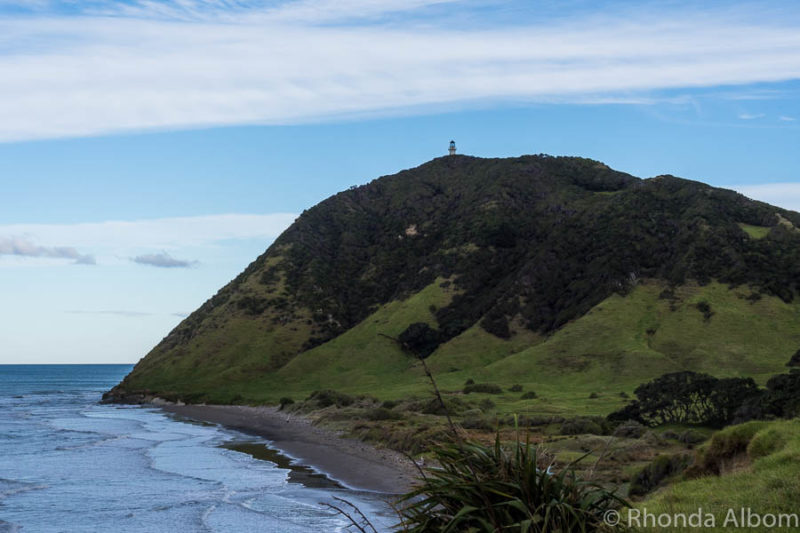 Hicks Bay
(183 km from Gisborne, 151 km from Opotiki)

Hick's Bay is another town on East Cape NZ with an old freezing works and a wharf in a state of disrepair. However, it appears to be an ideal fishing spot. At about the halfway point on this New Zealand road trip, Hicks Bay is a great place to spend the night, especially if you want to climb up to the lighthouse for the first light. Reserve your stay at Nga Puriri B&B in Hicks Bay here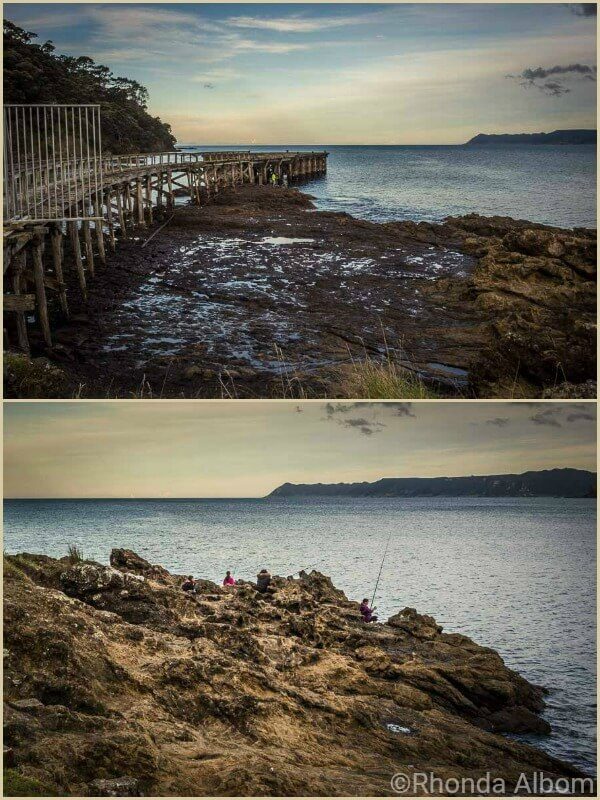 Whangaparaoa
(216 km from Gisborne, 118 km from Opotiki)

Not a tourist stop for most people, but we live in the other Whangaparaoa, New Zealand. This one, on the East Cape NZ, is home to the spot where the Tainui canoe first landed. It was one of the founding canoes that brought the Maori people to New Zealand.
Waihau Bay
(227 km from Gisborne, 107 km from Opotiki)

By the time we reached this lovely bay, it was clear to us that we would not get to see everything we had hoped to visit. Waihau Bay is the filming location of the New Zealand movie "Boy" and is home to the charming Waihau Bay Store.
The shorter autumn days meant sunlight was fading soon. From here, our stops were short and to the point.
Raukokore
(235 km from Gisborne, 99 km from Opotiki)

The sun was just about on the horizon as we drove into Raukokore, but we had no trouble locating the Christ Church Raukokore, an Anglican church with Maori decor. The door was open and welcoming, and a sign advised that the strange sounds may be coming from the penguins that nest under the church. There is a cemetery behind the church.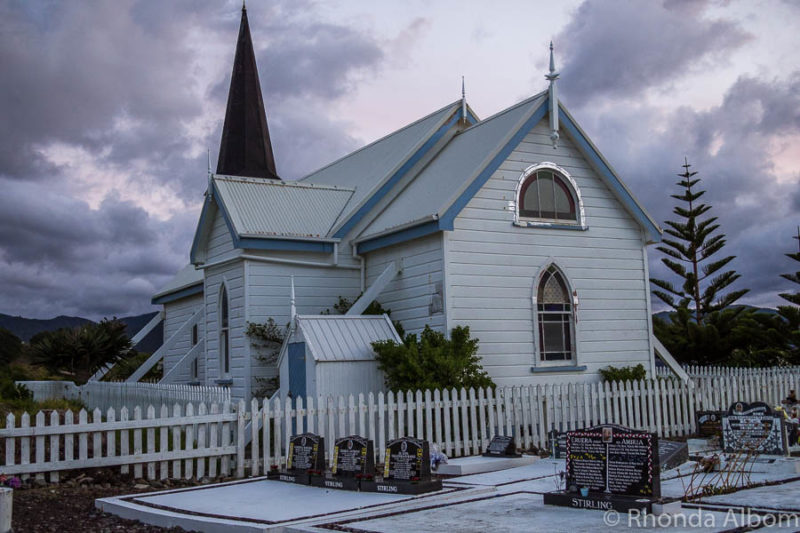 Whanarua Bay
(246 km from Gisborne, 88 km from Opotiki)

One of many stunning bays along the coast, we had enough light for a quick look, but not enough for a decent photo. A region with its own subtropical climate, it is home to macadamia farms, however visiting offseason, they would have been closed even had we arrived much earlier.
Te Kaha
(263 km from Gisborne, 71 km from Opotiki)

We arrived too late to enjoy this fishing village or even to see the wonderfully carved Maungaroa Marae at Maraetai Bay which has an old whaleboat on display. A bit beyond the boat is the gravesite of Princess Te Rangi Pai and her husband, John Howie.
After drinking too many coffees during the day, we were glad to find open public toilets. However, my enthusiasm drained when two pit bulls trapped me inside. We believe the dogs belonged to the owner of a van parked in the lot.
Opotiki
(334 km from Gisborne)

We reached Opotiki in time for dinner, where we enjoyed a meal at Kashish before spending the night at a bed and breakfast (that is no longer there). Opotiki is another place I would have liked to have spent more time, perhaps a full day to do the Motu Trails and hike out to the waterfall.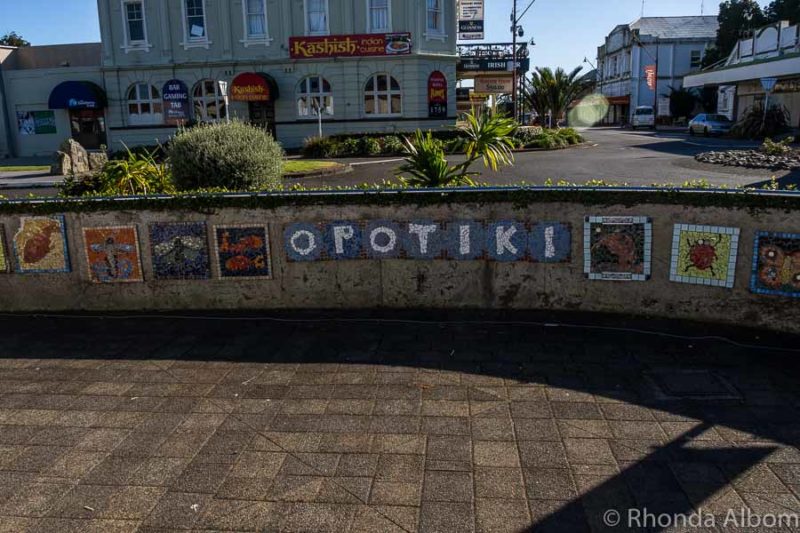 Things to Consider Before Driving East Cape NZ from Gisborne to Opotiki
The road can be driven in either direction. We went from Gisborne to Opotiki as part of a longer drive that brought us from Wellington to Napier and Gisborne before the East Cape portion of our round-trip Auckland to Wellington road trip. The more popular direction is from Opotiki to Gisborne via east cape. That puts you on the coastal side of the two-lane road.
Stop at an i-Site at either end and pick up a free Travellers Guidebook of the area. Note the guide was advertising based and is missing several free things to do.
Give yourself time to relax and enjoy. Allow at least two days, or at minimum, start out from the historic Tolaga Inn if you are heading in the direction we drove.
There are a variety of accommodation options on the East Cape, many with a personal touch that would have enhanced our experience.
If you are travelling by camper, there are several campsites along the way, and also many areas that allow freedom camping.
East Cape NZ is rural, with fewer facilities. Be sure you have plenty of petrol. There is a petrol station in Te Araroa, which is near the centre of the drive.
There are toilet facilities in most NZ towns. Blue highway signs identify them. The few we stopped at were clean with flush toilets.
If you are in a hurry, you can travel through the Waioeka Gorge from Gisborne to Opotiki, New Zealand. The distance is 144 km, and it will take you less than two hours. Be sure to check for NZTA road closures before you begin your journey, especially if it has rained heavily recently.
Read next: New Zealand Road Trips: Itineraries for North or South Island Adventures
Save on your NZ trip with these resources
These are our go-to companies when we travel. We believe this list to be the best in each category. You can't go wrong using them on your trip too.
Check out our travel resources page for more companies that we use when you travel.
Save our East Cape NZ itinerary for later
Pinterest is the perfect place to save a copy of this itinerary until you get to the east cape of New Zealand. Choose your favourite design: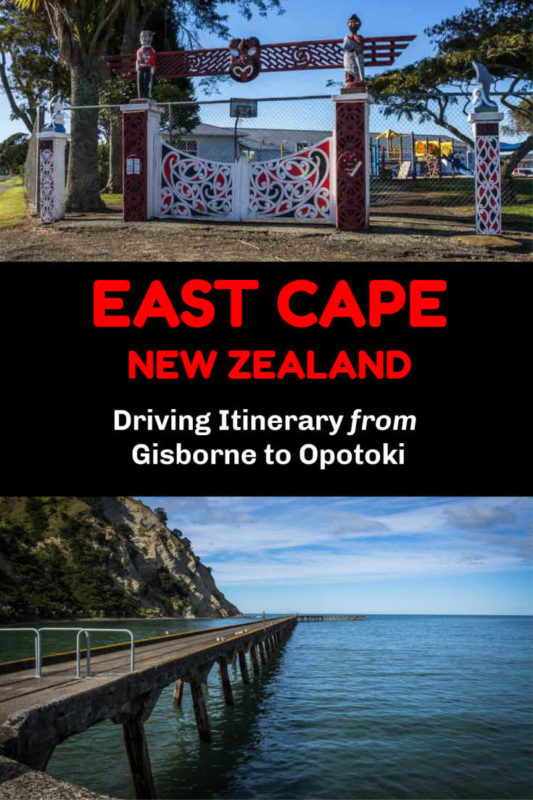 Will you give yourself enough time to really enjoy this East Cape NZ coastal road trip?
Disclaimer: We worked with Tairāwhiti Gisborne, the local tourism board. The opinions expressed here are strictly our own.