Napier is best known as the art deco Capital of the world, but this offbeat New Zealand town has a lot more to offer. From Māori and European history to wine tasting or adventure, there are plenty of novel things to do in Napier.
To understand Napier, you need a brief history. In 1931 Napier was devastated by a 7.8 magnitude earthquake that levelled the main commercial district but didn't break the town's spirit. As a result of such an extensive rebuild reflecting the style of the time, the town's look is art deco.
Below is our recommendation of things to do in Napier New Zealand. It includes popular activities but above all, it features several off the beaten path Napier attractions.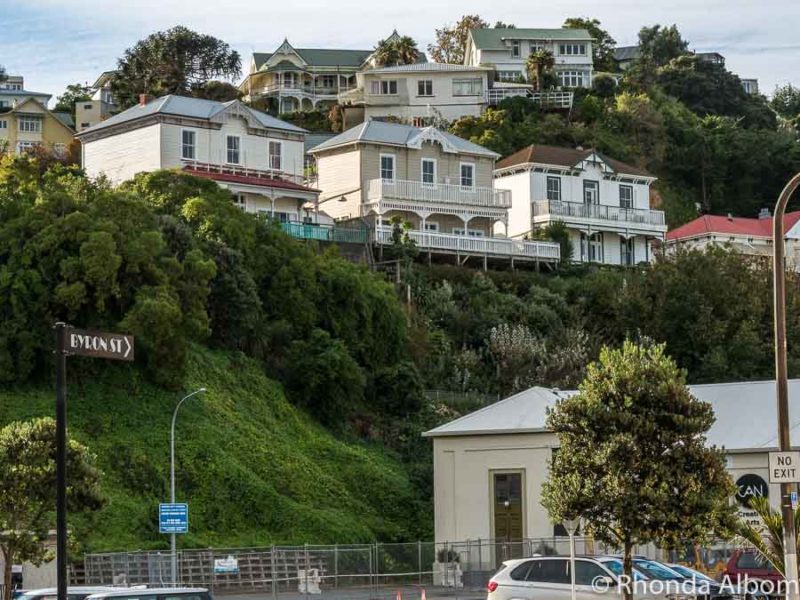 This site contains affiliate links to products and/or services. We may receive a commission for purchases made through these links at no additional cost to you.
Art deco related things to do in Napier
Art deco tours
Starting with a nearly blank canvas, Napier's architectural rebuild reflects the trendy art deco and Spanish-mission styles of the time. The best way to discover the detail is with a walking tour guided by Napier's Art Deco Trust. Above all, the fascinating stories, history, and detail of the architecture came to life through our passionate volunteer guide.
Check price or book your art deco walking tour.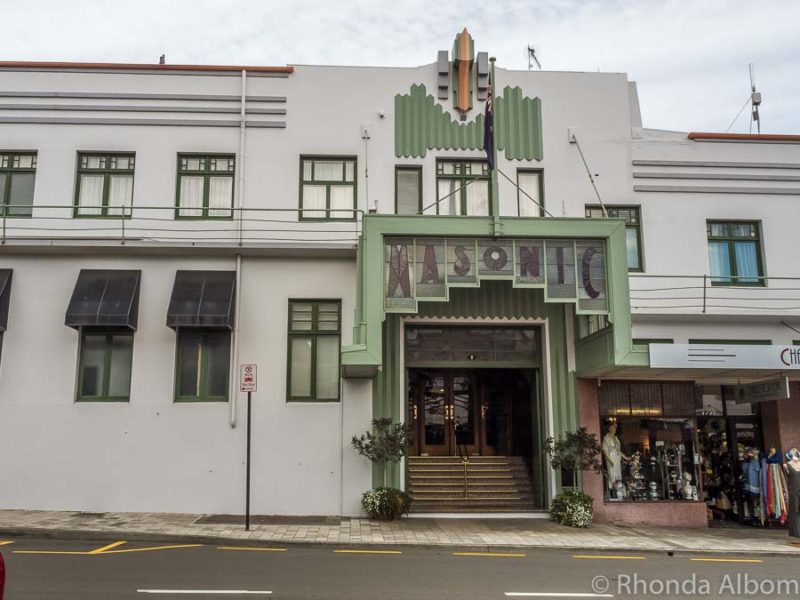 Art deco weekend (a major Napier event in February)
If you're in New Zealand in February, grab some 1930's period clothing and head to Napier for the Tremains art deco weekend. It's a citywide themed party that attracts over 40k people over four days. The weekend highlights include vintage car parades, fashion shows, outdoor concerts, and Great-Gatsby-themed picnics and dances.
Active things to do in Napier
Walk or cycle along Marine Parade
A walk along Marine Parade is a must-do for any visitor to Napier. Paralleling the coast, the seemingly endless Napier beach and cliff tops are interweaved with Norfolk pines, gardens, monuments, sculpture, fountains, and flowers.
Be sure to look straight through the Marin Parade Arch, as it was purpose-built so the plaque of the HMS Veronica is visible. The significance is due to the crew of the HMS Veronica providing the first outside source of help following the earthquake. For special Napier events, the ship's bell hangs below the sign, otherwise, the bell is on display at MTG.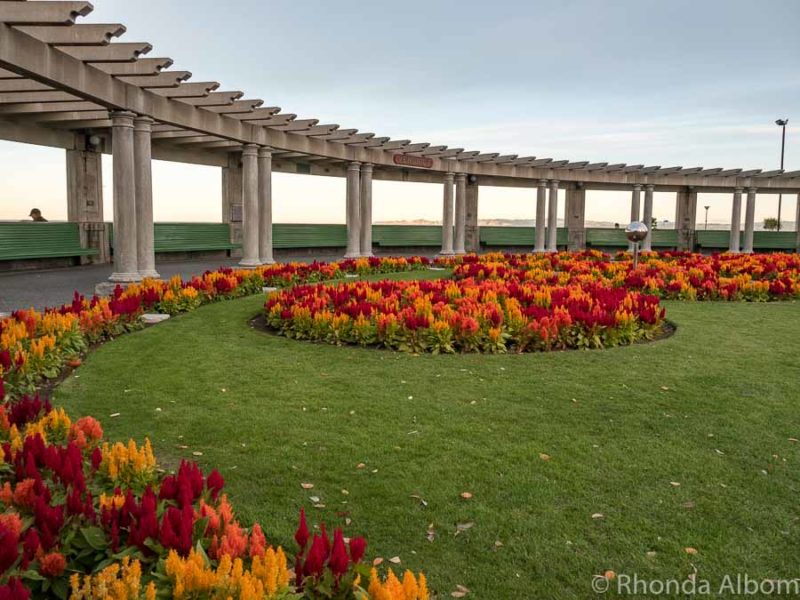 Surf, swim, and watch the waves at a Napier beach
Napier is one of the sunniest regions in New Zealand, boasting approximately 2350 hours of sunshine per year. This great weather is evident in the popularity of its beaches.
Head to Sandy Bay if you are looking for a great swimming beach. It's located north of the Marine Parade, just past the port.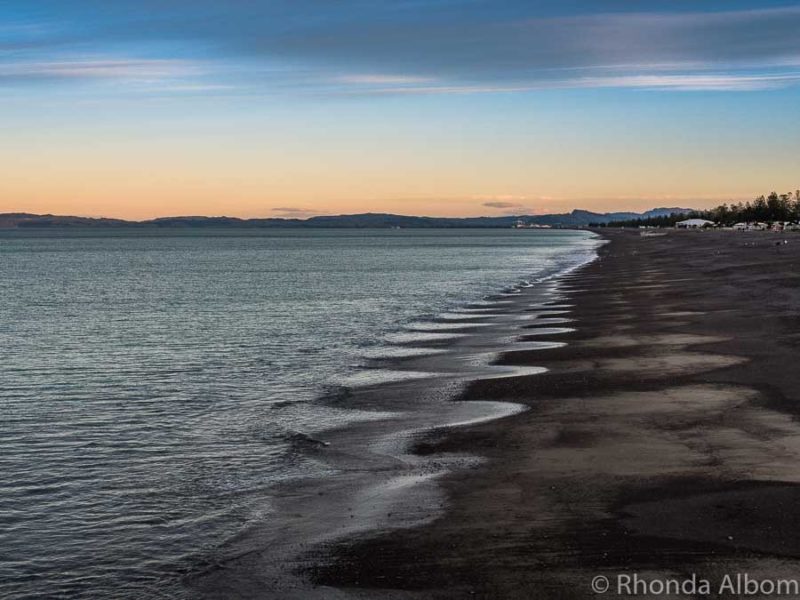 Hike (or drive) to Bluff Hill
From the Bluff Hill domain lookout, we enjoyed panoramic views of the sea that extended from Cape Kidnappers in the south to the Mahia Peninsula to the northeast. Cape Kidnappers was given its name when local Māori attempted to abduct a member of Captain Cook's crew in 1769. Mahia Peninsula is now home to Rocket Lab's orbital launch site. Bluff Hill held a military battery during World War II.
Historic things to do in Napier: museums and other Napier tourist attractions
National Aquarium of New Zealand
Marine Parade
The National Aquarium holds New Zealand's most diverse range of aquatic animals and wildlife, both domestic and international. While I am fascinated by the sharks, stingray, piranha, and kiwi birds, it is the little blue penguins that won my heart.
A highlight for many is watching them at feeding times (daily, at 9.30 am, 1.30 pm and 3.30 pm). If you visit in the morning, you can watch the daily reef feeding at 10 am. However, an afternoon visit can include the 2 pm shark feeding in the 1.5 million litre Oceanarium.
Hand-feed penguins at the National Aquarium: The Little Penguin Encounter will take a maximum of four people behind the scenes for a tour of the penguin facility and a chance to hand-feed these adorable birds. Great for families, with a minimum age of 6 for participation. Click here to check the price and availability of your Little Penguin Encounter.
MTG Hawke's Bay
1 Tennyson Street
MTG Hawke's Bay is a regional museum filled with art, Māori jewellery and artefacts, and local history including extensive detail on the devastating 1931 earthquake. Entrance is always free, so even a short visit will be interesting. The name: MTG stands for Museum, Theatre, Gallery.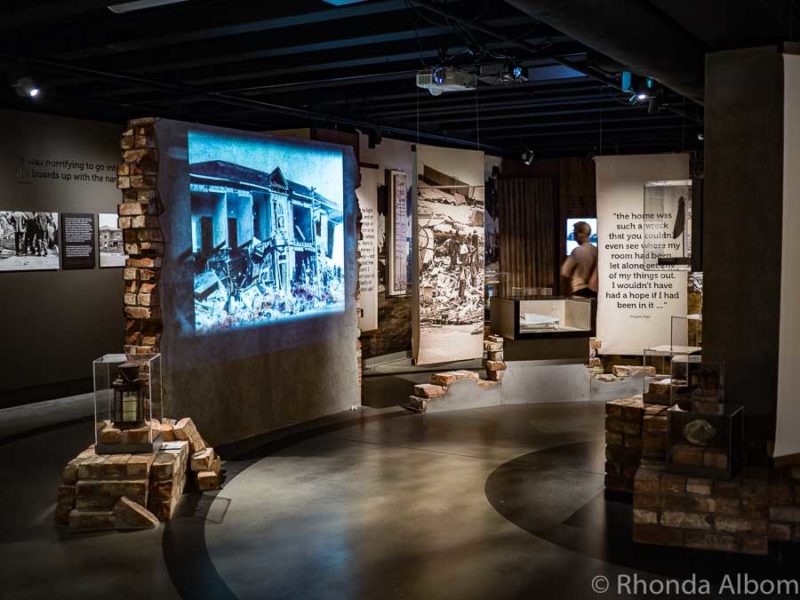 Napier Prison
55 Coote Road, Bluff Hill
It is the stories that make the Napier Prison such a fascinating place to visit. Active from 1862 to 1993, it is New Zealand's oldest prison. It is brought to life with the audio guide, or if you are brave enough you can enjoy an evening ghost walk (limited weekends).
A self-guided audio tour of Napier Prison took us through cells, the quarry, the hanging yard, and even the small cemetery. Here, the only four prisoners ever hung at the prison are buried upright to prevent them from achieving eternal rest.
In one of the rooms, there is a case with a few random objects including a key retrieved from a prisoner. Apparently, in the 1980s, a prisoner had copied a key and rather than escaping, he used it on a regular basis to go to town for KFC (yes, that is Kentucky Fried Chicken).
St. John's Anglican Cathedral
28 Browning Street
Waiapu Anglican Cathedral is the first cathedral in the world to greet each new day. Also called St John's Anglican Cathedral, it was originally built in 1886, but, like much of the city was destroyed in the 1931 earthquake.
The 19-year rebuild began in 1946. By 1965, an architecturally modernist-style cathedral had been completed. It is best known for its abstract style stained-glass ambulatory windows depicting scenes from the life of Christ. It is closed on Saturdays, and as a result, we missed our chance to get inside.
Napier sculptures and fountains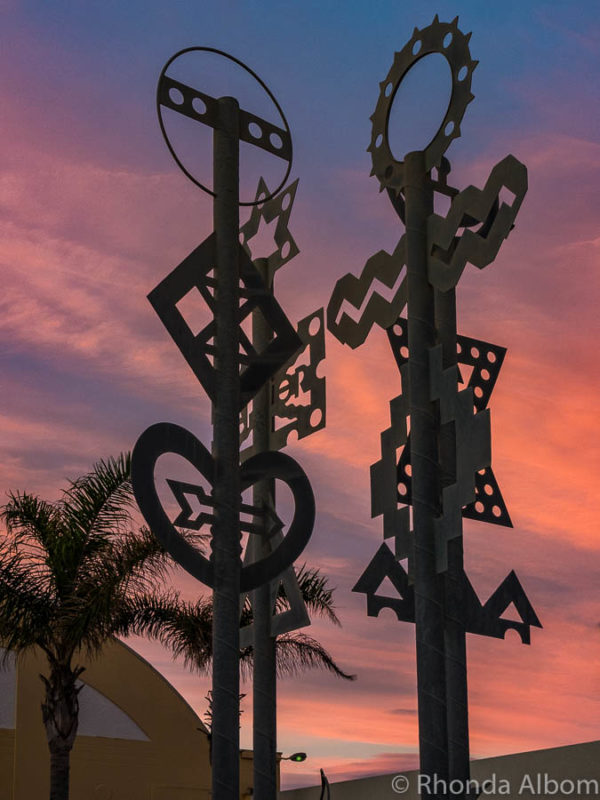 Pania of the Reef
According to the sign, "An old Māori legend tells how Pania, lured by the siren voices of the sea people swam out to meet them. When she endeavoured to return to her lover, she was transformed into the reef which now lies beyond the Napier breakwater."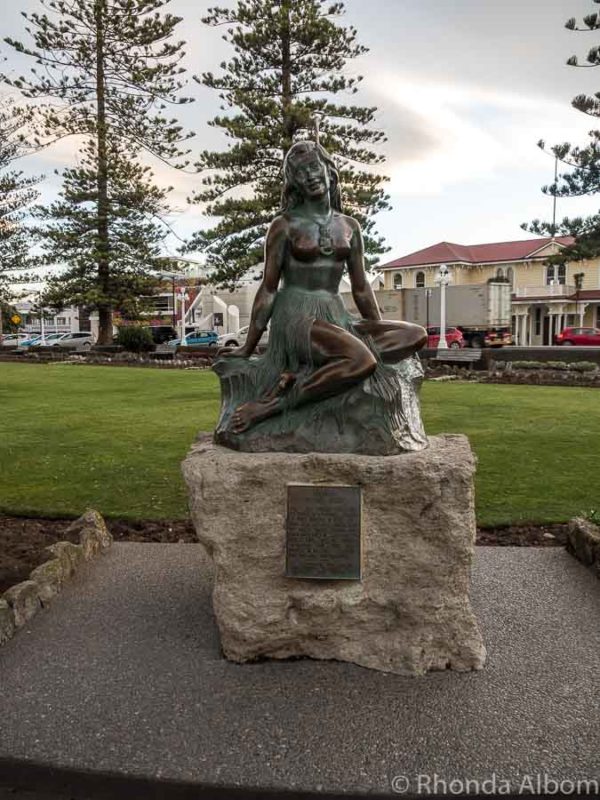 Dancing fountains at night
Ever-changing colourful lights create a dancing effect from this inground fountain. The late autumn wind gave me a chill as I watched, but it also created a misty fan-like effect at the top of each spout. To my surprise, a group of teenagers couldn't resist running through the spouts, trying to time the water so as not to get wet. They failed.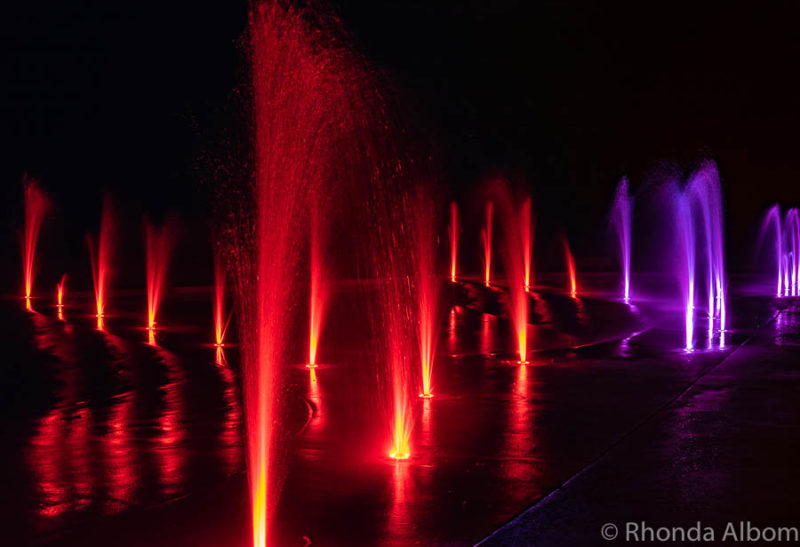 Nearby to Napier: the surrounding Hawke's Bay region
No visit to Napier would be complete without venturing beyond the city borders. There are fascinating cultural sites, stunning views, an impressive wine region, and more. So much in fact, that we wrote about Hawkes Bay in detail here. Highlights of the region:
Ātea a Rangi Star Compass
Otatara Pa (archaeological site)
Vineyards and wine tastings
Te Mata Peak (for views)
Longest place name (a photo opportunity)
Gannet colony at Cape Kidnappers
Morere Hot Springs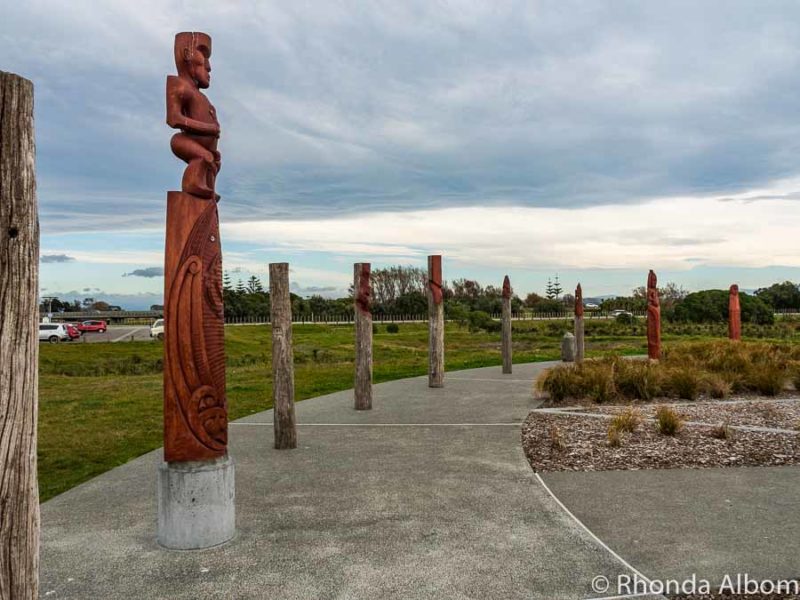 Te Mata Peak Estate photo credit: Phillip Capper
Where is Napier New Zealand?
Napier is an east coast city on the North Island of New Zealand with a population of 57,000. It is accessible via plane, bus, or driving. We visited as part of a North Island adventure and drove in from Wellington, and headed to Gisborne and the East Cape when we left. Key drive times are as follows:
Auckland to Napier: 5 hours
Wellington to Napier: 4 hours
Hastings to Napier: 23 minutes
Napier to Gisborne: 3 hours
Where to stay: Napier accommodations
Napier accommodation options cover the full gambit from beachfront luxury with amazing ocean views to backpackers with shared rooms. While we typically stay at 4-star or higher options, we planned late, travelled during school holidays, and they were all sold out.
We opted to stay in a family-friendly accommodation across the main road from the beach. While it was okay, we don't specifically recommend it.
For our next visit, we hope to stay at the Scenic Hotel Te Pania. The sweeping ocean views are what pulls me to this 4-star option on Marine Parade. It offers a one minute walk to the beach, and both indoor and outdoor dining options. Check price and reviews
Arriving via the Napier cruise port
Whether you want art deco, wine tasting, or something else, if you are arriving in Napier via cruise ship, you will not have enough time to see it all. Check out what the ship offers, then take a look at these independent options, all from Viator.
We find they generally have much smaller groups, more personal attention, and lower cost than the ship's excursions. And, Viator offers of a worry-free shore excursion guarantee on most of their options (read the details of the tour you choose).
Check out these Napier shore excursions
Important if you are not arriving via cruise ship
If you are NOT arriving via ship and your plans are flexible, you might want to check here for the Port of Napier cruise ship schedule. As you can imagine, having cruise ships in port makes many of the popular venues crowded.
Booking tips for New Zealand travel planning
We often have affiliate partnerships with companies that we trust and recommend. We receive a small compensation if you make a purchase using these links. In some cases, the links can save you up to 70%.
First-time visitors start here: New Zealand travel guide or with our favourite New Zealand road trips.

Flights: We use Skyscanner to find all the available flight options at the best prices.

Rental Vehicles: For cars, we always use RentalCars.com, a rental car search engine with no hidden costs. For campervans (and larger cars), note that Spaceships Rentals NZ offers free one-way drop-off between Auckland and Christchurch.
**Albom Adventures readers can check for discounts off Spaceships campervans.**

Accommodations: We use Tripadvisor to find ratings and reserve accommodations in most NZ cities.

Activity Discounts: We use Bookme.co.nz to find discounts on entry tickets and tours in New Zealand.

Travel Insurance: We purchase insurance that covers medical and travel emergencies when we head overseas. We start with Travel Insurance Master, an aggregator that gives us a free and easy-to-read comparison of the inclusions of each policy.

Packing Tips: Get a free copy of our New Zealand packing list when you sign up for our mailing list.

**Find more money-saving resources on our Travel Resources page.
Save for later
If you enjoyed this article, please share it on social media and save it for later on Pinterest.
Which of these things to do in Napier will you do first?
More on New Zealand you might enjoy:
Disclaimer: We worked with Hawkes Bay Tourism, the local tourism board. Also, we were provided with many complimentary entrances, tours, sample items, or media rates to assist in the writing of this article. However, the opinions expressed here are strictly our own.