Auckland New Zealand greets nearly 4 million visitors annually. Some stay in the city, but more come to explore the lush green countryside. An Auckland to Wellington drive is the best way to discover many of the New Zealand North Island attractions and a few secrets. There are enchanting gardens, bubbling earth, geysers, volcanos, museums, clever cafés, huge corrugated iron animals, hobbit holes, and even a spring that produces most of the country's drinking water.
Sure, you can fly to the major cities, but what you miss along the way is the magic. It's this exploration that makes New Zealand so special.
I remember the first time we took the Auckland to Wellington drive. We had one stop for food, a second for the toilet, and eight hours later, we arrived in New Zealand's capital city, barely speaking to each other.
Now, I look forward to the adventure. We have done the research and made the stops. What was once a too-long, somewhat boring Auckland to Wellington drive is now an exciting New Zealand road trip.
Rural New Zealand is one charming small town after the next. We took two days to get from Auckland to Wellington and more to return. If you are ready to self-drive in New Zealand, read on.
Interesting stops along the Auckland to Wellington road trip
Auckland
New Zealand's largest city is home to nearly one-third of the country's population. I am amongst this crowd. It's a great place to live or to visit. Whether it is nature, culture, or culinary delights, Auckland never disappoints.
Auckland is also a starting point for many great adventures.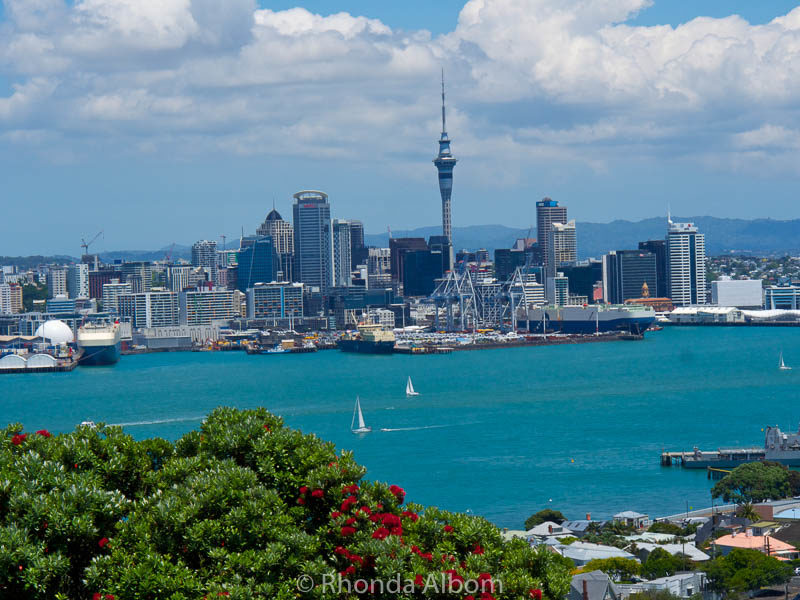 Read next: 75 Free and Nearly Free Things to Do in Auckland New Zealand
First, let us whet your appetite …
Paeroa
If you like antique shops, then you won't want to miss Paeroa. However, New Zealand's antique capital is most famous for producing L&P (an abbreviation for Lemon and Paeroa). Don't miss the giant L&P bottle near the corner of Normanby and Te Aroha Roads.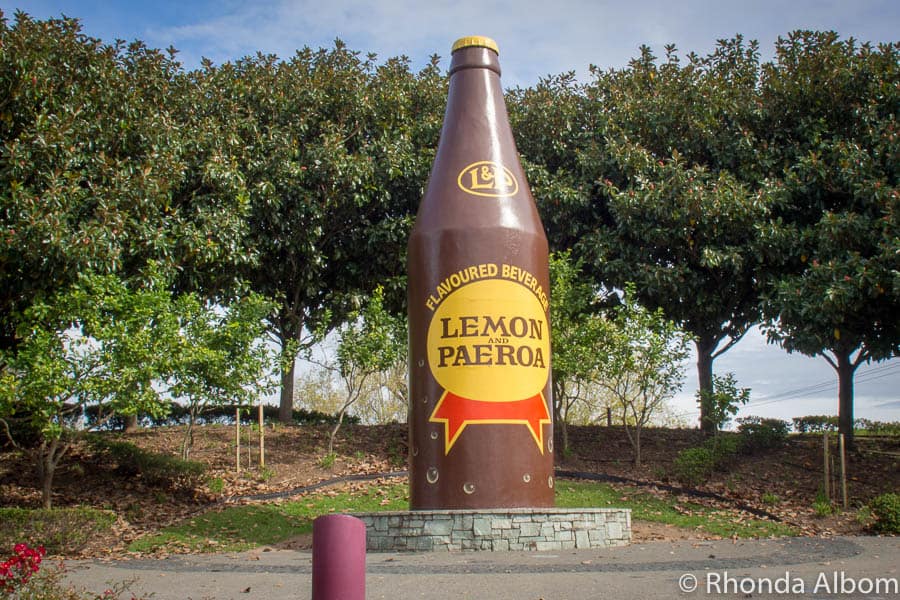 Our journey: For us, Paeroa was a coffee and browsing stop as part of our return Wellington to Auckland road trip.
Karangahake Gorge
A masterpiece of nature, the Karangahake gorge was an active mine during the gold rush days of the late 1800s. From the old mine shaft tunnels, the miners blasted holes through the cliff face to tip tailings into the gorge below. Today, the holes are "windows" offering dramatic views of the gorge and river. Bring a torch (flashlight) as it is dark inside the tunnels. The Karangahake Windows walk takes about an hour.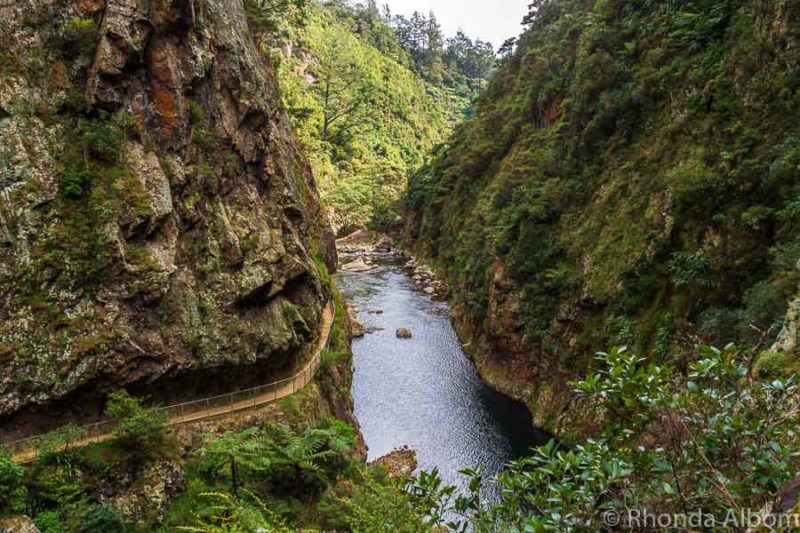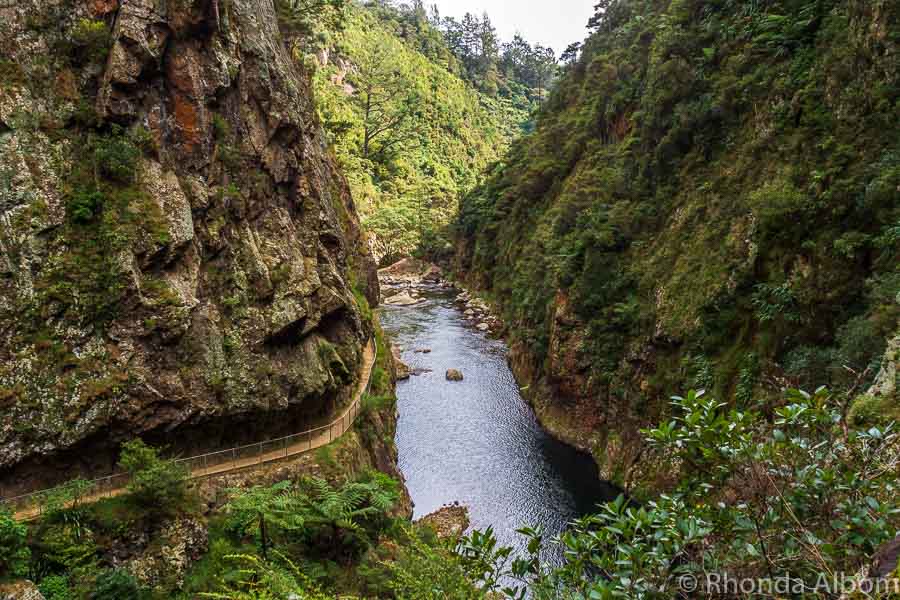 Our journey: We stopped at Karangahake Gorge on our return drive from Wellington to Auckland. We chose the 2.5 km Karangahake Windows walk from the many hiking options.
Hamilton
New Zealand's fourth-largest city is home to the internationally acclaimed Hamilton Gardens as well as the country's only tea plantation, a zoo, 11 km riverwalk trail along the Waikato River (New Zealand's longest river), and a tribute to former resident Richard O'Brien (screenplay writer and actor in the Rocky Horror Picture Show). Despite all that, it is the gardens that draw about one million visitors to Hamilton each year.
One could easily spend a full day (or more) in Hamilton and then head out in the morning. If this is your option, you will need somewhere to stay in Hamilton.
If you have any extra time here, be sure to drive 45 minutes west to visit the coastal community of Raglan.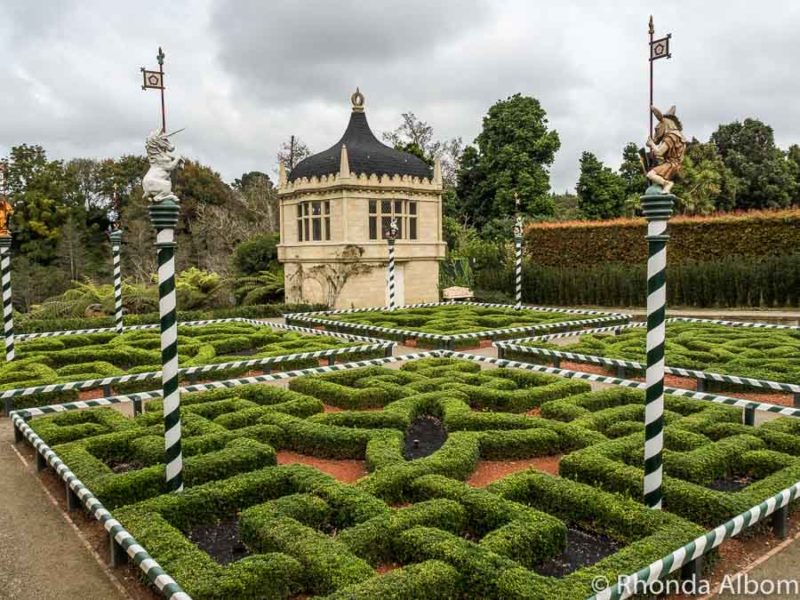 Our journey: We spent half a day in Hamilton, stopping only to visit the gardens, enjoy lunch, and see the Riff Raff Statue (Rocky Horror).
Matamata (Hobbiton)
Hobbit and The Lord of the Rings fan flock to Middle Earth. One does not simply walk into Middle Earth. Hobbiton is only available as a guided tour. Home to the last remaining intact set from filming the movies, this is a once-in-a-lifetime opportunity.
You will be surrounded by the lush green pastures and hobbit holes of the Shire. And while you are there, your guide will share stories and behind-the-scenes secrets. For fans, Hobbiton is a must-see.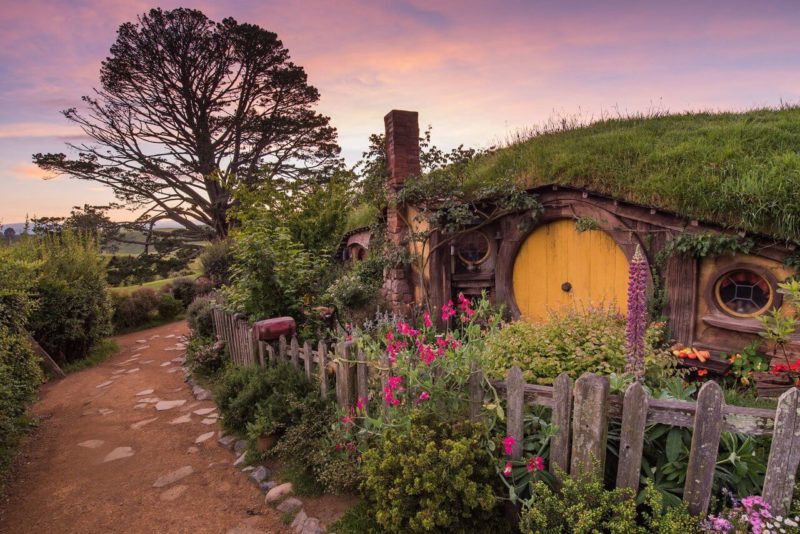 Our journey: We opted not to stop at Hobbiton on our most recent New Zealand North Island road trip.
Tirau
A creative solution to revitalizing a town, in the late 1980's Tirau resident Steven Clothier designed and erected huge sculptures in corrugated iron. A great place to stop, stretch your legs, visit craft shops, have a coffee, or just walk around and admire the interesting corrugated creations. Be sure to bring your camera.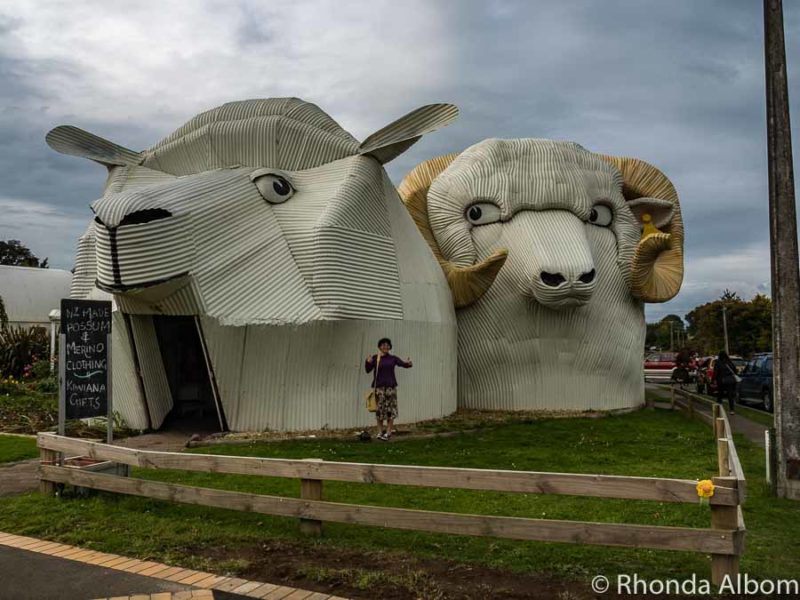 Our journey: We took far too many photos in this tiny town and even picked up a few souvenirs and snacks.
Te Waihou Walkway and Blue Spring
New Zealand exports about 9 million litres of water each year, and nearly 70% of that water comes from the Blue Spring. The walk lets you stretch your legs and brings you to colourful nature at its best. From end to end, the walk is 4.7 km and takes about 90 minutes each way.
Our journey: We parked at the Leslie Road end and walked to the spring and back. It was about an hour in total.
Waitomo Glow Worm Caves
The Waitomo Glow Worm Caves are one of the more popular North Island tourist attractions, and while they are between Auckland and Wellington, they are not on the route we are recommending if making a one-way journey. However, they are worth a visit if you have never seen Arachnocampa Luminosa, a glowworm species found exclusively in New Zealand.
Rotorua
A destination on its own, Rotorua is a geothermal wonderland filled with things to do and sitting on the geographic fault that created it. Water and earth rich in minerals, Rotorua is the place to rejuvenate. The bubbling earth, rising steam, and colourful mineral elements create a landscape that will keep photographers busy.
It's a city offering impressive Māori cultural discovery opportunities, as well as being home to the Agrodome, a large working farm open for tours and shows. And if that's not enough, it's also home to adventure with opportunities for bungy, luge, zorb, mountain biking, and more.
While you can try to do the highlights in a day, you will miss a lot. We recommend spending at least one night, ideally more. Being fans of 4-star accommodations that are clean, comfortable, and offer a touch of luxury, our favourite place to stay is the Rotorua Novotel Lakeside.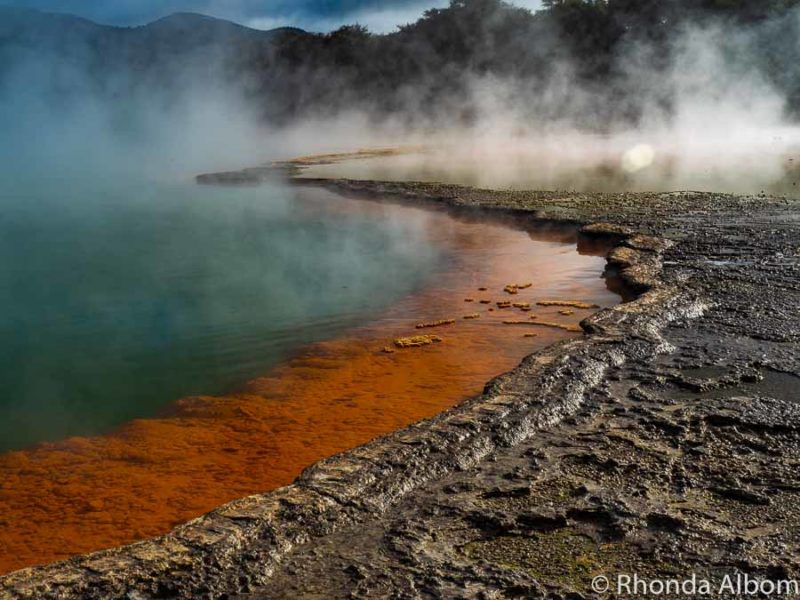 Our journey: We opted to visit Rotorua as a separate New Zealand road trip, but remember, we live in Auckland, so we have more flexibility than visitors.
Taupo
Lake Taupo is New Zealand's largest lake and Australasia's largest freshwater lake. It offers a picturesque, serene setting for sitting in a café. Taupo is also a place for adventure (skydiving and bungy jumping). The lake drains towards the Waikato River. It narrows as it flows over Huka Falls at more than 220,000 litres per second.
There are plenty of free things to do in Taupo.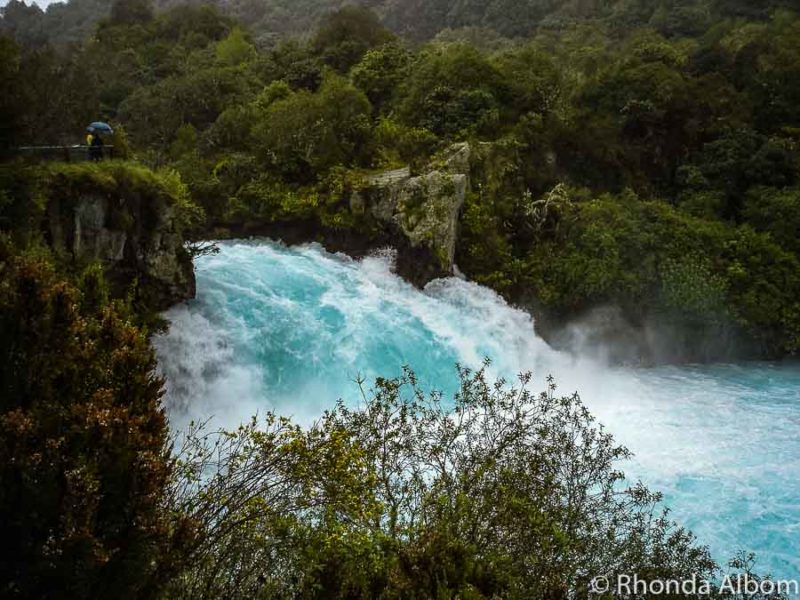 Turangi

(the halfway stop on an Auckland to Wellington drive)

Turangi is an easy place to spend the night if you are doing a multi-day Auckland to Wellington drive. A town famous for its fly fishing, it is also a base for those who are doing the Tongariro Alpine Crossing, as well as for skiers during the winter. This brings plenty of inexpensive, roadside motel-style accommodations, or if you are like us, and prefer something nicer and home-like, check out this list of options in and around Turangi.

Our journey: We spent the night in Turangi.
Waiouru: The National Army Museum
Standing next to the Tears on Greenstone Memorial (Roimata Pounamu) we could feel the history all around us. It is at this spot that all New Zealand army recruits take their oath. Crochet poppies fill the walls. The original request to the community was 1,000 poppies, but handmade poppies kept arriving. The revised goal became 18,166, one for each New Zealand soldier killed in battle. However, the poppies kept coming and well exceeded that goal.
The museum takes us through New Zealand's interesting military history, both with the UK and Australia. A little-known piece of trivia, the lifelike faces in the displays are created from casts made of museum staff members' faces.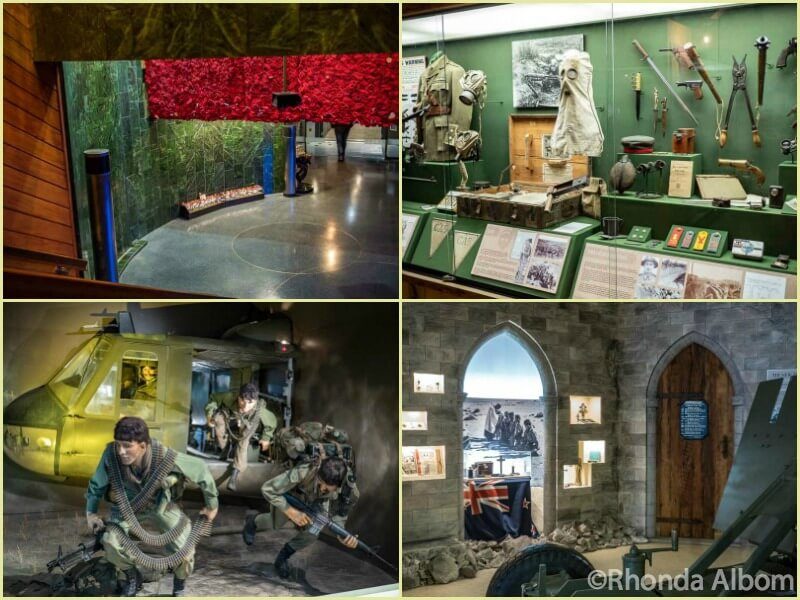 Our journey: By spending the night about an hour north in Turangi, we arrived at the National Army museum when it opened. We spent the morning at the museum, and then continued on our North Island road trip.
Taihape
If you love the corrugated iron in Tirau, you won't want to miss the giant boot welcoming you to Taihape.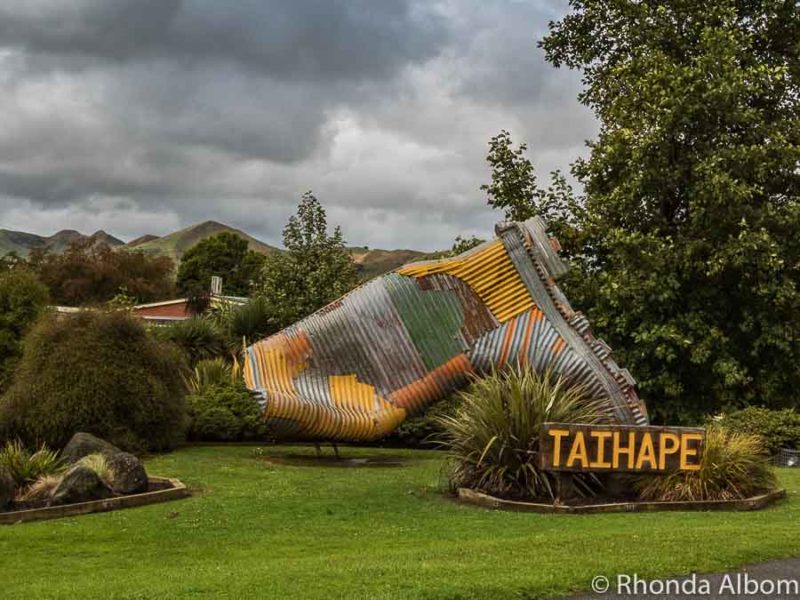 Our journey: For us, Taihape was a photo stop.
Bulls
As you enter the town of Bulls and see their slogan, "a town like no udder" you know it's time to start paying more attention to the shop names and the road signs. It's a town with a sense of humour, although I'm not sure it's a good one. Embracing their town name, the puns are everywhere.
The library is Read-A-Bull
Town Hall is Social-A-Bull
The storage shop is Store-A-Bull
A cafe is Delect-A-Bull
The carpark is Park-A-Bull
Public toilets are Reliev-A-Bull
Even the police station sign is Const-A-Bull
And a road sign reads, "Family Violence is not Accept-A-Bull.
Finally, we passed one store called "What a Load of Bull." This is only the tip of the bad pun iceberg.
Our Journey: We only drove slowly through Bulls, taking notes as we passed.
Sanson
By now, you have earned a coffee break. Just a few minutes after leaving the town of Bulls is the town of Sanson. Here, an old church-turned-cafe offered 'Heavenly Coffee' on their sign. The Church Cafe lives up to this standard. The coffee was divine, and the stuffed baked potato was even better.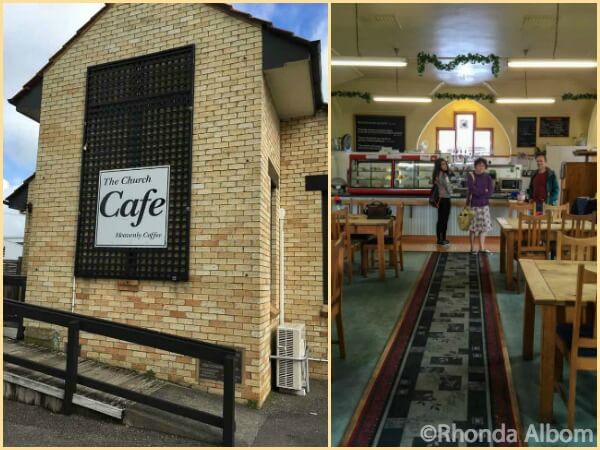 Our journey: We stopped at the Church Cafe for lunch.
Tui Brewery
Tui, a beer "irresistible to men", has been brewed in Mangatainoko since 1889. The secret may be the water from the Mangatainoko River, or it may be the brewing process. A lot has changed for Tui over the years. They have downsized their Mangatainoko facility to the point that it is now a microbrewery, brewing only for that location. The tour and tasting take about an hour.
Whether or not you take a tour, the cafe is outstanding and worth a stop. The food was great, the atmosphere lively, and it was a chance to try some of the beer brewed at this location. If you have too much or just want another overnight stop, check availability on nearby Palmerston North Accommodations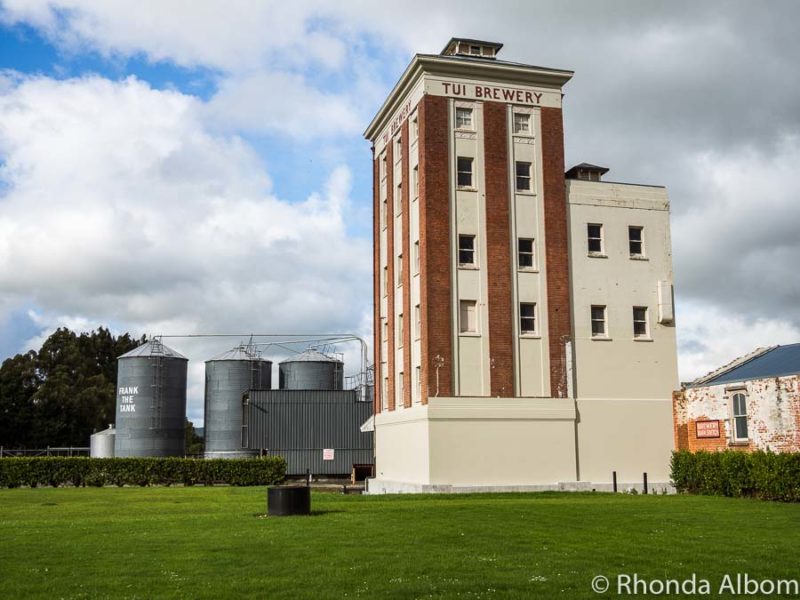 Our journey: We opted for a much longer journey and stopped at the Tui Brewery for lunch and a tour as we drove from Wellington to Napier on the east coast.
Stonehenge Aotearoa
Did you know there is a stone circle in New Zealand called Stonehenge Aotearoa? Fascinating on different levels, it represents the history of ancient stone circles combined with their power. It is not a replica of England's famous Stonehenge but rather a purpose-built structure of similar size to the one in the UK that has been built for its surroundings.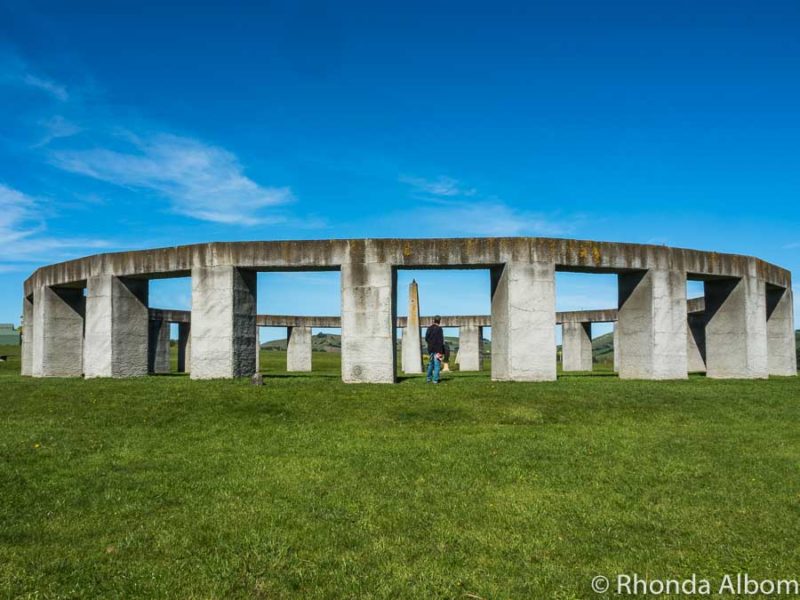 Our journey: We explored Stonehenge Aotearoa between Wellington and the Tui Brewery.
Wellington
Finally, our destination. I love New Zealand's capital city as a getaway destination. Home to the government buildings, it is a lovely waterfront city with plenty of interesting things to do.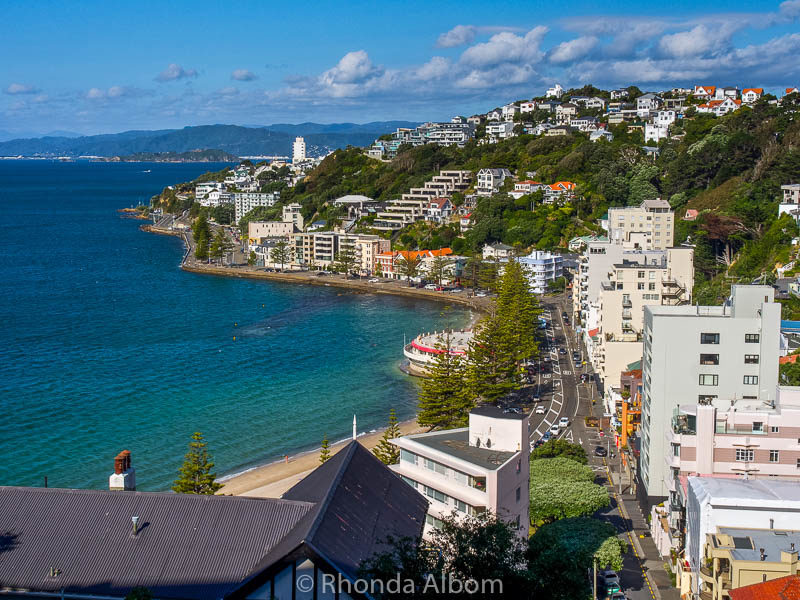 Our journey: We have visited Wellington many times. As part of our recent New Zealand driving holiday, we spent three days in New Zealand's capital.
Read next: Wellington Activities: 37 Things to Do in the Capital of New Zealand
Auckland to Wellington drive itinerary options
Are you wondering how to put this all together? Here are three Auckland to Wellington drive maps:
New Zealand road trip map options
⇒ Start with our Auckland to Wellington Interactive Map
⇒ Or here for our Auckland to Wellington Return Map
One day Auckland to Wellington by car
This is not a New Zealand road trip but rather a drive from one point to another. With 8 hours of driving in a day, you need an early start if you hope to make any stops. At a minimum, you can look out the window and enjoy Lake Taupo, the corrugated sculptures in Tirau and in Taihape, and the signage in Bulls.
Two days from Auckland to Wellington
Day 1: Auckland → Hamilton or Matamata → Tirau → Blue Springs → Taupo → Turangi
Day 2: Turangi → Waiouru → Taihape → Bulls → Sanson → Wellington
Three or more days from Auckland to Wellington
Day 1: Auckland → Paeroa and Karangahake Gorge and Matamata OR Hamilton → Tirau → Blue Springs → Rotorua
Spend Day 2 enjoying Rotorua
Day 3: Taupo → Waiouru → Taihape → Bulls → Sanson → Wellington
Seven to nine days, including four days of driving and return trip from Wellington to Auckland
First driving day: Auckland → Hamilton → Waitomo → Turangi
Second driving day: Turangi → Waiouru → Taihape → Bulls → Sanson → Wellington
** You will want to add at least two days in Wellington, we prefer to spend at least three.
Third driving day: Wellington → Stonehenge → Mangatainoka → Taupo → Rotorua
** You will want to add at least one day in Rotorua, again, we prefer to spend at least three.
Final driving day 4: Rotorua → Blue Springs → Tirau → Matamata OR Karangahake Gorge and Paeroa → Auckland
Practical information about the Auckland to Wellington drive
Nonstop, the Auckland to Wellington drive time is 8 hours.
In New Zealand, we drive on the left side of the road.
The speed limits in New Zealand tend to be lower than those in other countries, but the tickets for speeding are on par.
New Zealand motorways and city roads are great. Rural roads, however, are sometimes metals (gravel) or just not in as good of shape as you might expect.
If you're not from New Zealand, have you considered travel insurance? We have partnered with InsureMyTrip, because they are the best option to compare plans and find the right coverage for you. They have thousands of travel insurance plans and a one-of-a-kind recommendation engine to help travellers find the right plan. Most importantly, they will be there for you before, during and after your trip if you should need anything – especially help with a claim with the provider. Get your free quote from InsureMyTrip here.
Other ways to travel from Auckland to Wellington:
There are other ways to travel between Wellington and Auckland, but I hope we have convinced you that the above New Zealand self-drive itinerary is the optimal way to go. If not, here are a few options:
Air New Zealand and Jet Star both offer daily flights. If you want to fly, check Expedia flights for the best prices.
There is also the Northern Explorer, an Auckland to Wellington train, which won't save too much time but can be a good option if you don't have access to a vehicle and don't want to fly.
Or, there is a bus.
Save on your NZ trip with these resources
These are our go-to companies when we travel. We believe this list to be the best in each category. You can't go wrong using them on your trip too.
Check out our travel resources page for more companies that we use when you travel.
Save for later
If you enjoyed this article, please share it on social media and save it for later on Pinterest.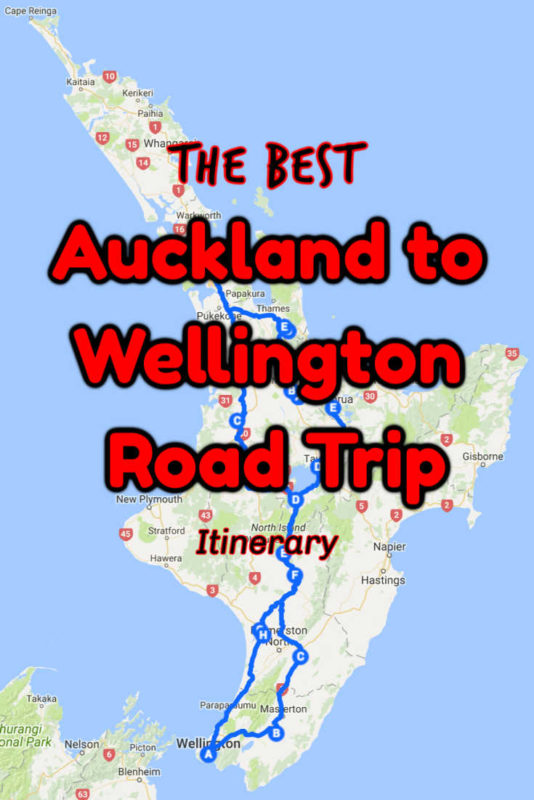 Will you take an Auckland to Wellington Drive?
New Zealand places and things you might like to see:
Disclaimer: We frequently work with local tourism boards and are often provided with many complimentary entrances, tours, sample items, or media rates to assist in the writing of Albom Adventures. However, our recommendations are from the heart, and the opinions expressed here are strictly our own.