Karangahake Gorge is an odd mix of remnant goldfields and nature's majesty. Once the site of New Zealand's most lucrative gold strike, it is now a recreation and impressive hiking destination. Swing bridges, gold mine shafts, a historic cyanide treatment plant, and lush green forest led us to the gorge, a jaw-droppingly beautiful site.
The Karangahake Gorge Historic Walkway parallels an old railway line that once ran between Paeroa and Waihi. With several walks to choose from, we opted for the Karangahake Windows Walk. It took us into the mine shafts, and then out to "windows" offering impressive views of the gorge and the river below.
Much of the history dates back to 1875 when gold was first discovered here. In fact, 60% of the gold mined in New Zealand originated here. While this rush lasted for a while, by 1920 it was no longer profitable and the main batteries at Karangahake were demolished.
However, gold is being mined today in the nearby town of Waihi.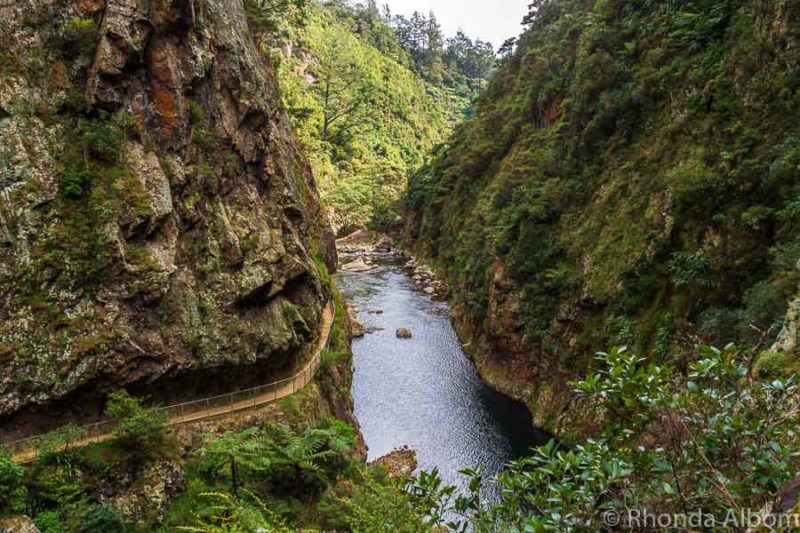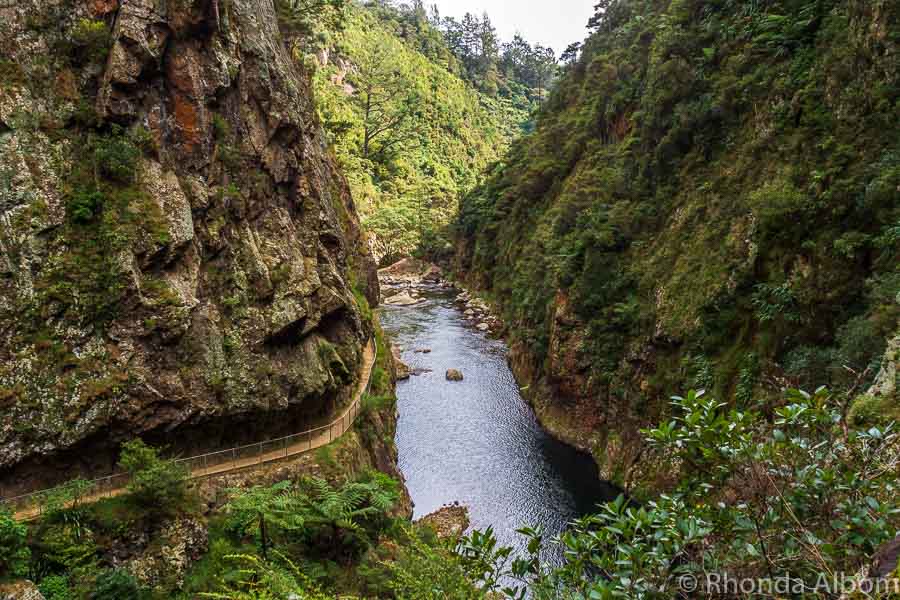 Check out the nearby Coromandel
Some links on this page can save you up to 70%. We earn from qualifying purchases through partnerships or affiliate programmes.
Karangahake Gorge Historic Walkway
The Karangahake Gorge walks should be taken slowly. Read the signage. Learn the area's history. Enjoy the extraordinary remains of the mining and railway ages.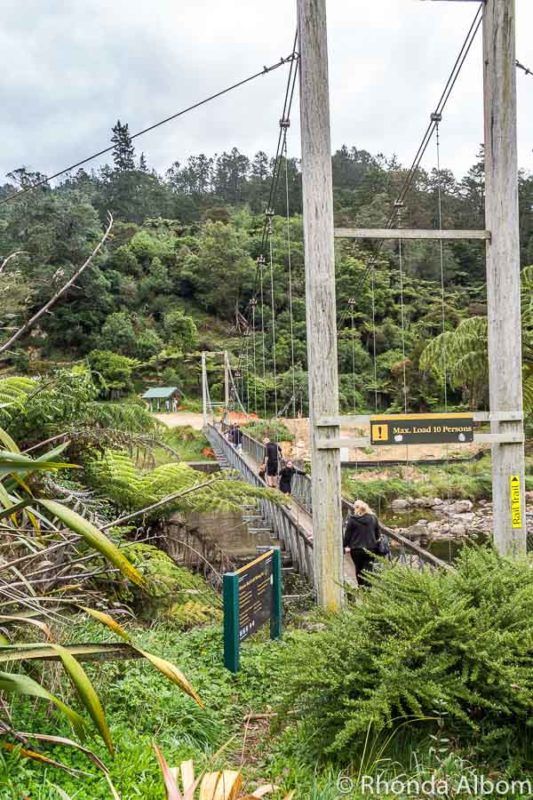 The images below are:
The view from the bridge of the Ohinemuri River.

Rusty equipment from the gold mining days.
This is the remains of the Crown Goldmining Company's cyanide treatment plant which, in 1889, was the world's first commercial user of potassium cyanide for extracting gold from the crushed ore.
Overlooking some of the trees from a point where the aerial tramway once passed.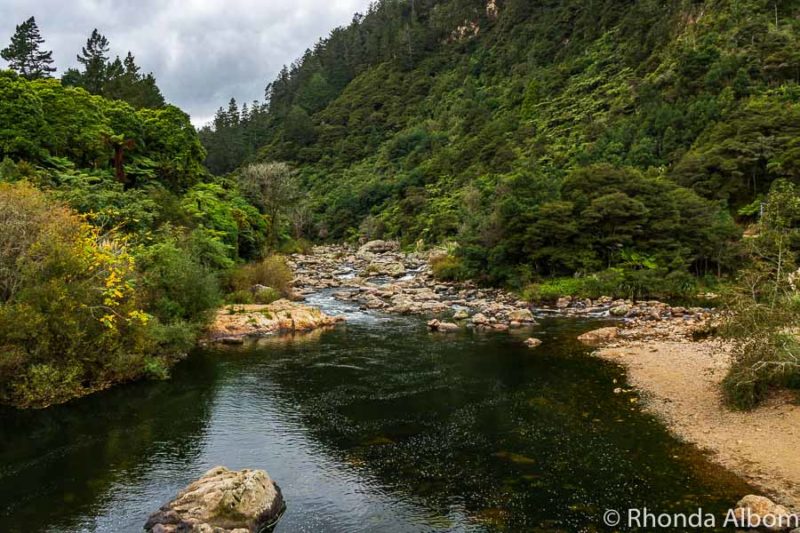 Crown Goldmining Company's cyanide treatment plant
One of the more unique sites is the remains of the Crown Goldmining Company's cyanide treatment plant. In 1889, was the world's first commercial user of potassium cyanide for extracting gold from the crushed ore.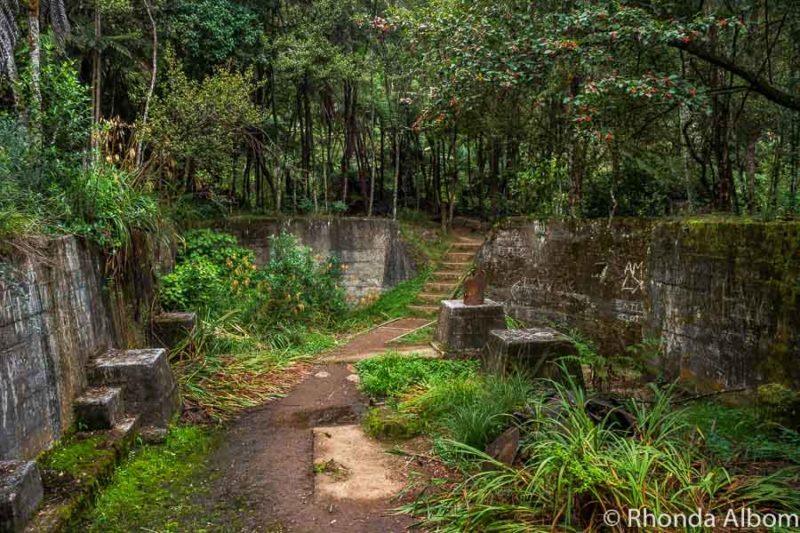 Karangahake Windows Walk
No doubt, the Karangahake Windows Walk is the highlight of any visit.
We walked along the old mining tram tracks toward the mine shaft tunnels. Even with a flashlight, the mine shafts felt cold and dark, not a place I would have wanted to work early in the last century.
The periodic light from the side tunnels made the 'windows' easy to find. The windows were created when the miners blasted holes through the cliff face to tip tailings into the gorge below. Today, they offer spectacular and unexpected views of the gorge and river.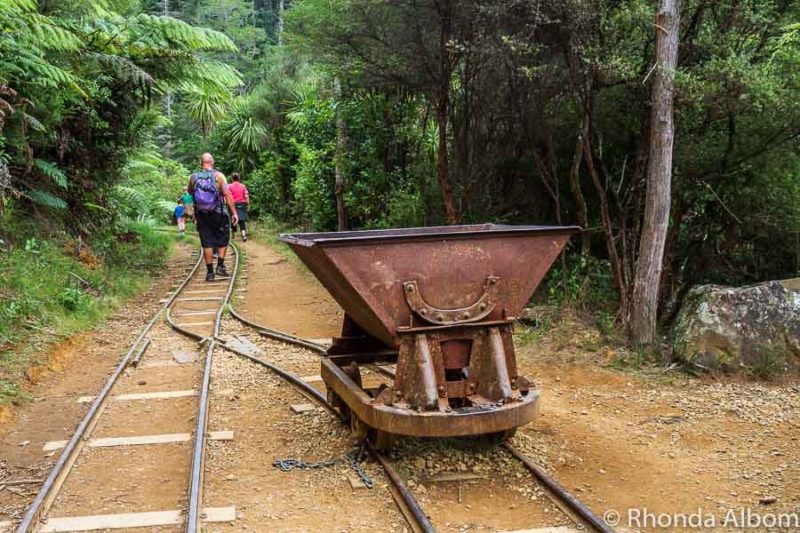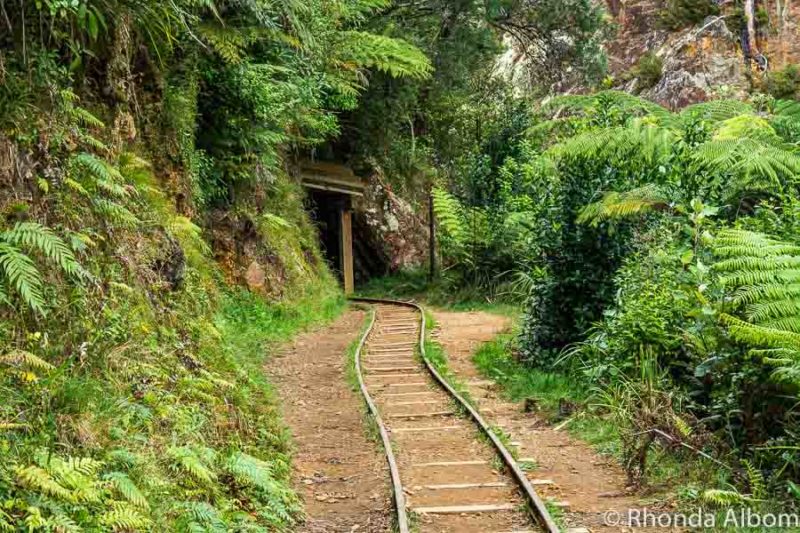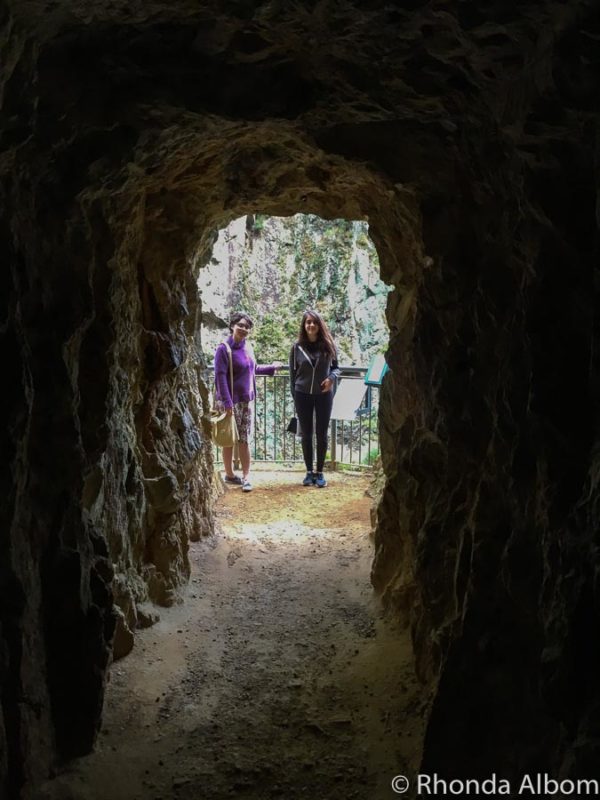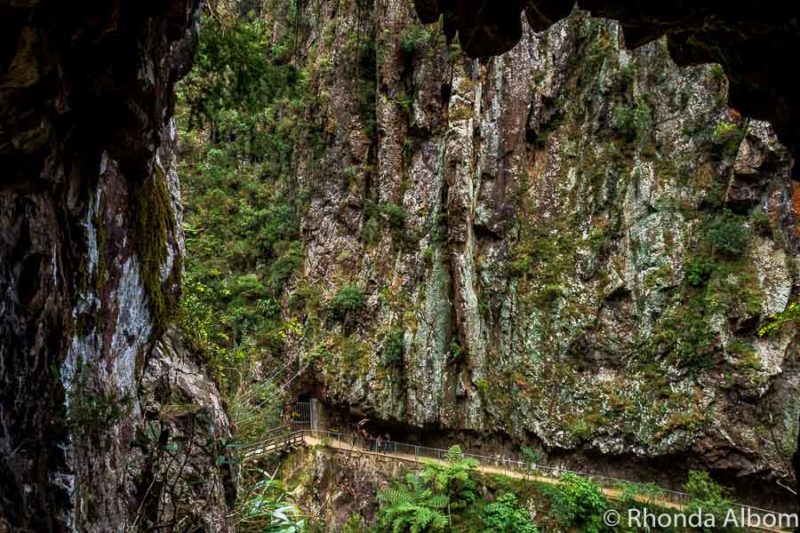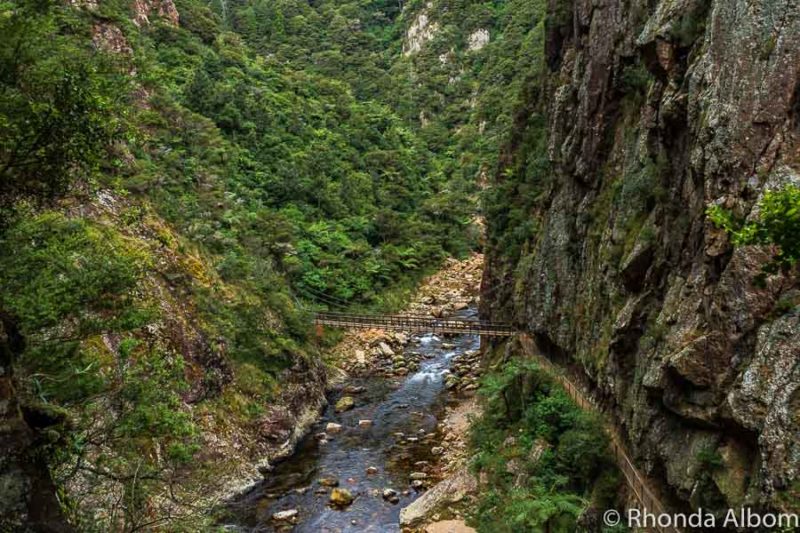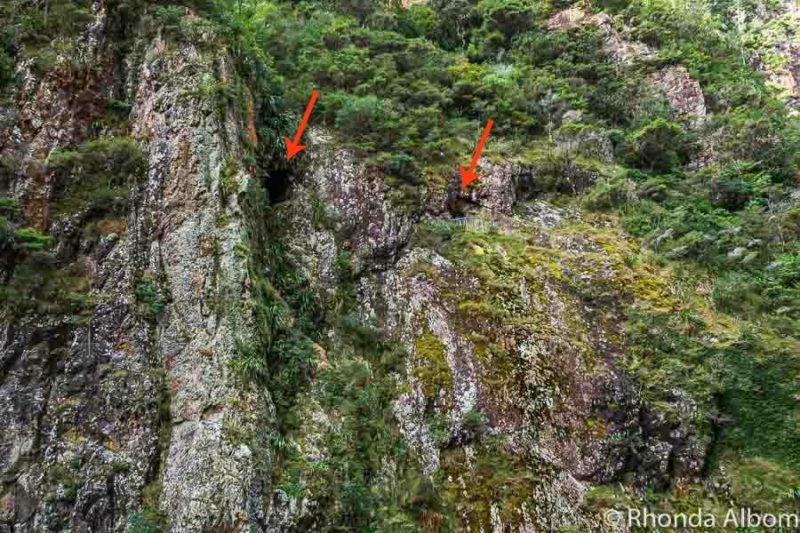 What You Will Need for the Karangahake Gorge Walks
Good solid walking shoes as much of the ground is uneven.
Torch (flashlight) as many areas of the tunnels are dark.
Camera, the photo opportunities are endless. If you want an easy to handle, go everywhere, waterproof, shockproof, dustproof, freezeproof sturdy camera that can shoot in RAW files allowing you to edit if you choose to later, I recommend the Olympus TG-5. It's the top of my current wish list.
Nearby Karangahake Gorge Accommodation
Karangahake Accommodation
Riverside: If you love the region, why not stay a while. There is plenty to explore and in summer you can take a dip in some of the waterways. Our pick is the Riverside Accommodation. Perfect for couples, families, and budget travellers. The rooms are comfortable, the staff is friendly, and the range of room types offer both private and shared bathrooms. Check pricing and availability at Riverside Accommodation
Paeroa Accommodation
If you are into antiques, the logical place to stay is just down the road (8 km) in Paeroa, the antiquing capital of New Zealand as well as home to our unofficial national drink, L&P (which stands for Lemon and Paeroa and is now owned by Coca-Cola). Check for pricing and availability at Paeroa accommodations
Practical Information on Visiting Karangahake Gorge
Karangahake Gorge is on State Hwy 2 between Waihi and Paeroa. It's about a two-hour drive from Auckland or one hour from either Tauranga or Hamilton.
There is plenty of parking, bathroom facilities, and a visitor kiosk at the main trailhead.
The Karangahake Windows walk is 2.5 km and takes about an hour. It is not suitable for wheelchairs or strollers. Bring a torch (flashlight) and take caution in the abandoned mine shafts as a sign warns that they can collapse at any time.
There are several other Karangahake Gorge walks and options ranging from simply exploring the history just across the bridge to a four-hour hike which includes a waterfall.
A section of the Hauraki Rail Trail passes through the area and this Karangahake Gorge cycle trail section and is often considered the highlight of the three-day Grade-One cycle trail.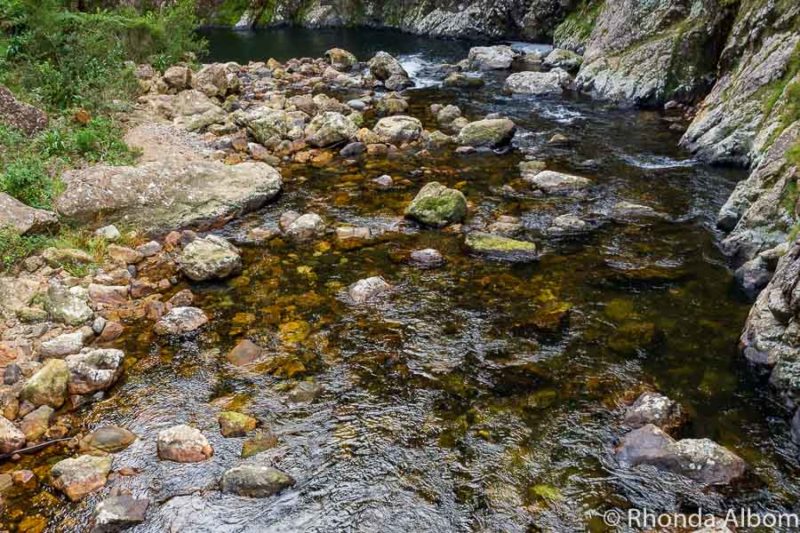 Other cool nearby things to do
Ngatea Water Gardens
To the West – towards Auckland
If you are heading west from here, don't miss the Ngatea Water Gardens, a collection of water features, humour, and an unprecedented Canny Museum featuring over 11,000 beer, soda, and other beverage cans.

Glow Worm Kayak Tour
To the East – towards Bay of Plenty
One of the best things we did in the Bay of Plenty was the night kayaking tour to see the glowworms in the canyon on Lake McLaren. Fully organized, with everything provided, it was nature that really caught us off guard. You can read my review here, or click here to check for discounts on the night you want to go.
Hobbiton
To the South – towards Rotorua)
Probably the most popular, and definitely the more touristy thing to do in the region is a visit Hobbiton. Lord of the Rings fans won't want to miss this movie set tour of the Shire. Don't miss out, purchase your Hobbiton tickets in advance.
Conclusion:
Don't be one of the many people driving by Karangahake Gorge without a second thought. Take at least an hour to enjoy the Karangahake Windows Walk.
Booking tips for New Zealand travel planning
Some links on this page can save you up to 70%. We earn from qualifying purchases through partnerships or affiliate programmes.
First-time visitors start here: New Zealand travel guide or with our favourite New Zealand road trips.

Flights: We use Skyscanner to find all the available flight options at the best prices.

Rental Vehicles: For cars, we always use RentalCars.com, a rental car search engine with no hidden costs. For campervans (and larger cars), note that Spaceships Rentals NZ offers free one-way drop-off between Auckland and Christchurch.
**Albom Adventures readers can check for discounts off Spaceships campervans.**

Accommodations: We use Tripadvisor to find ratings and reserve accommodations in most NZ cities.

Activity Discounts: We use Bookme.co.nz to find discounts on entry tickets and tours in New Zealand.

Travel Insurance: We purchase insurance that covers medical and travel emergencies when we head overseas. We start with Travel Insurance Master, an aggregator that gives us a free and easy-to-read comparison of the inclusions of each policy.

Packing Tips: Get a free copy of our New Zealand packing list when you sign up for our mailing list.

**Find more money-saving resources on our Travel Resources page.
Save for later
If you enjoyed this article, please share it on social media and save it for later on Pinterest.
When will you do the Karangahake Windows Walk?
More on New Zealand you might enjoy: