Spanning 140 metres (450 feet), the Capilano Suspension Bridge sways 70 metres (230 feet) above the Capilano river canyon, daring us to walk across. The other side pleads with treetop adventures, a nature walk, and just the thrill of having crossed a bridge that has existed in some from since 1889.
It wasn't all that long ago that I wouldn't have done this. Growing up I was frequently reminded to stand back from the edge, and it stuck. I used to steer away from heights (like the Ledge in Chicago) until the day I decided to end the drama. I didn't think it would work that easily, but it did. Now I can enjoy the invigorating excitement offered by crossing the Capilano Suspension Bridge.
The Capilano Suspension Bridge is a definite highlight of our short time in Vancouver Canada. It's a destination best experienced firsthand. Until you get there, enjoy my photos: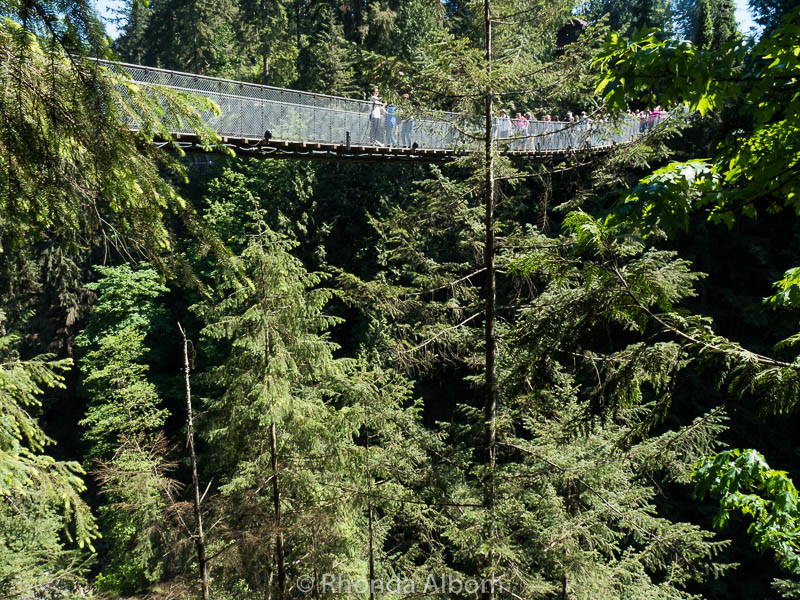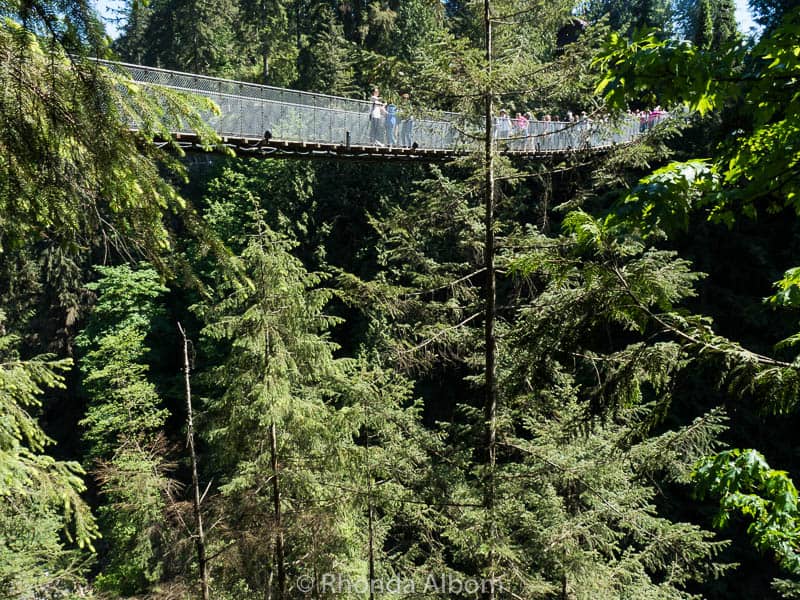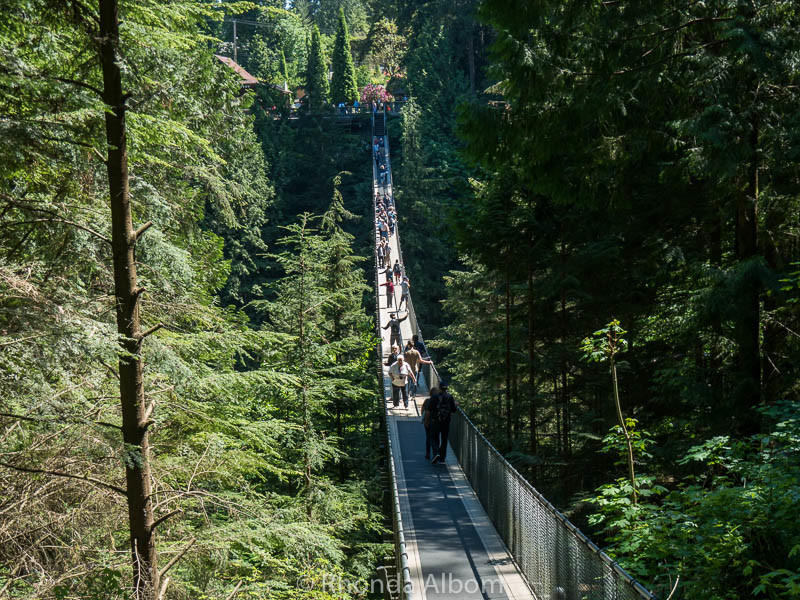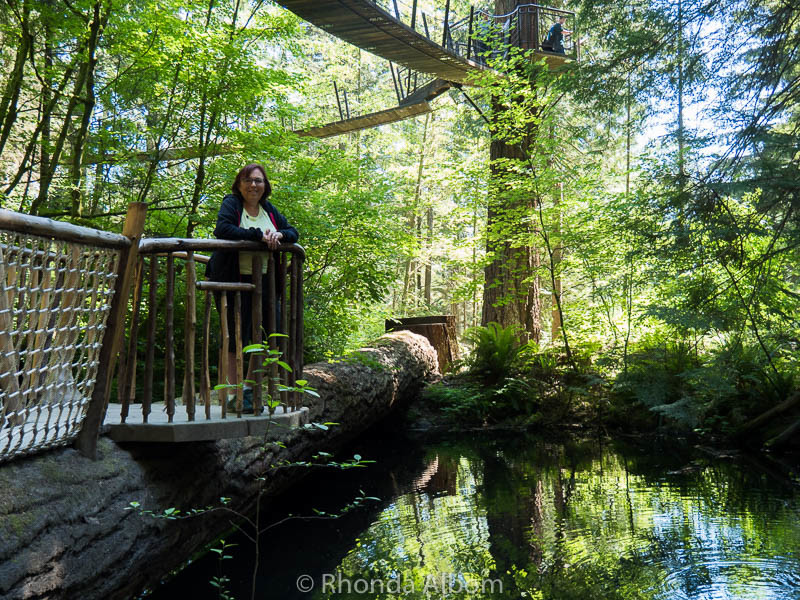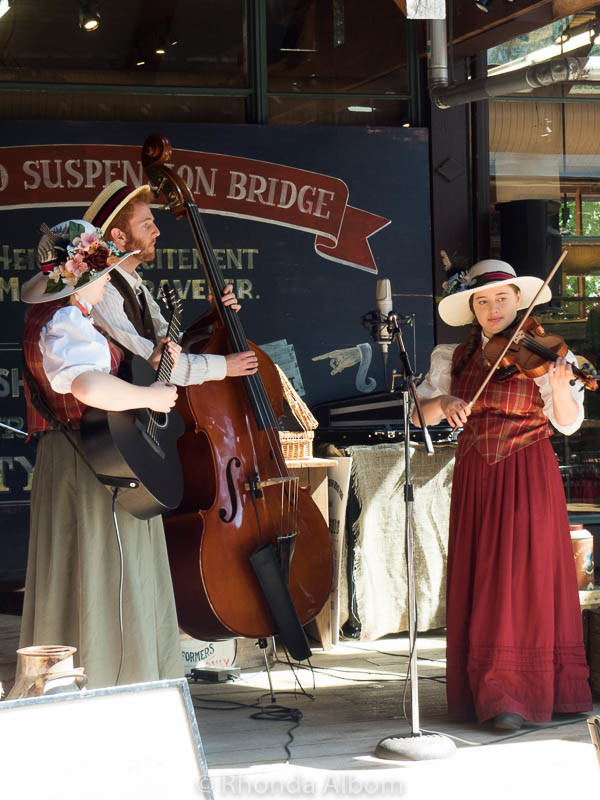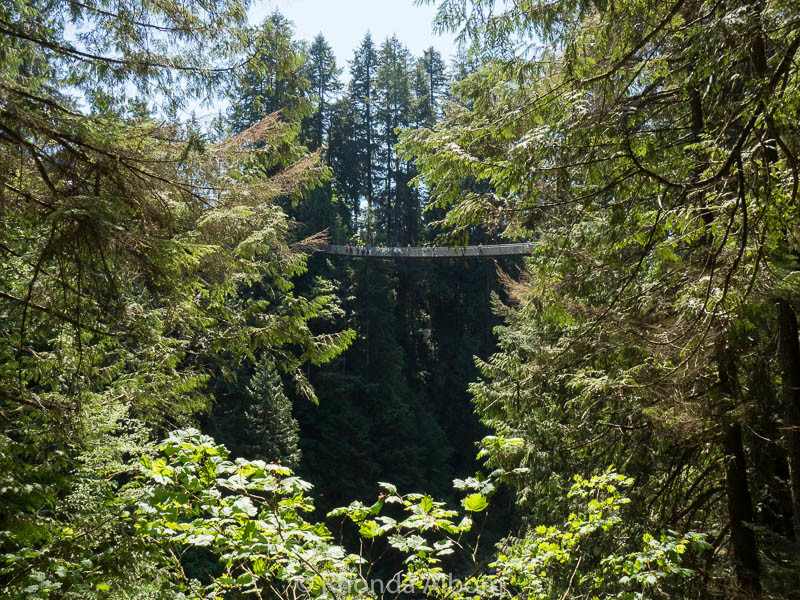 This is not our first suspension bridge, but certainly our longest and most exciting. We have walked over the Carrick-A-Rede rope bridge in Northern Ireland, another across the Hokitika Gorge in New Zealand, and I am sure there are more.
Practical Information:
Visit the official website here: www.capbridge.com
There is a free shuttle bus from Canada Place (and a few hotels) to Capilano. Our driver pointed out Vancouver highlights along the way and dropped us off just outside of Stanley Park on the way down.
Seemed out of place, but there is free wifi at the park.
There are several food options at the park, ranging from sandwiches or burgers to light refreshments and coffee. There is also a counter in the gift shop with enticing fudge.
The open hours vary with the season, so best to check here before you go for opening times and entrance fees.
There is no running, jumping, or intentionally shaking the bridges, and there is a manned watchtower with a speaker to remind people who "forget".
Children under six are free, and you will want to keep a close eye on them.
If you are disembarking a Princess Cruise in Vancouver, you can bundle the Capilano Suspension Bridge, Stanley Park and a City Tour into an excursion run by the ship.
Note: Based on world conditions, we advise checking official channels including cancellation policies prior to booking. Also, with often reduced capacity, booking ahead becomes more important.
Have you been to Capilano Suspension Bridge Park? Do you find it scary or thrilling? Will you cross the bridge?
If you enjoyed these photos, please share them on social media:
Disclaimer: We were provided with complementary entry. However, the opinions expressed here are strictly my own.