Spanning 140 metres (450 feet), the Capilano Suspension Bridge sways 70 metres (230 feet) above the Capilano River canyon, daring us to walk across.
The other side pleads with treetop adventures, a nature walk, and just the thrill of having crossed a bridge that has existed in some form since 1889.
It wasn't all that long ago that I wouldn't have done this. Growing up I was frequently reminded to stand back from the edge, and it stuck. I used to steer away from heights until the day I decided to end the drama. I didn't think it would work that easily, but it did.
Now I can enjoy the invigorating excitement offered by crossing the Capilano Suspension Bridge.
The Capilano Suspension Bridge is a definite highlight of our short time in Vancouver Canada. It's a destination best experienced firsthand.
Reserve your entry tickets for Capilano Suspension Bridge in advance here
Key things to do at Capilano Suspension Bridge
Cross the Capilano Suspension Bridge
Nature trail on your own or on a guided Nature walk
Tree top adventures
Cliff walk
Educational materials
Gift shop, restaurant and entertainment
Cross the Capilano Suspension Bridge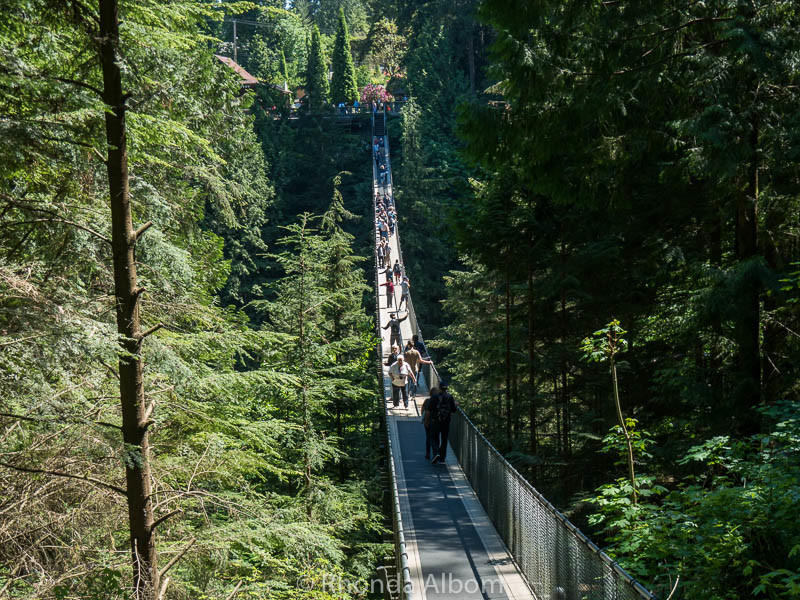 It was the first step onto the bridge that was the most difficult. There is no running, jumping, or intentionally shaking the bridges, and there is a manned watchtower with a speaker to remind people who "forget".
We witnessed this first-hand. As we walked towards the centre, the old woman in front of us suddenly grabbed onto the rail as the bridge began to bounce gently. I turned to find a young adult behind me jumping up and down.
My look must have given the message, as the jumping stopped just before the announcement reminding the teenager it was not allowed.
Nature trail on your own or on a guided Nature walk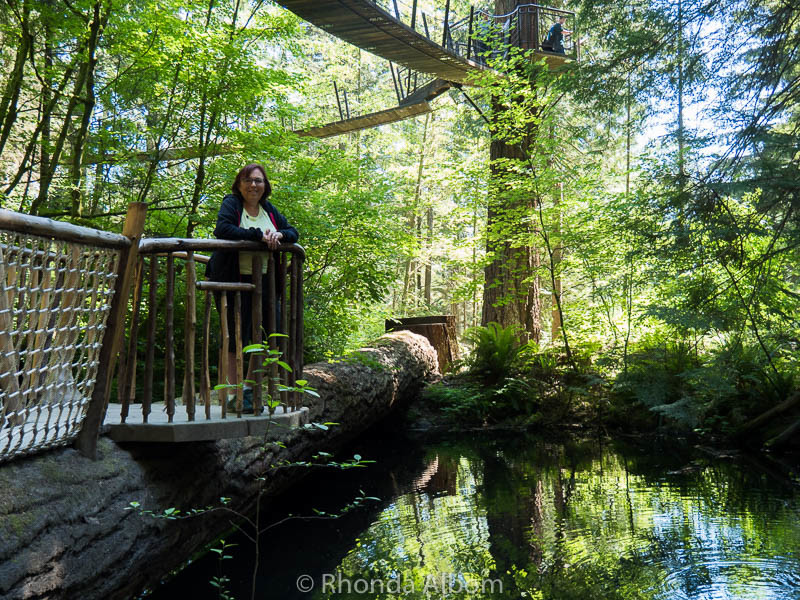 Once on the other side, there are spectacular views, nature trails, a guided nature walk and much more.
The free 30-minute guided nature walk was a fascinating and excellent use of our time. As a result, we learned about things like the three main trees found here: Douglas Fir, Red Cedar, and Western Hemlock (not poisonous).
Tree top adventures
In an area populated with Douglas-firs, we completed the Tree Top Adventures, seven smaller suspension bridges linking one tree top to the next.
Most importantly, safety is paramount here, and routine checks are carried out regularly. We even spotted one. Look under the platform. A worker is doing routine checks, something regularly done here to ensure our protection.
Cliff walk
An engineering feat, the 700-foot path of the Cliff Walk was equally as exciting/terrifying as the bridge. The Cliff Walk is held on by 16 anchor points, that appear firmly embedded.
We could look down from the Cliff Walk onto portions of the Capilano River.
Educational materials
Interesting educational materials were found throughout the park. And, of course, the guided nature walk is educational.
The first image here was found is Dr Wood's education area. It's located on the first tree-top platform and is loaded with interesting information for kids.
The second image is one of many on conservation and erosion information scattered throughout the park.
Gift shop, restaurant and entertainment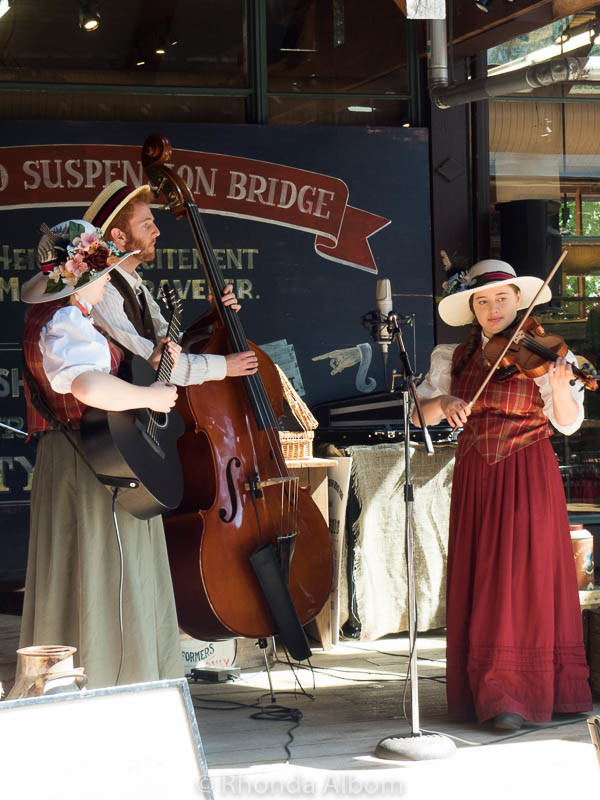 There is a gift shop, cafe, First Nations Totems, and resting area near the front of the park.
The cafe features several food options ranging from sandwiches and burgers to light refreshments or coffee.
What you need to know before visiting Capilano Suspension Bridge Park
There is a free shuttle bus from Canada Place (and a few hotels) to Capilano Suspension Bridge Park. Our driver pointed out Vancouver highlights along the way and dropped us off just outside of Stanley Park on the way down.
Seemed out of place, but there is free wifi at the park.
The park is open daily, and the average visit takes about 2.5-3 hours.
Children under six are free, and you will want to keep a close eye on them.
We disembarked a Princess Cruise in Vancouver, and they offered a bundle that included Capilano Suspension Bridge, Stanley Park and a City Tour into an excursion that ended at the airport.
Save on your trip with these resources
These are our go-to companies when we travel. We believe this list to be the best in each category. You can't go wrong using them on your trip too.
Flights: we use Expedia for the best and cheapest flight options.
Accommodations: we use Booking.com (hotels), VRBO (self-contained), or Hostelworld (budget).
Cars (gas or electric): we use RentalCars to search for deals and dealer ratings.
Campervans or Motorhomes: we use Campstar where Albom Adventures readers get a 3% discount.
Motorcycles: we have heard good things about BikesBooking.
Private guides: we love the private guides at Tours by Locals.
Travel Insurance: while not required, we always opt for travel insurance and start at InsureMyTrip to compare coverage plans.
Check out our travel resources page for more companies that we use when you travel.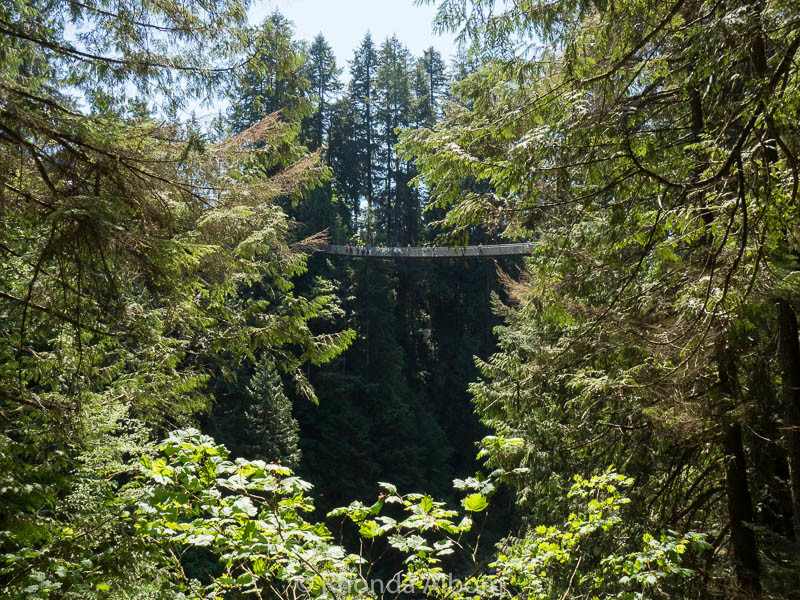 Save for later
If you enjoyed this article, please share it on social media and save it for later on Pinterest.
Would you cross the Capilano Suspension Bridge?
More places we have been that challenge my fear of heights
Disclaimer: We are frequently provided with complimentary entrances, tours, or sample items to aid in the writing of Albom Adventures. However, the opinions expressed here are strictly our own.