As nature enthusiasts and former residents of both California and Nevada, Jeff and I have always loved exploring the magnificent national parks in western US. We share a deep love for these pristine natural wonders, which offer a gateway to breathtaking landscapes, captivating wildlife, and unforgettable experiences.
From the towering granite cliffs of Yosemite National Park to the geothermal wonders of Yellowstone, the national parks in the western United States showcase the unparalleled beauty and diversity of America's natural heritage. Whether it's hiking through the enchanting red rock canyons of Zion National Park or witnessing the dramatic depths of the Grand Canyon, these protected areas offer a sanctuary for both the soul and the senses.
Our aim is to provide you with an introduction to these stunning Western US national parks, helping you discover hidden gems, must-visit locations, and invaluable tips for planning your own adventure. Whether you're a family with small children, a couple seeking a romantic getaway, or an intrepid explorer with limited time, we will offer insights tailored to your specific needs.
So, join us as we delve into the wonders of our 21 favorite national parks in the western United States. Our goal is to inspire you to plan your next outdoor escapade, immerse yourself in the tranquility of nature, and create memories that will last a lifetime.
Our top picks: best national parks in the western United States:
Wyoming: Yellowstone and Grand Teton National Parks
California: Yosemite, Joshua Tree, Death Valley, Sequoia, Kings Canyon, Lassen Volcanic National Parks, and Redwood National and State Parks
Utah: Zion, Bryce Canyon, Arches, Canyonlands, and Capitol Reef National Parks
Washington: Olympic and Mount Rainier National Parks
Arizona: Grand Canyon and Petrified Forest National Parks, and Montezuma Castle National Monument
Nevada: Great Basin National Park
Oregon: Crater Lake National Park
Map of our favorite national parks in western US
Click the expand / collapse icon in the upper left corner of the map for the details.
Western US national parks we love in Wyoming
Wyoming is home to the country's oldest national park.
Yellowstone National Park
Located primarily in Wyoming, Yellowstone National Park is a UNESCO world Heritage site and a true gem of the United States. As we ventured into the park's expansive wilderness, our initial goal was to see the iconic Old Faithful. It didn't take long before we were captivated by Yellowstone's breathtaking landscapes, diverse wildlife, and awe-inspiring geothermal wonders.
Covering nearly 2.2 million acres, Yellowstone National Park is not only the oldest national park in the United States but also one of the largest.
We soon discovered that one of the most mesmerizing sights in Yellowstone is the Grand Prismatic Spring. With its vibrant colors ranging from deep blue to fiery red and vibrant orange, this spectacular hot spring is a testament to the park's incredible geothermal activity. It's the largest hot spring in the United States and the third largest in the world, after Waimangu Volcanic Valley's Frying Pan Lake in New Zealand.
Beyond the geothermal wonders, Yellowstone National Park is home to an abundant array of wildlife, including grizzly bears, wolves, elk, and herds of bison that roam freely across the vast landscapes.
If you're planning to camp here, securing camping reservations well in advance is highly recommended.
Grand Teton National Park

Located in Wyoming, Grand Teton National Park is a majestic playground characterized by its towering peaks, pristine lakes, and abundant wildlife. It was one of my mother's favorite parks, and we visited here on multiple family vacations.
The iconic Teton Range offers unparalleled mountaineering and hiking opportunities, while the Snake River invites visitors to kayak or enjoy a scenic float trip. Whether you embark on a wildlife safari or hike to Hidden Falls, Grand Teton National Park offers a serene escape for couples and nature enthusiasts alike.
National parks in western US: Nevada and Arizona
As my parents lived in Arizona, and I was a Nevada resident for a while, this is one area of the country we have explored extensively. While we love seeking out the weirdest things in Nevada and road-tripping around Arizona, we always come back to our favorite national parks.
Grand Canyon National Park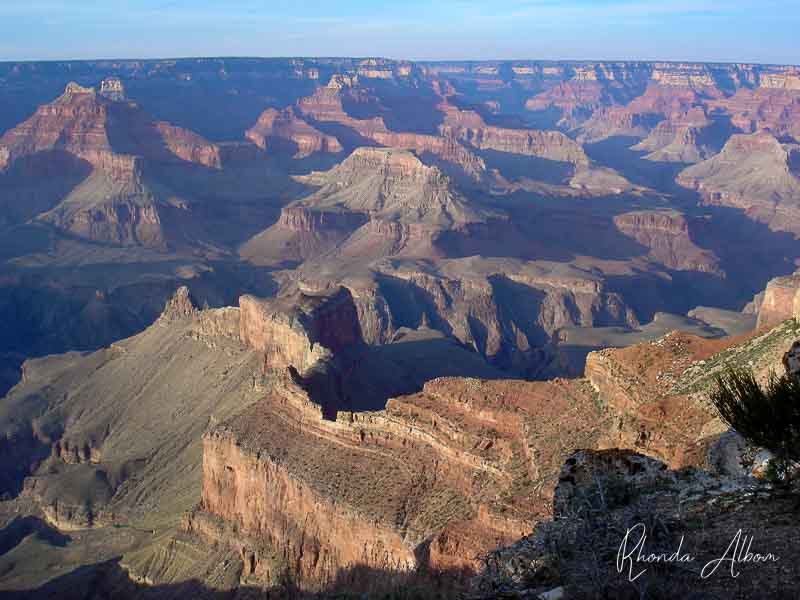 Spanning the border between Arizona and Nevada, the Grand Canyon is a natural wonder that left me, like most visitors, in awe. This UNESCO World Heritage site was carved by the Colorado River. This colossal gorge showcases breathtaking layers of red and orange rock, creating a mesmerizing sight.
I have been lucky enough to explore the Grand Canyon three times. Initially, as a child, our family rode mules down into the canyon, an activity that was still quite popular at the time. Later, as a young adult, my cousin and I hiked into the canyon. Most recently, Jeff and I took our then-young children to see this wonder and only walked a small way down.
Whether you choose to hike along the rim, descend into the canyon, or marvel at it from a helicopter, the Grand Canyon is a must-visit for anyone exploring national parks in the western United States.
Montezuma Castle National Monument
I know this is a national monument, but it was just too cool to leave off the list of my favorite national parks in the western United States. Located in central Arizona, Montezuma Castle National Monument showcases a well-preserved cliff dwelling that offers a glimpse into the rich history of the Sinagua people. The five-story structure, built into a limestone cliff, dates back over 800 years.
Staring up at it, I marveled at the impressive masonry and tried to imagine what life was like for the Native American inhabitants. The park also features hiking trails that wind through the surrounding desert landscape, providing opportunities to spot wildlife and appreciate the area's natural beauty.
Petrified Forest National Park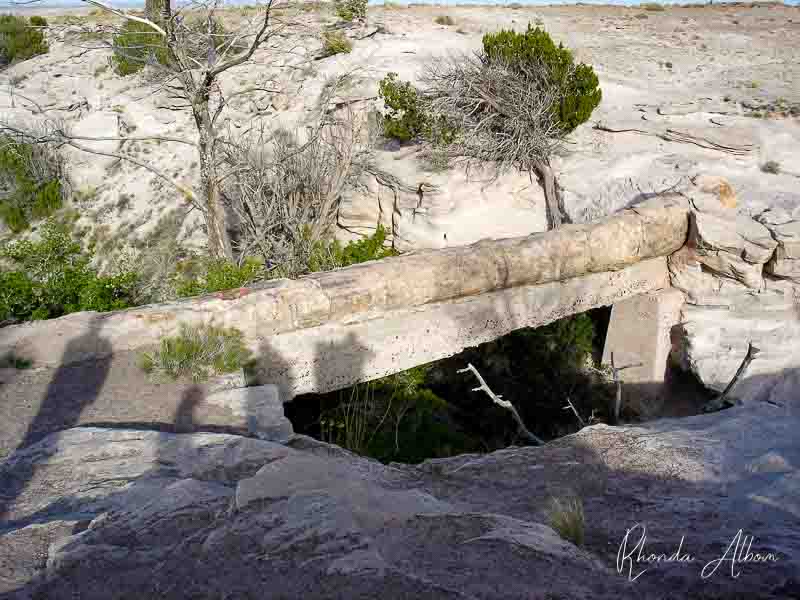 In northeastern Arizona, Petrified Forest National Park is a geological marvel that transports visitors back in time. The park is renowned for its ancient petrified wood, which dates back more than 200 million years and has been transformed into stone.
The unique landscape also features colorful badlands, mesas, and a rich fossil record. Visitors can explore the park's numerous hiking trails, including the popular Blue Mesa Trail, which winds through vibrant striped formations.
While Petrified Forest National Park offers a unique experience for geology enthusiasts, nature lovers, and families looking to learn about prehistoric life and the fascinating processes that shaped the Earth, we have also visited a small petrified forest in New Zealand.
Great Basin National Park
Nestled in eastern Nevada, Great Basin National Park is a hidden gem that offers a glimpse into the region's unique desert and alpine ecosystems.
The two highlights here are the Lehman Caves, a subterranean wonder filled with stunning rock formations, and a hike to the summit of Wheeler Peak for panoramic views. Great Basin National Park is an ideal destination for those seeking off-the-beaten-path adventures and stargazing enthusiasts are drawn to its designated Dark Sky status.
National parks in western United States in California
California is a big state with lots of west coast national parks, yet it's the inland ones that really caught our attention. I lived in the state for about 15 years and still love it.
Yosemite National Park
Yosemite National Park holds a special place in my heart as it was the first place I ever went tent camping. Located in California's Sierra Nevada Mountains, this iconic park is renowned for its majestic granite cliffs, cascading waterfalls, and ancient sequoia groves. Yosemite Valley, with its breathtaking vistas of Half Dome and El Capitan, is a sight to behold.
This UNESCO World Heritage site offers a multitude of outdoor activities, including hiking, rock climbing, and wildlife spotting. Hike to the top of Yosemite Falls for a stunning view or embark on the Mist Trail to get up close and personal with the park's famous waterfalls. For a more tranquil experience, explore the Tuolumne Meadows, a high-country meadow surrounded by alpine peaks.
And while the park itself is quite magical, if I were to be entirely honest, I have to say our camping trip was not. As it was my first tent camping experience, I let my partner at the time make the plan. We arrived after dark, pitched our tent, and were awoken early by the ranger who told us we hadn't booked a campsite, and we had to move. My best advice, remember to make reservations well in advance, especially for camping sites and accommodations.
Redwood National and State Parks
Stretching along the northern California coast, Redwood National and State Parks protect the tallest trees on earth. Towering redwoods create a magical atmosphere and hiking trails wind through ancient forests that feel untouched by time.
I was glad I brought a tripod as, for the most part, we were alone in the forest. Jeff and I are in the second photo, which gives you a bit of perspective as to the size of these trees. The park also offers breathtaking coastal vistas and opportunities to spot wildlife, such as Roosevelt elk.
Joshua Tree National Park
Situated in Southern California, Joshua Tree National Park is a desert oasis with unique Joshua Trees and vast stretches of golden sand. The first time Jeff and I visited here, we arrived just as the sun was setting. Without any guidance, we didn't go far enough into the park to see the Joshua trees before darkness descended, and it was a cloudy night without stars (on a clear night, it's a stargazer's paradise).
However, the morning brought us back to the park to enjoy its distinctive rock formations and fascinating flora. Finally, that evening we were able to fully discover all the magic of the park.
I think taking an off-road tour in the Joshua Tree National Park would be a great way to get to some amazing viewpoints not normally seen on a drive through the park.
Death Valley National Park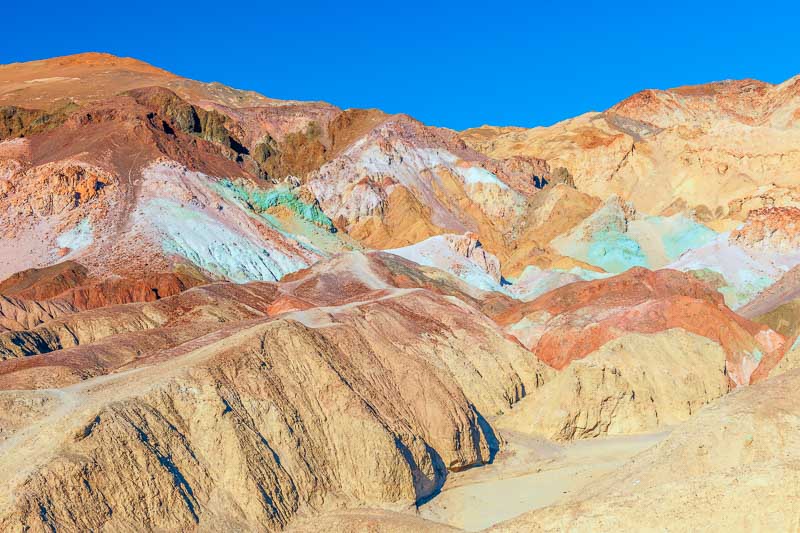 During a road trip from Phoenix to San Francisco, we did a mini vacation at Death Valley, a spectacular example of western US national parks.
The park is a desert marvel known for its extreme summer temperatures. We opted to visit in the cooler season and enjoy the diverse geological formations that encompass salt flats, sand dunes, canyons, and rugged mountain ranges, creating a fascinating landscape.
Our highlights included standing at Badwater Basin, the lowest point in North America at 282 feet below sea level, and marveling at the vast salt flats stretching as far as the eye could see.
Next, the enigmatic Racetrack Playa, a dry lake bed famous for its "sailing stones" that mysteriously glide across the surface, leaving trails behind them.
Finally, topping our list, the Artists Palette is a picturesque section of the park where vibrant mineral deposits have painted the hills in an array of stunning colors. The contrasting hues of red, pink, yellow, and green create a surreal and captivating scene. To our surprise, we saw a similar display of colors in the Atacama Desert of Chile.
Sequoia and Kings Canyon National Parks
California's Sequoia and Kings Canyon National Parks are a testament to the grandeur of nature. Home to some of the world's largest trees, including the iconic General Sherman (the world's largest living single-stem tree on earth), these parks boast magnificent groves of giant sequoias that inspire a sense of awe and reverence.
Hiking through the Giant Forest and exploring the underground marvels of Crystal Cave are experiences that leave a lasting impression. Families, nature lovers, and those seeking tranquility will find solace amidst these ancient giants.
Lassen Volcanic National Park
Nestled in northern California, Lassen Volcanic National Park showcases the remnants of its volcanic past. Visitors can explore steaming fumaroles, spluttering mud pots, and the mesmerizing colors of Bumpass Hell.
Hiking trails lead to the summit of Lassen Peak, offering panoramic views of the surrounding volcanic landscapes. Lassen Volcanic National Park is a perfect choice for adventurers, geology enthusiasts, and families seeking unique natural wonders.
National Parks in the western United States in Utah
Monikered the Mighty Five, these Western US national parks in Utah are so spectacular that we have written an entire article just on them that you can read here. We've listed the highlights of each park here:
Arches National Park
Discover a surreal landscape adorned with over 2,000 natural sandstone arches, balanced rocks, and other fascinating geological formations.
Zion National Park
Zion is probably the first of the Western United States national parks I visited. Here we found the majesty of soaring sandstone cliffs, narrow slot canyons, and emerald pools as we hiked along trails that led to unforgettable vistas and serene landscapes.
Capitol Reef National Park
Explore the Waterpocket Fold, a remarkable wrinkle in the Earth's crust, and witness unique rock formations, ancient petroglyphs, and orchards planted by early settlers.
Bryce Canyon National Park
Marvel at the stunning amphitheaters of hoodoos (tall spire-shaped rock formations) illuminated by vibrant colors during sunrise and sunset.
Canyonlands National Park
Immerse yourself in a vast expanse of towering cliffs, deep canyons, and the confluence of the Green and Colorado Rivers, creating a dramatic and untamed wilderness. If you can, you'll want to be here for the truly spectacular sunrise.
If you are staying in Las Vegas, this small group day trip to Zion and Bryce National Parks is a good option for taking a break from the city action.
Western US National Parks in Oregon and Washington
We traveled in Washington and Oregon by bus, train, and self-driving. There are so many stunning things to see.
Olympic National Park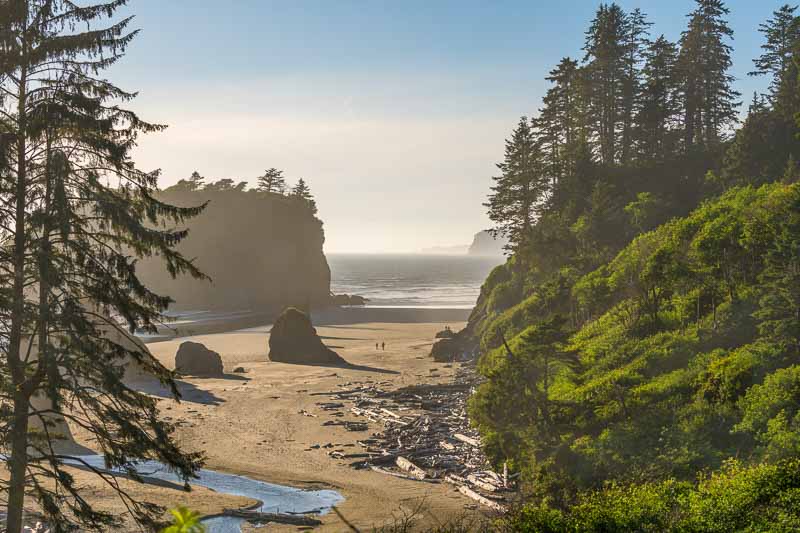 Washington's Olympic National Park, a UNESCO World Heritage site, is a diverse playground encompassing rugged coastlines, lush rainforests, and snow-capped mountains.
Take a stroll along Ruby Beach, where towering sea stacks and crashing waves create a dramatic backdrop or hike through the Hoh rainforest, one of the few temperate rainforests in the United States. It's one place that's still on our bucket list.
This all-day tour from Seattle visits many of the features of Olympic National Park that I would want to see.
Mount Rainier National Park
Dominating the skyline of Washington State, Mount Rainier National Park offers breathtaking vistas and a paradise for outdoor enthusiasts. With its iconic peak and numerous hiking trails, including the famous Wonderland Trail, the park invites visitors to explore its alpine meadows, glacier-clad slopes, and cascading waterfalls. This popular day trip from Seattle looks like a good way to see the best of this national park.
We viewed Mount Rainier from Seattle and then again from the train as we traveled to Portland. Next time, we plan to do some serious hiking here.
Crater Lake National Park
Oregon's Crater Lake National Park is home to the deepest lake in the United States, nestled within the caldera of Mount Mazama. The crystal-clear waters of Crater Lake captivate visitors, creating a mesmerizing sight that must be seen to be believed.
Hiking the rim or exploring the Cleetwood Cove Trail allows for an up-close encounter with this natural wonder. Crater Lake National Park is an ideal destination for photographers, nature lovers, and couples seeking a romantic getaway.
While we absolutely loved driving the Oregon coast from Portland toward San Francisco, the one downside was we didn't get to visit Crater Lake.
Tips for visiting national parks in western United States
National parks can get crowded, especially during peak seasons. Make reservations for campsites, accommodations, and tours well in advance.
If you are planning to visit multiple National Parks in western US, you can pre-purchase a national annual pass that will most likely save you money, or you can pick one up at any of the parks.
Help preserve the natural beauty of the parks by following Leave No Trace principles. Pack out your trash, stay on designated trails, and respect wildlife and vegetation.
Some parks, such as Yellowstone, are home to bears. Learn about bear safety protocols and carry bear spray when hiking in bear country.
Western US national parks offer informative ranger-led programs and activities. Join guided hikes or attend educational talks to enhance your park experience.
Save on your trip with these resources
These are our go-to companies when we travel. We believe this list to be the best in each category. You can't go wrong using them on your trip too.
Flights: we use Expedia for the best and cheapest flight options.
Accommodations: we use Booking.com (hotels), VRBO (self-contained), or Hostelworld (budget).
Cars (gas or electric): we use RentalCars to search for deals and dealer ratings.
Campervans or Motorhomes: we use Campstar where Albom Adventures readers get a 3% discount.
Motorcycles: we have heard good things about BikesBooking.
Private guides: we love the private guides at Tours by Locals.
Travel Insurance: while not required, we always opt for travel insurance and start at InsureMyTrip to compare coverage plans.
Check out our travel resources page for more companies that we use when you travel.
Save for later
If you enjoyed this article on national parks in western United States, please share it on social media and save it for later on Pinterest.
Which are your favorite Western US national parks?
More from the Pacific Northwest you might like …
Photo Credits:
All photos on this page are either shot by our team and watermarked as such or stock images from Depositphotos.