Astoria sits in the northwest corner of Oregon, at the base of the Columbia River. A charming coastal town, there are several interesting and unique things to do in Astoria.
Amongst its list of accolades, Astoria is the first permanent settlement on the west coast. More specifically, founded in 1811, it is the first American colony west of the Rocky Mountains. Therefore, it is also the oldest town in Oregon.
Holding on to much of its old-world charm, we found Astoria to be quant and understated, with a somewhat quirky downtown shopping area. It's the ideal depiction of small-town USA, complete with picket fences and proudly flying American flags.
Today, the streets are filled with old houses, some charming, others showing their age.
It's a city built around the fishing, lumber, and fur industries, yet its main waterway holds many hazards. There is a strong and ongoing maritime history here.
And, if you are a fan of the 1985 American comedy, The Goonies, you will believe Astoria's home to a sunken treasure.
For us, Astoria was our first overnight stop on our adventure driving the exquisite Oregon coastline.
Note: Based on world conditions, we advise checking official channels including cancellation policies prior to booking. Also, with often reduced capacity, booking ahead becomes more important.
Top 5 things to do in Astoria
Climb the Astoria Column for great views
Get an insight into the maritime history at the Columbia River Maritime Museum
Discover the lightship
Check out the Flavel House Museum
Take a stroll downtown and along the riverfront
Astoria Column
The Astoria Column is a towering monument on Coxcomb Hill. Constructed in 1926, its exterior beautifully depicts Oregon's early history in a hand-painted mural spiraling around the 125-foot column.
To enjoy the impressive views from the top, we had to climb the narrow 164 spiral steps inside the column. At times, it was a bit dizzying, and when we passed others going in the opposite direction, it was nerve-racking.
However, the view from the top was well worth the effort.
When we visited, we were able to participate in a local fundraiser and fun tradition. In the second image, I have just launched a paper glider off the top of the Astoria Column. You can see it in the image.
An annual parking pass is only $5 for the Astoria Column. We purchased it, along with a glider ($1) to throw off the top at the gift store in the parking lot.
Columbia River Maritime Museum
The Maritime Museum focuses on the local area and the Columbia River, including coast guard rescue, fishing and whaling, and the treacherousness of crossing the bar.
It shares many stories of survival and bravery and even more of defeat. It also highlights fishing, shipping, and military history.
This family-friendly museum is situated along the river and is home to the world's largest collection of Pacific Northwest maritime artifacts.
Some of the internal highlights include
The lightship (a lighthouse on a ship)
The lightship is docked outside the Maritime Museum.
Historically, it was in service in the 1970s and served as a lighthouse in the rough waters of the Columbia River.
Behind it are US Coast Gaurd vessels, one that has markings indicating successful intercepts of four ships carrying cocaine and 36 with marijuana (while marijuana is legal in Oregon, there are different federal laws that govern the seas).
Flavel House Museum
There are still four properties in Astoria that once belonged to Capitan Geroge Flavel and his family. One has been converted to a museum, and another stands derelict on a corner. We never looked for either of the other two.
The Flavel House Museum is a Queen Anne–style Victorian mansion featuring lovely gardens and elegant furniture of the period. Originally completed in 1885, it features ornate fireplaces and spiral stairs and is kept pristine.
The derelict house on the right also belonged to the Flavel family and has quite a sordid past.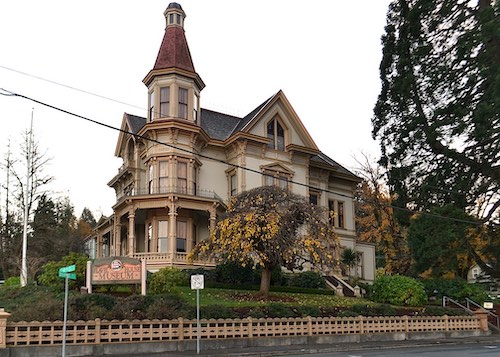 Stroll downtown and along the riverfront
One of the things we love to do when we are somewhere new is just to stroll around town. In Astoria, we walked along the peaceful Astoria Riverfront, the quirky downtown area, and several of the residential streets.
Some of the highlights included:
A riverfront boardwalk passing canneries and restaurants.
A sign highlighting the site of the first US Post Office west of the Rocky Mountains.
We walked past Fort Astoria, once operated by fur traders. Originally constructed in 1811, the current one is a replica.
A downtown shopping area complete with several legal marijuana dispensaries. Curiosity brought me inside of sweet Relief, the first of them to be licensed. Here I found cabinets filled with buds, edibles, liquids, or transdermal (tropical).
A colony of sea lions that have taken over one of the piers, similar to what has happened at Pier 39 in San Francisco. (We found the Astoria colony of sea lions near the corner of Leif Erikson Dr at 36th St.)
Where to stay in Astoria Oregon
I know there are several hotel options in Astoria, but we opted to stay at a Bed and Breakfast so charming that I can't imagine wanting to stay anywhere else. One look at the exterior, and you know why they named it the Rose River Inn.
The room was a classic example of my image of colonial hospitality and decor, including the fireplace. Importantly, it had all the modern conveniences including WiFi and a super comfortable bed.
Best of all was the fabulous breakfast. We opted for the room with the enclosed sitting deck. It was a perfect place to enjoy a water view, relax, and write this article.
It is in the historical district off the main road, so there is plenty of parking. More importantly, it is centrally located enough that we could walk everywhere. Plus, there was one of the intriguing Flavel derelict houses just across the street.
Reserve your room at the Rose River Inn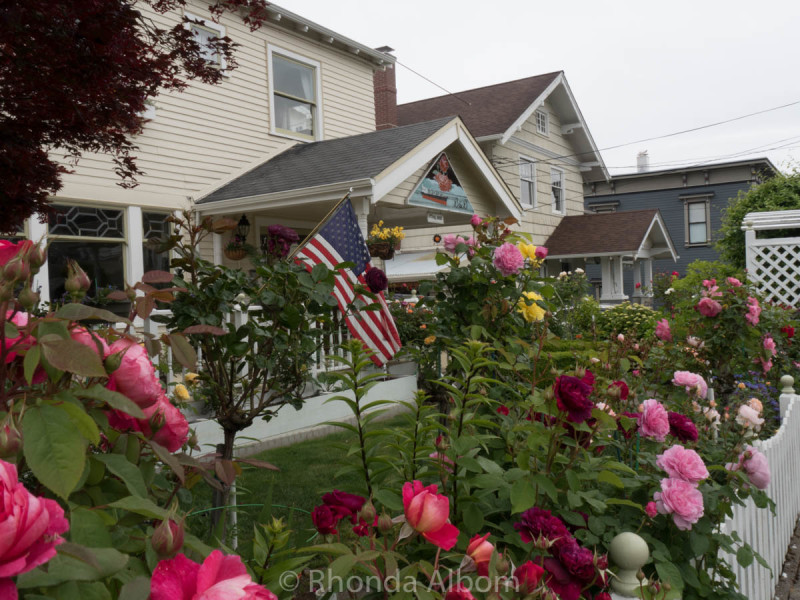 More on Astoria
Best deals and discounts for your travel planning needs
We earn from qualifying purchases through partnerships or affiliate programs.
Flights: When it comes to flights, we always start with Expedia.

Hotels: We use Booking.com to compare and book accommodations. Don't miss Booking.com's Getaway 2022 Deals that save 15% or more on selected accommodations. (T&Cs apply)

Other accommodations: If you prefer B&B or self-contained type lodging, check out VRBO.

Vehicle hire: RentalCars is like a rental car search engine with no hidden costs, that lets us find the best deals on car rentals worldwide.

Private Tours: We are big fans of ToursByLocals, and use them for nearly all cities where we want a private guide.

Packing Tips: Get a free copy of our packing light checklist when you sign up for our mailing list. (We pack light, yet have everything we need.)
Find more money-saving resources and T&Cs on some of the above, check our Travel Resources page.
Save for later
If you enjoyed this article, please share it on social media, including Pinterest.
Have you been to Astoria?
Disclaimer: We are frequently provided with a complimentary entry or other benefits. However, the opinions expressed here are strictly my own.