Our Oregon coast road trip took us from Astoria, a delightful fishing village in the north, to the bottom of the state where we crossed into California. The weather didn't always cooperate, but that didn't slow us down. Fresh sea air and ever-changing coastal views are nature at its best. The 560 km (350 miles) Oregon coast drive can be done in a day, but why?
We drove slowly, stopped often, and enjoyed every moment of our two day Oregon coast road trip.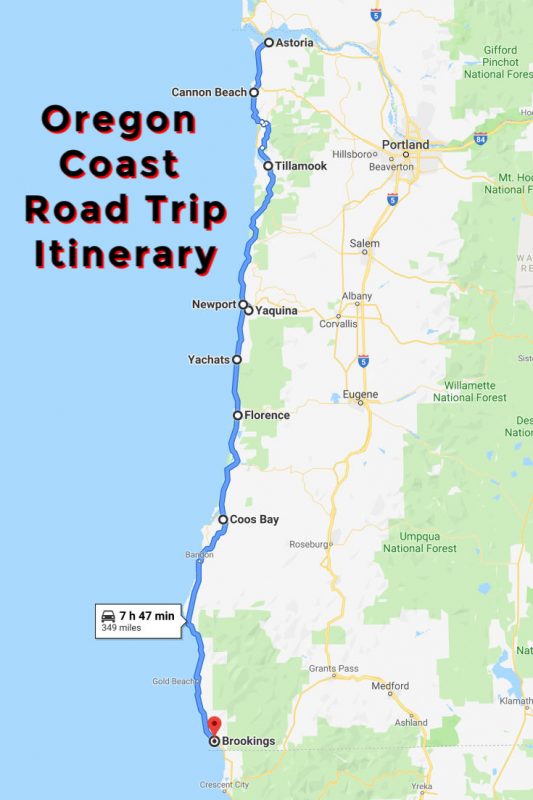 This site contains affiliate links to products and/or services. We may receive a commission for purchases made through these links at no additional cost to you.
Oregon coast road trip in seven segments
Although we completed our road trip in two days, we found it to naturally break into the following segments:
Astoria to Cannon Beach
Cannon Beach to Three Capes (Tillamook)
Three Capes to Newport (and Yaquina)
Newport to Yachats (Cape Perpetua)
Yachats to Florence
Florence to Coos Bay
Coos Bay to the bottom of Oregon
Trending on Albom Adventures
Oregon coast road trip segment 1: Astoria to Cannon Beach
Distance: Astoria to Cannon Beach – 41 km (26 miles)
Before heading down the coast, we spent two nights exploring the charming seaside community of Astoria. Honestly, we were in love with the state before we started our Oregon coast road trip.
Heading south, it doesn't take long before nature shoots out of the sea in an impressive and iconic Oregon landmark. Haystack Rock is the dominant feature on Cannon Beach, the first road trip stop. This 72-metre (235ft) sea stack was made famous in the cult classic The Gooneys. Locals proudly proclaim Haystack Rock as the world's third-tallest "intertidal" structure.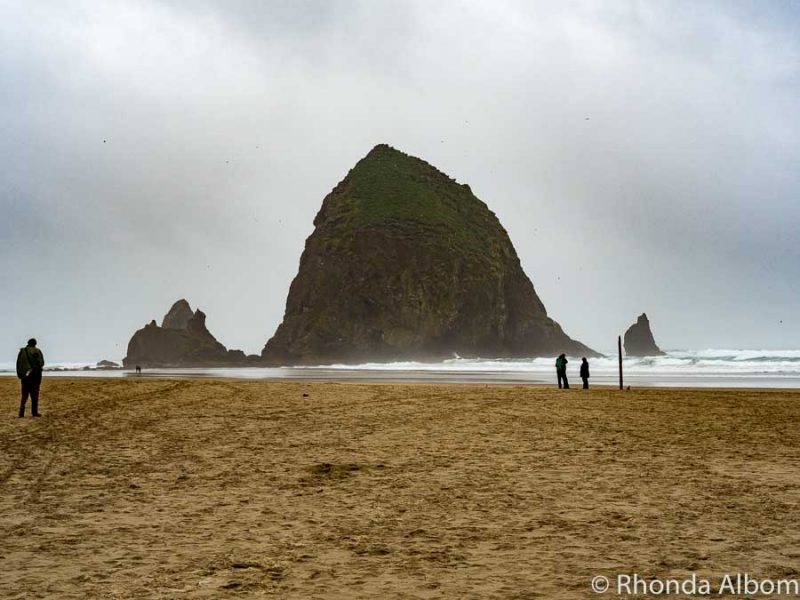 Optional tour to Cannon Beach from Portland
The 35-minute drive from Astoria is easy and well signposted. However, if you don't have a rental car, or you prefer to have a guide when you travel, check out this top-rated, small-group tour from Portland to Cannon Beach. This all-day tour begins with pick up from your Portland hotel and takes you on an 8-hour adventure to Haystack Rock and several other stops.
Oregon coast road trip segment 2: Cannon Beach to Three Capes (Tillamook)
Distance: Cannon Beach to Tillamook – 64 km (40 miles)
The rain may have taken our blue sky, but it didn't diminish any of nature's beauty as we headed south. And when the rains stopped, we rolled down the car windows to enjoy the fresh sea air. The scenic Oregon coast drive captivated us, and it was often the unexpected that we enjoyed the most.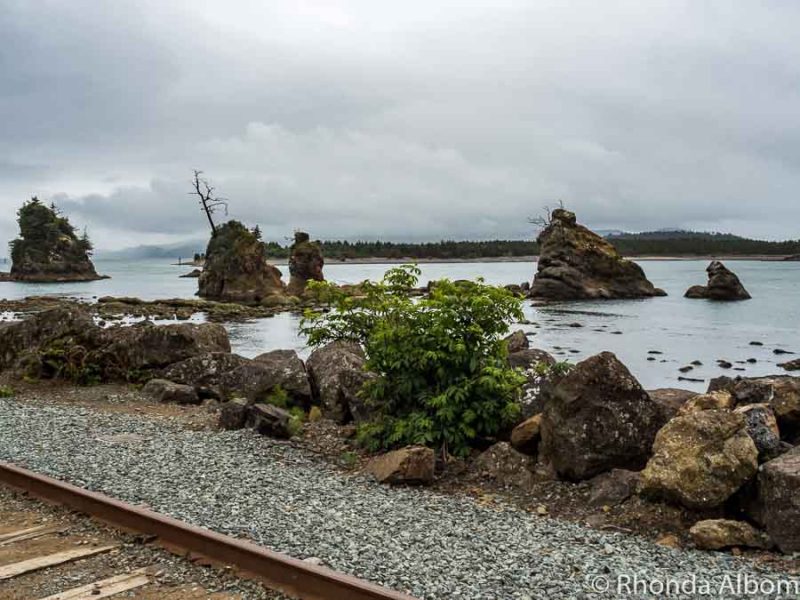 Tillamook Cheese factory
Once in Tillamook, allocate at least an hour for a free, self-guided tour of the Tillamook Cheese factory. It may not be one of nature's highlights, but it was a fun and tasty addition to our day.
Oregon coast road trip segment 3: Three Capes (Tillamook) to Newport (and Yaquina)
Distance: Tillamook to Newport – 110 km (68 miles)
Next, continue your Oregon coast road trip, visiting at least one of these three capes.
Cape Meares
Named for British explorer John Meares, Cape Meares offers extended coastline views on a nice day. Although less than 20 minutes off the main road, we skipped it due to the overcast rainy weather.
Cape Lookout
The sharp rocky promontory that is Cape Lookout was our next Oregon coast itinerary stop. There are several hiking options through lush coastal forest ranging from short trails to steeper excursions that require hikers to climb through and over tree roots.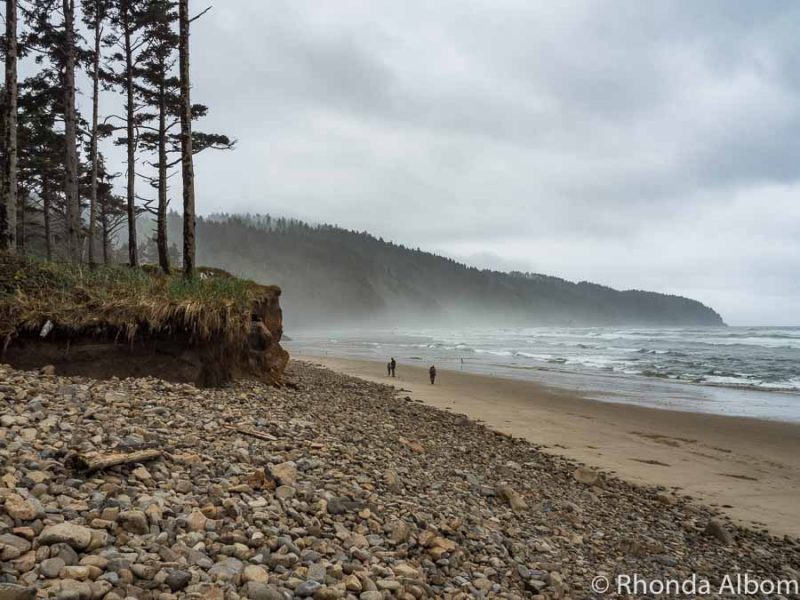 Cape Kiwanda
We were told the highlight of a visit to Cape Kiwanda is watching the dory fishermen on their way out to sea in the very early morning (4 – 5 am) or when they return in the late afternoon. Although our timing didn't work out for the fisherman, we did make time to stop for a snack at Oregon's only coastal brewery, The Pelican Pub. If you stop here, don't miss their impressive wall of awards.
Oregon coast road trip segment 4: Newport to Yachats (Cape Perpetua)
Distance: Newport to Yachats – 39 km (24 miles)
We spend the night in Newport, home to Devil's Punchbowl and the Hatfield Marine Science Center. Just inland is the town of Yaquina, home to the Oregon Coast Aquarium, the famous Yaquina Bay Bridge, the 1871 Yaquina Bay Lighthouse, and a basalt rock beach.
We didn't book far enough ahead, and our first hotel choice was sold out. However, after reading the reviews, we will plan better next time so we can stay at the oceanfront Hallmark Resort. With ocean views from every room, a spa, a saltwater pool, restaurant, a great location, and a "superb" rating, it is the place to relax and unwind after a day of driving.
Yaquina
Distance: Newport to Yaquina – 8 km (5 miles)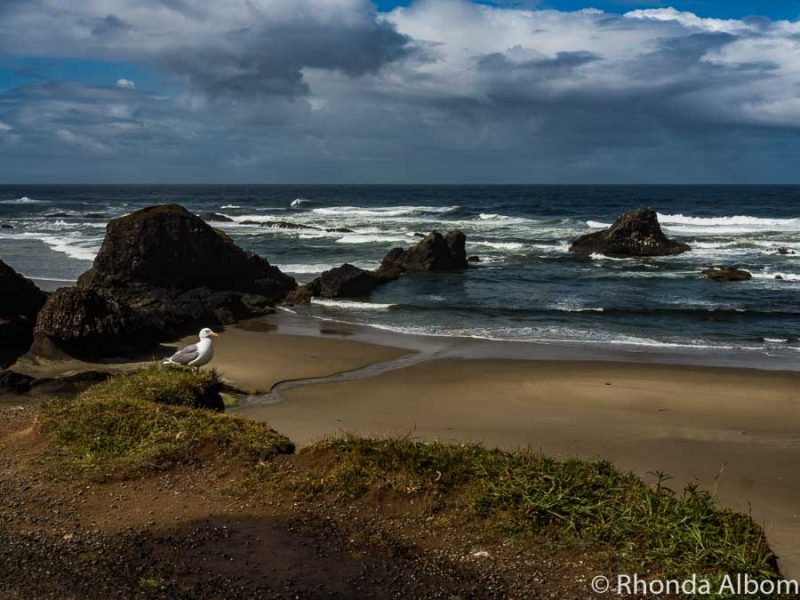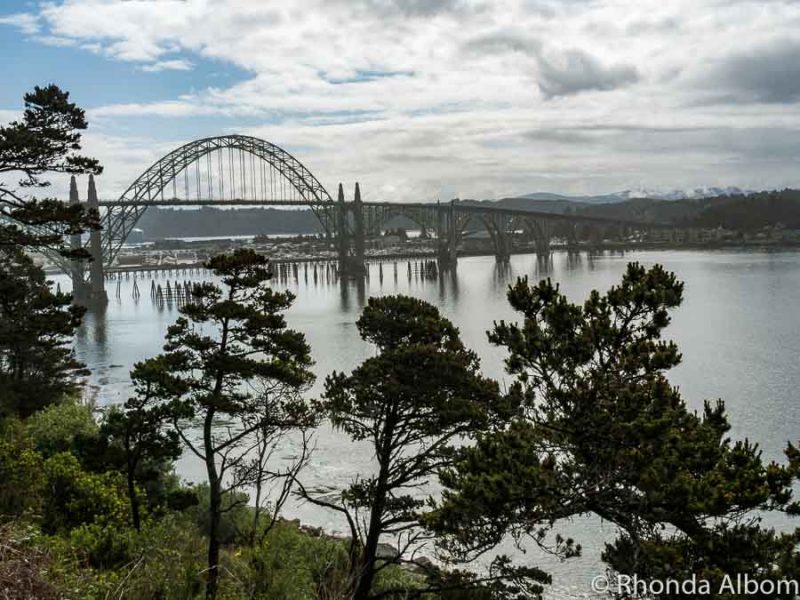 Oregon coast road trip segment 5: Yachats (Cape Perpetua) to Florence
Distance: Yachats to Florence – 41 km (25 miles)
Yachats is also a good choice for an overnight stop as several of the sights here are dependant on tides. However, many of the Yachats accommodation options are more basic than those in Newport.
Cape Perpetua
This is my favourite section of our Oregon coast road trip. At 245 metres (800 ft) above sea level, Cape Perpetua Headland is the Oregon coast's highest viewpoint that can be accessed via car. On a clear day, one can see up to 60 km (37 miles) out to sea. The USDA Forest Services offers a free downloadable trail guide of the area.
Here, we found Devil's Churn, Spouting Horn in Cook's Chasm, and Thor's Well. This was the first place that the less than ideal wind and rain worked in our favour as the wild weather brought crashing waves, creating dramatic seaspray explosions.
Devil's Churn
As waves travel through this narrow inlet at Devils Churn, they can throw spray several hundred feet in the air. In addition, as an incoming wave collides with the retreating previous wave, the seawater appears to churn.
Cook's Chasm
Named by explorer Captain James Cook, the Spouting Horn at Cook's Chasm is a blowhole driven by the energy of the ocean tides. Spouting Horn and nearby Thor's Well are best seen in the two-hour window surrounding the high tide.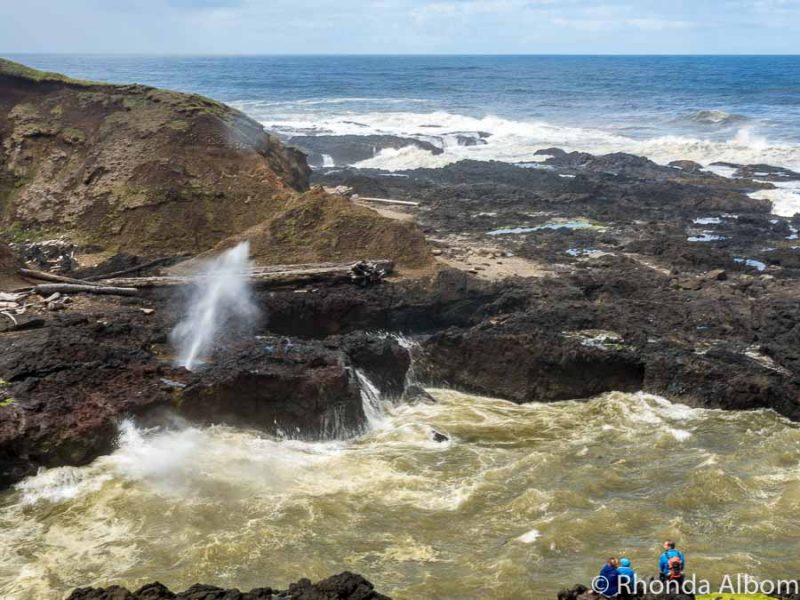 Oregon coast road trip segment 6: Florence to Coos Bay
Distance: Florence to Cape Arago State Park – 79 km (49 miles)
There are two main highlights in this section of our road trip: Heceta Head Lighthouse and the Sea Lion Cave, the largest sea cave in the USA. It is currently inhabited by wild sea lions. We recommend reading the reviews and choosing your visiting time carefully if you want to visit the sea lion cave.
Heceta Head lighthouse
Heceta Head lighthouse was built in 1894 and is still active. Importantly, Heceta Head lighthouse's beam can be seen for 21 nautical miles, making it the strongest light on the Oregon coast. Open daily, it is now also a Bed and Breakfast. It is less than a kilometre walk from the car park to the lighthouse.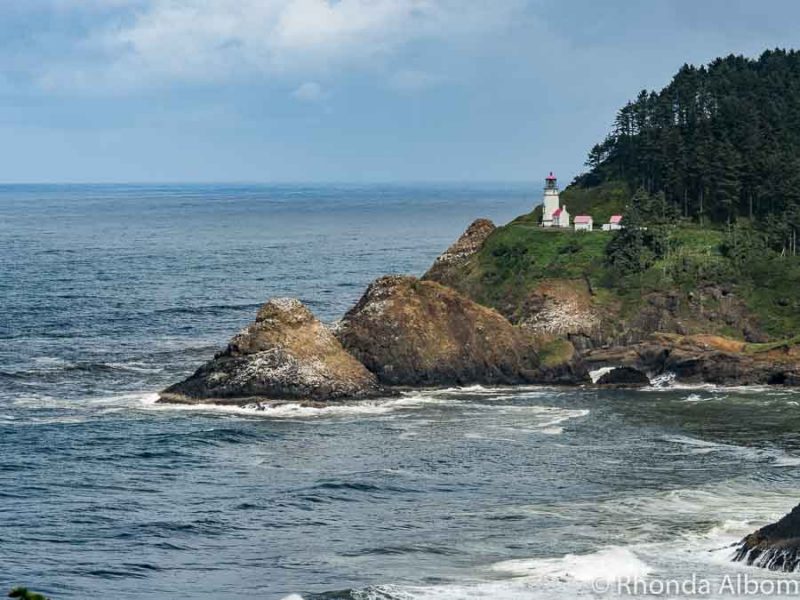 Oregon coast road trip segment 7: Coos Bay to the bottom of Oregon
Distance: Coos Bay to the state line – 182 km (113 miles)
Cape Arago State Park
Once again there were impressive views, this time with clearing skies. This is the place to see seals and sea lions for free.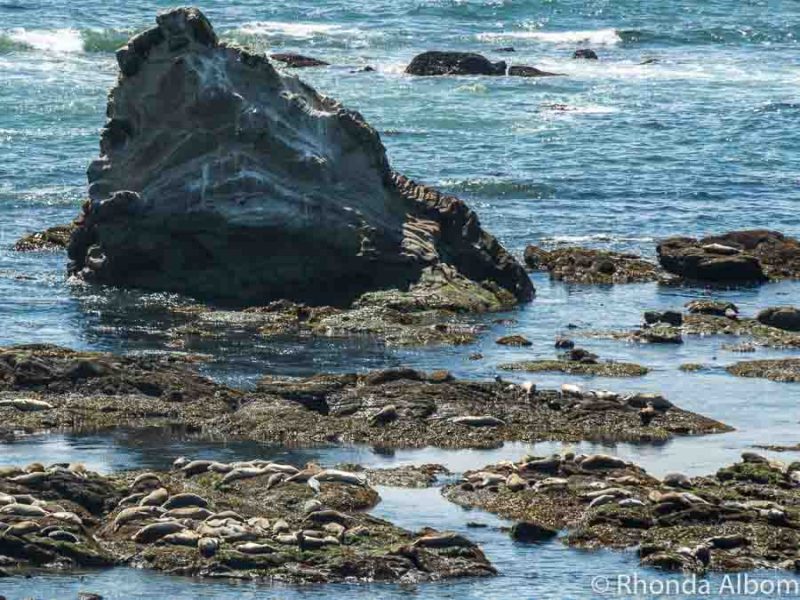 After the park, we continued heading south, stopping in Bandon's old town for coffee and a snack. How could we resist a town monikered, "one of the coolest small towns in America." From here, we continued south, crossing into California.
Driving in Oregon
Americans drive on the right side of the road. The Oregon roads we took were all well-paved and easy to navigate. Key sites are well signposted and if you are generally comfortable travelling on your own, you will find this Oregon road trip easy.
Where to stay on the Oregon coast
If I were to drive the Oregan coast again, I would do it slower, and spend more nights. I would like to stay in Cannon Beach, Newport, Yachats, and Bandon.
More tips for your Oregon coast road trip
Dress in layers. The Oregon coastal weather is unpredictable and changeable. Click here to download our free packing light checklist when you join our mailing list. (don't worry, we won't send spam)
Pack rain gear for yourself and your camera.
Bring binoculars.
Watch your tides. Places like Devil's Punchbowl in Newport are best seen at high tide.
Mo's Restaurant is the ideal place to get seafood chowder in a bread bowl. There are several along the coast, but the original (and thought to be best) is in Newport. There are actually two in Newport, the original is across the street from the waterfront.
If you love Oregon as much as we did, check out this coffee table book by fellow travel blogger and photographer Greg Vaughn.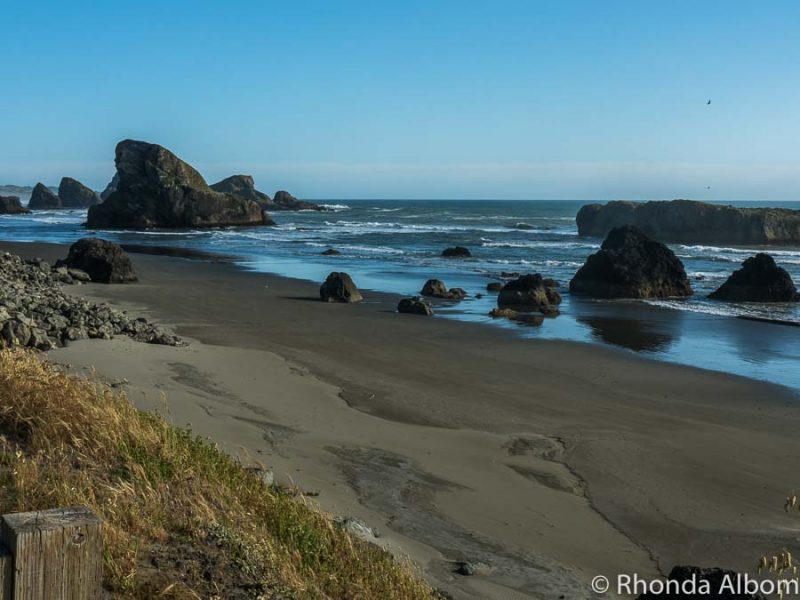 Where to next?
By driving south, we were on the coastal side of the road, however, this Oregon road trip can be enjoyed in either direction. It is one of many USA adventures we have experienced.
Crossing into California
After passing through Brookings, you will leave Oregon, but you probably won't be disappointed as you enter California. Consequently, you will rather quickly find yourself surrounded by the giant redwood forest that dominates the northwestern portion of the state. Continue south and there is plenty to see before you get to San Francisco.
Doing the Oregon coast road trip in reverse – after Astoria
Finally, if you drive the coastal road heading north, there is no reason to end in Astoria. From here, turn inland and enjoy Portland, making sure to allocate time to visit Multnomah Falls, only an hour beyond the city.
Above all, from Portland, there is plenty more to discover in Oregon, as the inland opportunities are reputed to parallel the beauty of the coast. For us, it will be a future adventure.
Travelling south, we actually started our adventure in Vancouver Canada, taking a bus to Seattle, and then Amtrak to Portland where we rented the car and drove to Astoria.
Take a tour of the Oregon coast
If you want to do similar, but not on your own, go with Intrepid. They offer a comparable and fascinating 12-day tour bringing guests from Seattle to San Francisco. With the Intrepid name behind the tour, you know they have paid attention to every detail.
Travel planning tips
Flights: We use Skyscanner to find all the available flight options at the best prices.

Rental Car: We always use RentalCars.com, a rental car search engine with no hidden costs.

Accommodations: We use Booking.com or HotelsCombined to find all levels of accommodations when we travel.

Travel Insurance: We purchase insurance that covers medical and travel emergencies when we head overseas. We start with World Nomads.

Packing Tips: Get a free copy of our packing light checklist when you sign up for our mailing list. (We pack light, yet have everything we need.)

**Find more money saving resources on our Travel Resources page.
Save for later
If you enjoyed this article, please share it on social media and save it for later on Pinterest.
What is your favourite Oregon coast road trip stop?
You might also like: