The Tillamook cheese factory offers free tours of the process to create 171,000 pounds of cheese daily. A perfect stop along the Oregon coast.
We knew the name Tillamook from the award-winning cheeses we had purchased so many times when we lived in California. What we discovered was an ice cream, creamy fudge, and cheese factory tour that blew our mind. Each day they make 171,000 pounds of cheese.
Tillamook County is along the Oregon coast. Its high rainfall, rivers, and ocean create a fertile region that naturally grows nutrient-rich grass, perfect for dairy cows.
The first Tillamook County cheese to win an award did so at the 1904 World's Fair in St. Louis. Since that time, they have earned over 750 awards. Being farmer-owned, the milk goes from farm to cheese in less than 24 hours. The cheese is then aged from 60 days to over 3 years. And the best part, all products are made as naturally as possible.
Trending on Albom Adventures
Our Tillamook Cheese Factory tour
Stepping inside was a sharp contrast to the natural coastline we had been enjoying. It was bright, lively, and filled with happy people. No wonder it draws over a million visitors each year. The self-guided factory tour is fascinating. Best shared in photos (shot through the glass observation windows):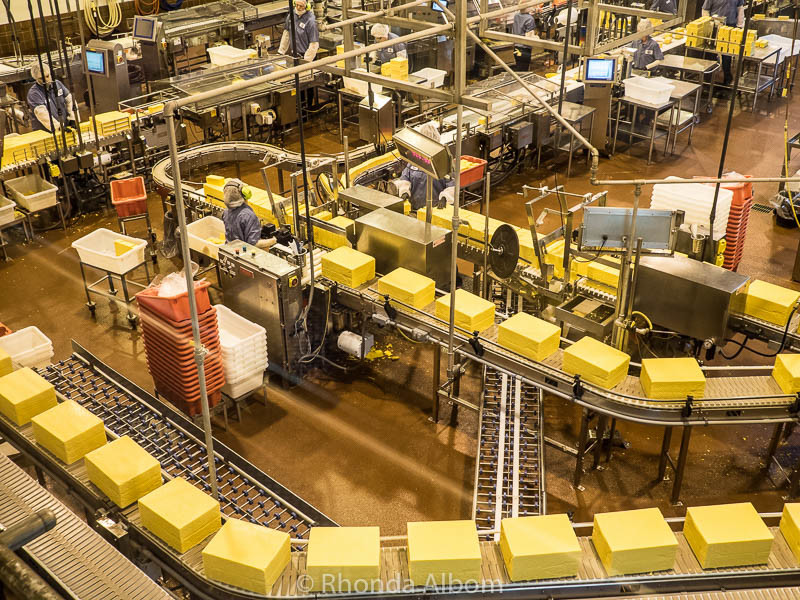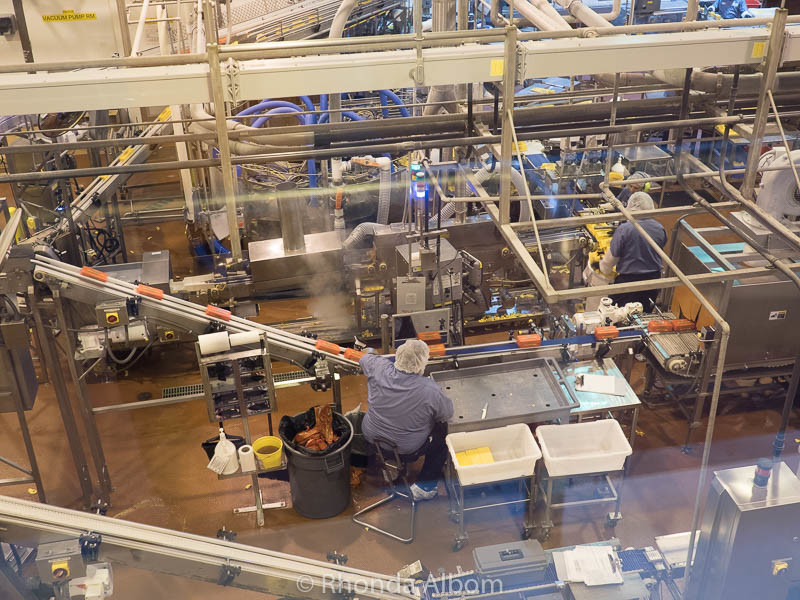 After the tour
The self-guided tour ends with samples. Then you are in the shop, more specifically, you are standing in front of a refrigerated cheese counter. You can pick up whichever cheeses have inspired you.
I imagine we are not the only ones who left that day with a sampling of cheeses and crackers. We also ordered sandwiches and enjoyed a picnic at our next coastal stop.
What you need to know for your free Tillamook Cheese Factory tour
Save on your trip with these resources
We use these aggregator companies to save time and money. They do the work for us by providing a list of options, prices, and reviews for anywhere we are travelling worldwide. Plus, we have personally had positive customer service experiences with all of them:
Flights: we use Expedia for the best and cheapest flight options.
Hotels: we use Booking.com as they consistently return the best rates and their reviews are from actual guests. However, for self-contained lodging, use VRBO
Cars: we use RentalCars to find the best deals and dealer ratings.
Private guides: we often hire private guides from Tours by Locals
Travel Insurance: we start at InsureMyTrip as they are the best option to compare plans and find the right coverage for you.
Before you book the rest of your trip: Check out our travel resources page for more companies that we use when you travel.
We believe this list to be the best in each category. You can't go wrong using them on your trip too.
Save for your next visit to Oregon
If you enjoyed this article, please pin it:
Have you visited the Tillamook factory? Have you enjoyed any of their products?
You might also like: