The Museum of Flight is an unexpected treasure that caught me off guard. An impressive collection with over 150 aircrafts and 25,000 smaller objects, I am sure there is something to catch everyone's attention.
It seemed everywhere we turned we saw a record-breaker or a new (for its time) creation. There were a multitude of different planes, from the fastest, to human-powered, and to ones flown on by former presidents Eisenhower, Kennedy, and Johnson. Even rocket scientist hubby saw things he had only ever heard about before.
To be honest, I intended to stay for about 90 minutes. Four hours later, even I was still captivated, learning, and enjoying every moment. Huge planes hang overhead side by side smaller ones, flight simulators allow visitors to fly (most for an extra fee), spacecrafts link us to outer space, and the signage connects the craft to key moments in history.
Trending on Albom Adventures
A few of the really cool airplanes at the Museum of Flight, Seattle
The world's fastest and highest flying
This particular Lockheed M-21 Blackbird is the sole survivor of its type. Still the world's fastest and highest flying air-breathing production aircraft, the Blackbird series have cruising speeds of more than Mach 3 and the ability to fly at over 25,500 m (85,000 feet).
Pretty impressive for planes conceived almost 50 years ago. This one, built during 1963, has an interesting history including the CIA and drones. Read about it here.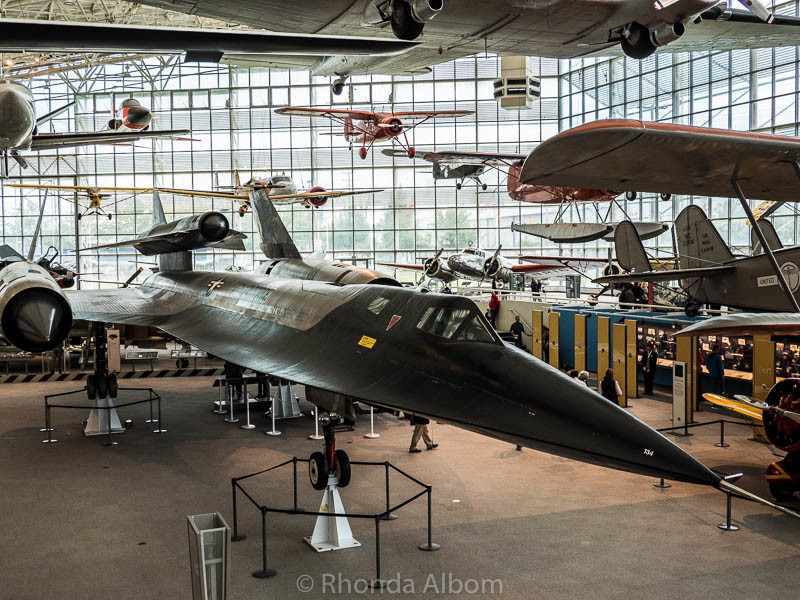 A human-powered plane
In 1979, the human-powered Gossamer Albatross successfully crossed the English Channel. The plane on display is the Gossamer Albatross II, built to identical specs as a backup plane, and used in some of NASA's testing.
The first Airforce One jet
How often do we get to get on board Airforce One? Yet there it is, the first Airforce One sits in the Museum of Flight's Airpark. Entering from the rear, we walked first through the press quarters, then the "flying oval office."
It's a modified Boeing 707 used during the Eisenhower, Kennedy, and Johnson administrations.
The world's first fighter plane
This Caproni Ca.20 is the world's first fighter plane. It is an original, an Italian fighter from 1914, and the oldest in the Museum of Flight collection.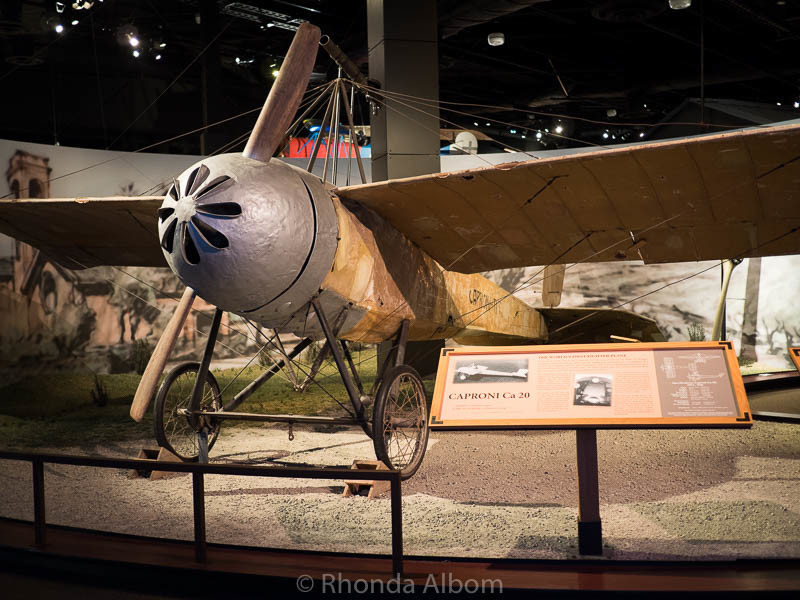 Go inside the Full Fuselage Trainer (FFT) used by every NASA Space Shuttle astronaut
The most unique opportunity is a 30-minute shuttle trainer tour of the Full Fuselage Trainer (FFT). Every NASA astronaut that flew on the Space Shuttle used this FFT.
The cargo bay (in the photo just below), is open to the public. However, getting inside the FFT crew compartment requires a special tour. Be sure to check restrictions before you book. Tours are limited to six people per session, have lots of restrictions, and require an extra fee.
We joined a tour and got to go inside the Space Shuttle trainer crew compartment of the FFT. Just like the astronauts, we crawled in through the small, round hatch.
The space inside began to feel quite small after only a few minutes. I can't imagine being in there with six other astronauts for multiple days (NASA would never have selected me for astronaut training).
Still more cool things at the Museum of Flight, Seattle
This site contains affiliate links to products and/or services. We may receive a commission for purchases made through these links at no additional cost to you.
The original Boeing Factory – the Red Barn
Nicknamed the "Red Barn," the original Boeing Factory has been a part of the museum since 1982 and now is home to Boeing memorabilia and other interesting documentation, including original letters from the Wright brothers.
If you want more about Boeing and have a half-day to spare, don't miss the nearby Boeing Factory, the world's largest building. Here, you will not only see planes, but you will discover how planes are made. A tour will take you from Seattle city.
Check Boeing Factory Tour price here.
There's a huge WWII Gallery
And, just for fun, in late October, the museum converts its trench area in the WWII exhibit to a "Museum of Fright."
Aviation Pavilion
The Aviation Pavilion opened on 25 June 2016, and was nearly completed when we visited. It houses planes ranging from a DC-2 to the Concorde.
When the real flight crews visit
The museum encourages flight crews who visit to leave their signatures on inconspicuous areas of their planes (like the front wheel well). While we saw this in a few spots, the most impressive to me was the space shuttle flight crew of the STS-135 signatures on the FFT at the Museum of Flight:
There's much more. This is only some of it:
The Flight Zone allows kids hands-on experimentation with cockpits, instrumentation, a balloon gondola basket, and more. Special workshops or activities are available on weekends.
A simulated air traffic control tower overlooks the King County International airstrip.
Getting there: Will you drive or fly?
You'll find the Museum of Flight about 9 miles south of downtown Seattle at 9404 East Marginal Way.
While there is plenty of free car parking available, there are also five airplane spots. Importantly, if you have a private plane, and plan to use it to arrive, be sure to book one of the spots at least a day in advance.
Things to know before you visit the Museum of Flight
The museum is open daily from 9 am to 5 pm.
On the first Thursday of each month, the museum has a late-night with free entry from 5 to 9 pm.
You can experience the museum on your own, join a docent-led tour, or rent an audio guide that is available in seven different languages.
There is a cafe with sandwiches, snacks, and beverages.
The Museum of Flight is a Smithsonian Affiliate institution.
For more information, check out the Museum of Flight's official webpage.
Final thoughts
Having enjoyed both the Cite de L'Espace in Toulouse France, and MOTAT's Aviation Hall in Auckland New Zealand, my expectations were high, yet they were still vastly exceeded. It is more than the sheer magnitude of exhibitions, it is the impressive nature of the aircraft and the tie to our lives that really hit me.
I am sure there is something to catch the attention of everyone here. Despite being off of the beaten path, I honestly believe that the Museum of Flight is a must-see in Seattle. Allocate at least two hours, four would be better, and if you want to see it all, and try out everything, give it a day.
We visited as part of a road trip in America that brought us to Seattle for the better part of a week. While there are tons of cool things to do in Seattle, the Museum of Flight is a definite highlight.
Travel planning tips
This site contains affiliate links to products and/or services. We may receive a commission for purchases made through these links at no additional cost to you.
Flights: We use Skyscanner to find all the available flight options at the best prices.

Rental Car: We always use RentalCars.com, a rental car search engine with no hidden costs.

Accommodations: We use Tripadvisor to check ratings and book lodging when we travel.

Travel Insurance: We purchase insurance that covers medical and travel emergencies when we head overseas. We start with Travel Insurance Master, an aggregator that gives us a free and easy-to-read comparison of the inclusions of each policy.

Packing Tips: Get a free copy of our packing light checklist when you sign up for our mailing list. (We pack light, yet have everything we need.)

**Find more money-saving resources on our Travel Resources page.
Please Share
If you enjoyed this article, please add it to Pinterest and other social media.
Have you been to the Museum of Flight? Will you add a Shuttle Trainer Tour when you visit?
Disclaimer: We were guests of the Museum of Flight's PR department, and given a complimentary tour. The opinions expressed here are strictly my own.