Our Vancouver itinerary highlights the must-sees in this captivating British Colombia coastal city. Spend a weekend or try to uncover the essence of Vancouver in a day. Either way, enjoy a blend of expansive views, temperate rainforests, and a modern cosmopolitan city.
Vancouver instantly awakened my senses, captivating my imagination and leaving me wanting more. A modern metropolis set in a backdrop of vivid blue water, dense forest, and often snow-capped mountains in the distance.
Our Vancouver itinerary combines excitement, energy, and an invigorating appeal of the great outdoors. Visitors hike, cycle, sail, shop, relax at a cafe or sip a sunset cocktail on a mountain-top patio.
It's been called a "city of nature," with a laidback atmosphere offering epic views and majestic peaks reflected on glass skyscrapers. In Vancouver, you won't have to choose between the city and nature as they blend effortlessly.
After multiple visits, Vancouver remains one of our favourite cities worldwide.
With each visit, we found that whichever Vancouver itinerary we chose, our passion for the city grows.
Must-sees on any Vancouver itinerary
Arriving or departing via cruise ship, we encourage you to spend a few days. But, if it's a port stop, you will need to make choices if you attempt to see Vancouver in a day. Here are our top three picks, with the other must-sees for longer stays:
Stanley Park
Capilano Suspension Bridge
Gastown
Stanley Park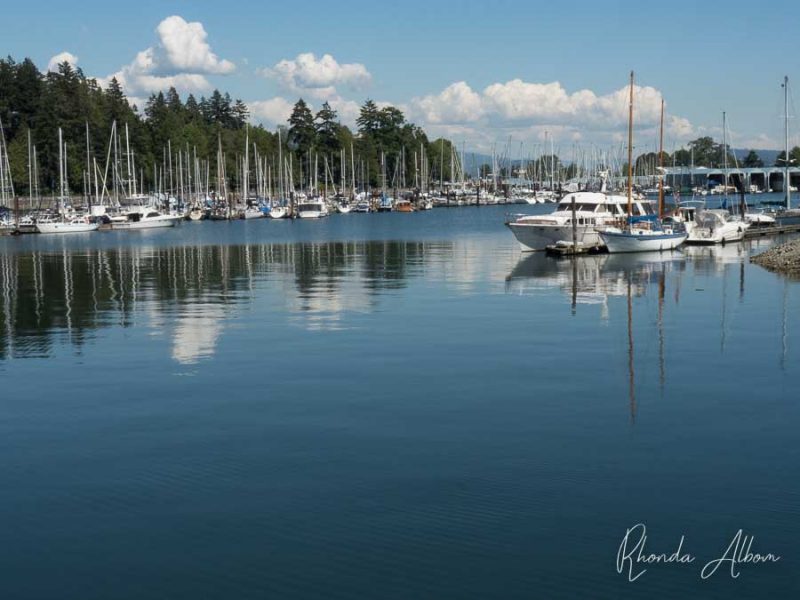 Stanley Park tops our list. Covering 400 hectares of evergreen forest, manicured areas, a stone seawall for erosion protection, rose gardens, totem poles, beaches, and impressive views. It attracts almost 8 million visitors each year.
The city's emerald heart is home to raccoons, beavers, and squirrels which can be spotted on one of the dozens of marked trails or the peaceful waterfront walkway. Animal enthusiasts can enjoy more than 50,000 animals at the Vancouver Aquarium.
We have both strolled and cycled Stanley Park's seawall (8.8 kilometres / 5.5 miles), each offering its own advantages. Either way, it is the perfect route to enjoy some of the city's best sea-to-sky mountain views.
There are plenty of rental shops all along Denman Street just outside the park. However, bumping it up a notch, we plan to take this highly-rated, relaxed-paced guided bicycle tour of Stanley Park. Over three hours, it will take us onto some of the easy forest trails as well as along the waterfront.
North Shore's Coast Mountains
Across the water from Vancouver's downtown peninsula, at the foot of the Coast Mountains, is a green suburb that beckons with outdoor adventure. Here we found our number two pick for a Vancouver itinerary, the Capilano Suspension Bridge.
Pro tip: There is a free shuttle to Capilano Suspension Bridge Park and Grouse Mountain with pick-up just outside Canada Place.
Capilano Suspension Bridge
If you are brave enough, look down at the rushing river as you cross the swaying Capilano suspension bridge. Make time to enjoy the rainforest nature trails, totem pole collection, the treetop cliff walk of suspended bridges, and the cantilevered walkway. Get advance tickets and enjoy the self-guided tour.
Grouse Mountain
A little further up the slope, Grouse Mountain offers the ultimate mountain-top playground, and the fun begins on a thrilling gondola ascent to the summit. At the top, you'll be greeted by jaw-dropping views, an entertaining lumberjack show, and the mountain's resident rescued grizzly bears (Grinder and Coola).
The mountain's ziplines guarantee an adrenaline rush, as does a trip up Eye of the Wind, the world's first commercial wind turbine. Get advanced tickets for the entrance and aerial tram.
*Skip the line at both Capilano and Grouse Mountian with this tour that includes both venues.
Drive the coast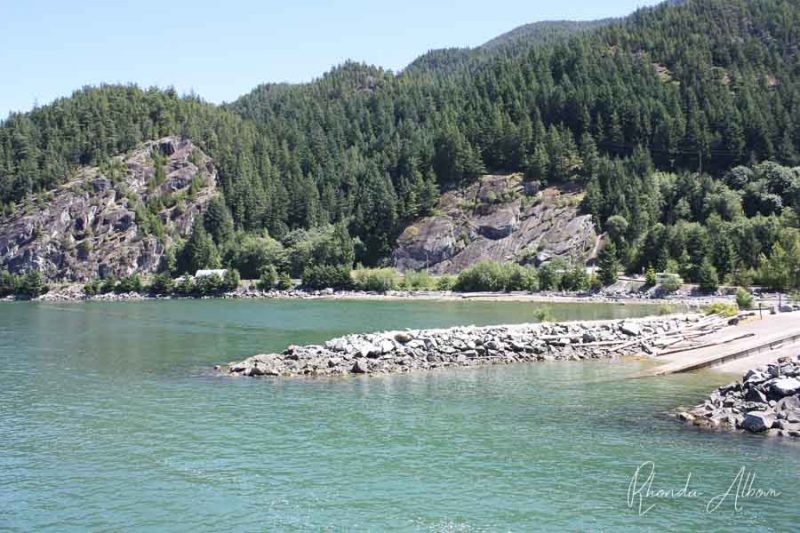 On one of our visits, we chose to rent a car and spend a day just driving north along the stunning coastline, stopping at various beaches and other sites that drew our attention.
Canada Place and Vancouver's Harbourfront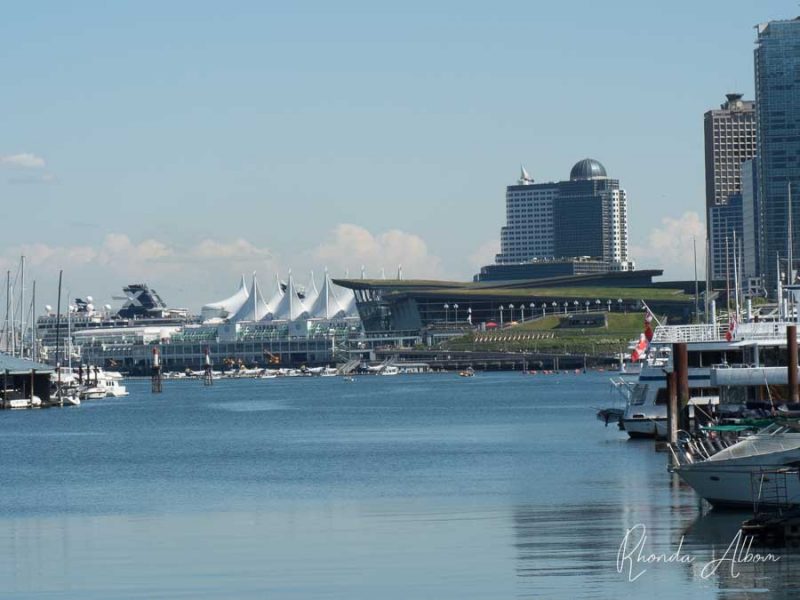 Canada Place is picture-perfect for photo-ops and a great place to relax and watch cruise ships glide into the city and the floatplanes taking off.
Its Harbourfront walkway passes the cruise port, the former home of the 1986 World's Fair, and the 2010 Olympic Cauldron at Jack Poole Plaza. Made of steel and glass, the cauldron is a legacy of hosting this international sporting event. It's a perfect selfie spot with a ready-made backdrop of the city, Burrard Inlet and the North Shore mountains.
Fun fact: British Columbia boasts the largest floatplane network in the world.
For many, the thrill of a floatplane ride is a novelty in itself as they experience their first watery take-off and landing – but it's the view from above that's guaranteed to drop jaws as you zoom over Stanley Park and downtown Vancouver, then find yourself gazing down on remote snowy mountain peaks.
Neighbourhoods to visit in a Vancouver itinerary
Gastown
Hip and historic Gastown is where the city first began in 1867. Today, the district is home to cool cocktail bars, impeccably curated boutiques and cobblestoned streets begging to be explored.
Check out the steam clock, a landmark in Gastown that 'blows off steam" (and a tune) every quarter-hour. Nearby there is a statue of John "Gassy Jack" Deighton", the namesake for Gastown.
If you are seeking intrigue, suspense, and murder. dissect the many stories as to how Blood Alley got its name. It seems that the most reliable sources believe it was named from the many butchers who worked on the street, and the animal blood washed away at the end of the day.
Afterwards, explore Water Street's boutiques and souvenir stores. If you're hungry, stroll the streets for wine and charcuterie, Pacific Northwest menus, modern Asian options, and craft beer pubs, or better still, take a walking food tour of Gastown.
Downtown
Since the 1920's Granville Street has been the city's main entertainment district. At one point there were 19,000 of these stylish red neon signs in Vancouver. In the 1960s, the city banned new neon signs, but these days it is once again encouraged on Granville Street. Dunn's Tailors is another example of neon in Vancouver, and it is the only sign in the city with a heritage designation.
Right in the heart of downtown, Robson Street is the city's best-known shopping strip. This is where you'll find the partially-subterranean Pacific Centre mall and big-name stores. Just a block over on Alberni Street is Vancouver's "luxury row" with international designer brands.
Sinclair Centre combines the old with the new and creates an indoor atrium space. Once home to the city's main post office, it is now a shopping mall.
Granville Island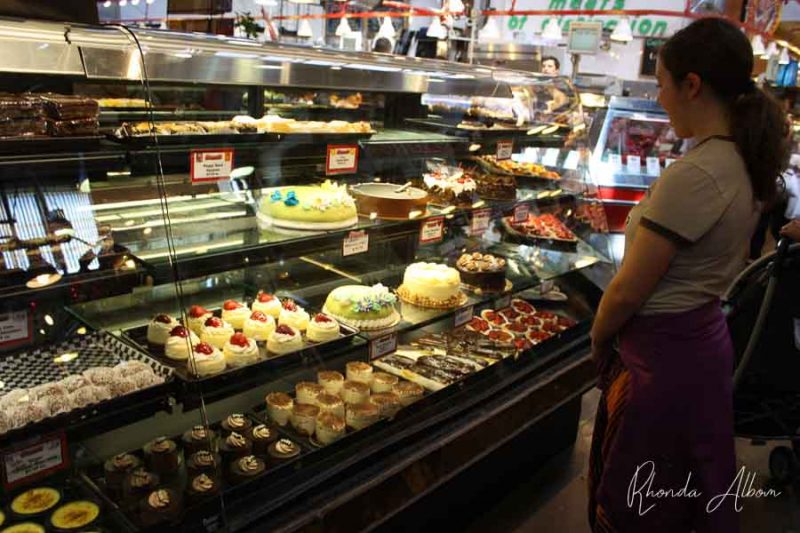 A must-see for shoppers craving unique and unusual gifts. Artsy Granville Island is a former industrial area transformed into a warren of artisan studios and shopping nooks. Our personal favourite is the bustling Public Market, teeming with delicatessens, bakeries, fishmongers, and pyramids of photogenic fruit and vegetables.
To see Granville Island from the water, rent a kayak or stand-up paddleboard and start exploring.
Chinatown
As North America's third-largest Chinatown, this neighbourhood is packed with vivid colours, exotic cuisine and vibrant culture, rich in history and architecture. Located just to the east of downtown, highlights include Dr Sun Yat-Sen Classical Chinese Garden, the Sam Kee Building (the world's narrowest commercial building) and the Chinese Cultural Centre.
Vancouver itinerary
Above is only the highlights, there are museums, shopping, beaches, hiking, watersports and so many more options. Plus, Vancouver is well known for impressive and creative gastronomic treats. Pulling it together, here are a few suggested itineraries.
One-day Vancouver itinerary options:
In the morning, walk to Canada Place and take the free shuttle up to Capilano Suspension Bridge. On the return shuttle, ask to be let off at Denman Street, just outside Stanley Park. Before entering the park, head to Kintaro Ramen (788 Denman Street) and enjoy the original ramen in Vancouver for lunch. Then rent bicycles along the street and head into the park.
If you are trying to do it all in a day, head over to Grandville Island before the Public Market closes, then off to Gastown for dinner. You will be exhausted, well-fed, and desperately wishing you had allocated more time to enjoy this fascinating city.
Two or three day Vancouver itinerary options:
Start your first day the same as above, but spend the entire afternoon enjoying the park. It will look something like this:
Day 1: Canada Place to Capilano Suspension Bridge to Kintaro Ramen to Stanley Park

Day 2: Take a private tour of Vancouver or enjoy the hop-on-hop-off bus self-guided tour. In the afternoon, relax at a cafe and soak in the natural beauty of Vancouver.

Day 3: Start your day with a floatplane tour followed by renting a car and driving up north, leaving plenty of time to enjoy the beaches.
OR
Day 1: Canada Place to Capilano Suspension Bridge to Grouse Mountain

Day 2: Take a private tour of Vancouver, or enjoy the hop-on-hop-off bus self-guided tour. In the afternoon, cycle through Stanley Park. Or take this bicycle tour of the city that seems to do it all.

Day 3: Start your day at a waterfront cafe and then head to the Public Markets on Granville Island. Spend the afternoon shopping and be sure to include window shopping at the luxury locations on Alberni Street.
Where we stayed
We stayed at the Victorian Hotel, a boutique hotel in the original building from the late 1890s. The rooms were large and lovely, with Victorian decor that contrasted the modern bathroom. A good location for walking the city, it was also only a short walk from the dock (we arrived in Vancouver via cruise ship).
Save on your trip with these resources
These are our go-to companies when we travel. We believe this list to be the best in each category. You can't go wrong using them on your trip too.
Flights: we use Expedia for the best and cheapest flight options.
Accommodations: we use Booking.com (hotels) or VRBO (self-contained).
Cars (gas or electric): we use RentalCars to search for deals and dealer ratings.
Campervans or Motorhomes: we use Campstar where Albom Adventures readers get a 3% discount
Private guides: we love the private guides at Tours by Locals
Travel Insurance: we start at InsureMyTrip as they are the best option to compare plans and find the right coverage for you.
Check out our travel resources page for more companies that we use when you travel.
Save for later
If you enjoyed this article, please share it on social media and save it for later on Pinterest.
How many days will you allocate for your Vancouver itinerary?
If you love this Vancouver itinerary, you might also like:
Disclaimer: This page is written with guidance from Destination Vancouver.