A visit to Pike Place Market is a Seattle tradition. It is probably best known for the Seattle fish market and its famous fishmongers throwing fish in Seattle.
An iconic destination opened in 1907; this Seattle market is one of the United State's oldest continuously operating farmer's markets.
Nevertheless, today Pike Place Market is much more than just a farmer's market. It's an impressive pillar of the community; a top tourist attraction; a place for locals to shop for fresh meats, fish, and produce; and a home to over 300 low-income families.
Pike Place Market is a lively destination that attracts over 10 million visitors annually. We were among them.
Famous Seattle public market sign
I couldn't resist taking this classic shot of this Seattle Public Market sign at the entrance (see above). Although I now think this neon sign looks more interesting at night.
Looking back to opening day at Pike Place Market
The Pike Place Market has been a direct link from producers to consumers since it opened in 1907 in a community attempt to combat high wholesale prices. With an interesting and controversial history, it was successful from its first moments.
Several versions of the opening day story exist, but all end with the ten farmers' produce wagons selling out by midday, and up to 70 farmers bringing carts by the end of the week.
The speech by Seattle City Councilman Thomas Revelle at the opening dedication captured a sentiment still true today, "The Market is yours. I dedicate it to you and may it prove of benefit to you and your children. It is for you to protect, defend, and uphold and it is for you to see that those who occupy it treat you fairly. This is one of the greatest days in the history of Seattle."
Seattle fish throwing
For me (and many visitors), it was the Pike Place Fish Market that stood out amongst the over 500 independent store owners offering everything from food to crafts.
Famous for throwing the customer's fish before it is wrapped, it is part of the fun. It's easy to find, just follow the cheers from the crowd.
And, if you are wondering where to stand to get the best shot, it is off to the side. Take a look, in the first shot I chose the wrong spot in the crowd, as the fish came almost directly at me and is difficult to spot in the photo.
Pike Place Market Starbucks is the world's first Starbucks
If you ever wondered where Starbucks got started, now you know. It was right here at Pike Market.
The original Starbucks opened in 1971, later moving to a different location, but staying with the Pike Place Market. If you are looking for a fun gift for a coffee drinker, check out a Pike Place Starbucks Mug.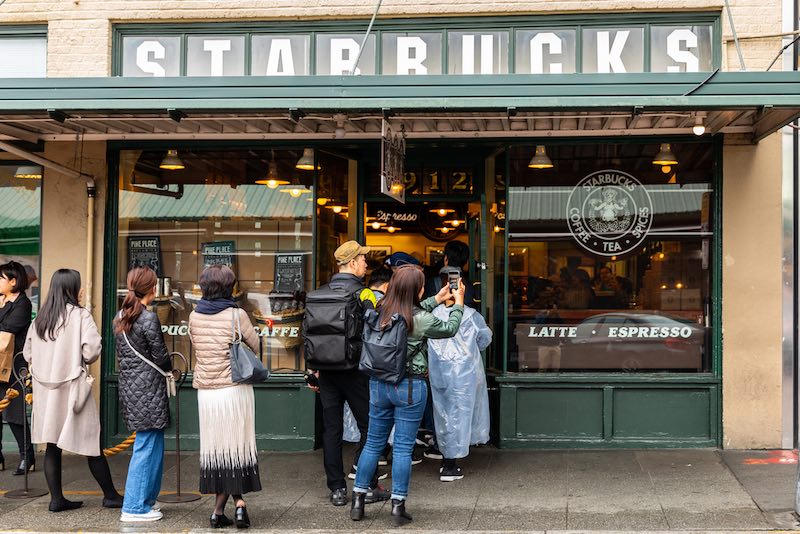 Pike Place Market food tours
If you don't know what to try first, or you just want a bit of the best, take a Pike Place Market tour. These are all food-based tours.
TOUR
# OF STOPS
FEATURED FOODS
Taste of the Market Tour
8
Family-friendly tour
Fresh biscuits, real Italian gelato Greek Yogurt, Mexican street tacos, smoked salmon, chowder, truffles, hand-crafted Bavarian meats, and salmon burger
Chef-Guided Food Tour
10
Family Friendly Tour
Mac and Cheese, Fair Trade coffee, all-natural doughnuts, savory tarts, Greek Yogurt, German sausage, salmon fillet, dark chocolate
Food and Cultural Walking Tour
9-10
Fresh produce, locally-roasted coffee, cherry-inspired treats, crab cakes, Russian piroshki pastries, handmade cheeses, clam chowder, old-fashioned doughnuts
Walking Food Tour
6+
Artisan salami and cheese, gelato and crumpets, clam chowder, smoked salmon, Italian truffles, and a glass of wine
Other finds in this Seattle market
The market is generally crowded, but flowing. Despite all the people, we found it easy to move about and find what we were looking for.
We didn't buy a fish, as we are staying in a hotel without a kitchen. However, we did enjoy some mouth-watering freshly picked produce and browsing many of the Pike Place Market shops.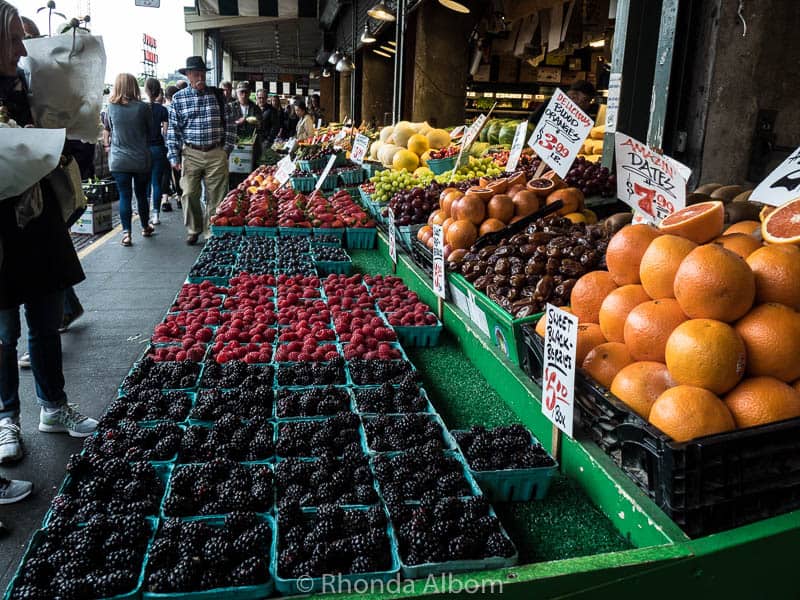 I will admit, we ate most of the things we bought at the market. Between restaurants, irresistible fruit stalls, and the sweets, we did not walk away from Pike Place Market hungry. However, we also didn't have a souvenir in the lot.
Final thoughts on Pike Place Market
Today, Pike Place Market is much more than a farmer's market.
It's also a place of community, creating a neighborhood. Amid the retail space are high-end condominiums, affordable housing, and low-income senior housing units. The community service expands even farther with a food bank, senior center, medical clinic, and childcare.
Rachel the Piggy Bank (a life-size piggy bank) sits under the main sign welcoming visitors and collecting change totaling about $10,000 per year in donations.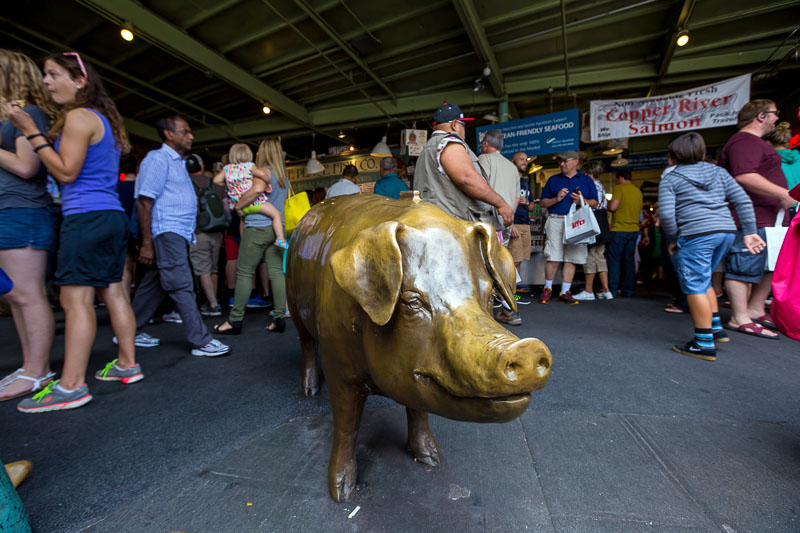 What else might you find? Who knows.
According to Legends of America, Pike Place Market is not only haunted; it may be the most haunted place in Seattle. It was a must-see city when we planned our American road trip.
Practical information on visiting Pike Place Market
The main gate to the market is located at 1st Ave and Pike St.
Download a copy of the official visitor's guide and pike place map here, before you go. The market is large and it is quite useful.
The Market is open 363 days a year, closed only on Thanksgiving and Christmas Day.
Opening hours vary by activity with bakeries and cafes opening at 6 am for breakfast and some restaurants staying open until 1.30am. General Pike Place Market opening hours are 9 am- 6 pm and Sundays 9 am-5 pm. The complete timetable can be found here.
Save on your trip with these resources
These are our go-to companies when we travel. We believe this list to be the best in each category. You can't go wrong using them on your trip too.
Flights: we use Expedia for the best and cheapest flight options.
Accommodations: we use Booking.com (hotels), VRBO (self-contained), or Hostelworld (budget).
Cars (gas or electric): we use RentalCars to search for deals and dealer ratings.
Campervans or Motorhomes: we use Campstar where Albom Adventures readers get a 3% discount.
Motorcycles: we have heard good things about BikesBooking.
Private guides: we love the private guides at Tours by Locals.
Travel Insurance: while not required, we always opt for travel insurance and start at InsureMyTrip to compare coverage plans.
Check out our travel resources page for more companies that we use when you travel.
What is your favorite thing to do atPike Place Market? Do you believe it is haunted?
Photo Credits:
All photos on this page are either shot by our team and watermarked as such or stock images from Depositphotos.