Toulouse caught me by surprise. When Jeff and I were planning our European escapade, Toulouse wasn't initially near the top of our list. Little did we know that are so many things to do in Toulouse. It held a treasure trove of experiences waiting to be uncovered.
Our journey to Toulouse turned out to be an unexpected delight, one that had us extending our stay not once but twice.
One look at the faded red-brick facades of the old city, and you will instantly understand the nickname "La Ville Rose" (The Pink City).
France's fourth largest city is an eclectic mix of medieval architecture and modern aerospace, leaving us wondering what to do in Toulouse first. Located on the banks of the Garonne River, its charming streets make it ideal for walking.
Best things to do in Toulouse
Explore Place du Capitole
Immerse in cultural treasures and religious structures
Journey through aerospace
Head to the Garonne River or Canal du Midi
Discover museums and historic sites
Step off the beaten path
Embark on a gastronomic adventure
Spend some relaxing time
Before exploring all the things to do in Toulouse … start here:
Once in town, head to the office of tourism to pick up free maps and purchase tickets for Cite de l'Espace and/or river cruises.
Get the Toulouse Pass Tourisme to save money and often skip the queue. It includes entrance to most of the city's museums, monuments, and heritage sites, as well as discounts at dozens of other partner sites, cruises, boat rentals, and even some shopping. Best of all, there is an option to have transportation included (city buses, trams, metro, and the airport shuttle). This pass is a great deal. Reserve your 72-hour Toulouse pass here.
Get an introduction to the city with a one-hour open-top minibus city tour. Visiting both the old and new areas of the city, the audio-guided tour will take you past Ville Rose, Toulouse Cathedral, the Basilica of Saint-Sernin, Hôtel d'Assézat, and finally, along the banks of the River Garonne and Canal du Midi. Reserve your open-top minibus city tour here.
If you prefer a more active option, this bike tour might be just the thing. In three hours it will give you a fabulous introduction to the city, and a bit of exercise. Reserve your essential Toulouse by bike tour here.
Exploring Toulouse: A Journey of 33 Wonders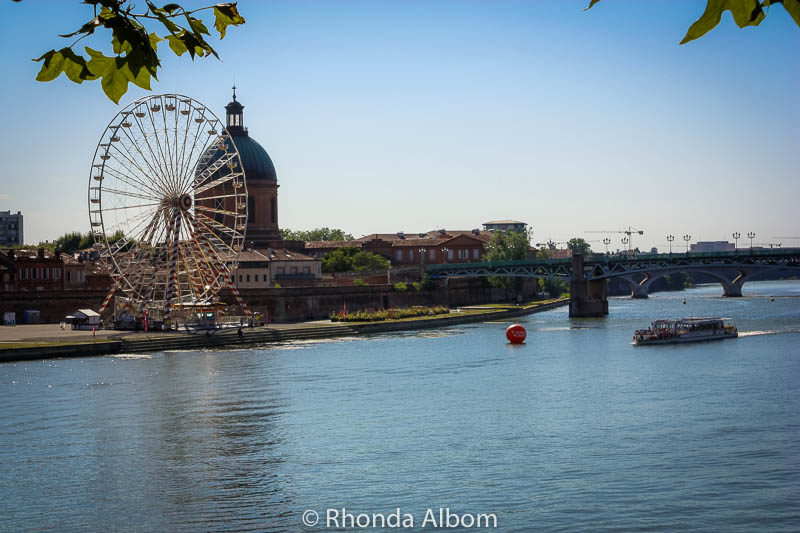 As we ventured through the cobbled streets of Toulouse, we discovered a vibrant city that seemed to intertwine the old and the new effortlessly. The sheer diversity of things to do in Toulouse took us by surprise, and we embarked on a quest to explore every corner of this captivating city.
Place du Capitole – The main square highlights the best of Toulouse
The main square in Toulouse, Place du Capitole, stands as the city's vibrant heart and a testament to its historical and cultural significance. This iconic square is home to the magnificent Capitole de Toulouse, a grand neoclassical building that serves as the town hall and symbolizes the city's administrative prowess.
The Capitole's impressive façade features intricate sculptures and grand archways, creating a visually stunning backdrop against which the square's activities unfold. Its distinctive terracotta hues contributed to our understanding of the nickname "La Ville Rose" (Pink City).
Originally founded in 1190, the Capitole is believed to be on the site where St Saturninus (Bishop of Toulouse) was martyred by being tied to the legs of a bull and dragged down the steps.
The square hosts various events, from bustling craft, art, or farmers markets to open-air concerts, offering a glimpse into the vibrant social life of Toulouse. Its open expanse, adorned with fountains and adorned with a central cross formed by pink and white marble tiles, provides an inviting space to relax and people-watch.
Be sure some of the religious buildings are on your list of things to do
By now, we knew that Toulouse's architectural heritage is nothing short of remarkable. The over 20 churches, cathedrals and convents in the city highlight this. Some of the more notable include:
Basilica of St. Sernin
The 11th-century Basilica of St. Sernin, the largest Romanesque church in Europe, stands as a testament to centuries of history. Its Romanesque beauty and intricate details left us awestruck. It was built to aid the crowds of pilgrims on their way to Santiago de Compostela. We enjoyed a free (with a donation) student lead tour of the Basillica.
Jacobin Convent
A Dominican monastery, Jacobin Convent, is built in southern French Gothic style and completed around 1250. The nave is most notable for its ridged arched vaulted ceiling known as the "palm tree".
Toulouse Cathedral
Also called Saint Stephen's Cathedral or Cathédrale Saint-Étienn, it is a national monument of France and the seat of the archbishop of Toulouse. It contains features of both Northern and Southern French Gothic styles.
Journey through aerospace
Toulouse is part of Aerospace Valley, home to hundreds of companies affiliated with the industry. Located in and around Toulouse are Airbus, Air France Industries, Dassault Aviation, and Cite de L'Espace (theme park). Taking a journey through some aspects of aerospace is a must-see among the things to do in Toulouse.
Airbus
**Reservations are required to visit Airbus. If you are not carrying an EU passport, you must purchase two full working days in advance. Also, Airbus tours were strictly no photography when we visited Toulouse.
Aeroscopia Museum
Located not too far from Airbus, Aeroscopia Museum is one of France's leading aviation and aeronautical museums. It highlights Toulouse's aviation history with interactive exhibitions and planes we can climb aboard, including the Airbus A300B, Concorde and others. In fact, their large collection of aircraft ranges from WWII fighters to commercial planes. Reserve your entry ticket in advance here.
Cite de L'Espace
Cite de l'Espace is a family-friendly, interactive space exploration museum. Although to us it felt more like a space theme park. Our girls were 12 and 14 when we visited here, and both enjoyed it. For Jeff, my rocket scientist husband, the highlight was walking through a life-size replica of the MIR, a Russian Space Station. Highlights for the girls included a moonwalk and a gyroscope.
Pro Tip: We don't speak French. Back when we visited, they had translation headsets at the entrance if you asked. They are free but have never been advertised, so we don't know if they still offer this. The headset will translate the I-max movie and the Planetarium show into English. Or you can download a free app in English that will give you guidance here.
Head to the Garonne River or Canal du Midi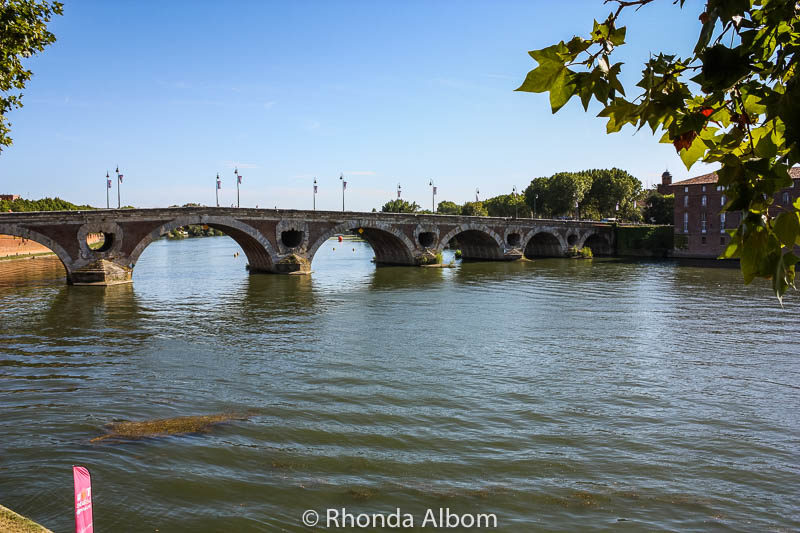 The Garonne River cuts through Toulouse, as does Canal du Midi. The Pont Neuf (new bridge) was completed in 1632 and is the oldest bridge in the city. While we found it impressive during the day, illuminated at night along with the city buildings created a romantic atmosphere that was simply magical. Our evening walks along the Garonne River provided some of our most cherished memories.
The Canal du Midi, a UNESCO World Heritage site, provided a tranquil escape from the bustling city. We first encountered Canal du Midi as it passed over the River Orb along the Orb Aqueduct in Béziers on our Pyrenees road trip.
Along the river, one can:
Rent a bicycle
Ride the Ferris wheel at the Quai de la Daurade
Walk across the Pont Neuf bridge
Take a river cruise
Hire a paddle boat
Discover museums and historic sites
Museums and monuments in the city centre are free on the 1st Sunday of each month, during the Night of the Museums, and on cultural heritage days. At any other time, they are nearly all included on the Toulouse Pass.
A few of the more notable museums:
Galerie du Chateau d'eau (One of the world's first public photography museums)
Musée des Augustins (housed within a former Augustinian monastery, it holds a captivating collection of sculptures and paintings that offered a glimpse into Toulouse's artistic past, including Romanesque, Gothic, and Renaissance.)
Muséum d'historie Naturelle de Toulouse (Natural history museum)
Musée Saint Raymond (Antiquities focused on Roman art, plus a large ancient cemetery in the basement that contains many inscriptions and crypts)
Academie des Jeux Floraux (Oldest literary society in the Western world)
Foundation Bemberg Houses Georges Bemberg's collection of artworks
Step off the beaten path in Toulouse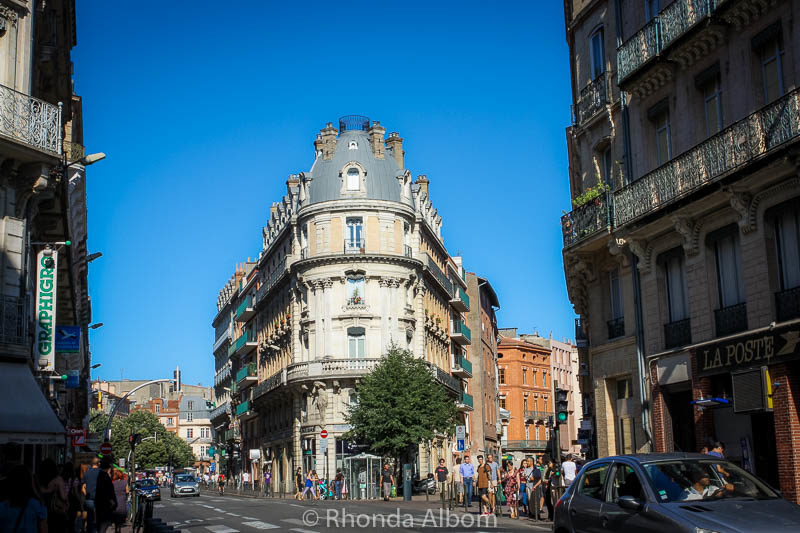 We loved walking down the residential streets of this idyllic town. We discovered narrow streets and fascinating architecture everywhere. But for me, it's the little things, like the ornate street lamp, that make Toulouse so charming.
Embark on a gastronomic adventure among the things to do in Toulouse
Settle into an outdoor street cafe for breakfast, lunch, afternoon coffee, or people-watching. We enjoyed crêpes at one of the cafes along Rue du Taur. Yet, it was Notre-Dame du Taur, the tower facade at the front of the church across the street, that caught our attention. (see image)
Dine on top-notch cuisine at one of Toulouse's nine Michelin Star restaurants.
The city's markets, such as Victor Hugo Market (the largest market in Toulouse), introduced us to the richness of regional produce and flavours. If you want to learn more, check out this Victor Hugo small-group walking food tour.
Relaxing things to do Toulouse
The Jardin des Plantes, Toulouse's oldest public garden, was a serene oasis that beckoned us to unwind. We found solace among its lush greenery, fragrant blooms, and tranquil ponds—a perfect spot for reflection.
Stroll through peaceful Japanese gardens at Jardin Japonais Pierre Baudis.
Music aficionados can listen to jazz or dance the night away with techno or rock music.
Enjoy a more sophisticated evening with ballet, symphony, or opera at Theatre du Capitole.
Where to stay in Toulouse
Like most big cities, Toulouse offers a wide range of accommodation options. As our primary motivation when we arrived was to relax, we stayed outside the heart of the city in a lovely apartment at Residence de Diane.
In fact, we had originally planned to spend a few days in Toulouse before moving on to other destinations. However, the city's charm worked its magic on us, and we found ourselves extending our stay not once but twice. By the end, we were relaxed and ready for our several-hour drive back to our long-term home exchange house in Spain.
Had our primary motivation been to see the sites in a condensed period of time, we would have stayed more central. Here are our top picks.
Residence de Diane
This is where we stayed in a lovely self-contained unit. In addition to seeing the sites above, we spent a fair amount of time enjoying the complex's large pool. Our unit was clean, and comfortable and had everything we needed. It was nice to be able to make home-cooked meals. ⇒ Reserve your stay at Residence de Diane here
La Cour des Consuls Hotel and Spa Toulouse – MGallery by Sofitel
This top-rated five-star hotel caters to all your needs, even providing a robe and slippers. The modern rooms are a contrast to the more traditional French ambience of some of the common areas. Pet-friendly, it caters to the entire family. ⇒ Reserve your stay at La Cour des Consuls Hotel here
Pullman Toulouse Centre
Another five-star option, the Pullman is sleek and modern. Also pet-friendly with family rooms, it has a fitness centre, bar, and restaurant. Guests rave about the friendly staff.⇒ Reserve your stay at the Pullman here
Finally, remember to smile and enjoy all the best of Toulouse
Save on your trip with these resources
These are our go-to companies when we travel. We believe this list to be the best in each category. You can't go wrong using them on your trip too.
Flights: we use Expedia for the best and cheapest flight options.
Accommodations: we use Booking.com (hotels), VRBO (self-contained), or Hostelworld (budget).
Cars (gas or electric): we use RentalCars to search for deals and dealer ratings.
Campervans or Motorhomes: we use Campstar where Albom Adventures readers get a 3% discount.
Motorcycles: we have heard good things about BikesBooking.
Private guides: we love the private guides at Tours by Locals.
Travel Insurance: while not required, we always opt for travel insurance and start at InsureMyTrip to compare coverage plans.
Check out our travel resources page for more companies that we use when you travel.
Save for later
If you enjoyed this article highlighting the things to do in Toulouse, please share it on social media and save it for later on Pinterest.
Have we helped you to decide what to do in Toulouse?
Photo Credits:
All photos on this page are either shot by our team and watermarked as such or stock images from Depositphotos.