If you enjoy spectacular scenery and are looking for a thrill, check out some of these Adventure activities in Switzerland. Read more about article author Anna Timbrook below the article.
Adventure awaits in every part of the world, but the ones in Switzerland are hard to beat. Not only does your heart leap out of your chest, but you also get to do it surrounded by some of the world's most magnificent views.
Whether you're high up in the air, zooming around on land, or swimming in the water, the Swiss Alps is the perfect backdrop for your adrenaline rush of choice.
Switzerland is a fairly small country but every town and city has its own claim-to-fame, adventure-wise. At the same time, many of the best adventure activities in Switzerland can be done in one place.
If you're up for a thrilling time in Switzerland, here are the must-dos in your itinerary and where best to do them.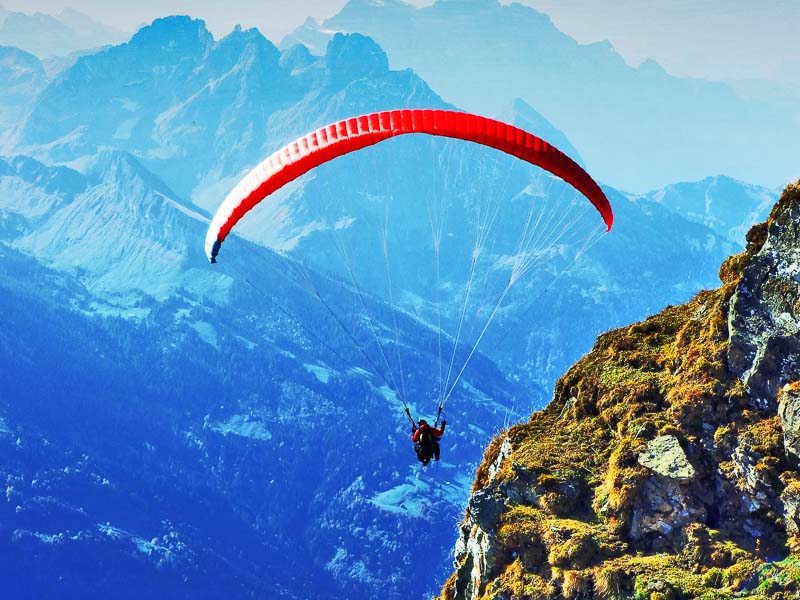 Adventure activities in Switzerland: Skiing
You can't visit the Swiss Alps and not ski, even just to try it. With over 300 ski resorts in Switzerland welcoming skiers from all over the world, it also doesn't matter whether you already know how to ski or just want to learn. From an absolute newbie to a world champion, there's a ski experience here for everyone.
For skiers of all skill levels, the town of Zermatt is the crown jewel of the Swiss slopes. With the iconic Matterhorn providing the perfect backdrop, the experience from slopes to views is nothing short of epic. Small kids can take a shot at the nursery slopes, while expert skiers have 200 kilometres of pistes to choose from.
For the more advanced skier, Verbier is the place to be. It's considered a freeride mecca to challenge even the most expert off-piste skier. There won't be too many options for beginners, however. The ski town isn't the prettiest in the country, but it does have great Après ski and nightlife vibes.
If money is no object and you're up for some serious slopes, St. Moritz is the glam town of all ski resorts. It's unabashedly glitzy, but as a two-time host for the Winter Olympics, St. Moritz has amazing snow quality. It's also the perfect place for a diverse winter sports experience, coupled with high-end boutiques and fine dining restaurants.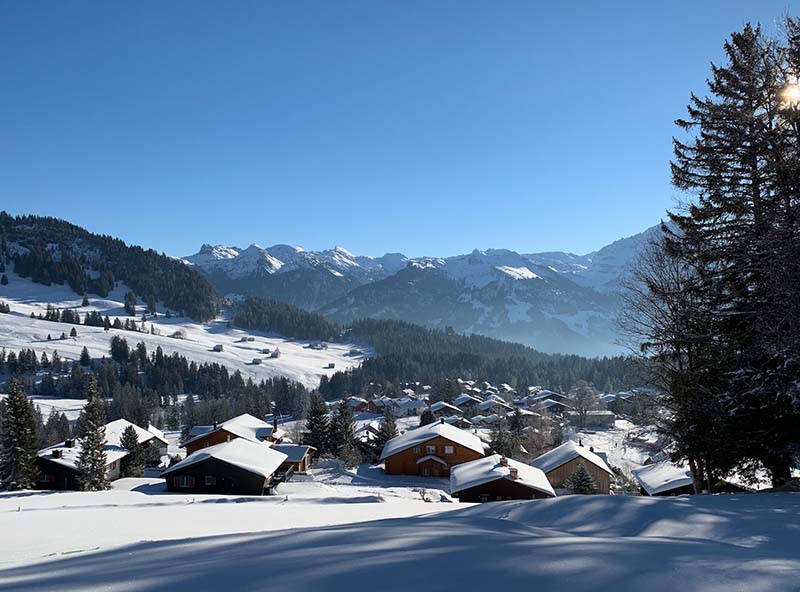 Bungee jumping Switzerland
If you're going to jump off of a cliff, go big or go home, right? Leave it to Switzerland to build some of the highest jump-offs in Europe. Bungee jumping is a surefire way to kick up your adrenaline a couple of notches, but zooming past Swiss views makes the experience a whole lot more memorable.
The most popular bungee site is also the highest in Europe and the third highest in the world. At 220 metres, the Contra Dam or Verzasca Dam can be found in Ticino, Switzerland – a gigantic dam that has seen the most adventurous visitors plummet towards the ground and snap back up.
It's also known as the Goldeneye Bungee from the James Bond movie, where the debonair spy made the very same jump. Aside from its dizzying heights, the Contra Dam is the only place in the world where you can do your jump in the evening, made magical by the dazzling lights that light up the dam and its surroundings.
Another record holder is the Niouc Bridge. At 190 metres, it's the highest bungee off of a suspension bridge. While not as high as the Contra Dam, the Niouc Bungee offers a unique thrill – swinging in all directions. Definitely not for the faint of heart.
Adventure activities in Switzerland: Paragliding
If you prefer to soar than to drop, then paragliding is your best bet. There are many locations around Switzerland where you can paraglide over meadows and lakes. It's an excellent way to get a literal bird's eye view of the cities and towns that you're visiting. At the same time, it gets you the same thrill of flying without the expensive price tag of skydiving.
The most popular paragliding destination is Interlaken, also known as Switzerland's adventure capital. Airtime lasts anywhere between 10 to 30 minutes depending on the weather, but that's what makes Interlaken the best go-to spot. It's available all year with several possible vantage points and minimal obstructions. There are also different flight times so you can enjoy different views, including sunrise and sunset.
For something a little closer to the city, Zurich is a good option. With nearby Uetliberg, you can get to your jump-off point in less than 20 minutes. You get a great vantage point of the city and the lake as well.
Davos is also a great paragliding location for a different kind of view. The topography is more rugged and lined with scenic trails. In the winter, these trails and the town are topped with white snow and creates a different paragliding experience.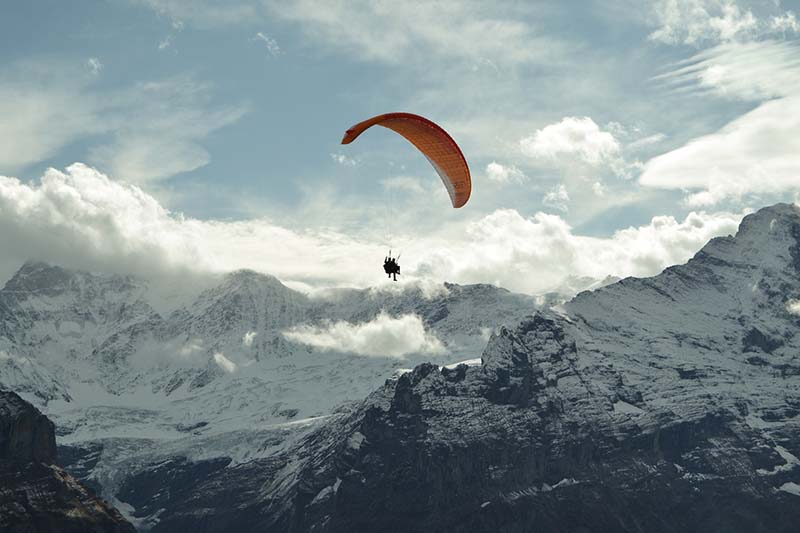 Canyoning Switzerland
With hundreds of lakes and rivers covering the country, water sports are very popular in Switzerland. These bodies of water are always crystal clear and bright, so people never hesitate to just jump right in. Some lakes are so clean, you can even see the bottom despite being hundreds of metres deep.
Every water sport imaginable is possible – kayaking, sailing, surfing, and just good old swimming. But the biggest thrill comes from canyoning.
Canyoning combines many thrills in one go. You follow a raging river through gorges and cliffs, jumping, rappelling, sliding, and swimming your way from entry to exit. There aren't too many spots in the world to do this safely and with fantastic views, but Switzerland is one of them.
The best place for canyoning is in Interlaken. The Bernese Oberland is an outdoor paradise and can be accessed at any time of the year, but canyoning is done in the summer.
There are several canyons to explore based on skill level. The easiest course is great for beginners and older children (minimum age is 12 years old). It's a 3-hour adventure and is a great introduction to canyoning. The two other courses at Grimsel and Chli Schliere call for more physical fitness and a lot more courage.
Adventure activities in Switzerland: Hiking
For zero fees and zero expenses, hiking is the way to go. There's no one best place in Switzerland to go hiking – everywhere is a great hiking spot. Choose a city or town, and you're guaranteed to find well-marked trails going through meadows, forests, lakes, and peaks.
This is the best adventure activity if you're backpacking around Switzerland or travelling on a budget. Just grab your hiking boots or even your walking shoes, and get going!
If you are stuck for advice or want to know more about the region you are in, the local tourist office will be sure to provide you with the best trails in the area. Ski resorts also have summer hiking maps online, and if you want to plan something yourself, you can try My Switzerland or the Swiss Hiking maps here.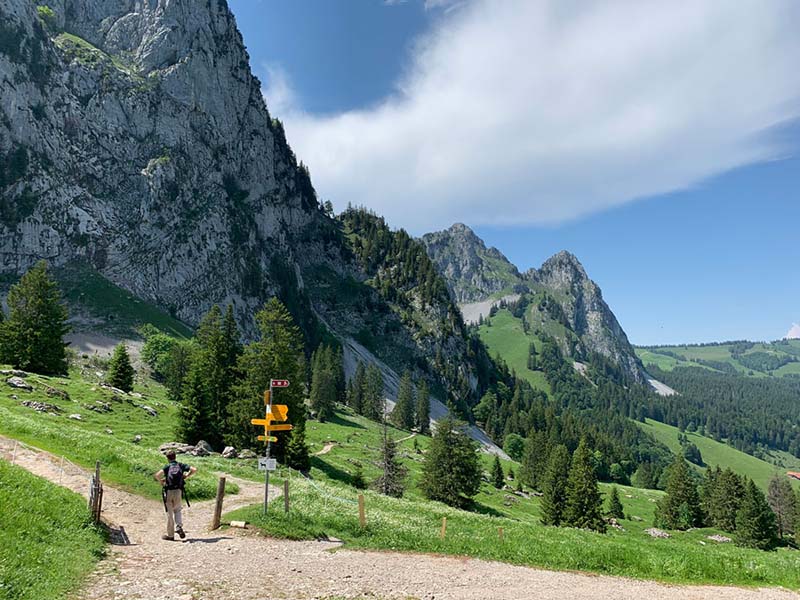 Where is Switzerland?
Landlocked in Western Europe, Switzerland shares borders with France, Germany, Austria, and Italy.
Read next: The Best Destinations Perfect for Icy Adventures
Save for later
If you enjoyed this article on adventure activities in Switzerland, please share it on social media and save it for later on Pinterest.
Which of these adventure activities in Switzerland?