Attempting to see the highlights of Oslo in one day, we disembarked our cruise ship in the capital of Norway. This is not the optimal way to see this beautiful city. However, for us, it was our only option as it is the final port of our cruise through the majestic Norwegian Fjords before we head back to Southampton in the UK.
A bit of research with Lonely Planet Discover Europe and our must-see list included the Viking ship museum, the ski jump, and the sculpture gardens. Olso in a day was too big an ask, but we were going to make the best of it. None of the ship's excursion options covered it all, and we hadn't been too impressed with the lack of professionalism of the staff on the past MSC excursion we took, so we opted to have a private guide from Tours by Locals.
Vikingskipshuse – the Viking Ship Museum is an Oslo in one day must see
Our first major stop was the Vikingskipshuse – the Viking Ship Museum, home to some of the best preserved Viking ships ever found. The ships in the museum are from three royal burial mounds nearby the Oslo Fjord. They were buried more than 1,100 years ago to carry their royal owners to "the other side".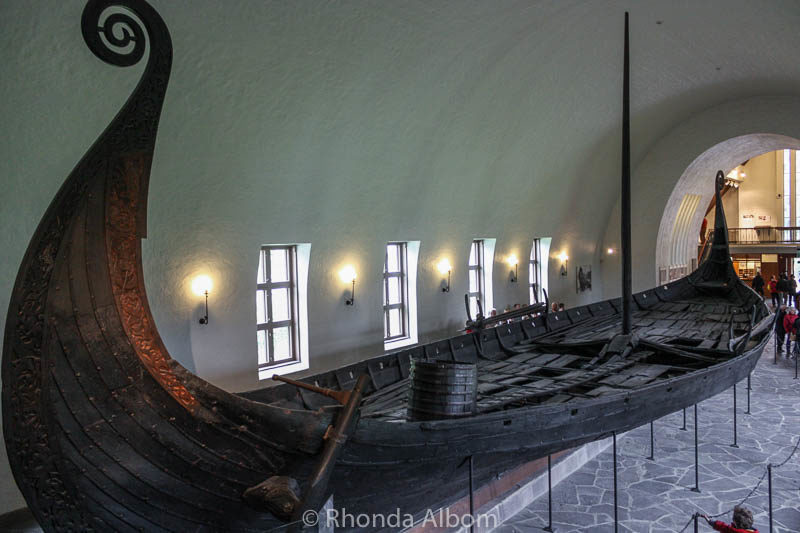 Holmenkollen – the Ski Jump and Museum is an Oslo in one day must see
Next, we took the tram to Holmenkollen, the ski jump used in the 2011 world championships. From the top on a clear day, you get 360-degree panoramic views of the city. However, we were there on a rainy and overcast day.
We did get the exciting view looking down and imagining what it would be like to do a jump. I assure you; this is NOT a sport for me! The attached museum offered history and was interesting, even with the language barrier.
Vigeland Sculpture Park is an Oslo in one day must see
Vigeland Sculpture Park contains over 150 sculptures by the famed Norwegian sculpture Gustav Vigeland, themed around the circle of life. To preserve an air of timelessness, Vigeland chose to carve each the sculptures (except the one of himself) without clothes. The effect was successful, as even today, people can identify with the sculptures. As naked, we still look the same as we did in the early 1900s.
A few more sites we managed to see with only one day in Oslo.
Practical Information on spending one day in Oslo:
Vigeland Sculpture Park has free entry.
Oslo is an easy town to get around with public transportation, but if time is limited, I would recommend a guide with a car. We lost too much time walking to stations and bus stops, or in waiting for the tram to arrive.
If we were to do this again, we would have selected one of the Olso cruise excursion options with Viator, as many offer a worry-free guarantee.
We cruised here in 2012. This article is part of a throwback series inspired by rediscovering my photos after moving 40k images to Lightroom.
Norway is expensive. If you are planning to stay overnight, check Booking.com for the best prices.

If you are cruising into Oslo as a port stop, be sure to check out 25 Tips for Cruising that Everyone Should Know.
Have you been to Oslo? Which were your highlights?
Seven ridiculously simple tips that WILL improve your photos
Whether you shoot with a phone or a DSLR, let me share my secrets.
Subscribe to Albom Adventure's Travel Tips newsletter and download our free ebook: Take Better Travel Photos By Rhonda Albom