As we travelled through southern England from Bath the Southampton, we stopped at the major icons, but we also discovered several fascinating things to do near Stonehenge.
The countryside is traditionally British. Rolling green hills dotted with charming townships and an air of peace that seems to float over everything.
We had started our adventure in London, headed north first, then through Scotland, across to Northern Ireland, down to Ireland, through Wales, and now we were on the last leg of our 6-week UK driving exploration.
In this leg, we knew our highlights would be the Roman Baths, Stonehenge, and the embarkation port of the Titanic's maiden voyage.
To our surprise, we discovered a number of additional neolithic stone circles among so many historical sites and things to do near Stonehenge that we never knew existed. Even more interesting, many are larger or older than the most famous one. And most are free to enter.
Importantly, we hadn't tired of history, castles, waterways, or ruins and continued to be fascinated by the mix of medieval, gothic, Georgian, and modern architecture.
As a result, we were at no loss of things to do near Stonehenge. In fact, our only regret is that we had added so many days earlier in our trip that we didn't have as many as we would have liked now, for we were leaving Southampton via cruise ship.
Interactive Bath to Southampton road trip map
This particular segment took us from Bath to Southampton, a drive that can be completed in 1.5 hours if we were in a maximum hurry. Instead, it became an adventure as we discovered the many things to do near Stonehenge.
The interactive map highlights our recommended route, plus two optional stops marked with orange pins.
Bath (first stop on this road trip)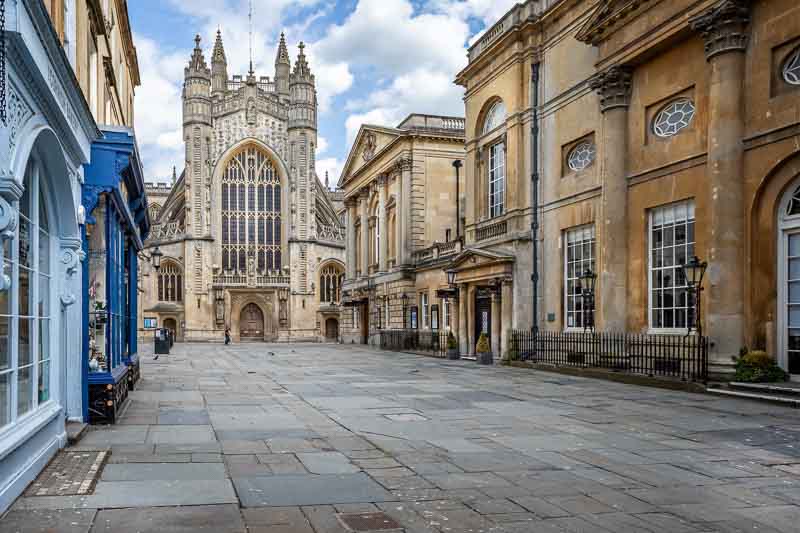 An enchanting town, I instantly fell in love with the architecture in and around Bath. And I am not the only one, as Bath is a Unesco World Heritage Site. The highlights include:
Roman Baths
The town's namesake is the Roman baths built during the first century and taking advantage of the natural thermal springs. High in iron, the mineral waters are healing. The Romans seemed to know what they were doing. Interestingly, the statues all along the top were added in the 19th century. There is even a modern spa if you want to soak your cares away.
Bath Abbey
Architecturally Victorian Gothic and stunning on the exterior, the stained glass windows are equally beautiful. There are 212 steps to climb in the tower for some very impressive city views. Historically, it has been active for over 1,000 years. England's King Edgar was first to be crowned here in 973 AD.
Pulteney Bridge
While most people come to see the Italian-style bridge completed in 1774, I was more impressed by the cascades of the weir downstream on the River Avon.
The Royal Crescent
A truly impressive arc of Georgian architecture makes these 30 townhouses some of the most sought-after properties in town. It is worth a visit just for a look.
Suggested activities in Bath
We found the best way to see this city was on a tour. We opted for a free walking tour. If that doesn't work out for you, or you want more, here are two top-rated options that caught our eye.
City walking tour with optional Roman Baths entry: A tour designed to highlight the best of Bath, it hits the highlights, including a walk on the Pulteney Bridge. There is an optional entry to the Roman Baths (note: this is not a soak in the modern baths, but a visit to the ancient one). Reserve your walking tour here.
City boat trip and walking tour: This highly rated small group tour is 80 minutes and seems to be perfect for families with kids. It starts with a 30-minute boat trip that highlights the abbey, the bridge, and more. Next, it's a 50-minute walking tour giving you a great overview of the city. Reserve your boat and walking tour here.
Things to do near Stonehenge: north to Bath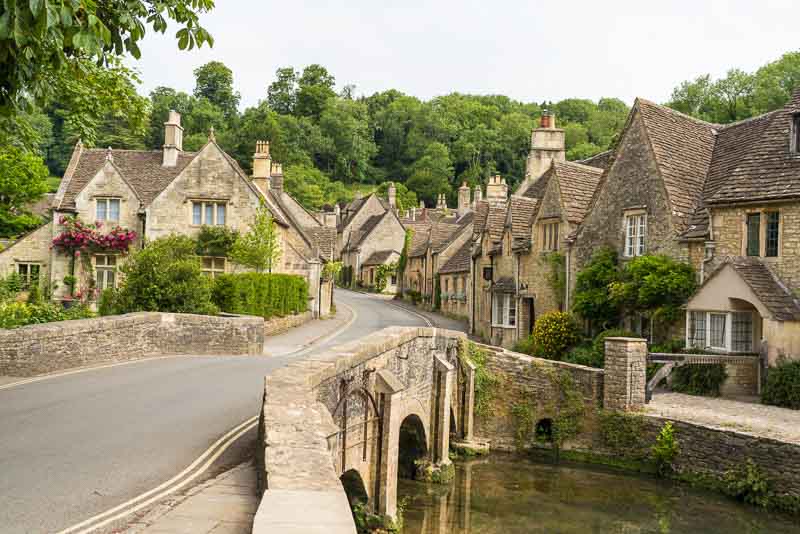 Drive time: following our suggested itinerary, the drive time from Bath to Stonehenge is 1.5 hours plus stops or just over 2 hours if you add both of the optional stops.
Castle Combe
Off the main itinerary (Adds 20 min to the total drive time)
A bit off the beaten path, Castle Combe might just be England's most beautiful village. Either way, it's a love picturesque stop in the Cotswolds.
Lacock
Travelling with then teens, we had to stop here, as it is one of England's Harry Potter film locations. It's another stunning village, but this one is best explored on foot.
Devizes
Whether you are travelling by boat or car, the main thing to do in Devizes is to see the Caen Hill locks on the Kennet & Avon Canal. This fascinating flight of 16 locks takes boats between two and three hours to climb.
Avebury
Off the main itinerary (Adds 20 min to the total drive time)
Avebury is actually home to the world's largest stone circle. Located only about 40 minutes from Stonehenge if you came directly, it makes you wonder why it isn't as well known. Of course, that has its advantages as visitors to the neolithic stone circle at Avebury can get up close and even touch the stones (don't do it), and it's free to enter.
Stonehenge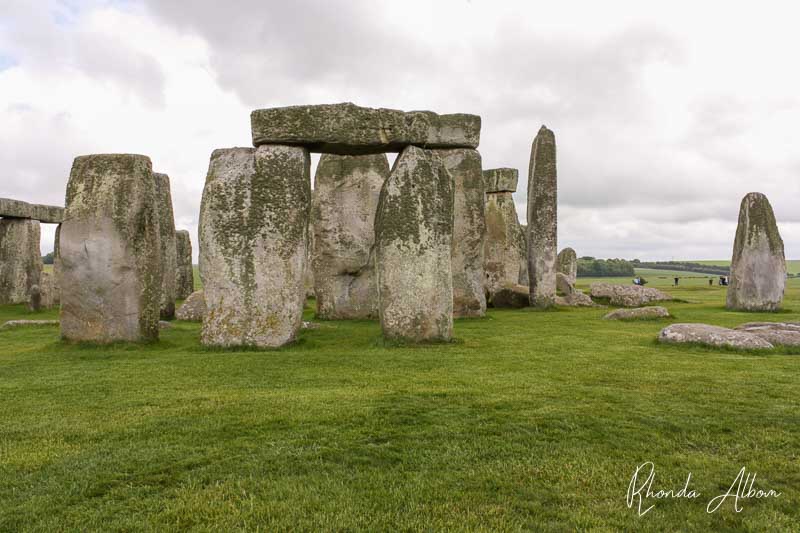 Archaeologists believe Stonehenge was constructed around 3100 BC. It's an impressive inspiration, an icon of Britain, and is probably Europe's most famous prehistoric site, although not its oldest (we visited an older megalithic complex in Portugal and an older tomb in Ireland).
What is it doing here?
There are many theories, but no one knows for sure. Today, it is protected and viewed from behind guide ropes. The exception is a small group 'Inside the Circle' tours, which typically book up well in advance.
While seeing the site is impressive, the audio tour brought the site to life by sharing history as well as conjecture on the initial reasons for building Stonehenge, which ranged from human sacrifice to astronomy. Download your audio guides for free and play it on your own listening device.
Our best tip for Stonehenge is to either:
Or, if you are an overseas visitor and love castles, ruins, or gardens, get either a 9 or 16-day English Heritage Overseas Visitor Pass. It will give you unlimited access to over 100 sites across England, including Stonehenge (and Old Sarum).
Things to do near Stonehenge: close by and south towards Southampton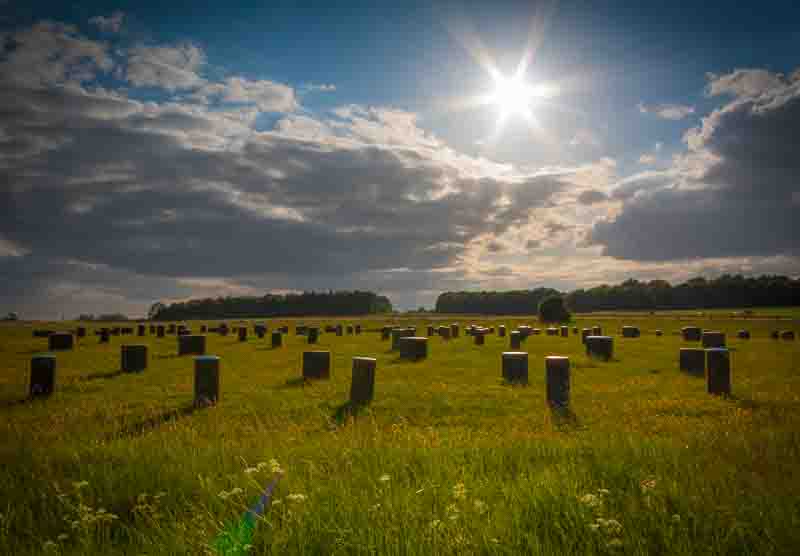 Drive time: following our suggested itinerary, the drive time from Stonehenge to Southampton is about 45 minutesplus stops.
Woodhenge
This neolithic, originally wooden monument dates back to a similar time period as Stonehenge. The six initial concentric oval posts are surrounded by a bank and a ditch. Unlike the original monuments standing at Stonehenge and Avebury, Woodhenge is a reconstruction as the original wooden posts would not have survived. Entry is free.
Amesbury
Amesbury is the closest town to Stonehenge and claims to be the oldest occupied settlement in Great Britain, dating back to 8820 BC. If you follow the legend of King Arthur, you might also know Amesbury as being the village where Guinevere lived out her days as a nun after her affair with Lancelot.
Old Sarum
Now in ruins, Old Sarum was once the earliest settlement of Salisbury, whose cathedral originated here before it was moved. Old Sarum sits upon a hill. It's one of the many sites included on the English Heritage Pass.
Salisbury
The Salisbury Cathedral (the Cathedral of the Blessed Virgin Mary) is a must-see for history buffs. It is a stunning gothic structure and the home of one of four extant original copies of England's Magna Carta of 1215.
Southampton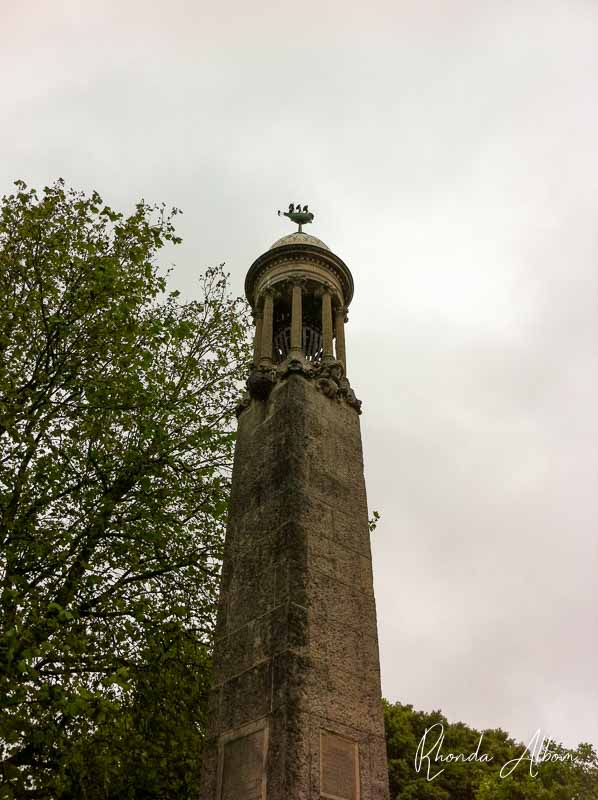 We arrived a day early to explore the lovely town of Southampton before we board a cruise bound for the Norwegian Fjords. It's the same cruise port where the Titanic embarked for New York on April 15th 1912. In fact, Southampton holds the largest cruise port in England.
Maritime history dominates, and some of the key things to see include the Titanic Engineers Memorial, the 13-tonne anchor of The Queen Elizabeth II, and the Mayflower Memorial to the pilgrim fathers headed to America.
Other key things to see:
Tudor House: Once the home of a 15th-century merchant family, today it is a museum.
SeaCity Museum: A maritime history museum that includes the Titanic Story. Two other key museums include the automobile (National Motor Museum) and aviation (Solent Sky) museums.
Old City Wall and Old Town Bargate: The original main gate to the medieval city and the surrounding wall are both worth a visit. We would have walked on the wall had it not been for the rain.
Take a Secrets of the Titanic Walking tour: This 2-hour tour is highly rated and visits the key maritime sites like the Mayflower Memorial, the QE2 Mile, and Oxford street. Reserve your Titanic tour here.
Save on your trip with these resources
These are our go-to companies when we travel. We believe this list to be the best in each category. You can't go wrong using them on your trip too.
Flights: we use Expedia for the best and cheapest flight options.
Accommodations: we use Booking.com (hotels), VRBO (self-contained), or Hostelworld (budget).
Cars (gas or electric): we use RentalCars to search for deals and dealer ratings.
Campervans or Motorhomes: we use Campstar where Albom Adventures readers get a 3% discount.
Motorcycles: we have heard good things about BikesBooking.
Private guides: we love the private guides at Tours by Locals.
Travel Insurance: while not required, we always opt for travel insurance and start at InsureMyTrip to compare coverage plans.
Check out our travel resources page for more companies that we use when you travel.
Save for later
If you enjoyed this article, please share it on social media and save it for later on Pinterest.
How many of these things to do near Stonehenge have you experienced?
Continue your UK discovery with these itineraries
Photo Credits:
All photos on this page are either shot by our team and watermarked as such or stock images from Depositphotos.