An impromptu Scotland road trip presented fascinating nature, fairytale castles, stunning scenery, and even a bit of Harry Potter magic. Our initial plan took us only to Edinburgh. However, Scotland captivated us and we had to see more. With blue skies and unseasonably delightful 24c (75f) degree temperatures in May, we were lucky.
Rather than taking direct routes, we often travelled along scenic routes. We opted away from the popular North Coast 500 itinerary. Here is our route from Edinburgh to Cairnryan, where we boarded the vehicle ferry to Northern Ireland.
Be inspired …
We earn from qualifying purchases through partnerships or affiliate programs.
Note: Based on world conditions, we advise checking official channels including cancellation policies prior to booking. Also, with often reduced capacity, booking ahead becomes more important.
Scotland Road Trip: Edinburgh to Inverness
The first leg of our adventure was Edinburgh to Inverness, where we based ourselves for two nights.
Beatrix Potter Garden
The enchanted Beatrix Potter Gardens in the town of Birnam was more than just a place to stretch our legs. Here, we found Peter Rabbit alongside many of the 19th-century author's other characters. Fans of Beatrix Potter books, our girls were mesmerized by the fun.
Pitlochry
Standing creekside, we watched an occasional salmon leap up from the water, seemingly taunting the nearby fly fisherman. The crystal clear water was complemented by the surrounding lush green fields and deep blue sky. It's easy to see why Pitlochry is such a popular holiday destination.
After our picnic lunch, we headed to the Pitlochry fish ladders. These are a series of 34 pools with stepped-up water tunnels (ladders). They aid 5000+ salmon annually to cross the Pitlochry Dam and continue upstream to their spawning area. Lookout windows allow us to watch the fish as they enter the tunnels. A new Dam Visitor Centre opened in 2017.
Blair Castle
Just six kilometres beyond Pitlochry is the fairytale-like Blair Castle, home to the prior Dukes and Earls of Atholl; although, the current Duke lives in South Africa. Photos were only allowed in the ballroom, where there is a giant dress-up bin for kids of all ages, along with what felt like hundreds of deer skulls on the walls.
Scotland Road Trip: Inverness
Based in Inverness, we were centrally located. While it was easy to travel to north Scotland or out to Loch Ness, in truth, we wished for more time to spend in this laid-back cosmopolitan city laced with history.
Inverness
As the summer solstice approaches, the long days kept it light well into the night. And the unseasonably warm weather extended into the evening, giving us what felt like extra time here. One night we stumbled upon a graveyard tour, while another night we headed to a popular Irish pub called Hootananny featuring live music.
Scotland Road Trip: Inverness north to Dunrobin Castle and the Falls of Shin
As we headed even farther north, the magic of the Scottish highlands continued to captivate us.
Dunrobin Castle
Dunrobin Castle is one of the most northerly of the great houses in Scotland. It's a stately 189 room home in Sutherland, in the Highland area of Scotland, and the family seat of the Earls and Dukes of Sutherland and the Clan Sutherland.
There is also a museum featuring taxidermy animals shot by Dukes and Duchesses who once lived in the castle and included a giraffe, elephant, and many other animals. It also houses a collection of archaeological relics. Dunrobin Castle is open seasonally from April through October.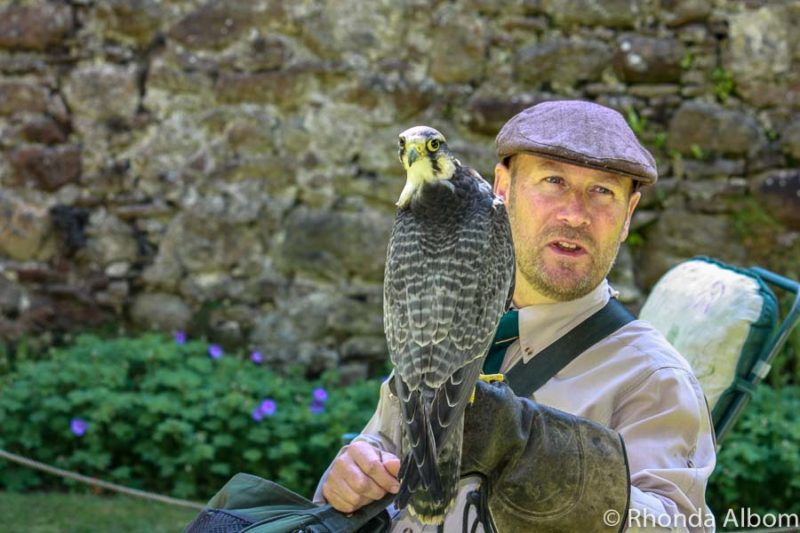 The gardens are a masterpiece on their own, created in the style of Versailles by the same architect who designed the Houses of Parliament. Dunrobin Castle has a daily falconry demonstration out in the garden, featuring golden eagles and peregrine falcons. Falconry is the ancient art of hunting with birds of prey.
Falls of Shin
After the castle, we headed west to the Falls of Shin where the salmon leap up the waterfall for spawning. We only saw a few salmon jump, and missed it on film. On the bright side, we found this video showing it clearly.
Falls of Shin is a bit off the beaten path (near the villages of Bonar Bridge and Lairg), but if it is May to October and a warm day, it is worth the effort.
Scotland Road Trip: Inverness south to Cairnryan
The final leg of our impromptu adventure brought us from Inverness to Cairnryan, where we boarded a ferry to Northern Ireland.
Loch Ness and Urquhart Castle
We couldn't go to Scotland without cruising on Loch Ness. "Loch" is Scottish for "lake" or "sea inlet." Loch Ness is the largest body of fresh water in Britain and is known worldwide as home to Nessie, the legendary Loch Ness monster. (You can check the latest sightings here).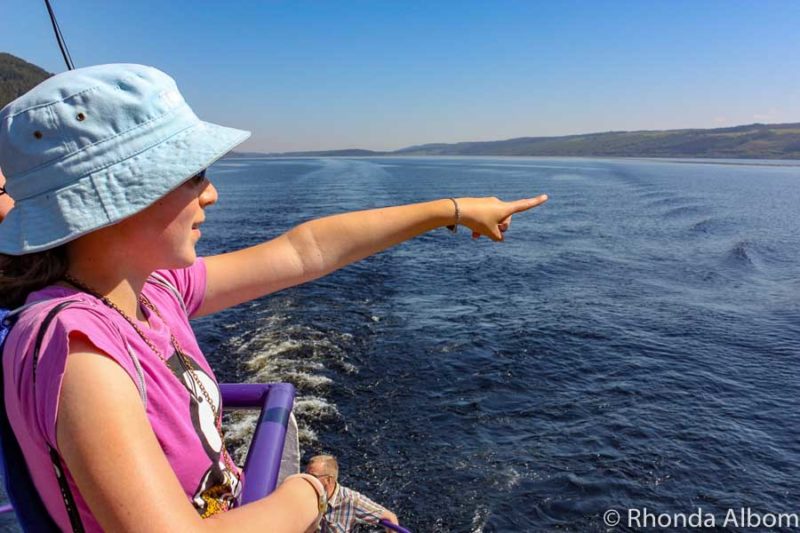 After a brief search for Nessie, we headed towards the 13th to 16th-century ruins of Urquhart Castle that sit along the shores of Loch Ness. Self-guided touring of the castle ruins is an optional add on.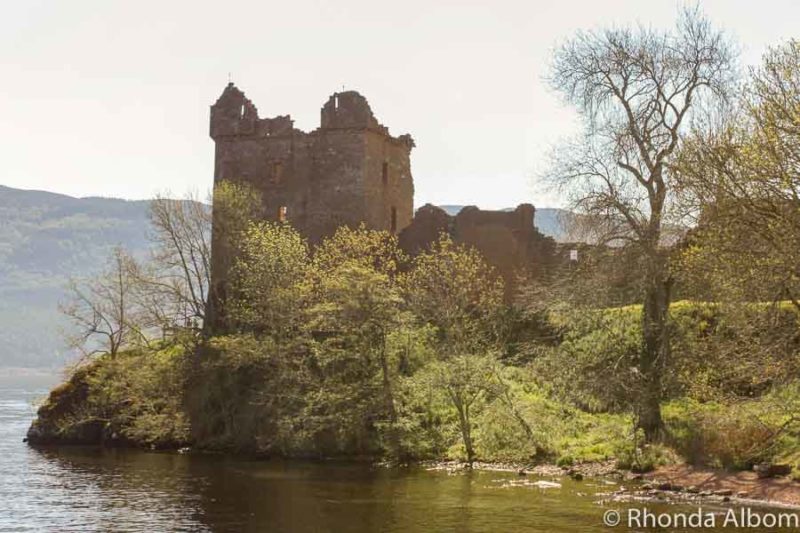 Fort Augustus Locks
We also stopped at Fort Augustus to see the staircase of five locks, which bring the boats up and downstream. They are part of the 29 locks along the Caledonian Canal, which runs 60 miles from the northeast to the southwest. The grassy area along the banks of the locks in this charming Scottish town offered another perfect picnic spot.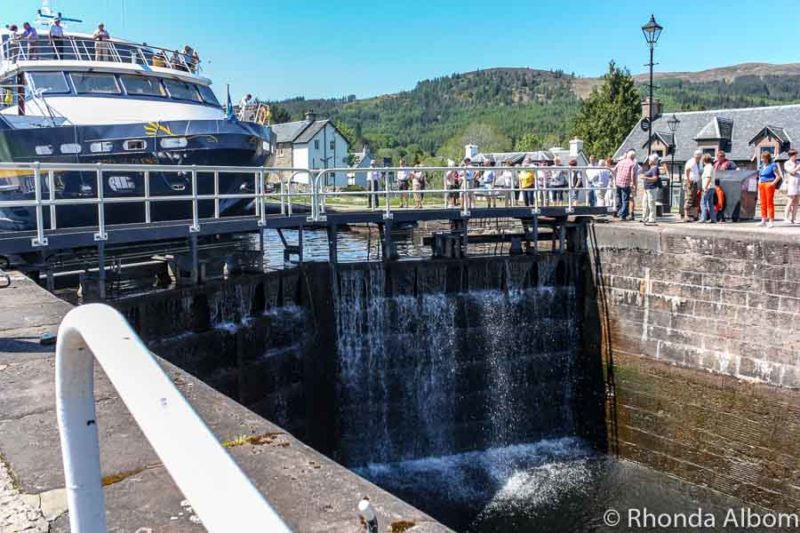 Fort William (Hogwarts Express stop)
The "Hogwarts Express" is an extremely popular Scottish Highlands tourist attraction. The train runs from Fort William to the north and back, but not on Sunday. Therefore, our attempt to meet the train as it returned to Fort William Station at 4 pm failed. Instead, we were given directions to the train yard where the Hogwarts Express spends its day off.
TIP: Reservations for Hogwarts Express often book up more than a month in advance. Therefore, we recommend buying your ticket as soon as you know your dates.
One long 13 hour day – This tour from Edinburgh passes and points out key film locations from all 8 Harry Potter movies as it makes its way to Fort William. Here, you will board the Hogwarts Express for a one-way journey. The return is via coach. Check pricing and reviews.
Inverlochy Castle
Another castle ruins to explore, this one close to Fort William. Inverlochy Castle was built in 1280 and survived the Wars of Independence (1296 to 1357).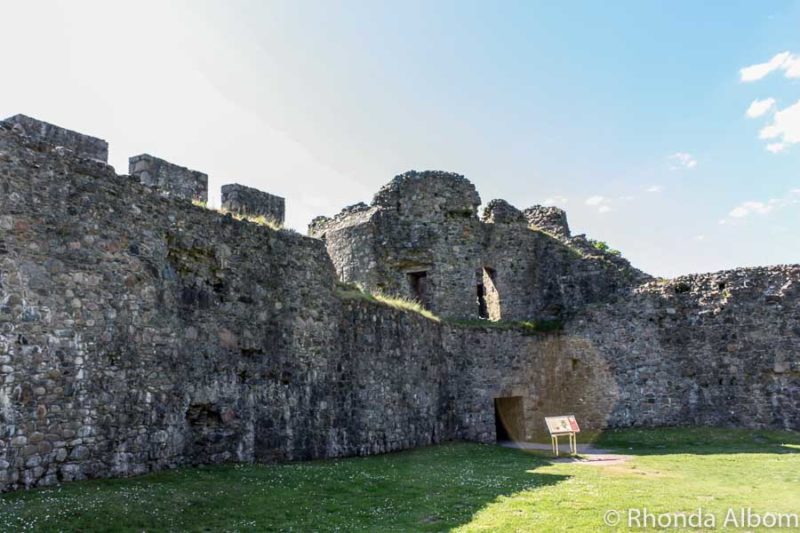 Cairnryan
We left Scotland on the car ferry to Belfast. Having rented a car in England, we took it onto the ferry with us, and then again when we came back to England. While it was easy, it would have been more economical to rent different cars on each island. (If we had done that, we would have returned to Edinburgh from Fort William, rather than heading to Cairnryan.)
Take a Scottish Highlands tour from Edinburgh
Short on time, or don't want to be driving in Scotland? Check out this one day tour from Edinburgh that will show you some spectacular Scotland scenery. It includes stops in several small villages, highland cows, Glencoe, and a cruise on Loch Ness with a stop at Urquhart Castle. Check pricing and reviews of this one day Loch Ness, Glencoe, & the Highlands tour from Edinburgh.
Where to stay in Inverness
Inverness is the ideal place to stay for this Scotland road trip itinerary. Our first day was an Edinburgh to Inverness road trip, while our second day did the loop north, returning to Inverness. If you are looking for a place to stay, we recommend:
• Best Western Inverness Palace Hotel & Spa – Located across the river from the Inverness Castle along the River Ness, it's only a 5-minute walk to Inverness central city. This three-star option is rated "fabulous" by former guests. Pet-friendly, the hotel offers an indoor pool, restaurant, bar, parking, spa, and wellness centre. Check pricing and reviews.
• Culliss House B&B – Rated exceptional by guests, this charming bed and breakfast is more intimate than the Palace hotel. It is the friendly staff that seems to be mentioned most often in the positive reviews, although the delicious breakfast is also mentioned frequently. And, it's walking distance to central city. Check pricing and reviews
Best deals and discounts for your travel planning needs
We earn from qualifying purchases through partnerships or affiliate programs.
Flights: When it comes to flights, we always start with Expedia.

Hotels: We use Booking.com to compare and book accommodations. Don't miss Booking.com's Getaway 2022 Deals that save 15% or more on selected accommodations. (T&Cs apply)

Other accommodations: If you prefer B&B or self-contained type lodging, check out VRBO.

Vehicle hire: RentalCars is like a rental car search engine with no hidden costs, that lets us find the best deals on car rentals worldwide.

Private Tours: We are big fans of ToursByLocals, and use them for nearly all cities where we want a private guide.

Packing Tips: Get a free copy of our packing light checklist when you sign up for our mailing list. (We pack light, yet have everything we need.)
Find more money-saving resources and T&Cs on some of the above, check our Travel Resources page.
Don't miss these general travel tips for visiting Ireland or the UK, or these tips on campervan travel in Scotland.
Please share:
If you enjoyed our Scotland road trip, please share this article on social media, including Pinterest.
What will be the highlight of your Scotland road trip?