Driving through the British countryside, we found ourselves intertwined between rolling hills and charming towns. Fascinating history surrounded us. In retrospect, the only mistake we made was not allocating enough time for this England road trip.
Starting our journey in London, Oxford was our first stop. From here, we spent seven days exploring the gentle slopes of the British countryside. Our England road trip took us through Stratford-upon-Avon, Oakham, the Sherwood Forest, York, several abbey ruins, and finally, Alnwick Castle.
It's an adventure full of history and wonder.
Some of the older areas are still in use today, with fantastic stories to tell. Others lie in ruins, each with their own narrative to be discovered. Regardless, the sites are captivating.
Interactive England road trip map: London to Alnwick
In a hurry, one could drive from London to Alnwick in as little as 6 hours. However, we spent a week and it wasn't enough for us. Therefore, we are recommending the following stops:
Spend a bit of time discovering London before heading out.
Oxford (drive time from London to Oxford is about 1.25 hours)
Stratford-upon-Avon (drive time from Oxford to Stratford-upon-Avon is about 1 hour)
Oakham (Stratford-upon-Avon to Oakham is 1.5 hours)
Sherwood Forest (Oakham to Sherwood Forest is 1 hour)
York (Sherwood Forest to York is 1.5 hours)
Fountains and Rievaulx Abbeys (York to Fountains Abbey is 50 minutes, while Fountains to Rievaulx is another 45 minutes)
Alnwick (Rievaulx to Alnwick is 2 hours)
Our Number one travel tip for this England road trip:

If you are an overseas visitor and love castles, ruins, or gardens, get either a 9 or 16-day English Heritage Overseas Visitor Pass. It will give you unlimited access to over 100 sites across England.
Oxford – the first stop on this England road trip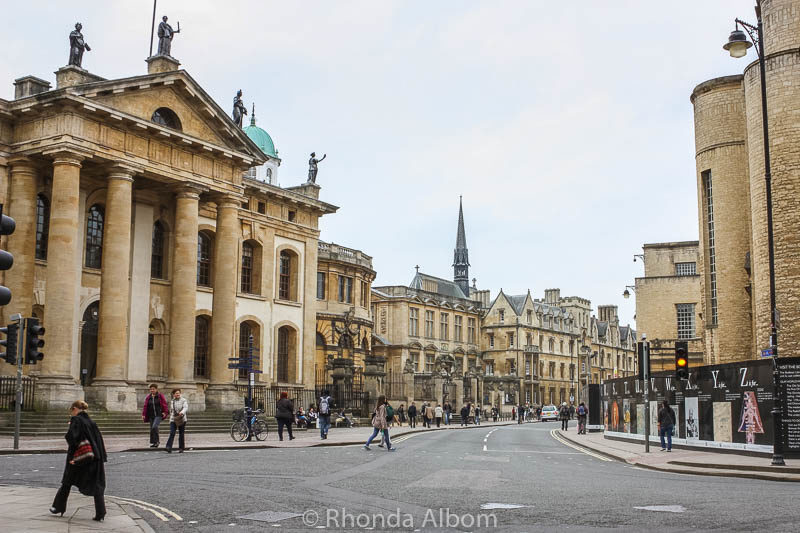 Personally, I am convinced that Oxford is one of the most beautiful cities in England. We only spent the day, but in retrospect, I believe Oxford is somewhere to stay for several days.
The city is home to Oxford University, the oldest university in the English-speaking world.
Suggested activities: We have detailed all our favourite things to do in Oxford here. The one thing that I would definitely do in Oxford is take a tour of Oxford University by a student.This highly-rated tour gives you first-hand insight into the university and student life.
Stratford-upon-Avon
Best known as the birthplace of William Shakespeare, Stratford-upon-Avon is also the town in which he grew up, as well as his final resting place. However, he spent part of his adult life in London, where many of his plays were performed at the Globe Theatre.
Contributing to the town's whimsical feel, a bit like time travel, the storyteller outside his childhood home was dressed from the time period.
While there are plenty of other things to see and do here, much of our time seemed focused on the great playwright. There is his childhood home, as well as the home of his mother (Mary Arden) and his wife (Anne Hathaway).
Plus, there is Shakespeares's burial site at Holy Trinity Church, the grammar school where he was educated, and The Royal Shakespeare Theatre.
Of course, it's not all about Shakespeare. Stratford-upon-Avon also has a butterfly farm, a lovely canal, and an interesting mechanical art and design museum (MAD Museum).
Not surprisingly, tourists seem to dominate the area, as it is one of the more popular stops along any England road trip.
Suggested activities (If you can't do it all, these are our top three picks):
Explore the life of William Shakespear by taking a self-guided tour through his house. Reserve your entry ticket here.
Visit Holy Trinity Church and see the final resting place of William Shakespeare. Entry to the church is free. However, there is a small charge to see the graves.
Learn the history of all the key sights with a Hop-on-hop-off bus pass, and either stay on board for an hour and listen to all the commentary straight through or get off and explore the sights you want, hopping back on when you are done.
Oakham and Rutland Water
We initially chose Oakham because our friends live here. But it turned out to be a far more interesting choice than we had expected.
Oakham Castle has over 200 horseshoes hanging on its walls. It's a tiny castle built in the late 12th century. Interestingly, Oakham Castle has a unique tradition that royalty forfeits a horseshoe to the Lord of the Manor of the Castle on their first visit to the town.
What surprised me was seeing horseshoes that face down (superstitious people like me question this decision as we believe the luck will fall out). According to the castle curator, it is not that the luck will fall out, but rather so the devil cannot nest inside.
Nearby is Rutland Water, one of Europe's largest artificial lakes. This reservoir supplies the drinking water for the Midlands. The area is best known for birdlife, and there are nature reserves as well as the Anglian Water Birdwatching Centre and Lyndon Visitor Centre.
Suggested activities: Explore Oakham Castle and take a side trip to Rutland.
Nottingham and the Sherwood Forest (Home of Robin Hood)
Robin Hood fans probably already know that Nottingham Castle and Sherwood Forest are real places. If you are travelling north and visiting both, you will arrive at the castle first. Here, you can discover 1,000 years of somewhat rebellious history, as well as information on the Robin Hood legend.
Today, the castle grounds are well landscaped, and a portion of the palace features art exhibitions. And, if you are travelling with kids, don't miss the medieval-themed adventure playground. Reserve your castle admission ticket here.
Afterwards, don't miss the Sherwood Forest Visitor Centre. Unfortunately, we went here first. As a result, we didn't have enough time to drive back and see the castle as it is about a 45 min drive each way.
At the visitor centre, we had a bit of fun posing with some of the interactive displays and the in-character staff/actors. There's also a cafe for a quick lunch stop.
Aside from legend, the main attraction of the Sherwood Forest is the Major Oak, an oak tree between 800-1100 years old with an 11-metre circumference. The Major Oak Trail is 1.5 miles and takes about 45 minutes and includes Robin Hood's famous hiding place (which is about 15 minutes from the Visitor Centre).
That's one of several nature trails ranging in length from .75 miles (about 30 minutes) to 4 miles (about 3.5 hours). You can download a free guide here.
Suggested activities: First, visit Nottingham Castle. Next, spend time at the Sherwood Forest Visitor Centre. Finally, walk at least one of the nature trails.
York
York is England's most complete medieval city. We spent two days exploring a city once described by King George IV (Father to HRH Queen Elizabeth II) as, "the history of York is the history of England."
It's a fascinating town with plenty to see and do. We recommend starting with an overview either on foot with this free city walking tour or out on the River Ouse with this anytime pass for a city cruise.
With the basics at hand, explore your key areas of interest in more detail. We believe the highlights include:
The York Minster (Cathedral and Metropolitical Church of Saint Peter)
The York Minster is Northern Europe's largest Gothic church. Even more impressive, it is estimated that the York Minster has over 50% of the remaining medieval stained glass in England, with its centrepiece being the world's largest expanse of Medieval stained glass.
Clifford's Tower
Built during the 13th century, Clifford's tower is the last remaining piece of the historic York castle. It towers over the city offering fabulous views.
The Shambles
Historically home to the butcher shops, today, the Shambles is a popular shopping street filled with interesting cafes, pubs, and speciality boutique shops. We had lunch at The Golden Fleece, York's most haunted pub.
JORVIK Viking Centre
An old Viking village and museum reopened in 2017 after major flooding.
Note: If you are spending more than a day in York, consider the Visit York City Pass, as it has access to 20 different attractions including JORVIK, Clifford's Tower, and a City Cruise. Reserve your York City Pass here
Ruins of abbeys and castles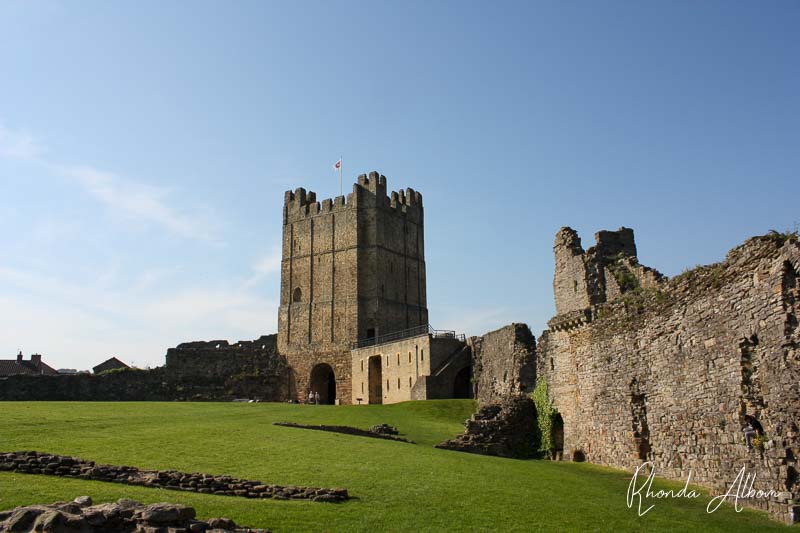 In the final section of this England road trip to Alnwick, we opted to stop at the ruins of several abbeys and castles. Our favourites include:
Fountains Abbey
A fascinating place to explore, Fountains Abbey is one of the largest and best-preserved of the Cistercian monasteries. It was founded in 1132 by thirteen Benedictine monks. See more of our images of Fountains Abbey
Rievaulx Abbey
The magnificent ruins and impressive archways make Rievaulx one of my favourite stops on our England road trip. Also a former Cistercian abbey, Rievaux, along with Fountains, was seized in 1539 when King Henry VIII ordered the dissolution of the monasteries. See more of our images of Rievaulx Abbey
Richmond Castle
Dating back to 1070, Richmond Castle is a well-preserved Norman castle. Much of it seems still intact, and from the higher levels, we had beautiful views of the surrounding landscape.
Alnwick Castle, the final stop on our England road trip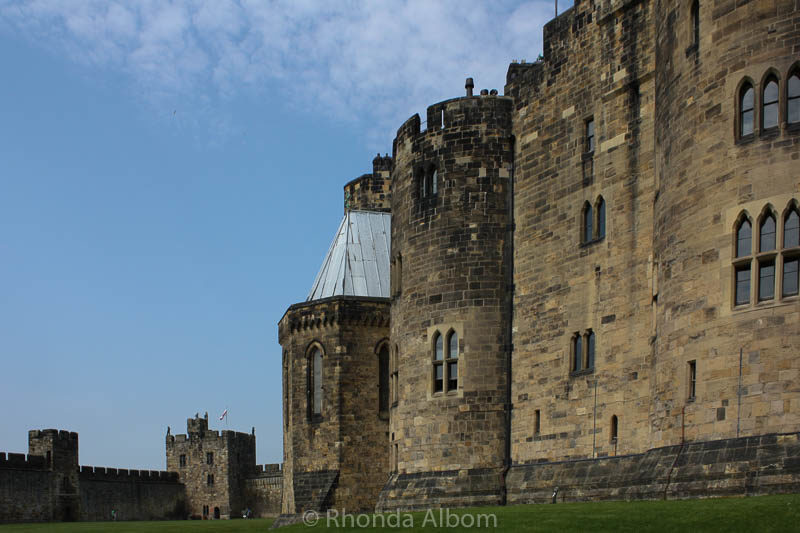 Used as Hogwarts in the Harry Potter films and also used as Downton Abbey, Alnwick draws quite the crowd.
In addition to touring the grounds, they offer broomstick flying lessons in the same courtyard where Harry Potter learned to fly. Alnwick's gardens are sensational, and entry to the castle and gardens are separate fees.
Read Next: Walking through History: Alnwick Castle (Hogwarts) in England
A reminder of our top travel tip for any England road trip:

If you are an overseas visitor and love castles, ruins, or gardens, get either a 9 or 16-day English Heritage Overseas Visitor Pass. It will give you unlimited access to over 100 sites across England.
Where to next: our England road trip moves to Scotland
Save on your trip with these resources
These are our go-to companies when we travel. We believe this list to be the best in each category. You can't go wrong using them on your trip too.
Flights: we use Expedia for the best and cheapest flight options.
Accommodations: we use Booking.com (hotels) or VRBO (self-contained).
Cars (gas or electric): we use RentalCars to search for deals and dealer ratings.
Campervans or Motorhomes: we use Campstar where Albom Adventures readers get a 3% discount
Private guides: we love the private guides at Tours by Locals
Travel Insurance: we start at InsureMyTrip as they are the best option to compare plans and find the right coverage for you.
Check out our travel resources page for more companies that we use when you travel.
Save for later
If you enjoyed our virtual road trip, please share this article on social media, starting with pinning this to Pinterest: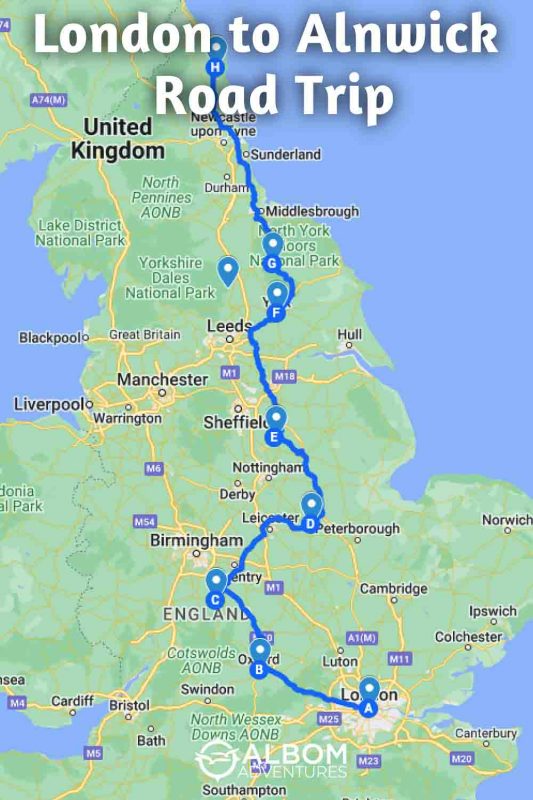 Don't miss: Travel Tips for the UK and Ireland Visitors
What are your favourite stops on an England road trip?
Photo Credits:
All photos on this page are either shot by our team and watermarked as such or stock images from Depositphotos.