What could be more exciting than taking broomstick flying lessons at Hogwarts School of Witchcraft and Wizardry? You read that correctly, we took the Alnwick Castle broomstick training in the same field where Harry Potter, Hermione Granger, Ron Weasley and even Draco Malfoy learned to fly.
Alnwick is a classic "living castle" situated along England's North East coast. Used as portions of Hogwarts for a variety of Harry Potter films for a variety of scenes, I including broomstick flying lessons, but it is also the current home to the Duke and Dutchess of Northumberland. They offer several tours, from gardens to history. We chose the engaging Harry Potter Tour, which was the perfect prelude for our broomstick flying lessons.
Broomstick flying lessons – Getting started
Broomstick flying lessons – results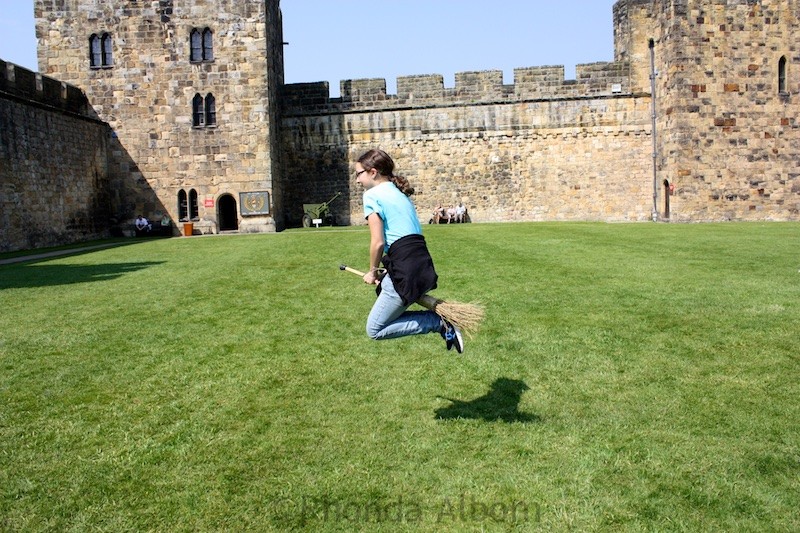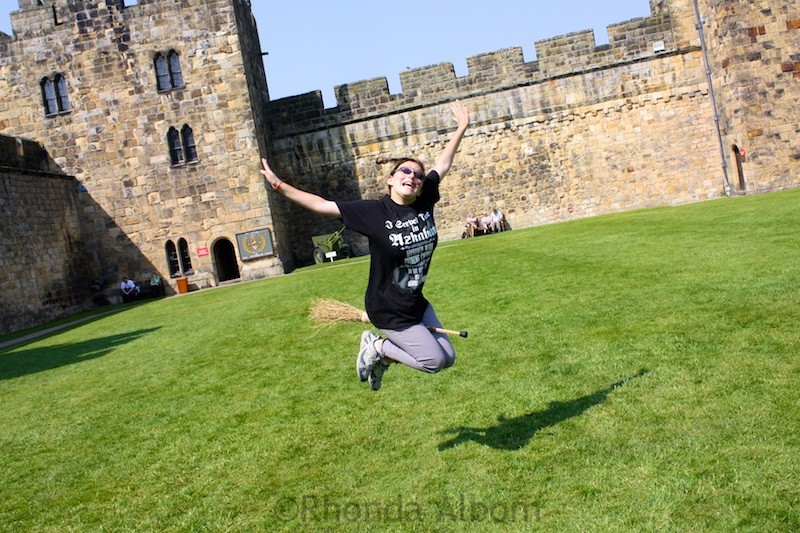 Learn how to take your own broomstick photos.
All photos on this page ©Rhonda Albom. All rights reserved.
How to take Alnwick Castle broomstick training
Broomstick flying lessons are for kids of all ages. In fact, I was encouraged by the eccentric professor to join in. Best of all broomstick training is included with Alnwick castle entrance tickets. The training includes mounting and dismounting, manoeuvering your broom, and speed control.
Broomstick flying lessons take place daily.
Sign up is first come, first serve. Ticket sign up and collection changes, so check when you arrive for the plan of the day.
Learning to fly is a popular activity at Alnwick. Therefore, our best advice is to sign up for your time slot as soon as you arrive.
It takes about 25 minutes to learn how to fly on a broom.
The lessons are weather dependent. In the event of major rain, a photo op substitution is available.
For more information, check out their official webpage.
More on Harry Potter
Our youngest daughter is a huge Harry Potter fan. She has seen has read all the Harry Potter Books and seen all eight Harry Potter Films multiple times. It has been a real treat to be able to incorporate so much of her passion into the UK portion of our travels. We had a blast searching for Harry Potter in London and other areas of England.
We also celebrated our daughter's birthday by taking here on a Harry Potter: Warner Brothers Studio Tour just outside London.
Read next: Travel Tips for UK and Ireland Visitors
What do you think? Will you give broomstick flying lessons a try?
If you enjoyed this post please pin: