As a lover of fairytales and all things magical, exploring fairytale castles in Europe was a natural for me. From the stunning Neuschwanstein Castle in Germany to the charming Bojnice Castle in Slovakia, each of our favourites has its own unique charm.
While most on this list offer a whimsical feel when exploring the halls and gardens, others have actually been inspirations for some of the fairytales that we all know. It's amazing to think that all these castles were once home to kings and queens.
Whether you're a fan of Cinderella's story, Dracula's drama, or simply love the grandeur of medieval architecture, these fairytale castles in Europe are sure to capture your imagination. So, join me on this journey as we explore the enchanting castles that have captured my heart and imagination.
Best fairytale castles in Europe
Neuschwanstein Castle, Germany
Prague Castle, Czech Republic
Alcazar of Segovia, Spain
Alhambra, Spain
Edinburgh Castle, Scotland
Alnwick Castle, England
Vianden Castle
Chateau de Chambord, France
Hohenzollern Castle, Germany
Castle Bran, Romania
Chillon Castle, Switzerland
Pena Palace, Portugal
Bojnice Castle, Slovakia
What makes it a fairytale castle?
Fairytale castles often share some common features that contribute to their enchanting and magical appeal. Some of these features include:
Turrets
Fairytale castles are often characterized by their towering turrets, which give them a distinctive and impressive appearance.
Moats
A moat is a body of water surrounding a castle, often used for defence. Fairytale castles are frequently depicted with moats, which add to their romantic and fantastical ambience.
Drawbridges
Another common feature of fairytale castles is the drawbridge, which in old days was often raised and lowered to control access to the castle.
Ornate architecture
Fairytale castles are typically ornate and decorative, with intricate carvings and detailed stonework.
Grand halls
Inside, fairytale castles often have grand halls and ballrooms with high ceilings, chandeliers, and opulent furnishings.
Hidden passages
Many fairytale castles have hidden passages and secret rooms, adding to their sense of mystery and intrigue.
Romantic gardens
Fairytale castles often have beautiful gardens with fountains, sculptures, and colourful flowers, providing a picturesque backdrop for fairy tales and romances.
Overall, fairytale castles are characterized by their grandeur, beauty, and magical ambience, with features that evoke a sense of wonder and transport visitors to another time and place.
Neuschwanstein Castle, Bavaria, Germany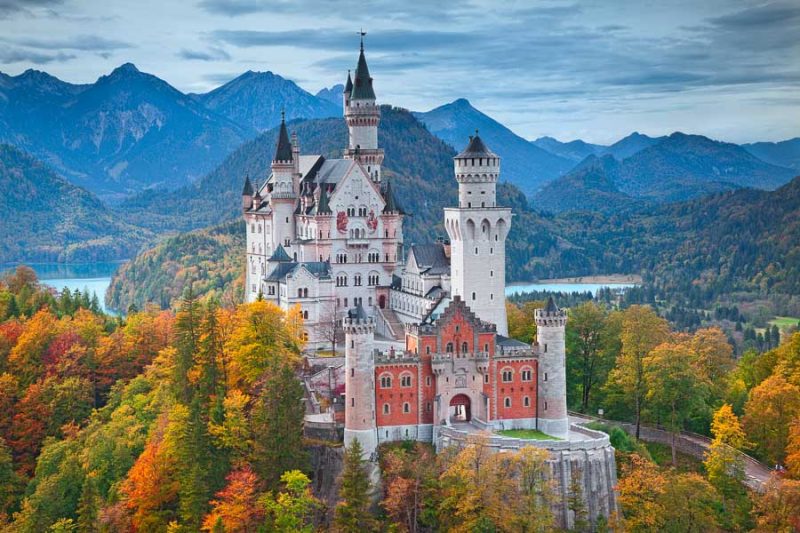 The first time I saw Neuschwanstein Castle was so long ago, yet its magic somehow stayed with me. It is one of my favourite fairytale castles in Europe. It's the exterior, with soaring turrets and its dramatic mountain backdrop, that I remember most clearly.
We learned some of its unique history before heading up the steep hill to the castle. The castle was built by order of the reclusive King Ludwig II, also known as "mad king Ludwig".
Ludwig II was notorious for his lavish spending on castles and other extravagant projects, which ultimately led to his downfall. However, it was his dream to create a fairytale-like castle that inspired the construction of Neuschwanstein.
One look at it, and it's easy to see why Neuschwanstein Castle served as the inspiration for Disney's iconic Cinderella Castle.
Prague Castle, Prague, Czech Republic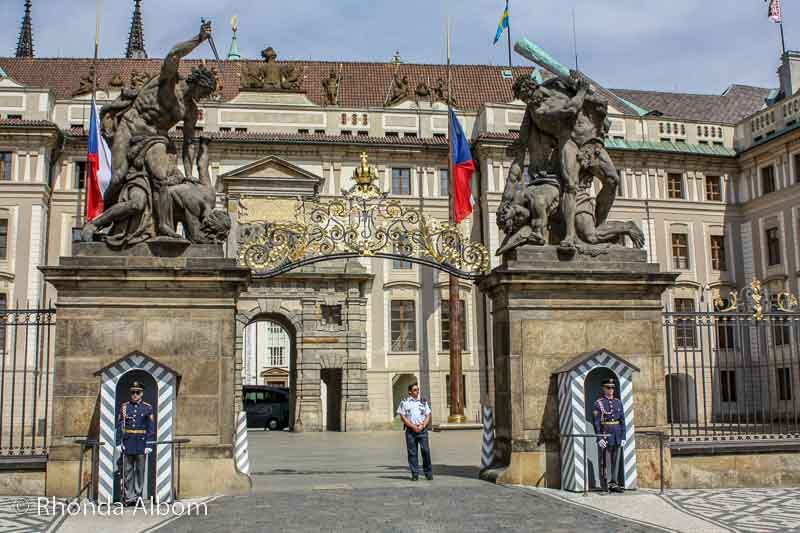 Perched high on a hill overlooking the enchanting city of Prague, this castle is a fusion of different architectural styles, reflecting centuries of history. Boasting the title of the largest ancient castle in the world, Prague Castle features impressive Gothic, Renaissance, and Baroque elements.
We were mesmerized by the grandeur of Prague Castle and its intricate detailing. I think the highlights for me were the awe-inspiring St. Vitus Cathedral and the picturesque Golden Lane, a charming street of colourful houses that once housed the castle's guards, both located within the castle walls. It was one of many highlights of our time in Prague.
Alcazar of Segovia, Segovia, Spain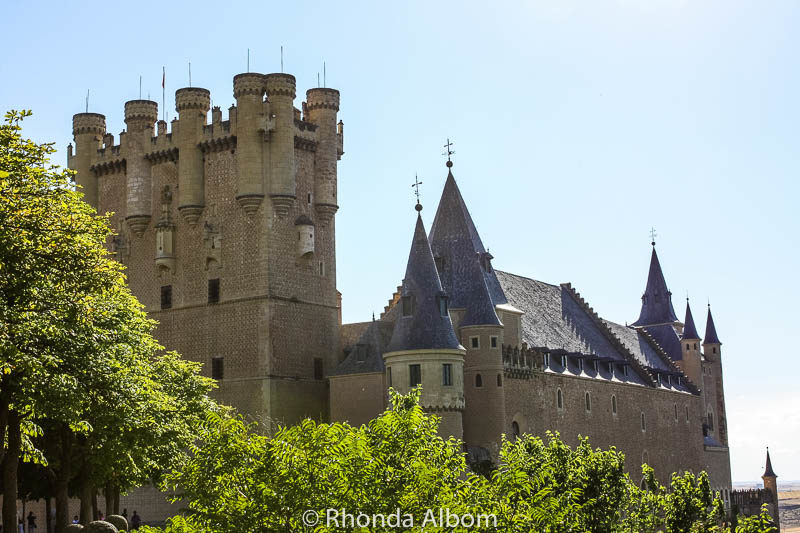 A fairytale comes to life with its pointed towers and dramatic location on a rocky outcrop. But the Alcazar of Segovia wasn't always a European fairytale castle. While at the time, we were told, the original castle burnt to the ground in the 16th century, and 300 years later, was rebuilt to appear like the classic fantasy rather than recreating the original, it doesn't appear to be true when we researched it later.
Either way, this Spanish fortress-palace showcases a unique blend of medieval, Islamic, and Gothic architecture, making it part of a UNESCO World Heritage Site.
We were told that the castle's interior is just as impressive, with intricate carvings, stunning tapestries, and sweeping views of the surrounding countryside, although we never went in as there are so many really cool things to do in Segovia.
Alhambra, Granada, Spain
The Alhambra, a UNESCO world heritige site, is a masterpiece of Islamic architecture and design. It left us in awe, completely entranced by its intricate details, despite the crowds of people surrounding us.
Alhambra, a magnificent Moorish fortress and castle, was completed in the 14th century during the reign of Muslim leaders. After the expulsion of Jews and Muslims from Spain in 1492, it came under Christian rule, resulting in some modifications. However, the essence of its Moorish architecture still shines brightly.
We were leary of heading to somewhere known always to be crowded. What we found was a breathtaking palace complex with elaborate stucco work, splendid gardens, and tranquil reflecting pools that truly epitomize the concept of paradise on Earth. You can read about our visit here.
Edinburgh Castle, Edinburgh, Scotland
Dominating the skyline of Scotland's capital, Edinburgh Castle is an imposing fortress with a rich history spanning nearly a millennium.
While many people visit this iconic landmark to see the Scottish crown jewels and the storied Stone of Destiny, we were more fascinated by some of the really unique features like the cemetery for soldier's dogs or the tiny 12th-century St Margaret's Chapel.
Also, the intricate woodwork fascinated me. I shot the image above in the Great Hall, which was originally built for King James IV in the early 1500s for ceremonial occasions. Edinburgh was the first stop on our Scottish road trip.
Alnwick Castle (Hogwarts), Northumberland, England
Alnwick Castle is Hogwarts. Or at least parts of it. We even opted for the Harry Potter tour and learned which castle rooms were used in which scenes and some of the internal secrets. Afterwards, we took broomstick flying lessons at the end.
For Harry Potter fans, this is a really cool thing to do. For me, I was more interested in what she told us about the castle, its current residents, and the small portion of the 150-room castle we were allowed to tour.
The 11th-century Alnwick Castle sits on the east coast of England in Northumberland. In addition to being a major filming site for Harry Potter, it was also used in Downton Abbey, Robin Hood Prince of Thieves (1991) and several other feature films and television shows.
Vianden Castle, Vianden, Luxembourg
After a long day enjoying many of the things to do in Luxembourg City, we headed to Vianden as darkness descended. Therefore, our first view of the Vianden Castle was out the window of accommodation, and it was lit up like a hidden gem tucked away in the Luxembourg countryside.
It wasn't until the morning that we walked over and went inside. Here we found a medieval castle that boasts a blend of Romanesque and Gothic architectural elements. Its hilltop location offered us captivating views of the surrounding Our valley.
Chateau de Chambord, Chambord, France
One of the most recognizable fairytale castles around the world, Chateau de Chambord is built in the French Renaissance style and is one of the largest of the castles in the Loire Valley, with over 400 rooms. The intricate details of the exterior and interior design are truly breathtaking.
The castle's vast gardens and grounds are also a sight to behold, and they are perfect for strolling through on a sunny day. Its iconic double-helix staircase, attributed to Leonardo da Vinci, and vast grounds make it a must-see.
Hohenzollern Castle, Baden-Württemberg, Germany
Perched atop Mount Hohenzollern, this fairy-tale fortress is a symbol of German heritage. With its crenellated towers and captivating hilltop location, it exudes a sense of regal splendour. It was originally built in the 11th century.
Castle Bran, Bran, Romania
A bit cliche, I know, but I couldn't resist sharing this classic, albeit over-processed and edited, image of Castle Bran with the blackbirds encircling the moon and the lightning.
Castle Bran in Bran, Romania, is also known as Dracula's Castle. The castle itself is real; the legend is from the fiction story Dracula by Bram Stoker. It's a destination that is shrouded in mystery and legend.
The castle is situated on a hill overlooking the surrounding countryside and is one of Romania's most popular destinations for tourists because of the story. Visitors can tour the castle's many rooms and learn about the history of the castle and its connections to the legend of Dracula.
Chillon Castle on Lake Geneva, Switzerland
Taking up an entire tiny island just off the shores of Lake Geneva, Chillon Castle boasts a mesmerizing location, easily accessible via its bridge. With its medieval dungeons, gothic halls, and enchanting waterfront, it is a destination steeped in history and breathtaking scenery.
Pena Palace, Sintra, Portugal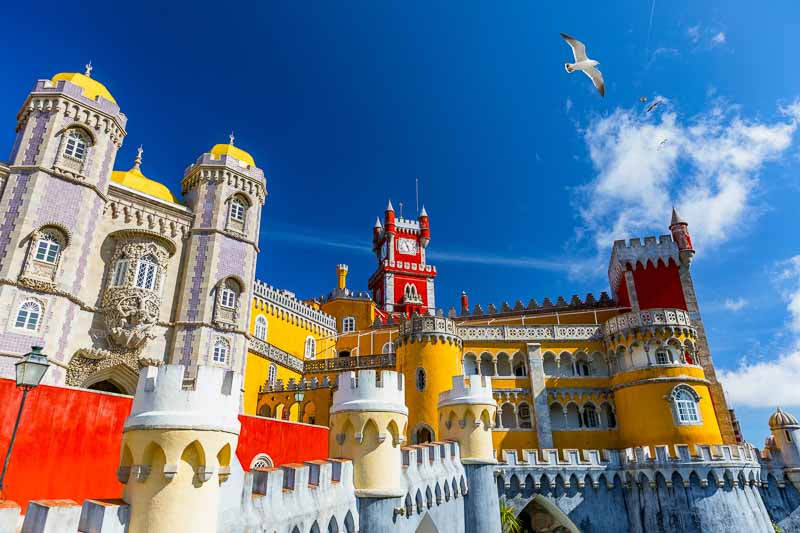 Palácio Nacional da Pena is built in the 19th-century Romanticism style of architecture and is the epitome of fairytale castles in Europe. The brightly painted palace (painted even brighter since our last visit) is part of the Cultural Landscape of Sintra UNESCO World Heritage site.
It is one of five amazing palaces and castles in Sintra, a town worth more than a day's visit. Pena is the most popular, therefore, usually the most crowded. Ticket queues are often long, and we found the best option was to get tickets online in advance. You can reserve your Pena tickets here.
Bojnice Castle, Bojnice, Slovakia
One of the oldest castles in Slovakia, Bojnice Castle, is a blend of Romanesque, Gothic, and Renaissance styles. Surrounded by a beautiful park, it exudes a fairy-tale aura that has earned it a reputation as one of the most romantic castles in Europe.
Final thoughts on fairytale castles in Europe
And there you have it – thirteen captivating fairytale castles that adorn the European landscape.
Each of these architectural marvels has its own story to tell, and visiting them feels like stepping into a world of enchantment. Whether you're drawn to medieval fortresses, Renaissance palaces, or Gothic wonders, these fairytale castles will leave you spellbound and yearning for more magical adventures.
So, grab your map and mates, and set forth on a journey to these extraordinary realms of Europe's past for yourself. We did, and we loved it!
Save on your trip with these resources
These are our go-to companies when we travel. We believe this list to be the best in each category. You can't go wrong using them on your trip too.
Flights: we use Expedia for the best and cheapest flight options.
Accommodations: we use Booking.com (hotels) or VRBO (self-contained).
Cars (gas or electric): we use RentalCars to search for deals and dealer ratings.
Campervans or Motorhomes: we use Campstar where Albom Adventures readers get a 3% discount
Private guides: we love the private guides at Tours by Locals
Travel Insurance: we start at InsureMyTrip as they are the best option to compare plans and find the right coverage for you.
Check out our travel resources page for more companies that we use when you travel.
Save for later
If you enjoyed this article on fairytale castles in Europe, please share it on social media and save it for later on Pinterest.
Which is your favourite of these fairytale castles in Europe?
You might also like …
Photo Credits:
All photos on this page are either shot by our team and watermarked as such or stock images from Depositphotos.