Our central Spain road trip took us from Madrid to Granada, passing through some of the most impressive places we have been. From the high energy of Spain's capital to the intricate Moorish details of Alhambra, this road trip needs an open mind and a large camera memory stick.
While we could have driven straight through in 4.5 hours, we spent 10 days, and it wasn't enough to fully appreciate it all.
Heading south, our central Spain road trip passed through Toledo, Cordoba, then out to Seville, and back to Granada, leaving us the option of driving the coast back up to Barcelona and our temporary Costa Brava home.
Often leaving the main road, we explored medieval castles, caves, cathedrals, and the coastal Spanish Riviera. More specifically, we saw the western Muslim world's largest mosque, the world's largest Gothic cathedral, and some of Europe's best-conserved Renaissance buildings.
In addition to our base central Spain itinerary, we included two alternative starting points that connect this journey to our northern itinerary. We also added an alternate route, ending it in Seville for those heading next to Portugal.
Interactive central Spain map from Madrid to Granada
The Madrid to Granada route follows the itinerary on this page. To see alternate route options, click the expand / collapse icon in the upper left corner of the map.
Also, note suggested stops are featured on the map either in red (on the main road) or orange (requires extra driving).
Significant highlights of our central Spain road trip
The royal palace in Madrid
Jewish Quarter of Toledo
La Mezquita (Mosque-Cathedral of Córdoba)
Tomb of Christopher Columbus
La Alhambra in Granada
Flamenco (mulitple cities)
Car hire (rental) for your central Spain road trip
Unless you have your own vehicle, you will need a car. We rent from RentalCars, as they offer a comprehensive list of multinational and local rental car agents, ratings on specific car types, and agency ratings. Importantly, they often have lower prices than going direct.
Whether you rent from them or not, it's still the perfect place to begin your search. Click here to compare options and check availability at RentalCars.com
Barcelona or La Coruna to Madrid (add-on)
If starting in Madrid, skip to the next section of our central Spain road trip. However, if continuing on from our northern Spain road trip, start here.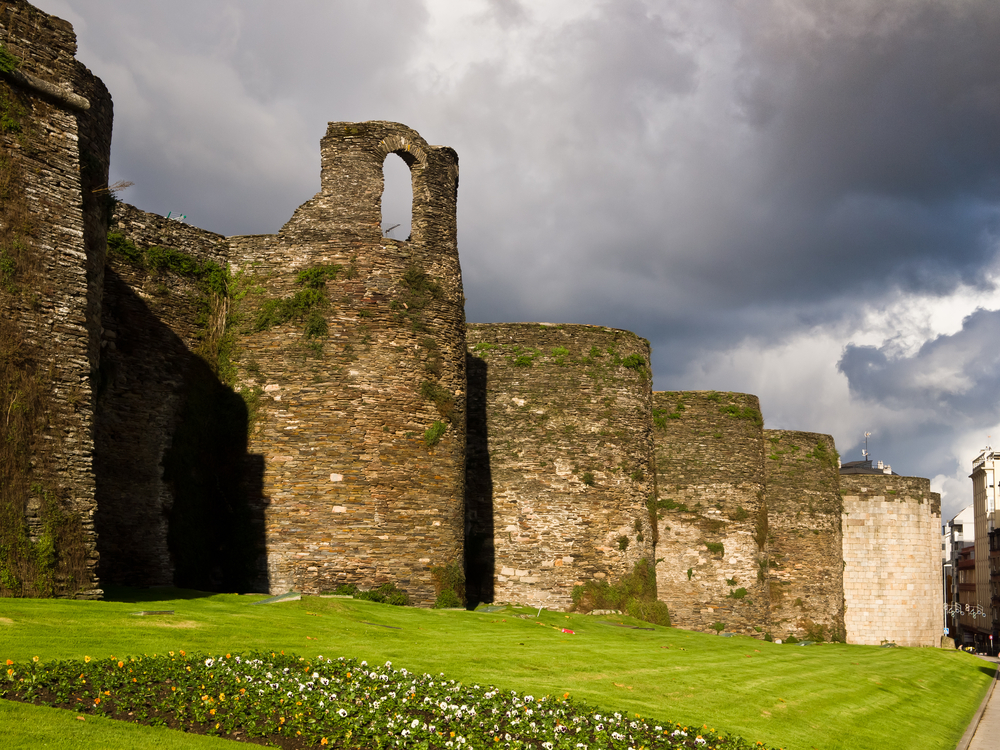 Barcelona and La Coruna are the two ends of our northern Spain road trip. Therefore if you want to make one continuous journey, either of these starts will make that easy.
Barcelona to Madrid
The drive from Barcelona on the Mediterranian (east) coast to Madrid in central Spain is about 6 hours 15 minutes non-stop.
Barcelona
A city that has it all, from cultural and historic sites to beautiful Mediterranean beaches. Barcelona is an easy place to visit. Well known for the works of Gaudi, the city is a masterpiece. There are also several fabulous day trips from Barcelona if you have the time.
Zaragoza
Zaragoza holds significant religious importance. It's the capital of Spain's Aragon region. Thousands of pilgrims make their way here every year to kiss the El Pilar, a small stature given to Saint James the Apostle from the Virgin Mary. El Pilar is the second-most visited pilgrimage destination in Spain.
Madrid (Skip to Madrid section)
La Coruna to Madrid
Non-stop, the drive from La Coruna on the Atlantic (west) coast to Madrid is 5 hours and 45 minutes.
La Coruna
We lived for two weeks in a home exchange house in La Coruna and found plenty to do from relaxing at the beach to climbing the world's oldest working lighthouse. There's more about our La Coruna stay here.
Lugo
Lugo is home to the world's last remaining fully intact Roman Wall, and walking along the perimeter is one of the top things to do in Lugo. Also, visit the Cathedral de Santa Maria in the old town and the Provincial Museum.
Leon
Leon holds a treasure trove of architectural styles ranging from Romanesque to Gothic to Rennaissance and Plateresque. Be sure to stay for a meal and try some of the famous cured meats.
Salamanca
Known for its golden buildings built from sandstone, it is home to the highly regarded Universidad de Salamanca, founded in the 12th century.
Segovia
Just an hour from Madrid, Segovia is full of fabulous landmarks. The top three are the Roman aqueduct, the first gothic cathedral in Spain, and a fairytale castle.
Madrid (see next section)
Madrid: the start of our central Spain road trip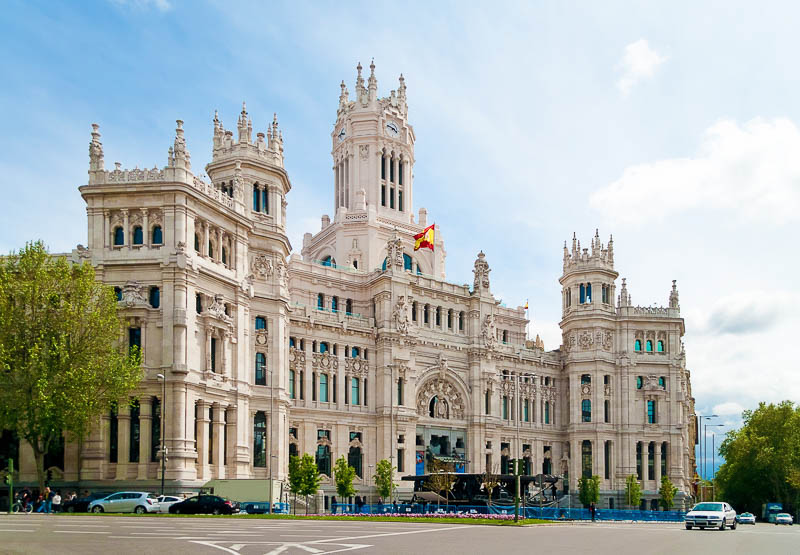 Lively and exciting, Spain's capital features a vast range of architectural styles, historically significant and impressive artwork and a fast-paced nightlife. It's a city that seems never to sleep, serving dinner past midnight at times.
Despite the excitement, it's the artwork that brought us here. Home to multiple world-class art museums and countless masterpieces, we were impressed around every corner.
Suggested activities: We have detailed all our favourite things to do in Madrid here, but the three that top our list are:
Visit the Prado or Reina Sofia art museum, both if you can. We recommend a skip-the-line ticket, as the queues were massive when we were there. Reserve a skip-the-line entrance to the Prado here OR reserve a skip-the-line entrance to the Reina Sofía
Go inside the Royal Palace. You can either explore it on your own or take a tour. Reserve your fast access Royal Palace access ticket here OR reserve a skip-the-line entrance and guided tour here
Hang out in some of the plazas, enjoy the street performers and then take in a live flamenco show. While there are several to choose from in Madrid, we loved the energy at the historical Torres Bermejas tablao in the heart of Madrid. It does sell out most nights, so reserve your flamenco tickets in advance here.
Central Spain segment 1: Madrid to Toledo
Nonstop, this drive will take just shy of one hour. If you are starting in Madrid, and have time, start your drive north to Segovia, then on to Toledo.
Aranjuez
Known for the Palace of Aranjuez and its vast gardens frequented by royals in springtime, it is a UNESCO World Heritage Site.
Toledo
Unique and intriguing, Toledo is a must-see if you are travelling through central Spain, or as a day trip from Madrid if you are not.
Toledo's extensive cultural heritage is driven by the Christians, Jews, and Muslims who coexisted peacefully here. Living, working and observing their respective religions side by side, they are a model that somehow got lost over time.
A former capital of the Spanish empire, Toledo gained UNESCO world heritage designation in 1986.
We spent the majority of our time in the old Jewish Quarter and recommend the same for others. A local guide made the difference, giving us insights we would have otherwise missed. With limited time, we prefer a private tour. Book a private Toledo guide here.
Highlights of Toledo
Old Jewish Quarter
Highlights include El Tránsito Synagogue (This old synagogue now houses the Sephardic museum), Santa Maria la Blanca Sinagoga, Monastery of San Juan de los Reyes, Church of Santo Tomé (Home to El Greco's "The Burial of Count Orgaz.") and the El Greco Museum. Both the Sephardic and El Greco museums are free on Sundays and after 2pm on Saturdays.
Cathedral
Built between 1226 and 1493, it is one of the most beautiful cathedrals we have seen in Spain. Inside, we found artworks by El Greco, Luca Giordano, Van Dyck, and Goya.
Alcázar
Towering over the town, the Alcazar was a fortress under roman rule, a palace under Christian rule, and today hosts the Army museum. Unique architecture styles on each side with Medieval (east), Renaissance (west), the Plateresque (north), and Churrigueresque (south).
Central Spain segment 2: Toledo to Cordoba
Nonstop, this drive will take 3.5 hours. However, there are several cool things to see along the way.
Consuegra
Consuegra is home to an impressive castle, although it is the famous windmills that caught my attention. The book " Don Quixote de La Mancha" is based in this region.
Manzanares
The area has served as the backdrop to numerous movies and is one of the entrances to the Sierra de Guadarrama National Park. Don't miss the well-preserved Mendoza Castle and a stop at the Manchego Cheese Regional Museum.
Baeza
This town is known for some of Europe's best-conserved Renaissance buildings and for producing some of the world's best olive oil.
Jaén
This is the city where Napolean had his first battlefield defeat. The must-sees include the renaissance-style Jaen Cathedral (holds the Holy Veil) and the formidable Castillo de Santa Catalina.
Cordoba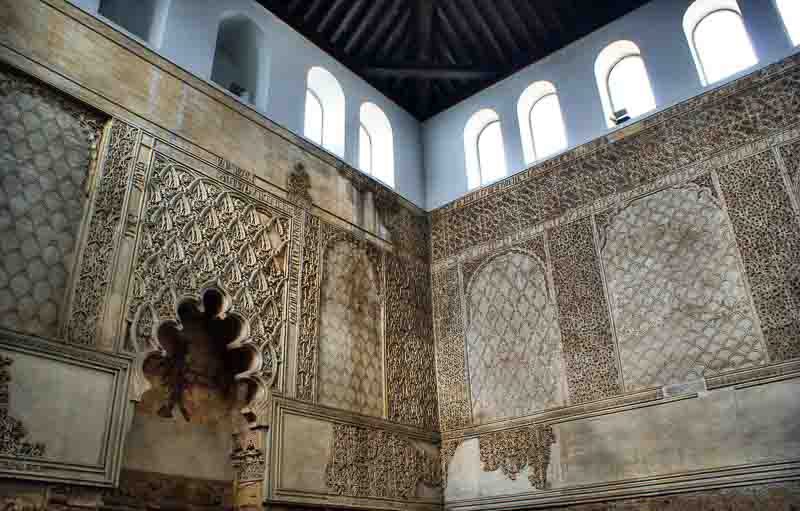 Whether you are just driving through or spending the night, you will want to spend at least a few hours in Cordoba exploring La Mezquita (Mosque-Cathedral of Córdoba).
One of the top sites in Spain, it is a masterpiece beyond words and a UNESCO world heritage site. The largest structure of its kind in the western Muslim world, it is a seamless blend of Moorish architecture and Catholic artefacts.
Construction of this Grand Mosque of Córdoba began in 784, even before the city was under the Caliphate of Cordoba (from 929 to 1031), the ruling body over almost all of the Iberian Peninsula. That ended during the Reconquista when Córdoba returned to Christian rule in 1236, and the building converted to Roman Catholic.
Suggested activities: We have detailed all our favourite things to do in Cordoba here, but the three that top our list are:
Take a guided tour with skip-the-line tickets to La Mezquita (reserve the tour here).
Visit the beautiful Mudéjar-style Cordoba Synagogue, one of only three original (pre-Inquisition) synagogues remaining in Spain.
Walk over the 16-arched Roman bridge spanning the Río Guadalquivir.
If Cordoba is your choice for flamenco, get tickets for the famous Cordoba flamenco show at Tablao el Cardenal here.
Central Spain segment 3: Cordoba to Seville
Nonstop, this drive will take 1.5 hours.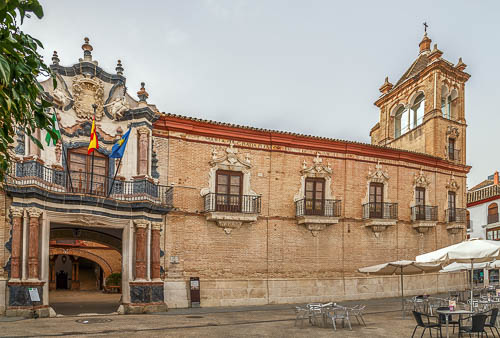 Écija
Nicknamed the city of towers, it has the finest collection of tall buildings in the Seville province. It has well-preserved mosaics dating back to the Phoenicians and Romans. The highlight is the 18th-century Palace of Benameji.
Carmona
Top sites are the Alcazar de la Puerta de Sevilla and Gate of Cordoba. The tourist office offers complimentary guided city tours (Wed-Sun at 11am).
Seville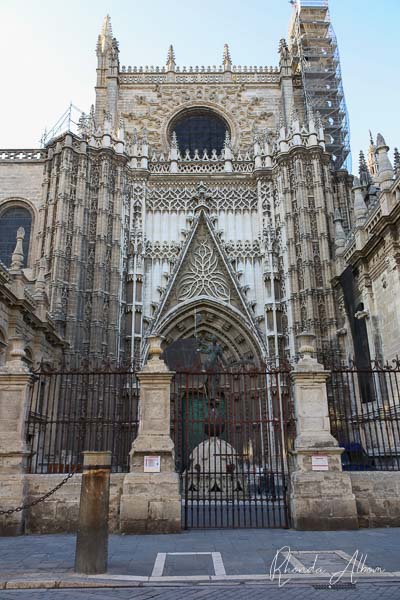 Seville, the capital of Andalusia, is best known for its Mudéjar architecture, Moorish heritage, and for flamenco.
Home to the first establishment dedicated to flamenco (1842), Seville is often considered the birthplace of this exuberant art form.
The Seville Cathedral is the world's largest Gothic cathedral, with 80 different chapels and a central nave measuring 42-metres high. It's also the final resting place of Christopher Columbus. Plus, you can walk up to the top of La Giralda (the bell tower).
Suggested activities: We have detailed all our favourite things to do in Seville here, but the three that top our list are:
Explore the Seville Cathedral and La Giralda with a guided tour. Reserve your guided tour here.
Visit the Alcázar Palace (Real Alcázar), a masterpiece built mostly in the Mudéjar architectural style. You can reserve your skip-the-line ticket and guided tour here.
Walk the Plaza de España, a stunning example of regional architecture from 100 years ago, featuring a main square with a semicircular lake, twin towers, and ceramic tiled benches representing each of the 49 provinces of Spain.
If Seville is your choice for flamenco, there are plenty of options, but we really loved "Caja de La Memoria" and it typically sells out every night. Reserve your Caja de La Memoria ticket here.
Central Spain segment 4: Seville to Granada
Nonstop, this drive will take 2.5 hours. Including a portion of the Spanish Riviera adds about 2 hours to the total time in the car, but well worth it. We added about 3 days here.
Ronda
The birthplace of bullfighting, it sits atop a steep gorge spanned by an impressive stone bridge. (On a personal note, how could we skip a town that shares my name?)
Antequera
Antequera has some of the largest and most important megalithic burial sites in Spain. Don't miss the Moorish Alcazaba, the Arco de los Gigantes, and the many churches.
Málaga
Often called the gateway to the Costa del Sol, it is popular with millions of holidaymakers every year. Also the birthplace of Pablo Picasso, many new cultural attractions have increased its allure.
Benalmadena
Our rest and rejuvenation town. We took a few days here to stay at a lovely resort, swim in the pool, and hang out at the beach. A classic Spanish Riviera town, it is perfectly adapted for tourists.
Nerja
A seaside village with fantastic beaches and Cuevas de Nerja, a 4km long cave system with the tallest limestone column (32m) in the world.
Granada: the final stop on our central Spain road trip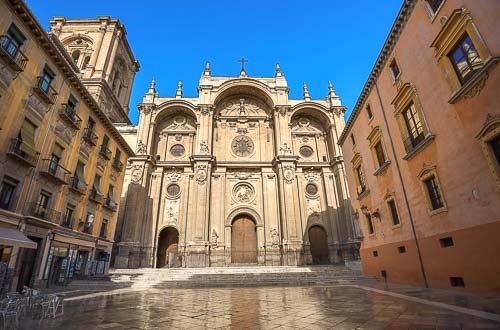 We almost skipped Granada, assuming Alhambra was too touristy. Instead, I found a masterpiece whose intricate details were so impressive that I stood in wonder, completely oblivious to the crowds of people all around me.
Alhambra is a Moorish fortress and castle built in the 14th century by the then-ruling Muslim leaders. It was taken by Spain in 1492 when the Jews and Muslims were exiled from the country. While we can see the Christian modifications in most of the rooms, the Moorish architecture shines through.
Visiting the Alhambra was both the highlight and the final point of our central Spain road trip from Madrid to Granada.
Granada is also home to the cathedral, which is the final resting place of Queen Isabella I of Castile and King Ferdinand II of Aragon.
Granada and Alhambra tips:
Alhambra lets in a limited number of visitors each day, which means many are turned away. It is important to get tickets in advance. Reserve your tickets to Alhambra here.
If you are silly enough to visit in July or August (like we did), select the earliest time slot, as this allows you to complete your visit before the temperature becomes way too hot.
Stay in the town near the cathedral and take the number 30 bus up to Alhambra. This puts you at the beginning of the bus line, so you have a chance to get a seat.
From Granada, you can return along the coast to Barcelona. Follow the initial map at the top of the page to bring you back to Madrid if you need to close the loop.
Alternative central Spain road trip route from Madrid to Seville
If you are planning to drive into Portugal after Spain, you will want to make a few adjustments to the route above. Visiting all of the same cities, your new map will look like this: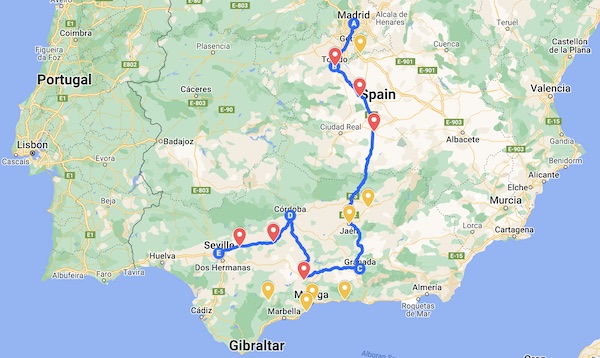 Your alternate driving route will take you from Madrid > Toledo >Granada > Cordoba >Seville.
For driving directions, see the map at the top of the page.
Save on your trip with these resources
These are our go-to companies when we travel. We believe this list to be the best in each category. You can't go wrong using them on your trip too.
Flights: we use Expedia for the best and cheapest flight options.
Accommodations: we use Booking.com (hotels) or VRBO (self-contained).
Cars (gas or electric): we use RentalCars to search for deals and dealer ratings.
Campervans or Motorhomes: we use Campstar where Albom Adventures readers get a 3% discount
Private guides: we love the private guides at Tours by Locals
Travel Insurance: we start at InsureMyTrip as they are the best option to compare plans and find the right coverage for you.
Check out our travel resources page for more companies that we use when you travel.
Save for later
If you enjoyed this article, please share it on social media and save it for later on Pinterest.
Where will you stop on your central Spain road trip from Madrid to Granada?
Continue your discovery of the region