Wandering the streets of old town Seville, Spain is like stepping back in time. In a city best known for its architecture and dance, we also visited the final resting place of Christopher Columbus and saw impressive flamenco in Seville.
Seville is the capital of Andalusia. It's a city dotted with Mudéjar architecture and Moorish heritage. Always remember to look up when you pass by buildings. (Mudéjar is simply Moorish inspired design used in a non-Islamic building.)
It's a fascinating city, and it won't take long to know why it is one of the most well-known cities in Spain. I fell in love with it almost instantly.
Come for the history and culture, stay for the tapas and flamenco – in Seville, you will find it all.
Our top 7 unique things to do in Seville
If you have limited time, here's our list of the seven unique things to do in Seville that we recommend.
Don't miss the energy of flamenco in Seville (its birthplace)
Explore the Seville Cathedral and La Giralda (the bell tower), and don't miss the tomb of Christopher Columbus inside the Cathedral
Visit the Alcázar Palace
Walk the Plaza de España
Go to the top of the Metropol Parasol
Visit Barrio Santa Cruz
Discover more things to do in Seville on the hop-on-hop-off bus tour
Flamenco in Seville
Much more than just an exuberant dance, flamenco is an art form. It includes cante (singing), toque (guitar playing), baile (dance), jaleo (vocalizations), palmas (handclapping), and pitos (finger snapping).
It is exciting. The traditional dress is colourful and free-flowing. Flamenco is native to the Spanish regions of Andalusia, Extremadura and Murcia.
That definition doesn't do it justice. It is heart-pounding entertainment. A colourful treat of whirling dancers whose feet move so fast it often seems impossible.
And while it is found all over Spain, flamenco in Seville is special, as the city is the home to the first establishment (1842) dedicated to flamenco.
We selected "Caja de La Memoria," an intimate flamenco show. It's one of the top-rated options, and it didn't take long for us to know why.
As the lights dimmed, the tapping started slow and rhythmically, building in intensity. Suddenly, it was as if everyone in the room disappeared; it was just me, the musician and the dancer. My heart raced so fast, it was almost as if I were part of this flamenco in Seville.
We were told that "Caja de La Memoria" sells out every night, so don't wait until the last minute to get tickets. You can reserve your ticket here.
Pro tip: You will want to be in the queue about 30 minutes before show time as seats are first come, first seated.
Note: We were only allowed to take photos for the final five minutes. The indoor shot below is the best I could get on my phone in dim light.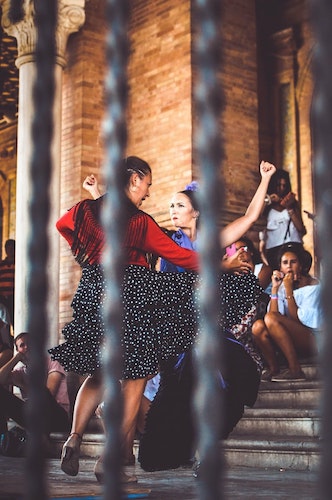 Explore the Seville Cathedral and La Giralda
This is not a quick exploration. The Seville Cathedral is not only a UNESCO world heritage site, it's also the world's largest Gothic cathedral, with 80 different chapels and a central nave measuring 42-metres high.
The cathedral took 100 years to complete, and you can see the master craftsmanship in every detail.
Attached, and right next door, our entry to La Giralda, the bell tower, was included in our Cathedral entrances. Rather than stairs, be prepared to walk up 34 ramps to the top of what was once the minaret of the former mosque at this location.
I am almost embarrassed to admit this, before entering the cathedral, I was super excited to get up to the top of La Giralda and enjoy the views. However, the magnificence of the cathedral was so overwhelming that we forgot to climb the tower, realising it only that night when I downloaded my images.
Our best advice is to get a guided tour (You can reserve yours here), but if that is too much, you will not regret reserving your skip-the-line ticket.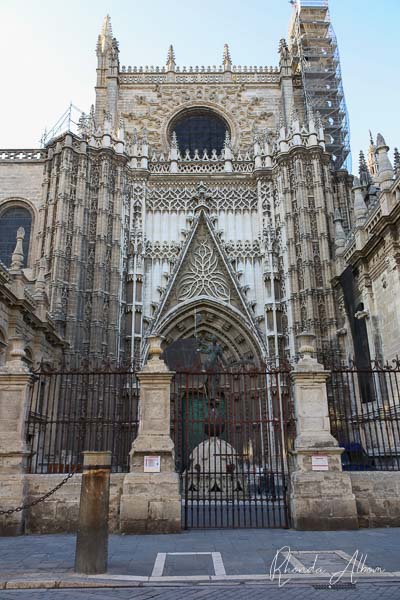 The tomb of Christopher Columbus is inside the cathedral
Probably the most photographed spot inside the cathedral is the tomb of Christopher Columbus. According to what we read, DNA testing has verified his identity.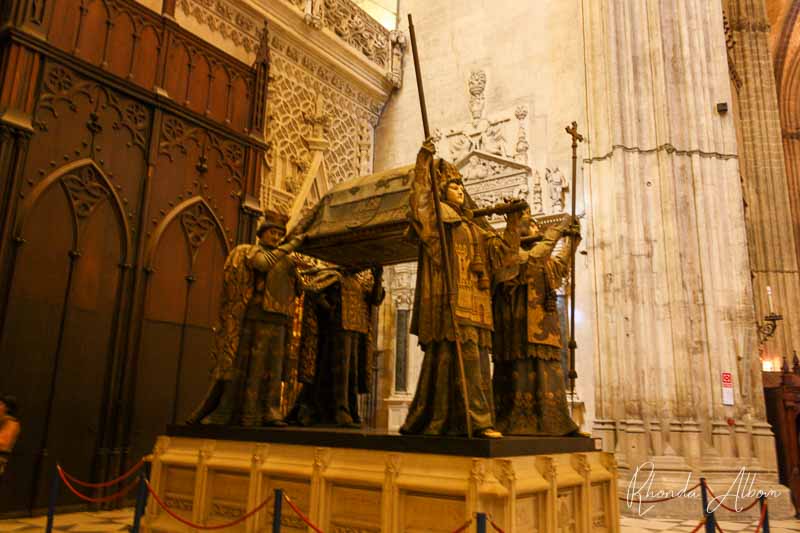 Visit the Alcázar Palace
Also found on the UNESCO world heritage list, the Alcázar Palace, or Real Alcázar as it is often called, is a masterpiece built mostly in the Mudéjar architectural style. Historically, the site was a Muslim fortress. Then the palace was built for King Peter of Castille on the site. It is still used by members of the royal family today (upper rooms only, and visitors have no access there).
From the middle ages onwards, there are fascinating stories and architectural additions that are best discovered with a guide.
Also, the wait to enter is often quite long, and if it's summer, it will also be quite hot (we found this out the hard way). That's why we recommended getting a guide and skip-the-line tickets. You can reserve your skip-the-line ticket and guided tour here.
The question as to which of these structures is more beautiful, the Alcazar or the cathedral, is one that will be debated until the end of the time. Each is different, and both really need to be seen to be appreciated.
Check out Barrio Santa Cruz
Barrio Santa Cruz seems to be an item on just about every things to do in Seville list we have seen, yet it's a bit misguided. Barrio simply means neighbourhood, and they are therefore sending you the Santa Cruz neighbourhood.
However, if you have followed the other key suggestions on this page so far, you have already been there. Both the Seville Cathedral and the Alcazar are located within the Barrio Santa Cruz.
Santa Cruz is the oldest barrio in Seville, located inside the Roman-built city walls (1st century BC). It is often referred to as the Old Jewish Quarter, as it was until the Spanish Inquisition. And there is plenty more to see here than just the palace and the cathedral.
We also stayed in the Barrio Santa Cruz, making our life simple. We parked our vehicle once and never used it during our time in Seville. I would recommend staying in Barrio Santa Cruz regardless of your budget as it is so centrally located.
Also, Santa Cruz is the neighbourhood in which we chose to enjoy flamenco in Seville.
Here are a few other things to check out in Barrio Santa Cruz.
Explore beyond Barrio Santa Cruz
Although many of the highlights are inside the Barrio Santa Cruz, the rest of the city offers tons of things to do and plenty of opportunities for flamenco in Seville.
The two stand out, must-see locations are Plaza de España and the Metropol Parasol.
Plaza de España
Built back in 1929, the Plaza de España is a stunning example of regional architecture. The picturesque main square features a semicircular lake, twin towers, and ceramic tiled benches representing each of the 49 provinces of Spain.
The plaza is one area where you can often find street performers sharing their art of flamenco in Seville.
Metropol Parasol
The Metropol Parasol is the world's largest wooden structure measuring 150 x 70 metres and is about 29 metres high. It is five levels and features six parasols in the form of a giant mushroom, thus giving it its name.
There is plenty to do here, from the Antiquarium museum located under the square to the viewing point at the top. Or, take the panoramic path allowing visitors access to much of the structure.
Discover more things to do in Seville on the hop-on-hop-off bus tour
If you want to do it all and more, we found the Seville hop-on-hop-off bus tour to be one of the best ways. This iconic city feature offers passes for either 24 or 48 hours, and it is much more than just a bus tour.
The bus ticket is loaded with extras, and we encourage you to read the list of additions which includes museum discounts, a 30-minute bike ride, a coco-cola at the Hard Rock Café, and two walking tours. Of course, all of these are optional as you choose where to hop on or hop off the bus. You can reserve your ticket here.
Seville travel tips
If you are looking for some of the fabulous tapas that Spain is so well known for, there are plenty of options. We ate at one that we loved and therefore are happy to recommend the Vineria San Telmo for Tapas
We stayed at Hotel Alcantara in the Barrio Santa Cruz. The hotel was clean and inexpensive.
If you visit Seville in the summer, remember it is VERY hot. We scheduled an extra day here so we could take a long siesta and avoid the hot afternoons.
Other must-see cities in the Andalusia region
Save on your trip with these resources
These are our go-to companies when we travel. We believe this list to be the best in each category. You can't go wrong using them on your trip too.
Flights: we use Expedia for the best and cheapest flight options.
Accommodations: we use Booking.com (hotels) or VRBO (self-contained).
Cars (gas or electric): we use RentalCars to search for deals and dealer ratings.
Campervans or Motorhomes: we use Campstar where Albom Adventures readers get a 3% discount
Private guides: we love the private guides at Tours by Locals
Travel Insurance: we start at InsureMyTrip as they are the best option to compare plans and find the right coverage for you.
Check out our travel resources page for more companies that we use when you travel.
Cathedral, palace or flamenco in Seville, which will you try first?