The tapping started slow and rhythmically, building in intensity. Suddenly everyone else disappeared, it was just me, the musician and the dancer. My heart raced so fast, it was almost as if I were part of it. Nothing has ever affected me quite like experiencing flamenco in Seville Spain.
It's the city where it began, and there are many places to enjoy it. Flamenco is more than just dance, it is an art form. It includes cante (singing), toque (guitar playing), baile (dance), jaleo (vocalizations), palmas (handclapping) and pitos (finger snapping). It is exciting and colourful. The traditional dress is colourful and free-flowing. Flamenco is native to the Spanish regions of Andalusia, Extremadura and Murcia.
We chose well when we selected a small, intimate Flamenco Show in Seville, Spain entitled "Caja de La Memoria"
Wow.
Just wow.
The Flamenco in Seville took my breath away.
We were only allowed to take photos for the final five minutes, so this is all I have for you:
Flamenco in Seville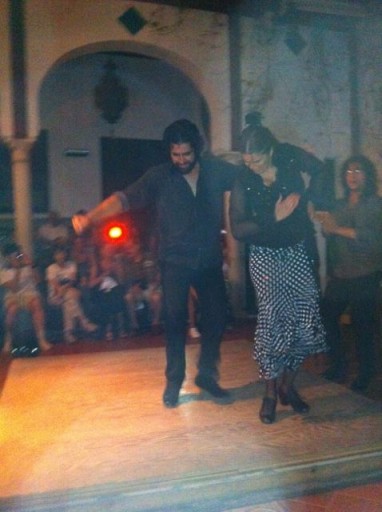 And of course we visited all the main sites of Seville including the tomb of Christopher Columbus:
The Barrio Santa Cruz – the Old Jewish Quarter:
The main cathedral and tower. I thought it looked so pretty lit up at night:
And the Alcazar (Palace):
Seville Travel Tips:
Book your hotel in advance if you are on any type of budget. Or, plan to spend a bit of time looking for a hotel if you show up without a Seville hotel reservation as we did.
We stayed in the Barrio Santa Cruz (the old Jewish Quarter). I would recommend this area regardless of your budget as it is so centrally located. We never needed to use our car.
I recommend the Vineria San Telmo for Tapas
We stayed at Hotel Alcantara in the Barrio Santa Cruz (the Old Jewish Quarter). The hotel was clean and inexpensive.
The Flamenco show we saw "Caja de La Memoria" was held in the same building as our hotel (although they are unrelated) and was excellent. It sells out every night, so don't wait until the last minute to get tickets. And be in the queue about 30 minutes before show time as seats are first come first seated.
If you visit Seville in the summer, remember it is VERY hot. We scheduled an extra day here so we could take a long siesta and avoid the hot afternoon.
We use Lonely Planet Spain.
We are currently travelling through southern Spain. Our key travel stops are Cordoba, Granada and Seville.
All photos on this page © Rhonda Albom
Have you been to Seville? Did you know Christopher Columbus was buried here? Have you seen Flamenco in Seville?
If you liked this article, please pin it: