Wondering what to do with one day in Split, Croatia? We were too, so we went to an expert. Check out this complete 24 Hours in Split itinerary created by Marco Sison, a retirement coach at Nomadic FIRE. See his details below.
For most first-time visitors to Croatia, the star of the Dalmatia region is Dubrovnik. While Split was Croatia's second-largest city, as Kings Landing on Game of Thrones, the walled Old Town of Dubrovnik still drew all the fanfare and tourists.
Split is no longer content to be in the shadows of its more famous sister city in the south; the city is flexing for its chance to shine. This city, situated right on the Adriatic coast, is quickly becoming the new beach hotspot for first-time visitors and digital nomads in Croatia.
With a UNESCO World Heritage site at the heart of the city center, an amazing promenade, proximity of gorgeous Mediterranean beaches and islands, and lower prices than Dubrovnik, Split is growing past its industrial port city roots and hitting the mainstream.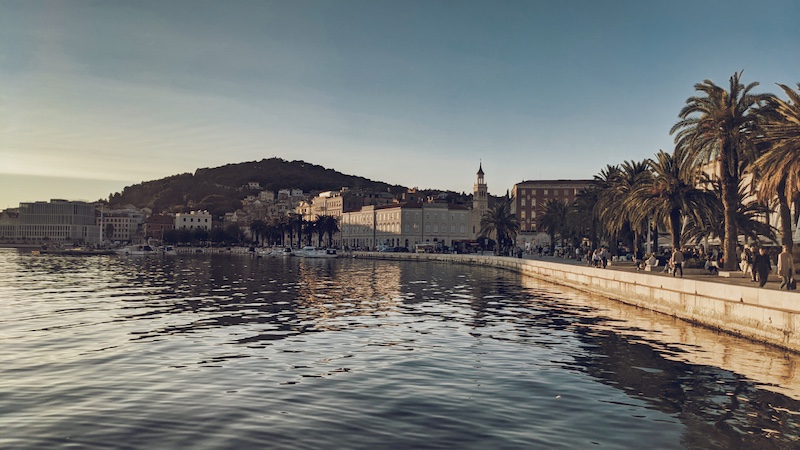 First-time visitors to Split will fall in love with the city's stunning coastline, well-preserved ancient architecture, and vibrant Riva (what Croatians call a seafront promenade).
The first stop on your Croatian adventure should be Split. This city is the perfect introduction to Croatia, and this guide gives you everything you'll need to see, do, and eat for 24 hours in Split.
A complete one-day Split itinerary
For 24 hours, we are going to focus most of your time in the historic center. The old town area of Split is hands down one of the most beautiful European destinations you will ever visit. The city's ancient architecture is a feast for the eyes, and its impressive historical sites are a joy to explore.
While a lot of the old town is being renovated to preserve the ruins from the ever-increasing number of tourists pouring into the region, there's still plenty to see and do for those visiting Split.
It's easy to get around the old town and its surrounding areas, and you won't need a car. Plus, there isn't any place to park, so I suggest avoiding the hassle of renting a car.
Let's organize your itinerary in advance so that you can maximize your 24 hours in this amazing city.
One day in Split – morning
Walk Diocletian's Palace and the Roman Courtyard (Peristyle)
The tourist board would have you believe that visiting Croatia is all about the beaches. And yes, the ones on the Adriatic Sea are spectacular. But there's more to this city than lounging on the sand, swimming in the clear water, and sipping on glasses of Croatian wine.
The heart of Split is the historic center, where the Roman Emperor Diocletian built his retirement palace.
Diocletian's Palace, built in the 4th century, is a historical marvel. One of the best examples of Roman architecture outside of Rome, the Palace, built over 1700 years ago, is a UNESCO World Heritage Site.
Centuries before expats flocked to Split to retire, the Roman Emperor Diocletian built this massive Palace for his sanctuary after retirement. As a ruler of the Roman Empire, the palace had to have the qualities of a posh and lavish villa, mashed up with a formidable military presence with fortified walls, imposing watchtowers, and massive gates.
While the palace walls are extraordinarily well preserved, there is no museum behind velvet ropes or glass. Modern life in Split, with shops, family apartments, and trendy restaurants, is intertwined with history.
You will walk down cobblestoned narrow streets with walls built over nearly 2000 years ago that will have someone's laundry line with today's dirty wash hanging above it.
The Palace's Peristyle, or courtyard, a particularly imposing monument consisting of Corinthian-style columns on one side of the central square and the entrance to what was the Emperor's mausoleum next to it.
Optional: you can take a 90-min Diocletian Palace Walking Tour
This brings us to our next stop on the one-day itinerary.
One day in Split – afternoon
Take in the city from the top of Saint Domnius Cathedral's Bell Tower
The Cathedral of Saint Duje (Duje is Domnius in Croatian), built in the 7th century, is the oldest Catholic cathedral still in use in the world. The Romans originally built the cathedral as a mausoleum for Diocletian. Instead, Christians converted the tomb into a church after taking over the city and ransacking the mausoleum.
To this day, the fate and final resting place of Diocletian's body is a mystery. The remains of Saint Domnius, a Croatian martyr, are buried here instead.
Beautiful views await if you are willing to brave the climb. Two hundred creaky steps take you up to panoramic views of the old town from the top of the 187-foot (57-meter) bell tower. If you are not a fan of heights, tight spaces, and crowds, avoid this attraction during the peak summer months, where throngs of anxious visitors sardine onto the already precarious staircase.
There is an entrance fee for the cathedral, treasury, and the walk up the bell tower for the view.
Best destination for lunch
Getting to know the local food is as much a part of a country's culture as its historical sites. With only 24 hours in Split, go where the locals go. The Konoba Kod Jože, just a five-minute walk from the Palace, is a good example. Catering primarily to local office workers for lunch, Kod Joze is far from tourist fare. Nothing out of the ordinary here, no breathtaking views or intriguing sights, only good home-cooked food!
Try the hearty mixed meat plate for something heavy or the locally caught octopus salad for lighter fare.
One day in Split – evening
Pass through the Golden Gate entrance
After your meal, you will be right next to the Golden Gate, one of the four entrances to the Palace. In front of the gate is a giant statue of Bishop Gregorius of Nin by acclaimed local sculptor Ivan Mestrovic.
Croatian tradition states that rubbing Gregorius's big toe will bring you good luck for a year. After getting your lucky charm fix, walk through the gate to get to our last stop of the day.
Take your time and explore the Riva waterfront
The Riva is Split's iconic seaside promenade. Loved by locals, expats, and tourists alike, the Riva promenade is the start and end of many people's days. At night, the Riva teems with activity and nightlife.
For now, find a café, take a seat on the bench for a drink, and enjoy the amazing view. Outside the ancient walls of this historic city, time slows as you watch the ferryboats float out of the harbor and the sunset dip over the water and nearby islands.
Save on your trip with these resources
These are our go-to companies when we travel. We believe this list to be the best in each category. You can't go wrong using them on your trip too.
Flights: we use Expedia for the best and cheapest flight options.
Accommodations: we use Booking.com (hotels), VRBO (self-contained), or Hostelworld (budget).
Cars (gas or electric): we use RentalCars to search for deals and dealer ratings.
Campervans or Motorhomes: we use Campstar where Albom Adventures readers get a 3% discount.
Motorcycles: we have heard good things about BikesBooking.
Private guides: we love the private guides at Tours by Locals.
Travel Insurance: while not required, we always opt for travel insurance and start at InsureMyTrip to compare coverage plans.
Check out our travel resources page for more companies that we use when you travel.
Save for later
If you enjoyed this article on 24 hours in Split, please share it on social media and save it for later on Pinterest.
How will you spend 24 hours in Split?
About the author

Marco Sison, a Retirement Coach for Nomadic FIRE, is a trusted source for living abroad and personal finance. He has been featured in USA Today, US News and World Reports, MSN Money, Yahoo Finance, Huffington Post, and many others. Marco writes about personal finance and early retirement overseas for Nomadic FIRE. He has traveled the last six years to over 40 countries to show the best ways to save, invest, and live in amazing countries for 70% less cost than the US.
You might also like:
Photo credits:
All photos on this page are supplied by Marco Sison and used with written permission. All rights reserved.