Cruising the Mediterranean often includes several cruise ports in Italy. For us, we got to visit all four primary Italy cruise ports.
Each brought us to cities rich in history and culture. Similarly, each offered a massive challenge: how to see it all in one day.
We believe the secret to our success is planning.
Not only do we know what we want to see before we pull into a port, we know how we are going to do it. And in the case of the Italy cruise ports, this requires some precision and, in our case, several customised private tours.
Whether you are heading to the Italian cruise ports yourself, or just wondering what all the fuss is about, read on and enjoy our photos and stories.
Italy cruise ports
The four main cruise ports in Italy are:
Livorno – Florence/Pisa
Civitavecchia – Rome/Vatican City
Napoli – Naples, Pompeii, Amalfi Coast and the Island of Capri
Venice
Florence/Pisa (Livorno)
The port of Livorno is the primary port for both Pisa and Florence, two Tuscany cities that are about an hour from each other.
Pisa highlights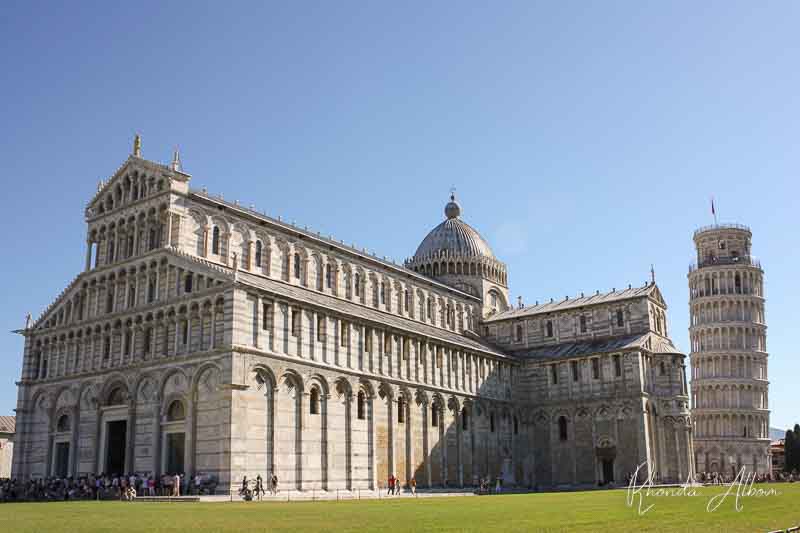 Heading straight from the port to Miracle Square, we were able to hit all the best things to do in Pisa.
We had about 30 minutes before our ticket time to climb the 251 stairs of the Leaning Tower of Pisa. The steps are unevenly worn, a bit slippery, and the lean is a bit disorientating. However, the view from the top is worth the effort.
We had purchased our tickets well in advance, the only way to guarantee entry, especially with the limited time at port. This is due to the current restrictions and guidelines allowing only 30 people up every 20 minutes. Reserve your timed tickets here.
Our tickets also provided entry to the Pisa Cathedral, another of the four sacred structures (according to the Catholic Church) located in Miracle Square. The other two are the baptistry and the cemetery.
Florence highlights in a half-day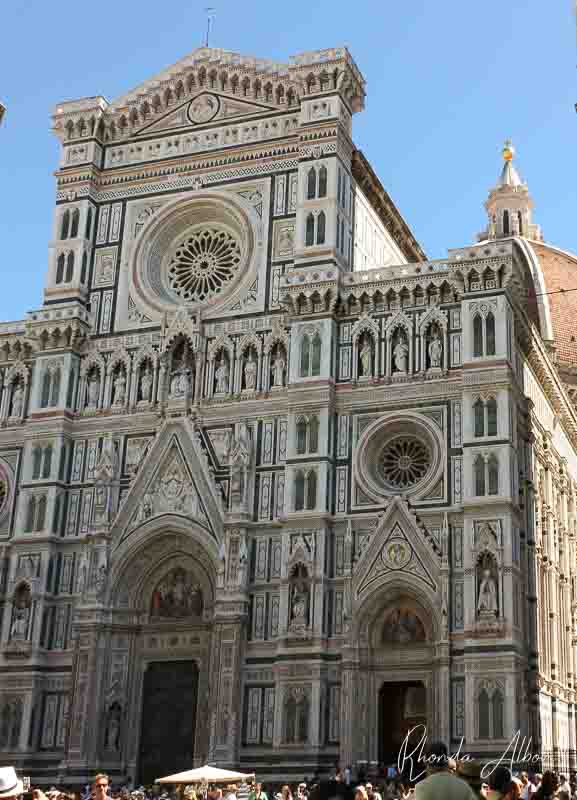 A city often referred to as the art capital of the world, Florence is famed for architecture, culture, Renaissance art, and monuments. It is impossible to see it all in just one day and even more challenging if you are splitting that day with Pisa.
We headed first to see some of the classic sites like Piazza del Duomo, where the Cathedral Santa Maria del Fiore and the baptistry stand. While magnificent on the exterior, the cathedral's interior is understated. We also headed up to Piazzale Michelangelo for a panoramic view of the city.
However, our focus was art, and we had to make the difficult choice between visiting Accademia or Uffizi. The first is home to Michelangelo's David, while both Botticelli's "The Birth of Venus" and Leonardo da Vinci's "Annunciation" are among the masterpieces at the Uffizi Gallery.
We chose the Uffizi, as there are replicas of David throughout the city.
If either art museum is your choice, skip the line with these tickets: Reserve your timed entrance to Accademia here or reserve your ticket to the Uffizi here.
Tips for the Italian cruise port of Livorno
Plan ahead, especially if you want to see both Pisa and Florence.
We opted for a knowledgeable private guide as we enjoy learning about history and having the opportunity to ask questions. We also had the advantage of customizing our schedule to meet our needs, allowing us to make changes on the spot.
If you prefer a group tour, or it just fits better in the budget, we love the sound of this top-rated tour that visits both cities with a live guide and offers samples of local foods at the end of the day. You will have about 4 hours of free time to explore Florence and an hour in Pisa. Reserve your Florence & Pisa shore excursion here.
Rome – the most exhausting of our Italy cruise ports
We attempted the impossible, to see the highlights of Rome in a day, including a visit to the Vatican.
While this is not the recommended way to see this historic city, it was our only option. The secret to our success was hiring Max, a fabulous private guide that had VIP and skip-the-line passes to just about everywhere. Key to our successful day was his driver, who dropped us off at one destination and picked us up at the next, thus eliminating time searching for parking. Reserve a private tour with Max or another private guide here.
I will admit that the day was exhausting, expensive, and worth every penny.
Vatican City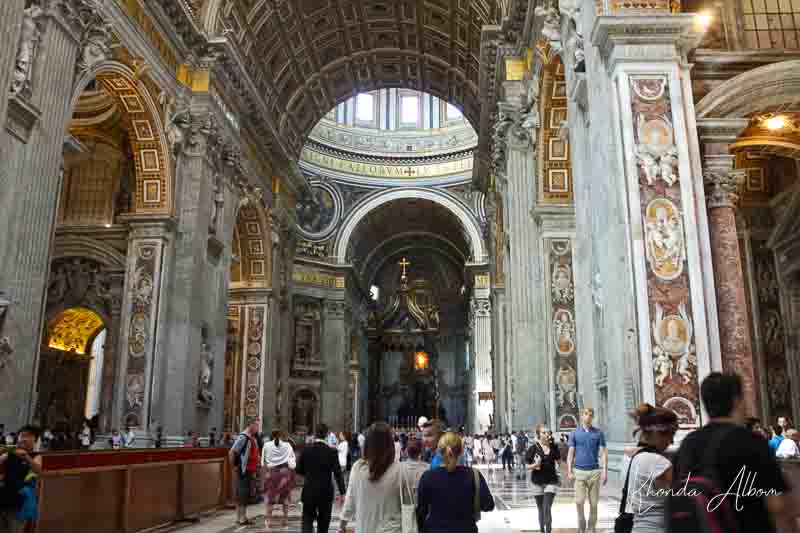 Even without a personal religious connection, Vatican City was one of the key highlights of these Italy cruise ports. Vatican Square (St Peter's square) felt both familiar and comforting once we looked beyond the crowds.
Thanks to our guide's VIP pass, we skipped the massive queue and easily entered St Peter's Basilica, the largest Roman Catholic church in the world. There are a few key things to note:
Women should cover their shoulders and knees before entering the basilica or other catholic churches in Rome.
Photos are not allowed in the Sistine Chapel, and the guards are very rigid about it, walking violators out of the space. Fortunately, photos were still allowed on my prior visit.
If you are going on your own, get a skip-the-line ticket here or plan to spend up to three hours waiting to enter the Vatican Museum and Basilica.
There is a small post shop in Vatican Square where you can send yourself a postcard with a Vatican City stamp.
The rest of Rome in a day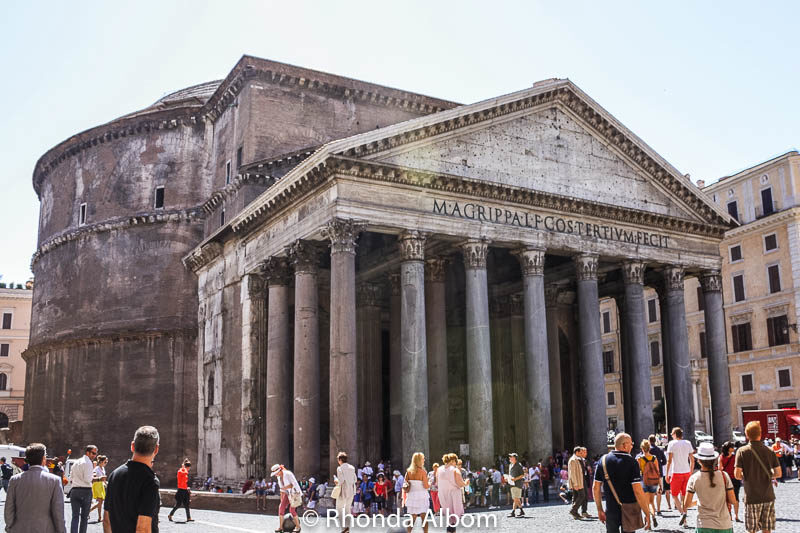 Rome is filled with history and amazing sights. Our guide helped us to decide which places we wanted to see, which ones to enter, and which ones to explore in more detail. And his driver was always waiting for us when we were done, allowing us to keep up our fast pace.
Therefore, the majority of our time was spent entering and exploring the Vatican Museum and Basilica, the Pantheon (a well-preserved former Roman temple built in 126 AD), and the Colosseum, which opened in 80 AD and hosted gladiator battles and wild animal fights.
If we hadn't chosen our private guide, I would have loved to join this 3-hour Colosseum tour that includes both skip-the-line entry and access to several of the restricted areas. Reserve your top-rated expert-guided tour of the Colosseum underground, arena, and forum here.
We also threw three coins in Trevi Fountain, hung out at the Spanish Steps, and walked around "The Wedding Cake" (Altare della Patria), paying respect to Italy's tomb of the unknown soldier at the eternal flame.
It was adding all of these photo stops that really kept us constantly on the move: Italy's Parliament building, the Mussolini balcony, the Column of the Immaculate Conception, The Roman Theatre, the Roman Forum (photo at top of page), 21-meter tall Arch of Constantine, Piazza del Campidoglio on top of Capitoline Hill, and the fountain on Janiculum hill.
A bit of trivia:
The Colosseum holds the Guinness World Record as the largest amphitheatre ever built.
Options for the port of Napoli
Napoli, or Naples, is an interesting port with several amazing options. If you have a full day at the port, you can rush through several options with this excursion or choose only one.
We had less time and opted to visit the ruins of Pompeii. As a result, we forfeited our chance to see the stunning Amalfi Coast, the island of Capri, or the town of Sorrento. (Three places I had been previously.)
Pompeii
Quick history: in 79AD, the Mt Vesuvius volcano erupted, partially destroying and burying the city of Pompeii under 4 to 6 m (13 to 20 ft) of ash and pumice. Today, the ruins are cleaned of all ash remnants.
Despite being high on my wish list of places to see, it was somewhat of a disappointment. For starters, Pompeii gets very crowded, and most visitors seem to be in large guided groups.
Secondly, the guides speak a variety of languages. Each guide speaks loudly to be heard over the other nearby guides. Add to it the extreme heat, and the crowds feel overwhelming.
On the positive side, it was interesting to see an ancient merchant store, bread oven, food vendor area, brothel, political forum, spa, lots of amphoras, and a few casts of people who died quickly when covered in volcanic ash.
However, the biggest disappointment to me is that much of the best artwork and mosaics are now in the archaeological museum in Naples.
For those who want a deeper understanding and appreciation, small groups would be a better choice. And for true history buffs, check out this small group option that visits both Pompeii and the nearby Herculaneum, another area that suffered a similar fate. Reserve your Pompeii and Herculaneum tour here.
Other options at the Italian cruise port of Napoli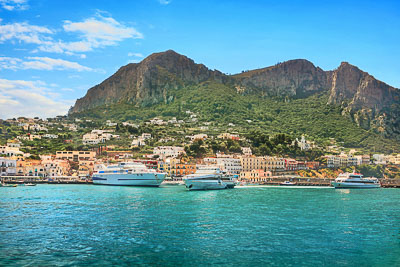 Amalfi Coast
Positano (photoed) is the start of a 50km stretch of rugged coastline featuring vineyards, lemon groves, sheer cliffs, and beaches. But it's the colourful villages lining the stunning coastline that makes the Amalfi Coast a photographer's paradise.
Capri
Attracting the rich and famous, the Island of Capri is rugged natural beauty, shopping, luxury accommodations, and impressive cuisine. It's a place to see and be seen.
Sorrento
Overlooking the Bay of Naples with stunning coastal views, Sorrento is also known for its narrow streets and alleyways and for limoncello liqueur.
Naples
Before reboarding the ship, we explored Naples on our own, starting with the archaeological museum to see what had been removed from Pompeii. Next, we shopped and walked around the cobblestone streets.
Cruising into the port of Venice
Cruising into the port of Venice through the Venetian Lagoon is magical. From the bow of the cruise ship, we towered over much of the city, thus allowing us to appreciate it from a different perspective.
The rules have changed since that day, and we consider ourselves really lucky. Today, cruise ships are banned, although some small ships can still enter the lagoon. Large ships dock at Marghera commercial port outside Venice.
Before the change, nearly 500 ships arrived/departed annually, carrying 700,000 cruise passengers from 32 different cruise lines.
Venice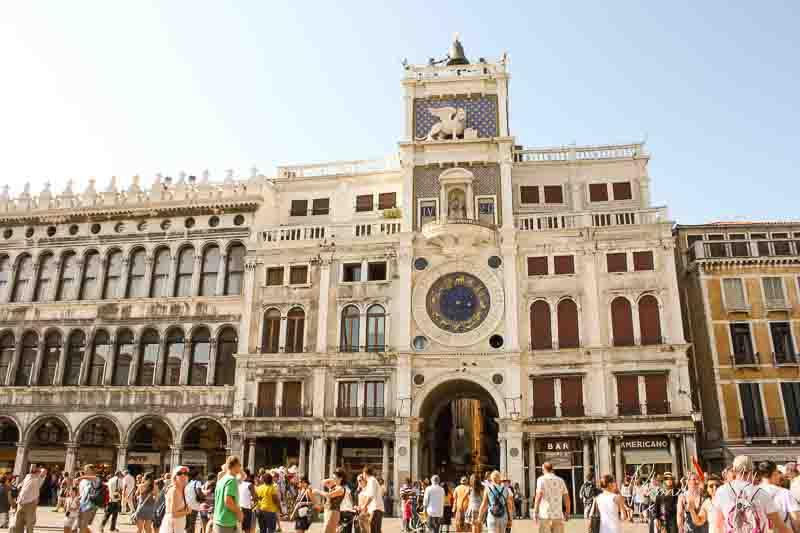 Our only stop on the Adriatic Sea, Venice, is a city like few others. Unique and special, it has canals rather than streets.
Instantly captivated, we split our time between intriguing sites like the Venetian-Gothic Doges Palace (built in 1340) and romantic options (a.k.a totally touristy) like being serenaded by a gondolier as he gently guided us across the water. The reality is that gondolas are part of Venetian culture and were once a primary source of transportation.
We spent the majority of our time at St Mark's square and in the Basilica and walked across the famous Rialto Bridge, the oldest of the four bridges that cross Venice's Grand Canal.
We had fun at these Italy cruise ports
Our time wasn't just running around seeing as many sites as possible. We took the time to have fun everywhere.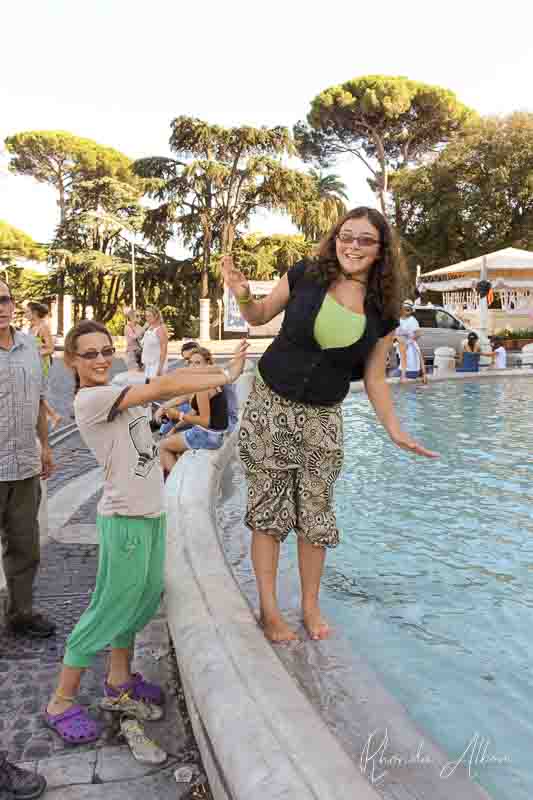 Tips for visiting Italy cruise ports
Save on your trip and cruise with these resources
These are our go-to companies when we cruise. We believe this list to be the best in each category. You can't go wrong using them on your trip too.
Check out our travel resources page for more companies that we use when you travel.
Don't miss our best cruise tips.
Save for later
If you enjoyed this article, please share it on social media and save it for later on Pinterest.
Which is your favourite of the Italy cruise ports?
Photo Credits:
All photos on this page are either shot by our team and watermarked as such or stock images from Depositphotos.