The contrast of the stark whitewashed buildings against a deep blue sky and turquoise sea captivated my attention as we sailed into the Mykonos cruise port. We could see the famous Mykonos windmills on the hill. The world looked peaceful.
However, like many of the Greek Islands, Mykonos harbour depends heavily on tourism, and our ship was one of several to dock here on this day. Ideal for business, but not so great for visitors.
Despite the tourists, Mykonos is a Mediterranean paradise, albeit too windy for the beach on the day we visited. Instead, we explored. The cobblestone streets lead us uphill into the village and to the famous Mykonos windmills.
Iconic windmills of Mykonos
Now an icon to the island, the three-story Mykonos windmills originated in the 16th century. Primarily built to mill wheat, only 16 windmills remain on the island. Of these, seven overlook the Chora Mykonos Harbour in an area now called Kato Mili. From here, you can look across the bay to the Mykonos cruise port.
The white walls and straw roof against a cerulean sky are a magnet to photographers.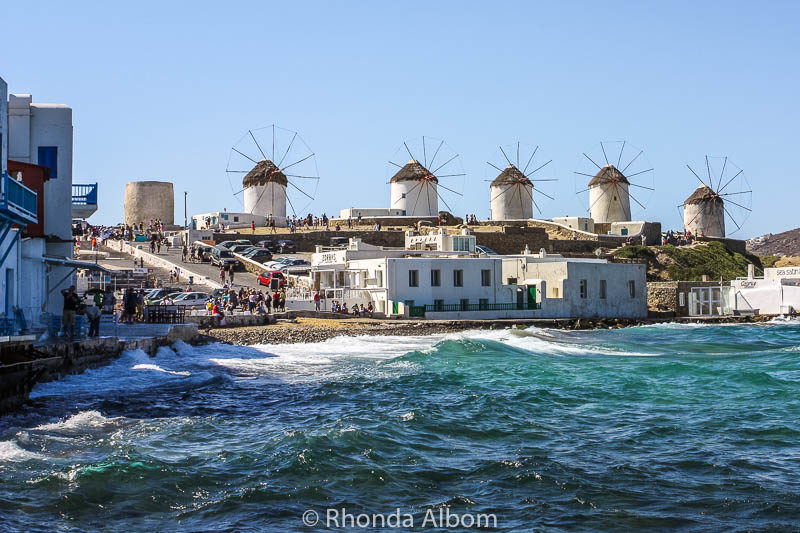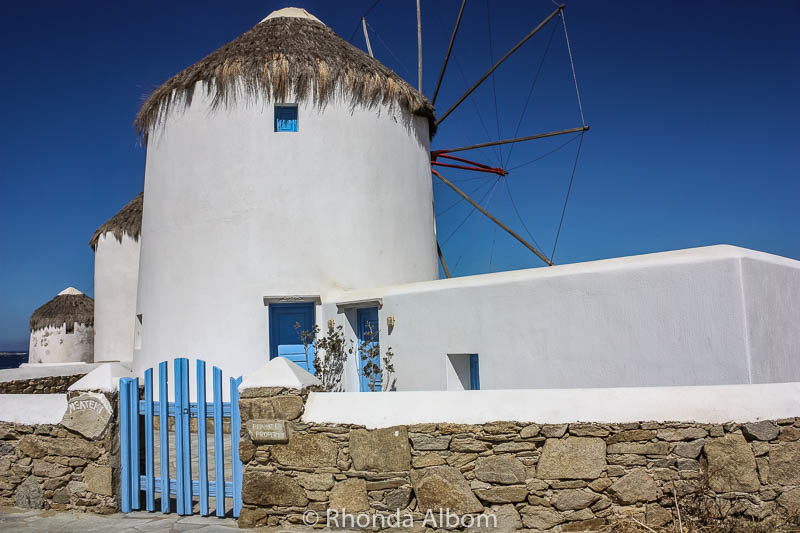 Shore excursion options
If you are arriving via the Mykonos cruise port, you have three main options:
Explore independently: This is what we did. It is the ideal option for people who are comfortable doing their own research prior to arrival and happy to explore an unfamiliar area on their own. The town is close to Mykonos port. It is easy to explore on foot. We love Rick Steves' Mediterranean Cruise Ports book for this region.
Take a tour offered by the cruise company: This is the easiest option and ideal for visitors who don't want to walk to town and for those who don't feel comfortable exploring independently. This will be the most expensive option.
Take an independent tour: Often offering the same options as the ship, independent tours generally are more personal as they have fewer participants and are lower in cost. Run by locals, we have had good luck with independent tours. Here are three we like the look of:
Excursion tours that include the Mykonos windmills
We love walking tours. The slowed movement through an area allows us to get a far better understanding, especially if we are visiting for a limited time.

Mykonos Walking Tour: This top-rated three-hour walking tour starts from either hotels or the cruise port and takes visitors beyond the superficial as they travel back in time. Tour highlights include the windmills amongst the many key sights of the town. Plus, you will visit and enjoy a treat from a traditional bakery. Reserve your Mykonos walking tour here

Mykonos Shore Excursion: City & Island Tour: This four-hour highly rated tour is priced for groups of up to three people. It includes both a 1-hour walking tour of the city and a driving tour that visits a beach, two panoramic viewpoints, and an interior island traditional village with a 400-year-old monastery. Reserve this Mykonos shore excursion here

e-TUK Mykonos Riviera Tour: This is the perfect tour for people who are environmentally conscious, like to have a guide in a new city, but don't like to walk. These are private tours in 100% Electric TUK TUK vehicles. Reserve your e-TUK Mykonos Riviera Tour here

By law, whitewashed buildings line Mykonos streets
Mykonos is part of the Cyclades Islands. By law, any new houses (since 1974), or repainted houses on the Cyclades Islands are to be white. As the white houses boosted tourism significantly, the law has been kept intact.
Whitewashed Greek Chapels
Small churches and chapels are around every corner.
In fact, there are more than 600 churches on the island, hundreds more when you include the monasteries and small chapels. Many of the iconic whitewashed Greek houses and chapels have accents of blues, reds, or purples. Visually, Mykonos far exceeded my expectations.
Here are a few of Mykonos churches that caught our eye:
Wall of water
As we arrived on an exceptionally windy day, we found several areas along the shore with water hitting and splashing up along the seawall.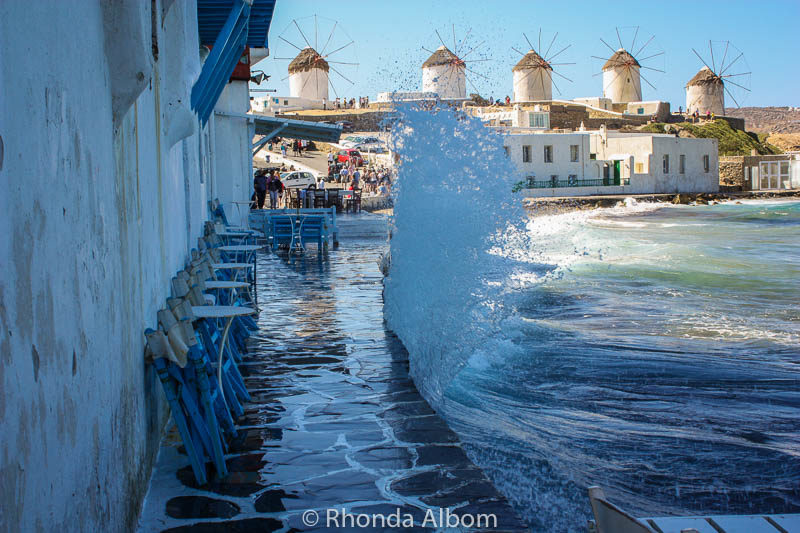 More on Mykonos cruise port
There are two ports, the Mykonos old port, which generally brings cruise passengers to the shore via tender, and the Mykonos new port in Tourlos, which is about 2 kilometres away.
We docked at the new Mykonos port and took a free shuttle provided by the ship to town, although we could have walked.
Mykonos was a sharp contrast to our other Greek port, the capital city of Athens. (We arrived in Mykonos between the ports of Naples, Italy and Istanbul, Turkey).
Given the opportunity, I would love to go back and spend a week here on Mykonos. Nightlife is one of the island's well-known features. We clearly missed this aspect with only one day in Mykonos.
Rick Steves' Mediterranean Cruise Ports is the best book we have found, whether you are doing your own shore trips or ship excursions.
Mykonos is one of the several incredible European Islands to visit.
Please save for your next cruise and share
If you enjoyed this article on our visit to the Mykonos cruise port and the whitewashed building, chapels, and the iconic Mykonos windmills, please share it on Pinterest.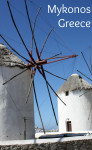 Read these 25 Tips for Cruising that Every Cruiser Should Know before you sail to the Mykonos cruise port.
Get our free cruise packing list
Also, if you are cruising, join our mailing list and get a free copy of our packing light for cruising checklist.
Have you been to Mykonos?