One day in Athens is all cruise ship passengers have to explore the historic sites of the ancient empire and the modern portions of Greece's capital city.
It's a city filled with history, culture, and a modern flair. Therefore, the task of seeing Athens in a day is almost impossible. However, with proper planning, we hit the key sites, discovered several new ones, and even had time to enjoy a meal.
Below we highlight the key places to visit in Athens including significant landmarks, culinary delights, and both ancient and modern art. We also share with you the sites we chose not to see in our limited time.
With only one day in Athens, there are plenty of choices to be made and we hope we have simplified your task with our information and recommendations below.
Note: Based on world conditions, we advise checking official channels including cancellation policies prior to booking. Also, with often reduced capacity, booking ahead becomes more important.
Our best tips for seeing Athens in a day
Planning our Athens must-see list in advance of arriving.
Comparing the tours to see which ones match our list.
Pre-purchasing a tour, or in our case, a private driver as none of the tours matched our must-see list.
Acropolis (a one day in Athens must-see)
Our first stop was the Acropolis, which literally means "high city." This ancient complex sits high above the city and is home to many famous temples and other historic structures.
We opted to start our day at the Acropolis, in hopes of arriving before the tour busses and the hordes of tourists that visit here each day. And while the crowds were massive and social distancing non-existent, it only got worse even in the 1.5 hours we spent here.
If you are on your own, or with a driver or guide that doesn't have an entry pass, our top recommendation is a skip-the-line pass. While you can get a skip-the-line pass for the acropolis only, generally the 6 archaeological sites combo ticket is the better option.
Key sites on the Acropolis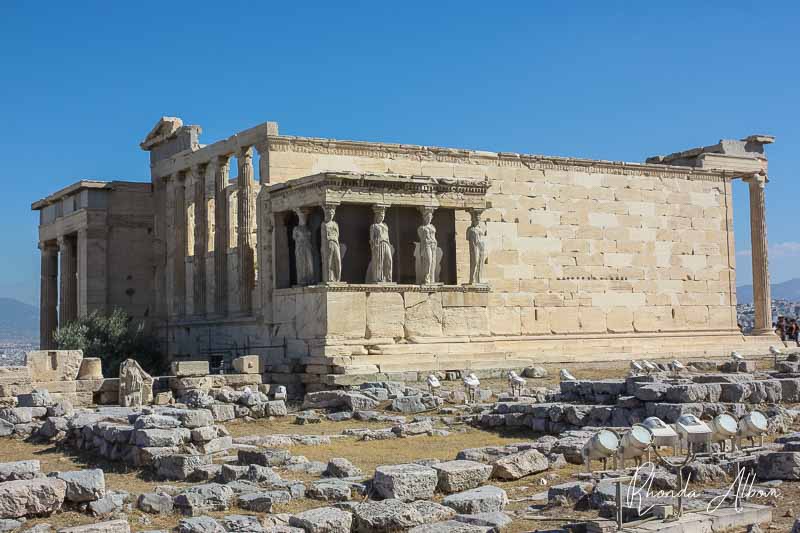 Erechtheion (Erechtheum)
Built between the 4th and 5th century BC, it houses the tomb of King Erechtheus and the Temple of Athena-Polias which held the goddess' wooden cult statue. The famous Porch of the Caryatids (seen in the photo and at the top of the page) sits on top of the Tomb of Kekrops.
Parthenon
It was built and dedicated to the Greek goddess Athena, goddess of wisdom, handicraft and warfare. The temple is generally considered to be the culmination of the development of the Doric order of Greek architecture.
Odeon of Herodes Atticus
A stone theatre built in 161 AD (renovated in 1950).
Temple of Athena-Nike
The smallest temple on the Acropolis is dedicated to the goddesses Athena and Nike.
Monument of Agrippa
The monument, located west (left) of the Propylaea of Athens honours Eumenes II of Pergamon and his victory in the Panathenaic Games chariot race.
Theatre of Dionysus
Originally built of wood in the 6th century BC, it is one of the most important theatres in ancient Greece. It honours the Greek god of wine and theatre.
Propylaea
This is the ceremonial entrance to the Acropolis. It was the last in a series of gatehouses built.
A side story …
The first image was taken over 30 years ago when I toured Europe as a recent university grad. It was sold to us as a postcard and mailed home. I am the third from the left. Thirty years later, I took the second shot of my girls based on my memory.
Agora (gathering place)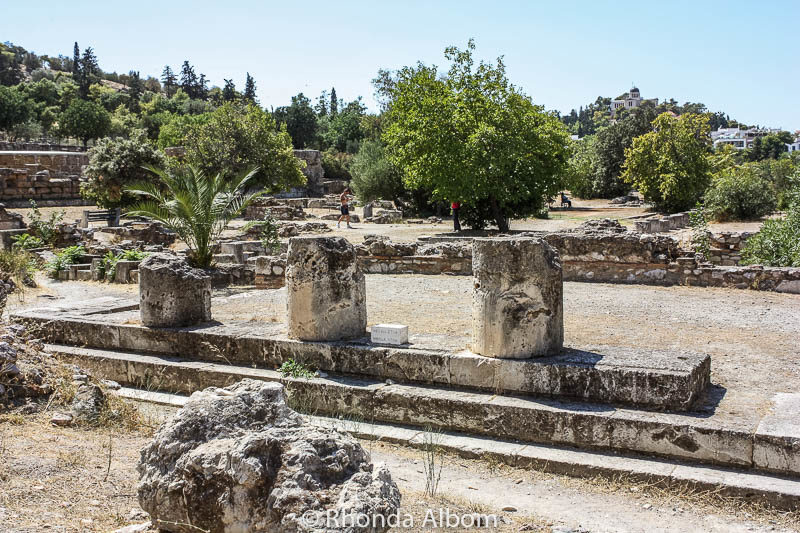 The Agora is another key site for any one day in Athens itinerary. Literally, a gathering place, this ancient marketplace was once both a political and trade centre.
Start with the Stoa of Attalos at the Agora, a rebuilt (in the 1950s) ancient shopping and gathering place. It's equally interesting inside and out. Inside, the Museum of Ancient Agora is filled with historic statues, mosaics, and other things that will help you understand what's here.
There's also an ancient portion, much of which you will walk past if you make your way to the 10th-century Temple of Hephaestus.
Greek Parliament and the changing of the guards
Every hour, on the hour, the changing of the guards at the tomb of the unknown soldier takes place in Syntagma Square (the central square of Athens), just outside of the Greek Parliament building. Built during the mid-1800s, today's parliament building was initially home of King Otto (often referred to as the first king of modern Greece).
With limited time, we didn't walk behind Parliament to enjoy the 15-hectare National Gardens.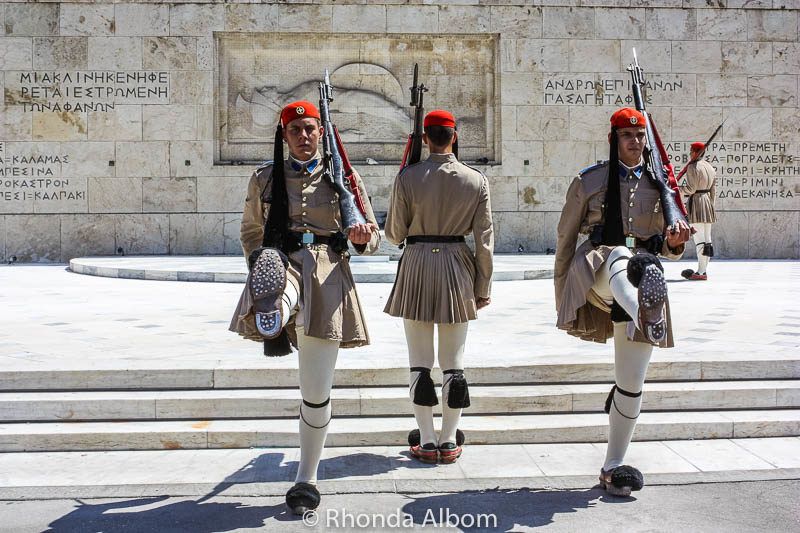 Visit a museum (even with one day in Athens)
One day in Athens means time for only one of the two key museums – the National Archaeological Museum of Athens or the Acropolis Museum. A difficult choice, but with limited time, it has to be made.
New Acropolis Museum
We opted to spend our time here amongst artefacts found at the acropolis. As a bonus, the air-conditioned museum was a refreshing break from a blistering hot day. Cramming this museum into your day in Athen will mean planning your highlights.
National Archaeological Museum of Athens
A bit more difficult to get to with a tight schedule, here one finds the history and the archeology of all of Greece.
Other significant museums in Athens Include:
Museum of Cycladic Art
The Byzantine and Christian Museum (exhibits from the 3rd century AD to the late medieval era)
The Numismatic Museum (one of the world's most comprehensive collections of ancient and modern coins)
The National Museum of Contemporary Art (located in a former brewery)
The Jewish Museum of Greece
Panathenaic (Olympic) Stadium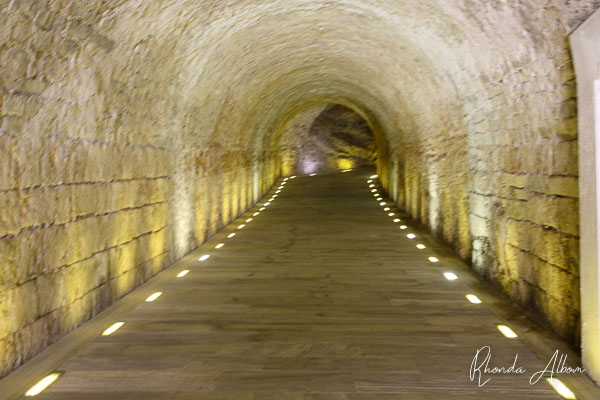 The Panathenaic (Olympic) Stadium is the only stadium in the world built entirely of marble. It has hosted three Olympics: the first modern Olympic Games in 1896, again in 1906, and events of the 2004 Olympics.
Less popular than other sites, it was empty enough for our girls to have a race around the Olympic track and then stand on the podium.
One often missed highlight are the Olympic torches. Before each games, a torch is lit in Athens and tours Greece. Next, the flame transfers to a flight-safe lantern and is sent to the host country. Here the flame lights an identical copy of the first torch before continuing the run. There are six copies made of each torch.
Unfortunately, the room housing the original torches isn't signposted. To find it, climb the stairs at the end of the tunnel that leads out of the stadium (the tunnel is on the far side from the entrance).
Other historic sites to squeeze into your one day in Athens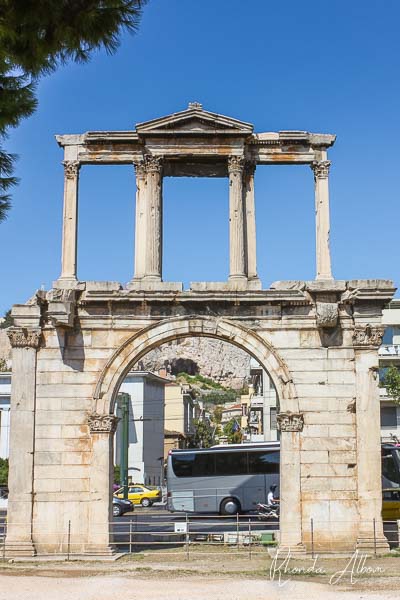 Hadrian's Gate
It was possibly built to celebrate and honour the arrival of the Roman Emperor Hadrian in 131 AD.
Athena
One of many statues around the city dedicated to the goddess Athena, the patron and protectress of the city of Athens. This one is in front of the Academy of Athens.
The Temple of Olympian Zeus
This former colossal temple is one of the Greek-Roman empire's largest ancient temples.
Enjoy a meal or snack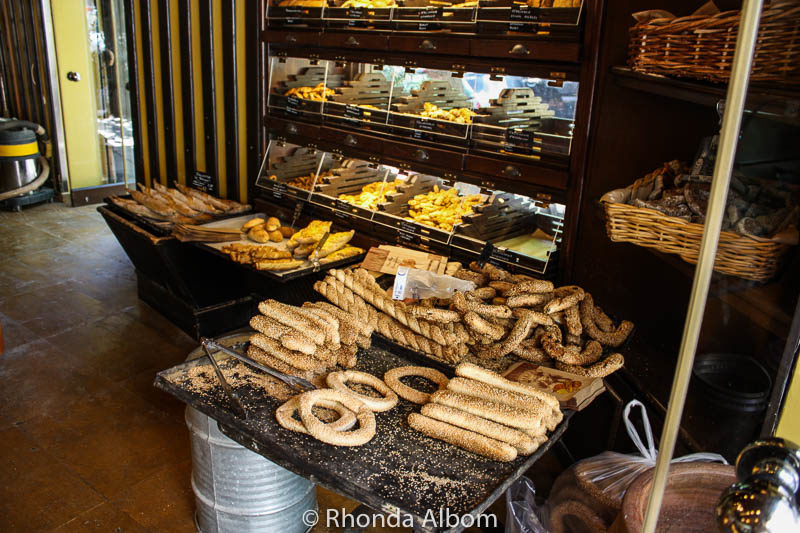 While we ate a traditional Greek souvlaki lunch, we didn't take photos. However, we did get some delicious shots from our morning tea.
Did we see all of Athens in a day?
Of course not.
We did see many of the highlights, but here are a few more key things to do in Athens that we missed:
Walk the labyrinth of streets and have a coffee or meal in the old historic Pláka neighbourhood.
Shop in the Monastiraki district.
Stare in awe of the ruins of the Theatre of Dionysus Eleuthereus.
Imagine participating in one of the Athenian assemblies at Pnyx, and being a part of the creation of democracy in 507 BC.
Study the columns and architecture at the ruins of Hadrian's Library created in 132 AD.
Creating YOUR things to see in Athens in a day list
First, the list of best things to do in Athens will be slightly different for each person.
To create your "top things to do in Athens Greece" list, start with informational pages like this one, written by people you trust. This page represents what we believe are the top Athens attractions.
Next, take notes.
Then, get yourself a guidebook that you can carry on the ship where you might not have access to the internet. We personally recommend Rick Steves Mediterranean Cruise Ports.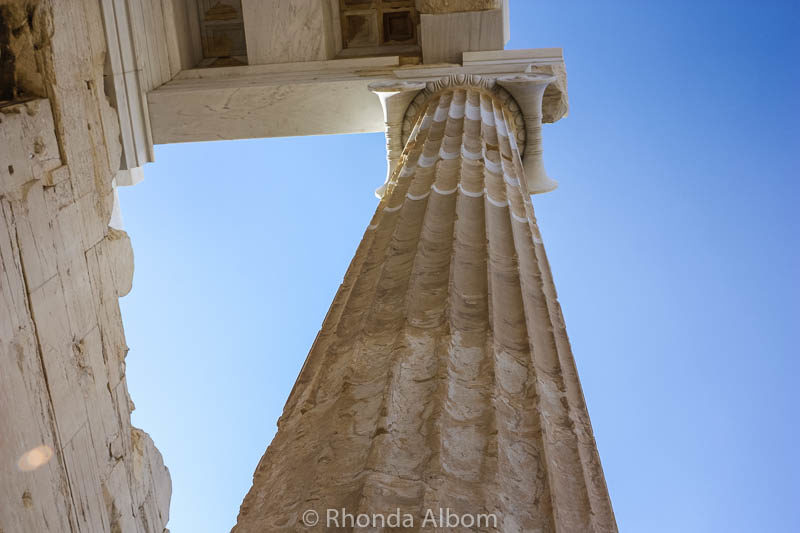 Finding Athens private tours or Athens shore excursions
Next, we reviewed the excursions offered by the ship to see if any of them went exactly where we wanted to go. We generally opt for independent shore excursions, as they cost less, do more, have smaller groups, and are more personal. The ship's tours often start more than an hour after arriving in port, have large groups, are impersonal, and frequently include a shopping stop where the ship earns commissions.
As none of the tours met our needs and for all the other reason just stated, we opted for one of a private tour in Athens Greece.
We created our own Athens itinerary in advance, and then accepted expert input from our guide. For us, this was the ideal option.
IMPORTANT: Only licenced guides are permitted to enter the venues with clients in Greece. Therefore, note and understand who you are hiring:
A private driver can take you to destinations, and tell you about them while outside, but cannot enter with you. (check out the skip-the-line pass option just below).
An official guide can accompany you into the venues.
Skip-the-line entry
If you hire a private driver or are doing it on your own, you will want to get a skip-the-line pass, as time is limited and places are crowded.
An official guide might already have one for you, be sure to check the details or ask if you can.
The best one we can find is this Athens: Acropolis and 6 Archaeological Sites Combo Ticket which will get you into Acropolis, Ancient Agora, Roman Agora, Temple of Zeus, Aristotle's School, Hadrian's Library, and Kerameikos Ancient Cemetery.
If you want a skip the line pass to only a few sites (including the Acropolis with an audio option), check out this option
Hire a private guide and driver
While there are plenty of private guides out there, we generally start with Tours By Locals, as we have had good luck with them all around the world, Athens being no exception.
The guide we used isn't currently listed. Based on reviews, we recommend Nota, a highly rated licensed guide offering an equally highly-rated tour. Her itinerary is for a full day including a driver and the schedule is customizable to meet your need. The comments say she is insightful, offers lots of information, and is very flexible while organizing to maximise what you see. Nota is a native Athenian who knows the city and is fluent in English. Book your day with Nota, or ask her questions here.
Check out these Athens shore excursions and tour options
Athens tips whether one day in Athens or longer
Visit the Acropolis as early in the day as possible as the ticket queue gets over an hour long.
Be respectful. Do not take a photo standing behind a now headless statue to give the appearance of your head being on top of the statue. We watched the guards run and stand over a tourist until they deleted their photo.
Get out to at least one of the Greek islands. We went to Mykonos. The relaxed atmosphere and stark white-washed buildings offered a sharp contrast to the fast-paced Greek capital of Athens.
Cruise and port planning tips
Spending 160+ days at sea, we discovered a few cruising secrets. In addition to our list of cruise tips, here are our best planning tools:
Cruise: We find great deals on Cruise Direct.

Flights: We like to arrive at least one day prior to disembarkation and use Expedia to discover flight options.

Accommodations before and after: We use Booking.com to find accommodations.

Private tour guides: Looking to maximize our limited time at a port, we often hire private guides from Tours by Locals.

Rental Car: When we need a car, we always use RentalCars.com, a rental car search engine with no hidden costs.

Travel Insurance: We purchase insurance that covers medical and travel emergencies when we head overseas. We use a travel insurance aggregator that gives us a free and easy-to-read comparison of the inclusions of each policy.

Packing Tips: Get a copy of our free packing light for cruise travel checklist when you sign up for our mailing list. (We pack light, yet have everything we need.)

**Find more money-saving resources on our Travel Resources page.
Save for later
Please share this article on Pinterest: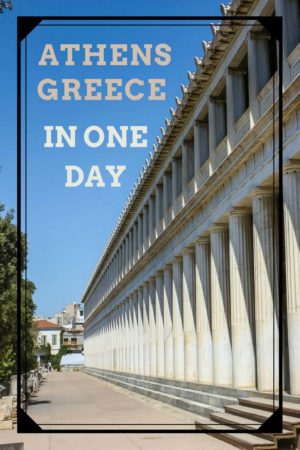 What would you see if you only had one day in Athens?