Eating onboard without cruise weight gain weight is easy with these tips, despite the challenge of all the delicious options available.
To date, we have spent over 160 days on cruise ships, and I will be quick to admit that the fabulous culinary delights are one of the day-to-day highlights. When we first started cruising, I was like many of the passengers, indulging whenever possible and leaving the ship with a 10-15 pound cruise weight gain.
And the cruise line doesn't matter. For the most post, we have been bombarded by tempting treats on all of them, and for us, that list includes Princess, Royal Caribbean, NCL, MSC, Azamara, and Holland America.
Gluttonous, continuous eating onboard appears to be the goal of many passengers. We, however, opted to stick to three meals a day (plus morning coffee and an occasional afternoon tea).
The temptation comes as, with minimal exceptions, all food is included in the cost of a cruise, and we often hear people say, "I paid for it, I am going to eat it all!"
Cruise weight gain is not mandatory!
Nowadays, I rarely have cruise weight gain.
While many consider this an impressive accomplishment, I think it is just making a plan and sticking to it. After all, every meal includes expertly prepared, appetizing, aromatic, and flavorful food.
Even after 19 days of eating onboard the Island Princess on a repositioning cruise from Los Angeles to Auckland (New Zealand), I had no weight gain.
Whether or not you have cruised before, prepare to leave this page hungry and with the tools to enjoy eating onboard without gaining weight. The food photos here are all from Princess Cruises but are quite representative of what we found on every line.
Check for cruising deals at Cruise Critic here.
See why cruise weight gain comes easy for some
Sorry if these images stimulate your hunger, but they seemed the perfect way to demonstrate why so many people need to bring elastic waist clothing when they cruise.
Room service is available 24/7. This cheese tray also arrived with a plate of individually wrapped crackers.
The sweet tray at afternoon tea. There are also finger sandwiches, cookies, and my favorite – the fresh hot scones served with jam and cream.
A typical dessert with dinner … I do allow myself some treats on my plan.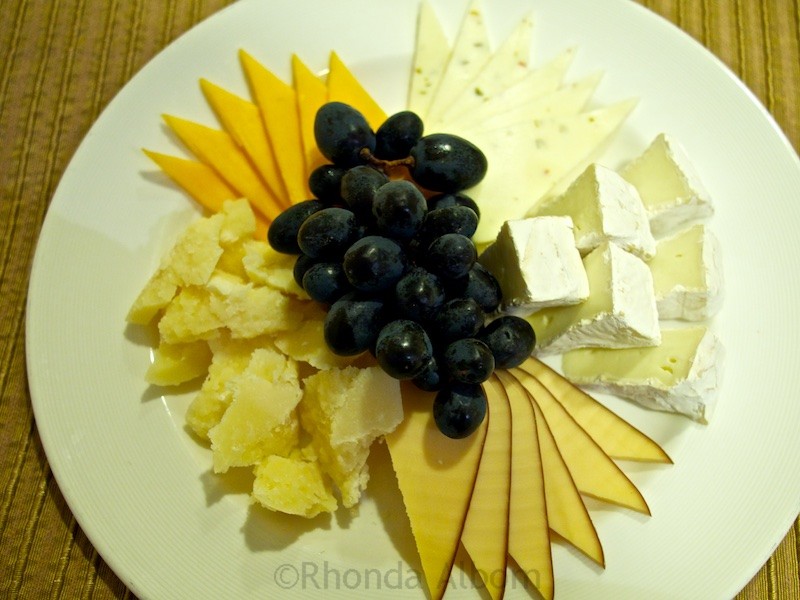 This scallop meal is one of my favorite dinners. I know my photos are heavy on seafood, as that is what I like. The cruise ship menus contain meat, chicken, and vegetarian options.
Mouthwatering and blissful paella on the Island Princess perfectly prepared.
As we passed through the Caribbean, some of the cruise ship menus reflected the local cuisine.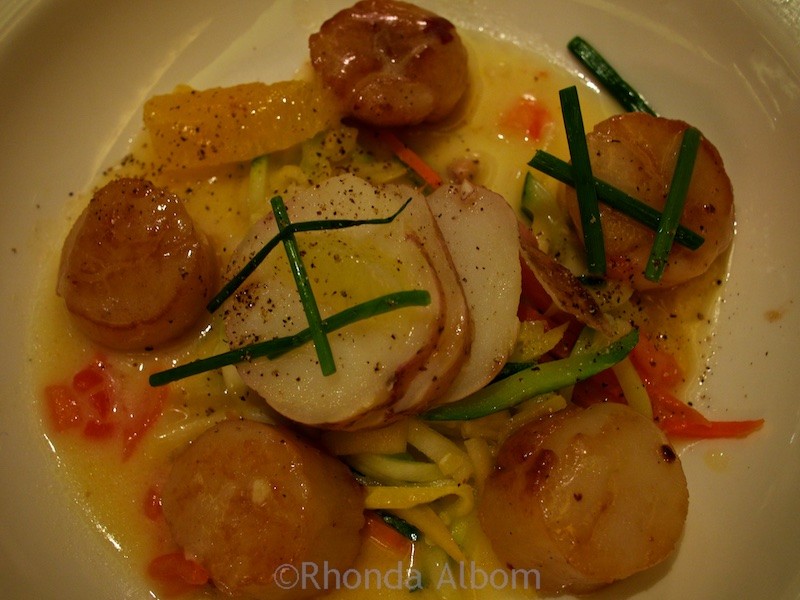 I know, I am a bit of a coffee snob. Therefore, I opted to purchase a coffee card that gave me a discounted price for 15 espresso coffees during the cruise. This is a cafe latte. If you are like me, remember to ask for it in a glass mug, or it will come in a takeaway container.
The antipasto at the top of the page was followed by hot appetizers, pasta, a lobster tail dinner, and then these three mini desserts.
One of the daily lunch options is handmade pizza at the Italian restaurant that charges a cover at dinner. There is no extra charge for this, and it is as good as it looks.
A meat pie is served at the British Pub specialty restaurants but without any extra charge at lunchtime. The pub menu also includes traditional items like fish and chips or bangers and mash.
Tips for avoiding cruise weight gain
Sorry to say it …
there is no secret; it's the same as everyday life.
Calories in versus calories out.
However, there are a few tips to help …
Best tips for eating healthy on a cruise
Order a side of steamed vegetables with your dinner; even if it is not listed on the cruise ship menu, they will make it for you.
Similarly, order a plate of fresh fruit with your breakfast.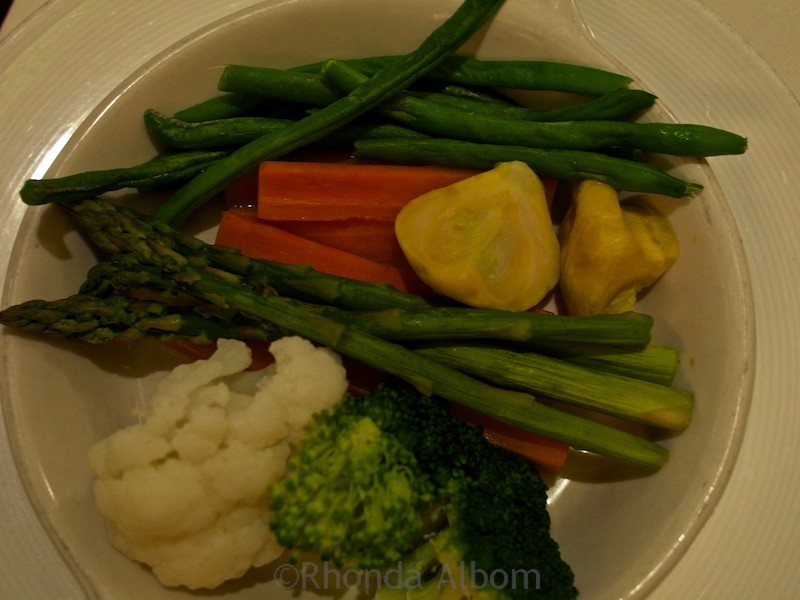 Drink water, rather than soda, throughout the day.
If you don't want to gain weight on the ship, you need to make healthy choices and get some exercise. The latter is easier, as there was both a gym and a walking track on all the ships we have sailed to date.
Join some of the active onboard options like Zumba, line dancing, ballroom dancing, swimming pools, and basketball court, and on one ship, there was even a 5K breast cancer walk.
Personally, I upped my daily walking goal. Using my Fitbit Alta HR, I strived for 15,000 steps per day before I allowed myself dessert. There is an outdoor walking track, so breathing the sea air, it is easy to get in the extra steps.
I actually lost weight on a 15-night cruise on the Azamara Quest, but I don't recommend the method used. Unfortunately, Azamara accidentally served me foods I wasn't allowed to eat on five of fifteen days, leaving me chained to my toilet and losing weight.
Check for cruising deals at Cruise Critic.
Adventurous eater in port? Think about travel insurance
If you are also an adventurous eater in ports, consider carrying Travel Insurance. As someone who has seen the emergency room of hospitals in six countries, I speak from experience.
Save on your trip and cruise with these resources
These are our go-to companies when we cruise. We believe this list to be the best in each category. You can't go wrong using them on your trip too.
Cruise: We find great deals at Cruise Critic.
Flights: we use Expedia for the best and cheapest flight options.
Hotels: we use Booking.com (hotels at our end ports) or VRBO (self-contained).
Cars (gas or electric): we use RentalCars to search for deals and dealer ratings.
Set up private guides at the ports: Looking to maximize our limited time at a port, we often hire private guides from Tours by Locals.
Travel Insurance: our go-to is Insure My Trip
Check out our travel resources page for more companies that we use when you travel.
Don't miss our best cruise tips.
If you enjoy eating on board but not the associated weight gain, please share this article on social, starting with Pinterest: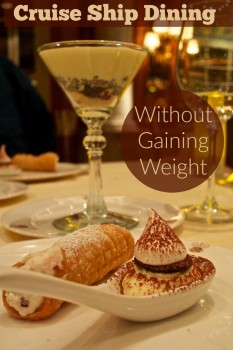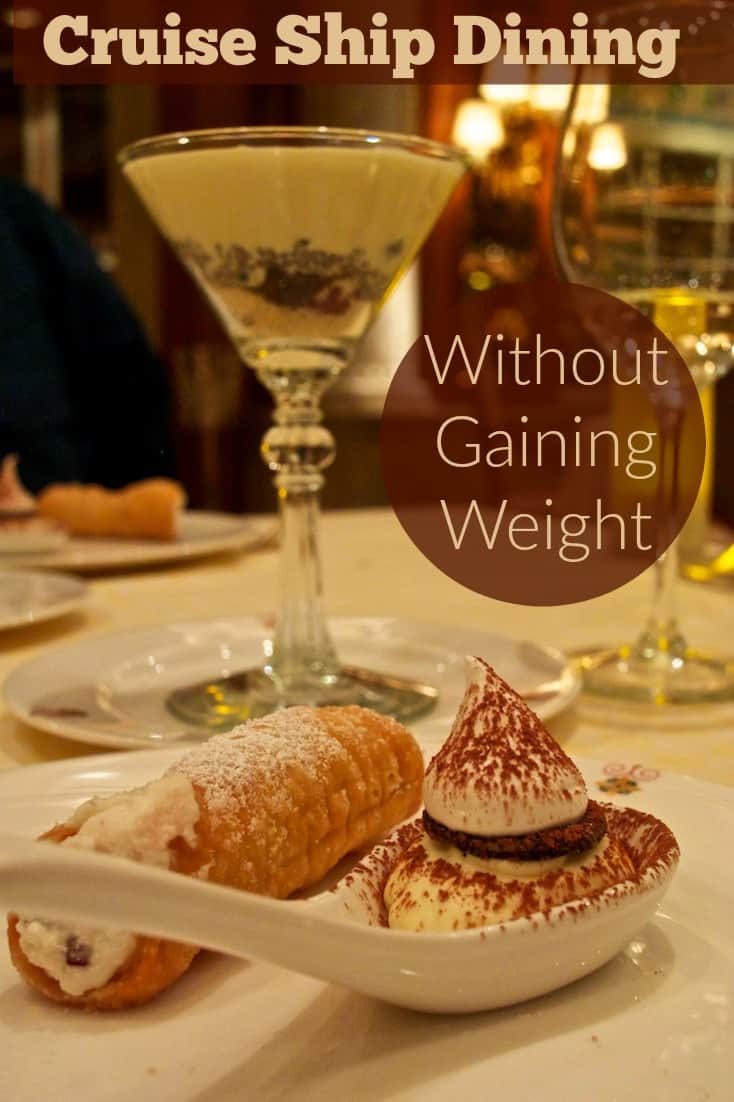 How will you avoid cruise weight gain?
Disclaimer: In addition to VIP treatment onboard the Island Princess, we were provided with many complimentary extras, including speciality dining. The opinions expressed here are strictly my own.