Let's face it, cruising and culinary excellence intertwine so tightly that many people wonder if it's possible to do one without the other. However, cruising with food allergies can be scary.
Many brands do it well, but even within that, sometimes things go wrong. The cruise line's integrity is defined by what happens next.
Our recent cruise on the Azamara Quest is one of epic failures on both counts. It was surprising and disappointing as we have sailed successfully with Azamara prior to my diagnosis.
We chose it again for its focus on destinations, including longer port times, several overnight stays, and small ships that dock closer to the cities. Plus, the regular food was excellent.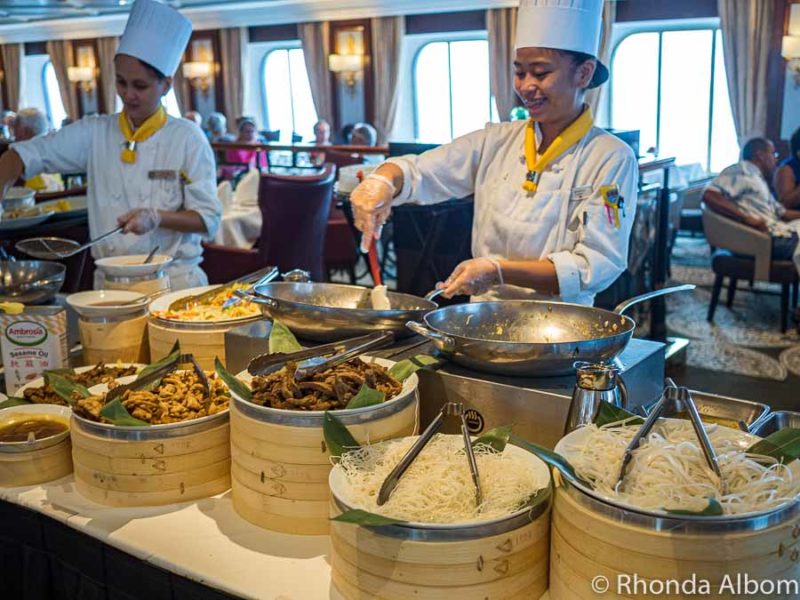 How Azamara handles special dietary requirements
As a travel blogger already in love with the brand, I agreed to write an article in exchange for unlimited internet. Once onboard, "How the ship handles food allergies" was the suggested and agreed-upon topic.
After all, the food was delicious in the past, and my food allergies are common: gluten-free and lactose-free, plus no onions, garlic, or pulses. A head waiter even told me there was another passenger on board with all of the same issues plus one more (no coriander).
I ordered my cruise meals a night in advance, so the chef had plenty of time to prepare. My successful allergy-free meals were outstanding, and the pastry chef deserves a round of applause. Unfortunately, I was served foods I was allergic to on 5 out of 15 days.
For me, it was only 67% allergy-free food days, which, in my opinion, is not good enough.
Gluten-free cruising: Epic failure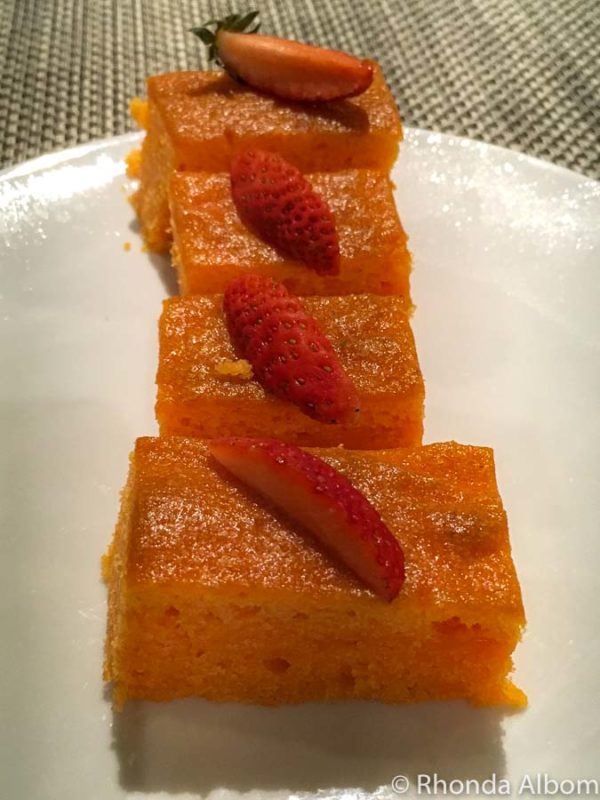 If a picture is worth a thousand words, these two are priceless:
Cake: One evening, the sous-chef brought me this "special cake" from the kitchen. After I had eaten a piece, he returned, "I'm sorry, I was wrong; that cake has gluten. Do you want something else?"
Truffles: Every night, Azamara leaves sweet treats at turndown service, which I was told are allergy safe. After I questioned our room steward for the third time, he clarified with this note. (I cannot eat either, so having one of each separately is a failure.)
Onion-free cruising: Another failure
Allergy-free meals are custom-made. I often waited up to an hour for my main. To my surprise, I found rather big pieces of onion in my food on more than one occasion.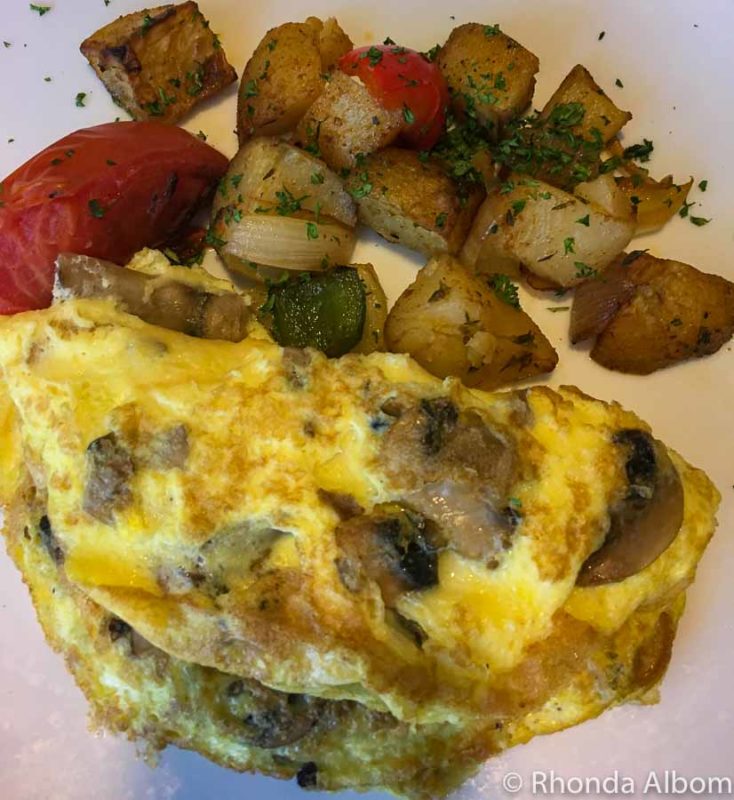 No allergy and gluten-free cruise resolution offered
There were meetings, discussions, and requests. My request was only a plan of action I could share in this article to reassure readers that this won't happen to them. Instead, the reply from the parent company, Royal Caribbean, can best be described only as embarrassing.
After spelling my name incorrectly, they opted to send all communications only to the wholesaler used by my travel agent. Rather than offering a resolution, I was given a discount on a future cruise. And to my total shock, the letter stated that we had been "advised the ship couldn't meet all of [our] needs."
Of course, this is not how I remember it. After all, if the ship had told me they couldn't manage my common food allergies, why did they suggest I write an article on how Azamara handles food allergies?
And, more importantly, what good is a discount for a future cruise on a ship that admits they can't meet my simple food allergies, thus leaving me "chained" to my toilet doing things too disgusting to discuss here, on multiple occasions?
Note: While my last two emails to Azamara have gone unanswered, should a plan of action be forwarded to me, I will add it here.
Update: Five weeks after disembarking, I shared this article with Azamara's CEO. Within days my primary contact finally replied, " . . . my sincere apologies at your expectations not being met whilst on board, with the few dietary requirements we spoke of Onion etc. . . .I absolutely understand this was not the experience I personally had promised. . . "

Clearly, this is not the plan of action I requested. Therefore, I cannot comfortably change my recommendations.
Tips for cruising with food allergies and intolerances
If you have food allergies, intolerances, or sensitivities, here are our best tips regardless of which cruise line you choose.
Do research before you go.
Notify the cruise line of your allergies before you sail.
Once onboard, and long before your first meal, sit down with the maître d' and possibly the head chef and make sure they fully understand your needs.
Question everything served to you. Trust no one. And if you are still suspicious after the waiter assures you it is fine, send him back to the kitchen to be extra sure. He is neither the one who prepared your meal nor the one who will be sick for hours or even days.
Bring "safe" backup foods, just in case.
Carry more medicines and EpiPens than you could imagine needing.
Know how to contact your own medical team, as once sick, you may not want to trust anyone on the ship.
If it all fails anyway, use the larger bathroom in the spa, as you will be in there for a while, and the tiny one in your cabin will get claustrophobic. Don't feel guilty about it; remember, it is the ship that sent you to the toilet.
Unfortunately, things can and do go wrong when you travel. World Nomads offers coverage for more than 150 activities as well as emergency medical, lost luggage, trip cancellation, and more.
*World Nomads provides travel insurance for travellers in over 100 countries. As an affiliate, we receive a fee when you get a quote from World Nomads using this link. We do not represent World Nomads. This is information only and not a recommendation to buy travel insurance.
And don't miss our general tips for enjoying your cruise.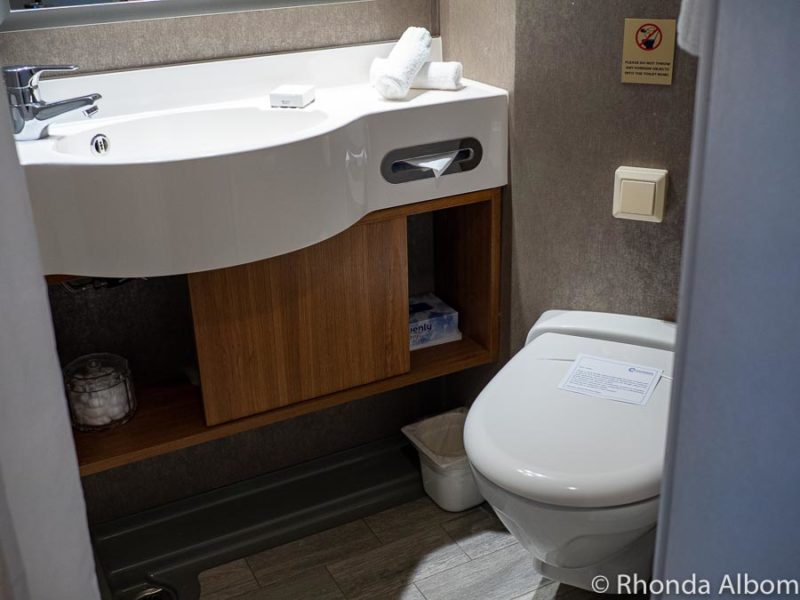 Note: these tips are not a guarantee of success, as I followed them and still had a failure. Having a working relationship with Royal Caribbean in the past, I went through my contact, who had assured me that even booking late, the food was no problem. I followed her written procedure for notifying the cruise line of my food allergies, yet it still went wrong.
It wasn't all bad
As stated earlier, the pastry chef was amazing. He created lactose and gluten-free cruise treats for me in the main dining room nightly. Three of my favourites are across the top, the middle made for me on the night of the ship's chocolate buffet.
And there was plenty of other great cruise food too, like this salmon. Just too many failures.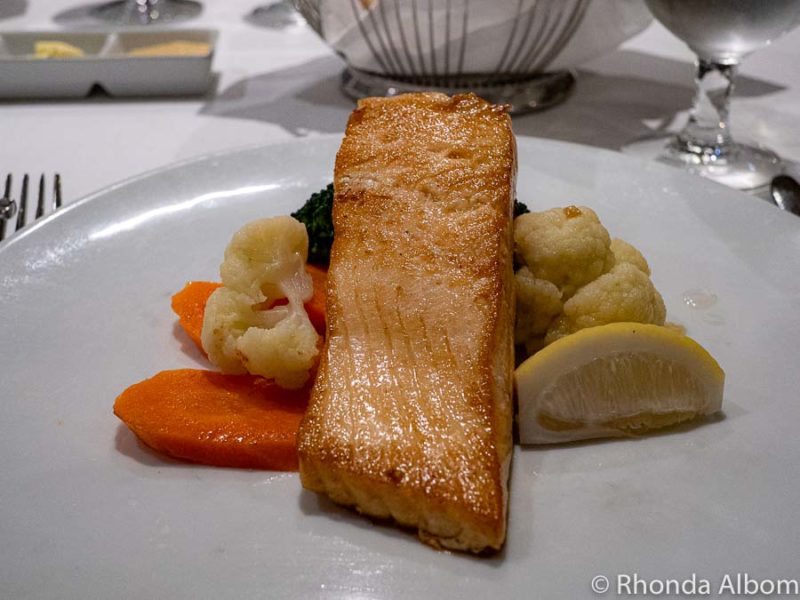 Our conclusion
If it is a good fit, you can get a great deal on an Azamara cruise here.
However, our bottom line: while I love the Azamara staff, the general first-class treatment, the enrichment programmes, and the long port times, at this time, I cannot in good conscious recommend Azamara to people with food allergies or intolerances. It does beg the question of perhaps they don't want us either, as there was at least one officer on board who knew the topic of this article from the beginning.
Save for later
If you want to refer back to this article or see if there are any updates, please save it for later on Pinterest.
What do you think is the best cruise line for food allergies?
Disclaimer: I agreed to write an article for Albom Adventures in exchange for unlimited internet during our cruise. The agreed-upon topic of this article is, "How Azamara handles food allergies". Upgraded to VIP status, we had additional perks. However, I paid my full fare for the cruise. The opinions expressed in this article are my own.