As we ticked off another item on our bucket list, we share our Panama Canal cruise review for those who wonder what it's really like to cross the Panama Canal.
This engineering wonder is worth all the hype. Our transit took us from the Atlantic to the Pacific Oceans through one of the world's most impressive engineering feats. Below, we also include a bit of history, our ports, and life onboard the Island Princess.
Crossing on a cruise ship is easier than had we tried to sail ourselves on a private vessel, mostly because all the work is done for us. Therefore, all we had to do is observe, take photos, and learn from the commentary.
Our day was long, starting at dawn and ending about 10 hours later. During that time, we learned heaps, observed locks from on the water, and created lifelong memories.
The current canal uses a three-level lock system that raises ships 26.5 meters (87 ft) prior to transiting through manmade lakes and a cut through the continental divide. The ships then arrive at the other side of Panama to lower down 26.5 meters through three final locks that lead out to sea.
Engineering commentary available on all outdoor decks and on the closed circuit TV in our cabin outlined an impressive history and pointed out fascinating landmarks as we passed.
Crossing the Panama Canal was one of many highlights of our 18-nights on the Island Princess. Read on for the details of our Panama Canal cruise review.
Key landmarks on our crossing
The canal was built through the narrowest portion of the Isthmus of Panama, where it is only 80 km (50 miles) between the two oceans. Even on the big ship, this process takes all day, between 8 and 10 hours in total.
Here's our basic route.
Limon Bay
Gatun Locks
Gatun Lake
Continental Divide
Centennial Bridge
Pedro Miguel Locks
Miraflores Locks
Bridge of the Americas
Be inspired…
Limon Bay and Gatun Locks
We approached the Panama Canal from the Caribbean Sea (Atlantic side), starting our adventure just before 6 am as we sailed through Limon Bay.
The hazy day lent an air of mystery to the early morning that seemed to enhance our excitement.
As we continued our approach to the first set of locks, several pilot boats came out to greet us. One of the four pilots that boarded the Island Princess will guide our passage through the canal.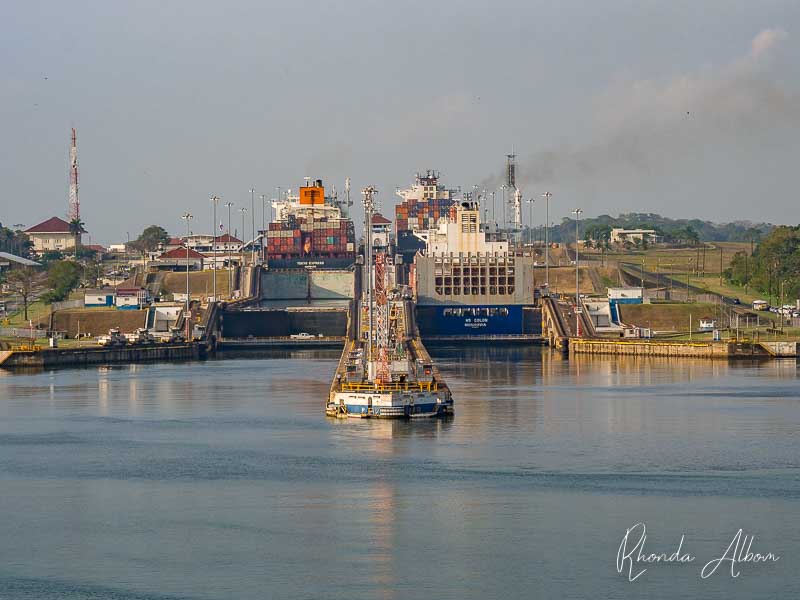 Expertly guided, our purpose-built ship slid into the first lock like a glove. The Island Princess and her sister ship, the Coral Princess were carefully built to Panamax spec, hence the largest size able to cross the canal (prior to 2016 when the larger canal channels opened).
The ship was secured, and for the next two hours, the locks took our ship from sea level to the artificial Gatun Lake at 26.5 m (87 ft) above sea level.
It's a three-step process, each lock progressing after the one before like a staircase. You can find a more detailed explanation of locks here.
By elevating the passage, less initial excavation was required.
I would be delinquent in this Panama Canal cruise review if I didn't mention that although entering the first of the Gatun locks was the peak of my excitement, by the time we exited, I realized that this was going to be a long, slow, and sometimes boring day.
Sailing across Gatun Lake
Surrounded by small jungle-like islands, huge tankers, and personal yachts, we spent the next four or so hours sailing along the man-made Gatun Lake. Like all of the canal, it is fed by the freshwater Chagres River.
Wildlife and interesting flora seemed to surround us.
Culebra Cut, Continental Divide, and Centennial Bridge
At the far end of the lake, we enter the more narrow Culebra Cut. It was one of the more complex areas to excavate as it passes through what was once a solid rock formation marking the Continental Divide.
Fascinating commentary pointed out interesting sites all day. Three that really caught my attention in this section were:
El Renacer Prison with its layers of razor wire fencing. This is a former 'home' of Manuel Noriega from 2011 until his death in 2017.
Titan Crane – a floating crane that was captured from the Nazis in WWII.
Centennial Bridge – one of only three places where vehicles can cross the canal.
Pedro Miguel Locks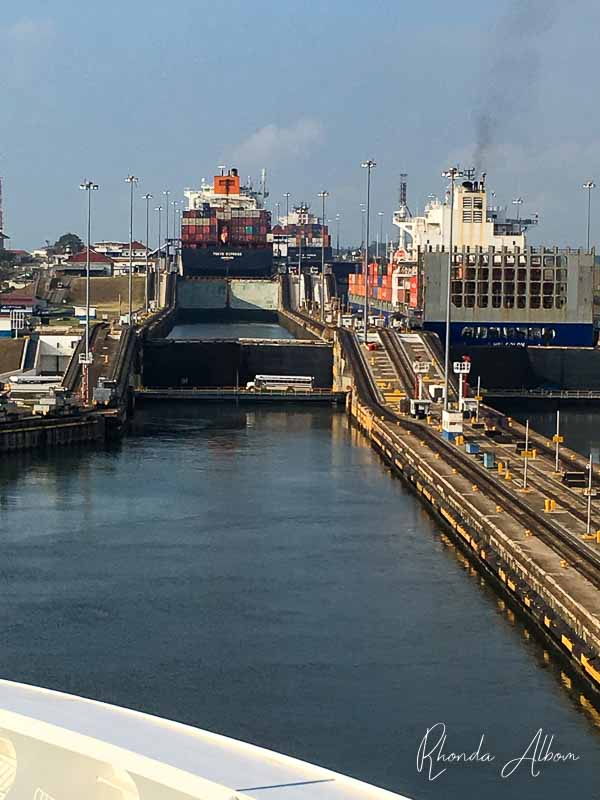 Next, the Island Princess headed into the Pedro Miguel Locks. Here, a single channel lowers us 9 meters (30 feet) in a bit less than an hour.
The ship provided Albom Adventures with the digital copy of the second image, allowing us permission to share it here. This was one of several photos of our ship's passage through the Pedro Miguel Locks available for sale from Princess.
From here, it's a short sail across the small Miraflores Lake to the next set of locks.
Miraflores locks and visitor's center
The Miraflores Locks took just over an hour to complete. Here we are lowered the final 18 meters (60 feet) in two sets of locks that return us to sea level on the Pacific side.
But what made this set most interesting were people crowding the outdoor decks of Miraflores Visitor's Center. This 4-story museum is a land-based opportunity to view and learn about the Panama Canal.
Through the Panama Canal
At some point here, the pilots exited, and the captain took command. Our environment had changed dramatically from the dense jungle we saw all day to a buzzing metropolis.
The skyline was as close as we got to Panama City as we continued forward.
Bridge of the Americas
Finally, we pass under the Bridge of the Americas and instantly leave North America while entering South America.
And just like that, the ship slowly picks up speed, and we have completed our Panama Canal crossing.
A bit of Panama Canal history
The French were the first to attempt the construction of a modern Panama Canal crossing after their successful building of the Suez Canal in 1869, a flat crossing excavated through the sand.
In contrast, the Panama Canal required excavation through the 110-meter mountainous spine of Central America consisting of rock. In addition, the Chagres River crosses the canal and flows strongly in the rainy season, making navigation difficult.
Add tropical mosquito-borne diseases, and the French attempt failed, although it did leave a significant amount of completed excavation and dredging.
The Americans came in during the early 1900s under George Washington Goethals engineering direction to complete the task.
Panama Canal cruise review: life onboard the Island Princess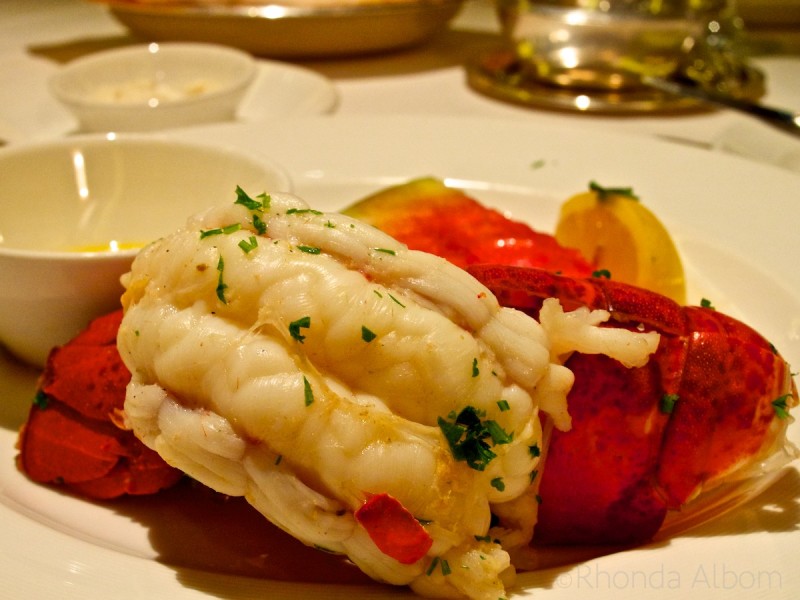 Lively or relaxing … cruising with Princess is what you want it to be.
Be prepared for an all-inclusive floating resort with culinary excellence, plenty of exercise or relaxation options, exciting ports, and opportunities to learn something new.
Between the seemingly endless options for eating, crafts, games, swimming, dancing, lectures, gambling, entertainment, and even stargazing or movies at night, we found ourselves spoilt for choice.
Typical Panama Canal cruise itineraries are 14 nights, but ours was longer as it was a repositioning cruise, an end-of-the-season cruise that moves the ship to a new home port for the next season. As a result, we had more sea days than normal.
Therefore, the friendly and helpful staff and an extensive list of daily options for activities or quiet became even more important, and Princess, as always, rose to the occasion. Find deals on Princess Cruises at Cruise Direct
Panama Canal cruise review: the ports along the way
Different cruise lines may use other ports. Check Panama Canal options and reserve your cruise ship transit here.
Fort Lauderdale, USA
We spent our pre-cruise Florida time in nearby Delray Beach, home to one of the top beaches in Florida (and my mother-in-law).
Aruba, Caribbean
Gentle waves and white sandy beaches define this tropical paradise in the southern Caribbean. With only 5 hours in port, we opted for a day of sun, fun, and plenty of photos. Discover Aruba through our lens here.
Cartagena, Colombia
Rich in history, this colourful and vibrant city hooked me. We toured the largest Spanish fort built in the new world, explored the old town, visited an impressive monastery, and drank coffee (of course). Check out our Cartagena adventure here.
Puntarenas

, Costa Rica


Puntarenas was our first stop after the crossing. It offers amazing options, from coffee plantations to rainforest or volcano explorations.
San Juan del Sur, Nicaragua
Bad weather prevented us from docking here, so we just moved on.
Cabo San Lucas, Mexico
Cabo is fun, exciting, colourful, and another place for water play. A bonus of arriving via cruise ship was we could see the famous Arch as we sailed in. See our Cabo San Lucas highlights here.
Los Angeles, USA
This was the port of disembarkation for about ⅓ of the passengers, while the rest stayed onboard until Vancouver. There is plenty to do in Los Angeles, and we opted for a bit of tourist fun in Hollywood.
Vancouver, Canada
Our port of disembarkation, we stayed here for a while and really enjoyed all there is to do in Vancouver.

Panama Canal cruise review: tips and facts
What's called a "Panama Canal Cruise" can be either a full transit (what we describe above), partial transit (Gatun locks and lake, then return), or even just approaching the first locks without ever entering.
Get an early start if you want to be up at a rail when you reach the Gatun Locks.
Don't forget your sunscreen and sun hat, it will be a long day in the tropical Panama sun.
The ship booked their crossing over 18 months in advance at a cost in excess of $250,000 for the Island Princess, which is reflected in the cost of the cruise.
Personal craft can make the transit and can book within 96 hours of arrival. Everything you would want to know about the transit procedure is found here.
The inaugural sailing of the new over-five-billion-dollar expansion of the Panama Canal was on June 26, 2016.
Other ways to experience the canal
Independent tours from Panama are another way to discover the canal and basically fall into three categories:
City tour and Panama Canal viewing
The most popular tour spends time at the Miraflores Visitor's Center, learns about the canal history, and observes the canal in action as huge boats pass through the locks. Then a city tour of Panama City, with a walk through the Old Town and a visit to Cathedral Basilica Santa Maria la Antigua. Reserve your half-day city and canal tour here
Panama Canal viewing and cruise on Gatun Lake
After learning about and watching the locks from the visitor center, you will take a bus to Gamboa, where you will board a boat and sail on Gatun Lake. The outstanding reviews on this tour let you know it is special. Reserve your viewing and cruise tour here.
Partial transit through the locks and return
If you want to experience the locks first-hand and are not transiting, this highly-rated tour is for you. A bus will bring you to Gamboa, where you will board a boat and sail along the Culebra Cut that passes through the Continental Divide and then through both the Pedro Miguel and Miraflores Locks. Importantly, this tour does not run every day, so check the schedule and reserve your partial transit tour here.
Bottom line of our Panama Canal cruise review
The Panama Canal crossing is a once-in-a-lifetime, not to be missed experience.
It's a long hot day with an early start. And while some aspects seem to move at a snail's pace, there is something so magical about the day that I was never bored.
The live commentary provided by Princess Cruises kept it fascinating. It is a day we will not soon forget, and one which we would recommend.
Check Panama Canal options and reserve your transit here.
Save on your trip and cruise with these resources
These are our go-to companies when we cruise. We believe this list to be the best in each category. You can't go wrong using them on your trip too.
Check out our travel resources page for more companies that we use when you travel.
Don't miss our best cruise tips.
*World Nomads provides travel insurance for travellers in over 100 countries. As an affiliate, we receive a fee when you get a quote from World Nomads using this link. We do not represent World Nomads. This is information only and not a recommendation to buy travel insurance.
Save for later
If you enjoyed this article, please share it on social media and save it for later on Pinterest.
Have you been through the Panama Canal?
You might also like…

Disclaimer: In addition to VIP treatment onboard the Island Princess, we were provided with many complimentary extras. The opinions expressed here are strictly my own.