Hollywood Blvd is a Los Angeles city icon, made even more famous by the movies. A tourist paradise, the Hollywood Blvd attractions below are centered around the corner at N. Orange Drive. Here we find everything from classic tourist destinations to the walk of fame.
We are rarely typical tourists when we travel, but Los Angeles brings it out in me.
First, there is the "star-struck" element and that secret wish that I will see someone famous just strolling down Hollywood Blvd. Even if I did, I probably wouldn't recognize them, nor would I approach them.
So, read on and see if we encountered anyone real, or just wax.
10 Hollywood Blvd attractions within two blocks
Hollywood Walk of Fame (Hollywood Boulevard, from Gower Street to La Brea Avenue, plus a short segment on Marshfield Way)
Roosevelt Hotel (7000 Hollywood Blvd)
Madame Tussauds Hollywood (6933 Hollywood Blvd)
Grauman's Chinese Theater (6925 Hollywood Blvd)
Now named TLC Chinese Theater
Dolby Theater (6801 Hollywood Blvd)
El Capitan Theater (6838 Hollywood Blvd)
The Hollywood Museum (1600 N Highland Blvd at the corner)
Ripley's Believe It or Not (6780 Hollywood Blvd)
Hollywood Wax Museum (6767 Hollywood Blvd)
Guinness World Records Museum (6764 Hollywood Blvd)
Our favorite Hollywood Blvd attractions
While there are plenty of things to do on Hollywood Blvd, we did have a few favorites. These are the hand and footprints at Grauman's Chinese Theater, the stars along the Walk of Fame, and the incredibly realistic figures at Madame Tussauds.
Grauman's Chinese Theater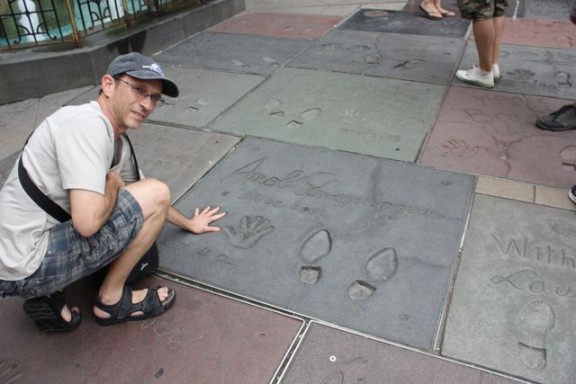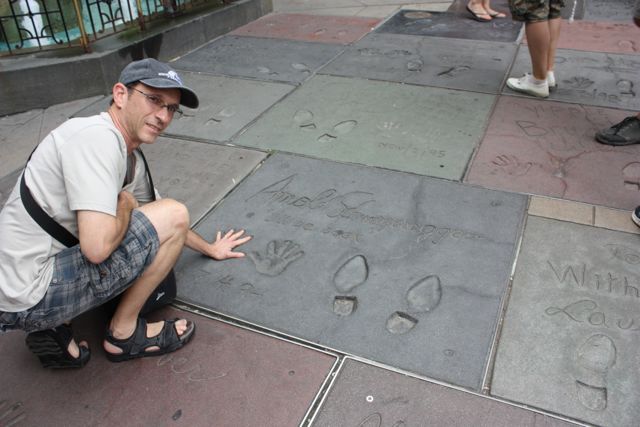 Grauman's Chinese Theater's 1927 grand opening premiered Cecil B. DeMille's The King of Kings. Above all, on that day, Norma Talmadge's handprints were cast into the concrete, the first of an ongoing tradition. Best of all, this courtyard of hand and footprints remains one of the free must-see Hollywood Blvd attractions.
Famous worldwide as Grauman's Chinese Theater, it first officially changed its name in 1973, later changed back. Then in 2013, it became TLC Chinese Theater, merged with IMAX thus creating one of the largest movie screens in North America.
Falling into that star-struck tourist mode, I spent plenty of time exploring the impressions, comparing the hands and foot sizes to my own. A few of our favorites are photoed above and included Arnold Schwarzenegger, the cast of Harry Potter, and Shirley Temple's prints from 1935 when she would have been 6 years old.
Hollywood Walk of Fame
If you didn't get enough famous names from Grauman's, step back out to the sidewalk and you are in a portion of the Hollywood Walk of Fame. It's another of the touristy, yet free Hollywood Blvd activities.
Here, I could spend hours looking at the names of all 2700+ terrazzo and brass sidewalk stars. However, if you know who you are looking for, check out this free Walk of Fame star finder.
Madame Tussauds Hollywood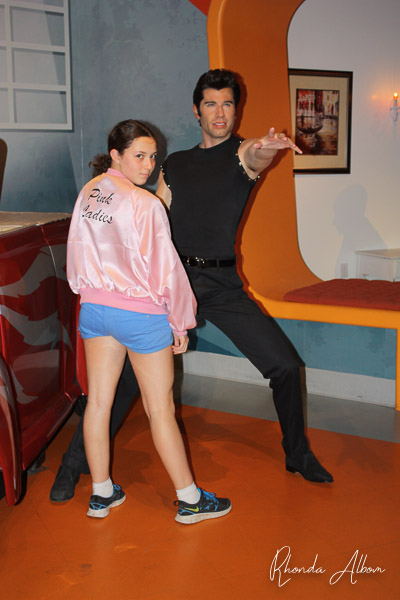 Madame Tussauds Hollywood caught me by surprise. I expected a tourist trap. Instead, I had lunch with George Clooney, Jeff flirted with Cameron Diaz and our girls hung out with Eddie Murphy, John Travolta, and Patrick Swayze.
It sure looks real, doesn't it? The amount of time and detail put into these wax celebrities shows, and the result is incredibly realistic characters. Even the eyes look as though they are watching you. And, unlike traditional museums with no touching, you can pose with the wax figures, just keep your hands off of the faces. Reserve your tickets here
Hollywood Blvd attractions: more theaters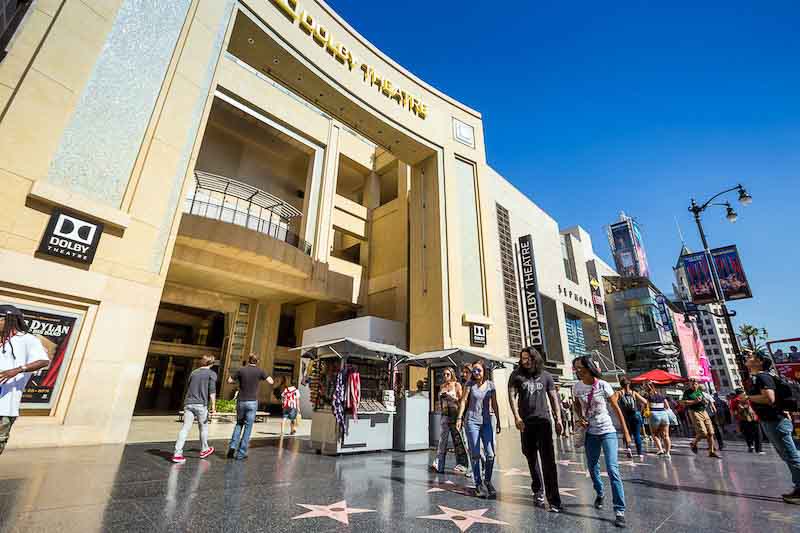 Dolby Theater
If it's a live performance you are looking for in LA, then the Dolby Theater is the place to go. Best known as the hosting location of the Academy Awards, it's also recognized for America's Got Talent. Located in the Hollywood and Highland Centre, the Dolby Theater opened in 2001. It's worth a visit just to see some of the mementos or the Oscar statuette. If you want a bit more than just entry, reserve a 30-minute Dolby Theater guided tour here.
El Capitan Theater
Disney fans, be sure to include a visit to this Disney-owned theater. It is home to nearly all of Disney's movie premieres.
Hollywood Blvd attractions: more museums
The Hollywood Museum
The self-proclaimed home to the world's most extensive collection of Hollywood memorabilia including costumes from a variety of films. The Hollywood Museum also pays tribute to the building's original owner, legendary makeup artist Max Factor (Maksymilian Faktorowicz). The focus is historical, so kids may not recognize much.
Ripley's Believe It or Not
Easy to spot by the giant green dinosaur on the roof, Ripley's Believe it or Not is one of many around the USA. Each features different quirky and unusual records and relics.
Hollywood Wax Museum
Why two wax museums on one road? I don't really know. However, it is the longest-running wax museum in the United States. We have been told it's a bit similar to Madame Tussauds in that they both feature wax models of famous Hollywood figures from a key career moment.
Guinness World Records Museum
As the name implies, the museum is a collection of world records, many with replicas that allow you to take photographs alongside.
Stay in the midst of these sites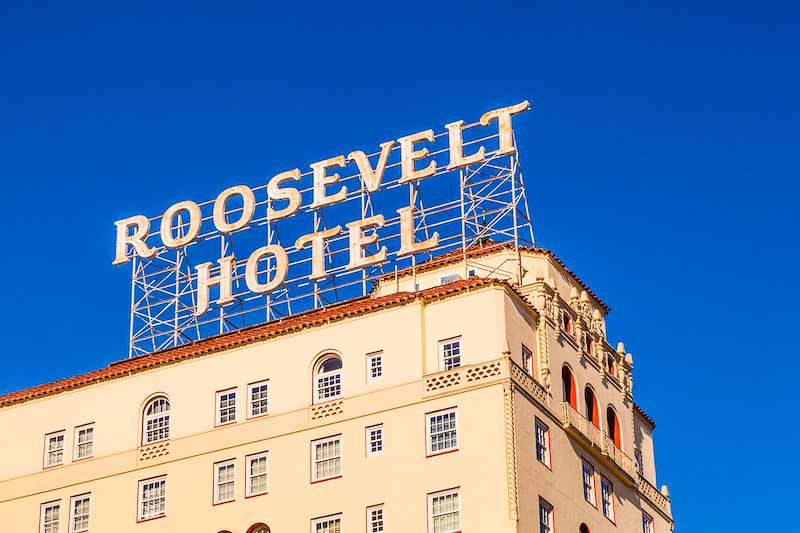 Located right on the Hollywood Walk of Fame, you could stay where the stars used to hang out. First opened in 1927, the hotel was named for former President Theodore Roosevelt. Dating back to the Golden Era, it was initially created as a place for the stars to stay when they visited Hollywood.
It's also known as the birthplace of the Academy Awards, although over the years they have been hosted in a variety of places including three times at Grauman's Chinese Theater and now at the Dolby Theater.
All that aside, it may be most famous as the hotel that Marilyn Monroe lived in for two years before she made it big. Her's was room 229.
Today, the 4-star Roosevelt hotel has been fully renovated and even has an Olympic size outdoor pool. It's a fun place to stay for the history and the location. Reserve your stay at the Roosevelt Hotel today.
Final thoughts on these Hollywood Blvd attractions
If you are a bit star-struck like me, while in Los Angeles, don't miss a chance to see the set of many of your favorite movies and TV shows while on a Warner Bros. Studio Tour, or the ancient stars of the city at La Brea Tar Pits.
When you drive through other areas in the United States, or worldwide, you will often come upon other Madame Tussauds locations, featuring other stars. In Nashville, we found all the music stars.
Save on your trip with these resources
These are our go-to companies when we travel. We believe this list to be the best in each category. You can't go wrong using them on your trip too.
Flights: we use Expedia for the best and cheapest flight options.
Accommodations: we use Booking.com (hotels) or VRBO (self-contained).
Cars (gas or electric): we use RentalCars to search for deals and dealer ratings.
Campervans or Motorhomes: we use Campstar where Albom Adventures readers get a 3% discount
Private guides: we love the private guides at Tours by Locals
Travel Insurance: we start at InsureMyTrip as they are the best option to compare plans and find the right coverage for you.
Check out our travel resources page for more companies that we use when you travel.
Save for later
If you enjoyed this article, please share it on social media and save it for later on Pinterest.
Which of these Hollywood Blvd attractions appeals to you?
Photo Credits
Photos on this page are either shot by our team and watermarked as such, in the public domain, or some stock photos were supplied by DepositPhotos.
Disclaimer: We are frequently provided with complimentary entrances, tours, or sample items to aid in the writing of Albom Adventures. However, the opinions expressed here are strictly our own.