Don't let the city's reputation fool you, there are things to do in Vegas besides gambling or drinking. Whether you are looking for excitement, romance, adventure, or even a touch of nature, Vegas is a city that has it all. From kids to seniors, it's a town appealing to just about anyone with an ounce of adventure in their veins.
Just the name Las Vegas conjures up an image of an adult's playground. Bright lights, big city, gambling, drinking, bachelor parties, spontaneous weddings to strangers. Okay, possibly I went a bit too far with the last one. Perhaps lavish fun with a wild side might do better.
However, I formed my first memories of Las Vegas as a young tween. It was a stopover on a massive USA road trip. Presented as almost a gift to my sister and me, we were registered into an overnight camp for visiting kids (this camp no longer exists).
As a result, our parents had plenty of time to enjoy Las Vegas as a couple.
Years passed, and the city really grew up. Today, one can easily do all the wild partying and casino hopping, but there are also plenty of fun things to do in Vegas besides gambling.
We earn from qualifying purchases through partnerships or affiliate programs.
Our favorite things to do in Vegas (besides gambling or partying)
Enjoy a view from the top
So many ways to overlook Las Vegas. No matter which you choose, you will discover a city rising from the desert. From a gentle sunrise balloon ride to a zipline, there is something for every level of adventure. Check out these options, and whichever you choose, be sure to bring your camera!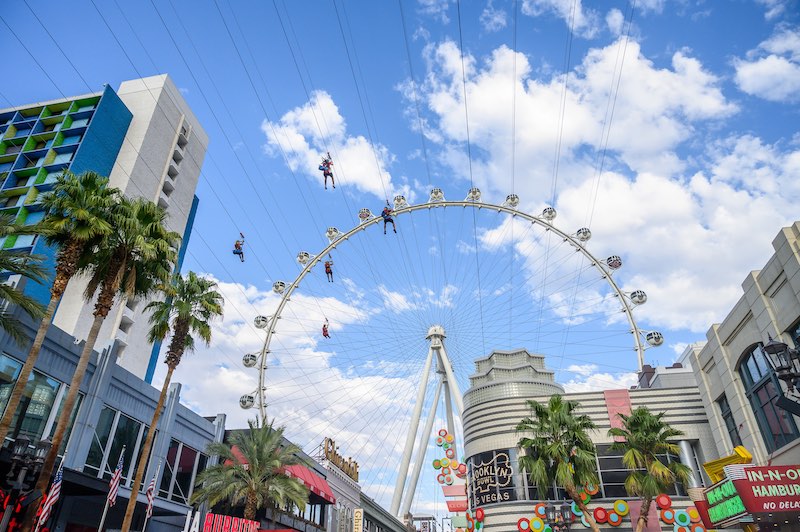 Check out a Las Vegas Museum
Vegas is filled with tourist-attracting museums. That aside, there are some really unique and interesting options too.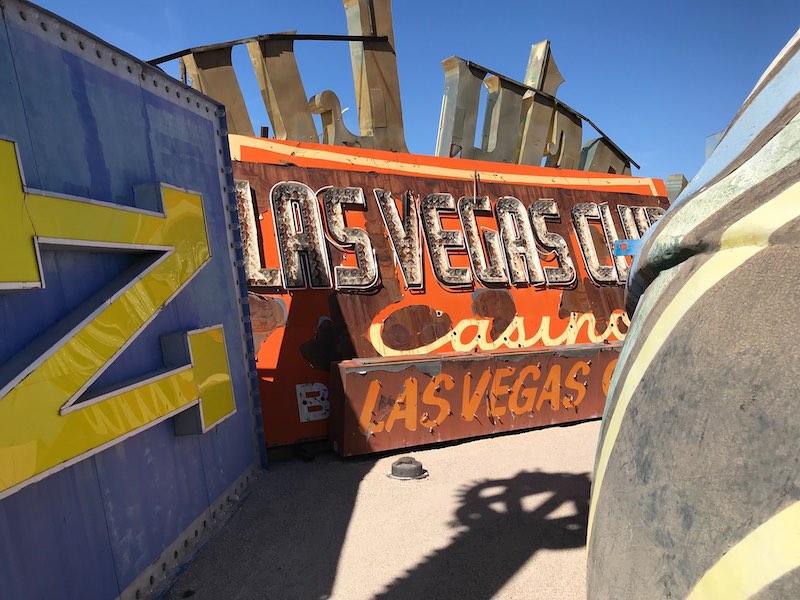 Explore some of the non-gambling amazing things to do at the hotels
At the Bellagio …
Bellagio Fountain Show
Completely free and not to be missed, the impressive fountains dance to music every 15 to 30 minutes from 3pm to midnight (weather dependent). Best of all, each show is unique, so stay a while and watch it over and over. Check the current schedule.
World's largest chocolate fountain
Where else can you see a floor-to-ceiling sculpture circulating over 2,100 pounds of melted chocolate (white, milk, and dark) thru 500 feet of pipes 24 hours a day? There's even a document confirming it to be the world's largest chocolate fountain.
Chihuly Glass exhibit
Entitled "Fiori di Como" this colorful glass ceiling sculpture is impressive enough to make an effort to see it. Master glassblower Dale Chihuly created more than 2,000 pieces to complete this lobby project. (If you love his work as much as I do, don't miss the Chihuly Museum in Seattle)
At other hotels …
More things to do in Vegas besides gamble
A few of the obvious things to do in Vegas besides gambling
Swim in your hotel pool.
Eat at one of the super cheap yet massive buffets.
Walk the strip and absorb some of the excitement.
Take your photo under the famous "Welcome to Fabulous Las Vegas sign" which has been standing since 1959, although I am fairly sure they moved it at one time to its current location.
Shop till you drop. Vegas is home to a number of high-end malls, as well as three major premium outlet centers.
Save on your trip with these resources
We use these aggregator companies to save time and money. They do the work for us by providing a list of options, prices, and reviews for anywhere we are travelling worldwide. Plus, we have personally had positive customer service experiences with all of them:
Flights: we use Expedia for the best and cheapest flight options.
Hotels: we use Booking.com as they consistently return the best rates and their reviews are from actual guests. However, for self-contained lodging, use VRBO
Cars: we use RentalCars to find the best deals and dealer ratings.
Private guides: we often hire private guides from Tours by Locals
Travel Insurance: we start at InsureMyTrip as they are the best option to compare plans and find the right coverage for you.
Before you book the rest of your trip: Check out our travel resources page for more companies that we use when you travel.
We believe this list to be the best in each category. You can't go wrong using them on your trip too.
Save for later
If you enjoyed this article, please share it on social media and save it for later on Pinterest.
What are your favorite things to do in Vegas (besides gamble or party)?
You might also like