Possibly the world's most famous dam, the Hoover Dam sits along the Colorado River at the border of Arizona and Nevada. One can tour this engineering wonder, spend some time taking in the views, and see some of the nearby sites. In fact, there are plenty of interesting things to do at Hoover Dam and nearby.
Massive, powerful, and instantly impressive. I stood staring at Hoover Dam with wonderment before taking the first photo. I had done my homework, so I knew this was once the world's tallest dam, yet this monumental engineering feat still seemed a bit overwhelming to take in.
Once here, we had options. Observing the dam from one of the observation vantage points, taking a tour, or kayaking on the river are among the many cool things to do at Hoover dam. Colorful man-made and natural options fill the surrounding area.
Fascinating facts about building Hoover Dam
Hoover Dam is a concrete arch-gravity dam on the Colorado River at the border between Arizona and Nevada in the USA.
Construction began in 1931, and then-President Franklin D. Roosevelt dedicated it on September 30, 1935. Therefore, it was built during the great depression, which gave 1,000s of people work.
The Hoover Dam weighs more than 6.6 million tons.
More than five million barrels of concrete were used in making the dam. In fact, it was poured continuously for nearly two years, from June 6, 1933, until May 29, 1935. It used enough concrete to pave a three-inch thick, 18-foot wide highway from San Francisco, California, to New York City, New York.
The Arizona-Nevada state line is at the center of the crest.
Things to do at Hoover Dam
Cross the Memorial Bridge
Officially called the Mike O'Callaghan-Pat Tillman Memorial Bridge, it is the USA's first concrete-steel arch composite bridge. More common names are either Memorial Bridge or Freedom Bridge. Bypassing traffic around Hoover Dam is its primary purpose.
The bridge opened in 2010, the year that celebrated 75 years of the Hoover Dam. Since then, it has done a lot to alleviate some of the traffic congestion. Additional accolades include the widest twin-ribbed arch bridge in the Western Hemisphere and the highest concrete-arch bridge anywhere.
It also offers great views of the dam, like the one at the top of this page.
Take a tour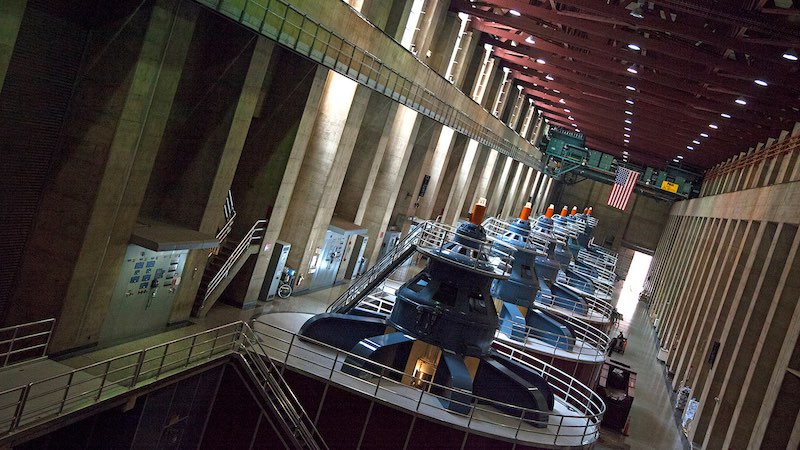 There are three tour options at Hoover Dam.
Self-guided tour
Walk through narrated exhibits and discover the history of the dam.
Powerplant tour (30 minutes)
Start by walking through the original construction tunnels, then view a 30-foot diameter penstock as you feel the vibration of the water rushing through the pipe, and see 8 of the commercial generators. (Also included is the self-guided tour)
Hoover Dam tour (1 hour)
This is the full guided tour, and it includes some of the lesser-known parts of the dam. You will do everything in the two tours above, plus visit historic tunnels, ride the elevator to the top of the dam, walk the inspection tunnels, and view the river through the ventilation shaft.
Pro tip: If you are a pacemaker wearer or if you are claustrophobic, these tours may not be for you. The generators emit electromagnetic frequencies, and the tour passes through enclosed places.
Stop in at the Visitor's Center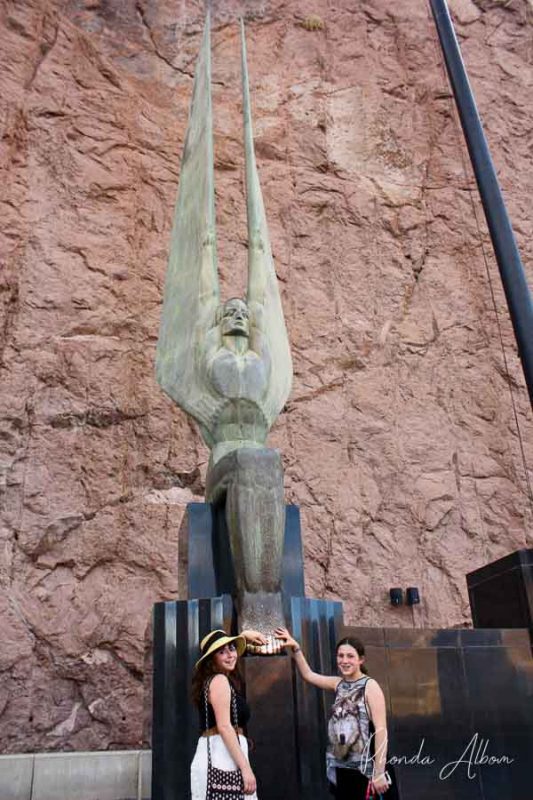 The visitor's center is open nearly every day (closed on Thanksgiving and Christmas). Before you enter, look at the Bronze sculpture entitled "Winged Figure of the Republic."
Be sure to head up to the observation deck, where you can enjoy panoramic views of the dam from 600 feet above the Colorado River. Expansive views include both the river and Lake Mead. Weather isn't an issue here, as there are both indoor and open viewing areas.
Kayak on the Colorado River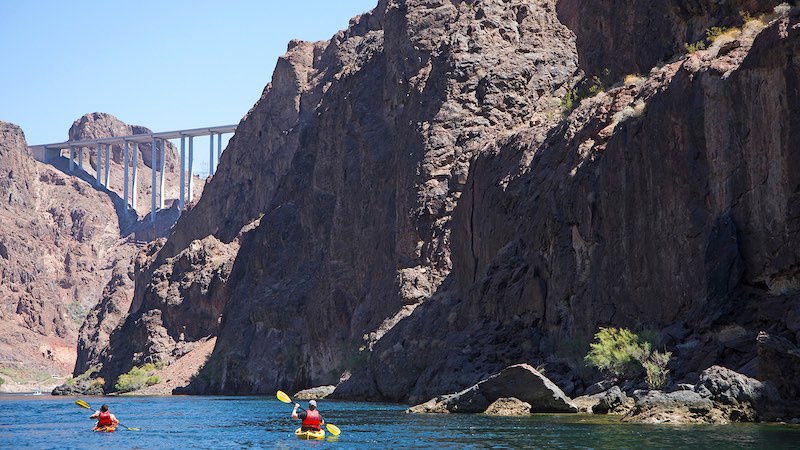 If you want to kayak on your own, you will need to contact the Bureau of Reclamation to deliver your craft, as they are the only people offering road access. Therefore, a tour may be both easier as well as informative.
The one that popped out for us is this 8-hour tour that starts in Las Vegas and brings you to the Hoover Dam. From here, paddle on a 12-mile (19km) adventure along the Colorado River. Highlights include wildlife spotting, relaxing in hot springs, a hidden channel, the green waters of Black Canyon, and of course, Hoover Dam. Snacks are included. Reserve your spot kayaking on the Colorado River tour here.
Things to do near Hoover Dam (within an hour's drive)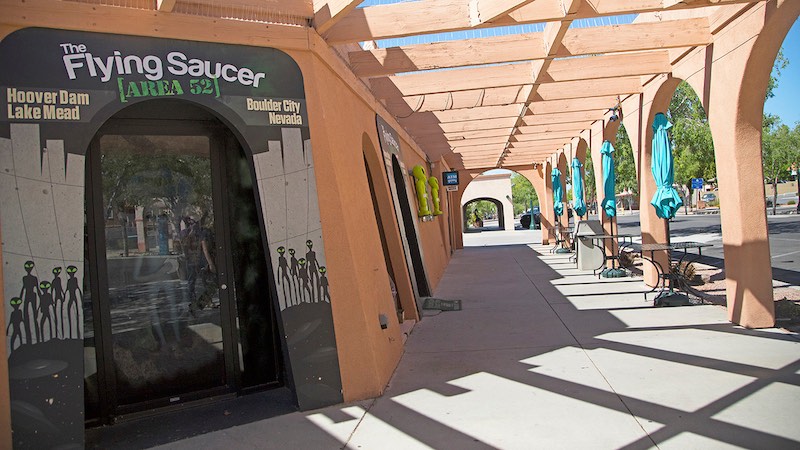 Boulder City
Only 15 minutes away, there are plenty of things to do in Boulder City, Nevada. Whether you are looking for historical sites, the Nevada state railroad museum, somewhere to eat, or 'alien artifacts' – Boulder City has it all. And if it's the latter, you might want to check out some of these other weird and bizarre things to see in Nevada.
Seven Magic Mountains
Colorful and seemingly random, Seven Magic Mountains is a desert art installation by Swiss artist Ugo Rondinone. It consists of seven boldly painted boulder totems reaching as high as 35 ft.
Lake Mead
Lake Mead is the first national recreation area and the largest reservoir in the United States. Formed by the Hoover Dam, its inflow source is the Colorado River. Camping, swimming, boating, hiking, cycling, and fishing are popular activities at the Lake Mead Recreation area.
Red Rock Canyon
Located within the Mojave Desert (Nevada), Red Rock Canyon National Conservation Area is best known for its red sandstone peaks and other geological features. You can also find Native American petroglyphs here.
Shop at outlet malls
Las Vegas may not be best known for shopping, but in reality, it is a discount shopper's paradise. In fact, it is home to three main outlet malls: the North and South Premium Outlets and the outlet center annex.
Las Vegas
What can I say about Las Vegas in a few sentences? Bold and energic, Las Vegas is as much an experience as it is a destination. If you are staying in Vegas and planning a day trip to Hoover Dam, be sure to check out the Las Vegas: Go City All-Inclusive Pass. A half-day Hoover Dam highlights tour is one of the 30 things included on your pass.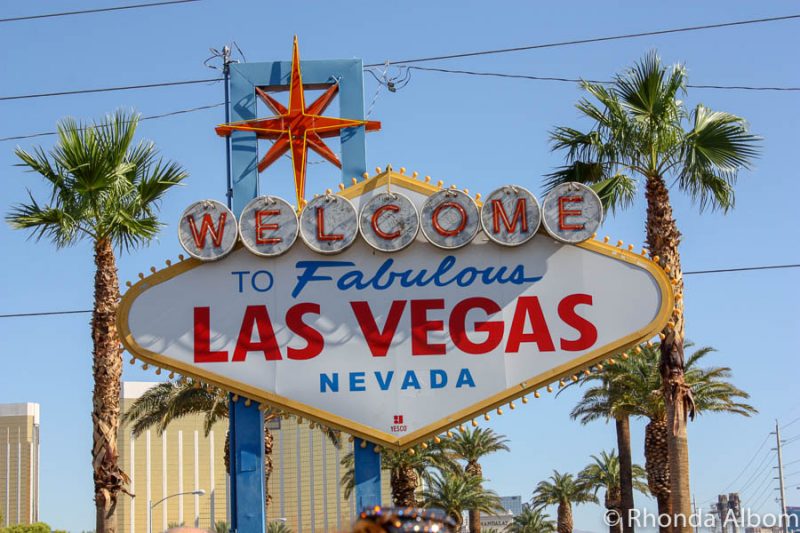 Getting to Hoover Dam from Las Vegas
An easy day trip, Hoover dam is only 33 miles from Las Vegas and takes 45 minutes to get there with a vehicle. If you don't have your own car, if you prefer narration, or if you have limited time, check out these options:
Hoover Dam highlights tour
This top-rated four-hour tour from the Las Vegas strip drives across the Hoover Dam with photo stops at the Memorial Bridge and the highest scenic lookout on the Arizona side. Plus, it visits historic Boulder City and the Lake Mead Visitor's Center. Check price and reviews
Grand Canyon, Hoover Dam, and 7 Magic Mountains tour
This 12-hour tour hits the highlights in a big way, with an added photo stop at the Welcome to Las Vegas sign. It's a lot to see in one day, and while it may sound like too much for a day, read the reviews. Participants love it. The tour includes four hours at the Grand Canyon, climbs up to the Hoover Dam Bypass Bridge walkway for views, and you walk through Seven Magic Mountains. Check price and reviews
Read next: USA Adventure: Places to Visit on a USA Road Trip
Save on your trip with these resources
These are our go-to companies when we travel. We believe this list to be the best in each category. You can't go wrong using them on your trip too.
Flights: we use Expedia for the best and cheapest flight options.
Accommodations: we use Booking.com (hotels) or VRBO (self-contained).
Cars (gas or electric): we use RentalCars to search for deals and dealer ratings.
Campervans or Motorhomes: we use Campstar where Albom Adventures readers get a 3% discount
Private guides: we love the private guides at Tours by Locals
Travel Insurance: we start at InsureMyTrip as they are the best option to compare plans and find the right coverage for you.
Check out our travel resources page for more companies that we use when you travel.
Save for later
If you enjoyed this article, please share it on social media and save it for later on Pinterest.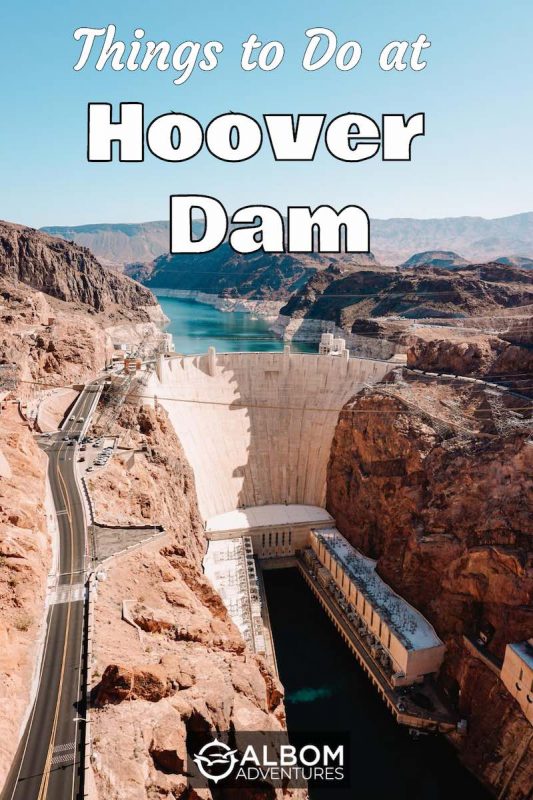 Did you discover any new things to do at Hoover Dam?