Like every state, there are plenty of unique things to do in Arizona, and much of its originality is based in nature. While the cities hold some of the fun, we find an Arizona road trip to be the best way to see the highlights.
Since my parents moved to Arizona in the 1990s, I have been many times. We frequently tack on a road trip anywhere from Las Vegas to Tucson and have spent quite a bit of time exploring the state.
And while there are plenty of unique things to do in Arizona, we believe we have featured the best of them.
Top 13 unique things to do in Arizona
Hoover Dam

Grand Canyon
Sedona
Montezuma Castle National Park
Musical Instrument Museum
Camelback Mountain
Desert Botanical Gardens
Saguaro National Park
Biosphere 2
Tombstone
Antelope Canyon
London Bridge
Petrified Forest National Park
Arizona road trip: driving from Vegas to Tucson
Our driving map starts at Hoover Dam, just after one crosses from Nevada into Arizona.
To use the map just below, click the expand / collapse icon in the upper left corner for the details and interactive options.
The suggested stops in this article are on the map either in red (on the main road/itinerary) or purple (requires extra driving).
Tip: If you are following our Arizona road trip, consider getting a US National Parks Pass here.
Hoover Dam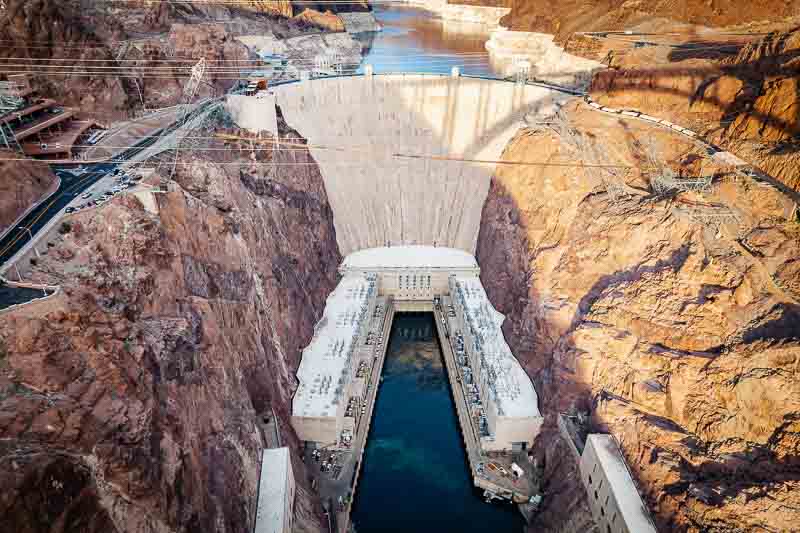 We chose to start our Arizona road trip itinerary in Hoover Dam, as it is the entry point for anyone traveling from Las Vegas to Tucson, Phoenix, or Albuquerque. After all, the Hoover Dam at Lake Mead sits on the border of Nevada and Arizona.
Constructed in 1935, it is over 1,200 feet (366 meters) long and stands over 700 feet (213 meters) tall. As a result, many considered it the eighth wonder of the world. The dam controls the flow of the Colorado River.
If you want to stay more local to Vegas, check out these 11 day trips from Las Vegas.
Antelope Canyon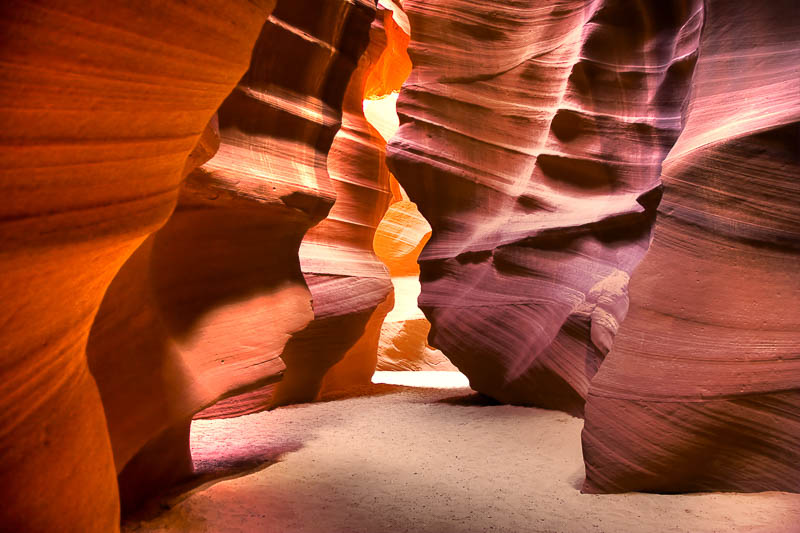 I know this one adds a bit of time to the Arizona road trip itinerary, but it's worth it. Just be sure you have booked in advance to avoid disappointment. Antelope Canyon can only be visited with a guide.
Rain, wind, and water erosion naturally created the massive sandstone canyon over millions of years. Today, there is both an upper and a lower canyon, all located within LeChee Chapter of the Navajo Nation.
The lower canyon walk heads down about 115 feet (35 meters) into the twisting passageways of the canyon. It's a photo shoot as you experience one impressive view of the colorful labyrinth of pathways after the next.
With a Navajo guide, you can explore the canyon while also discovering some local traditions and history. Reserve your Lower Antelope walking tour with a Navajo guide here.
Grand Canyon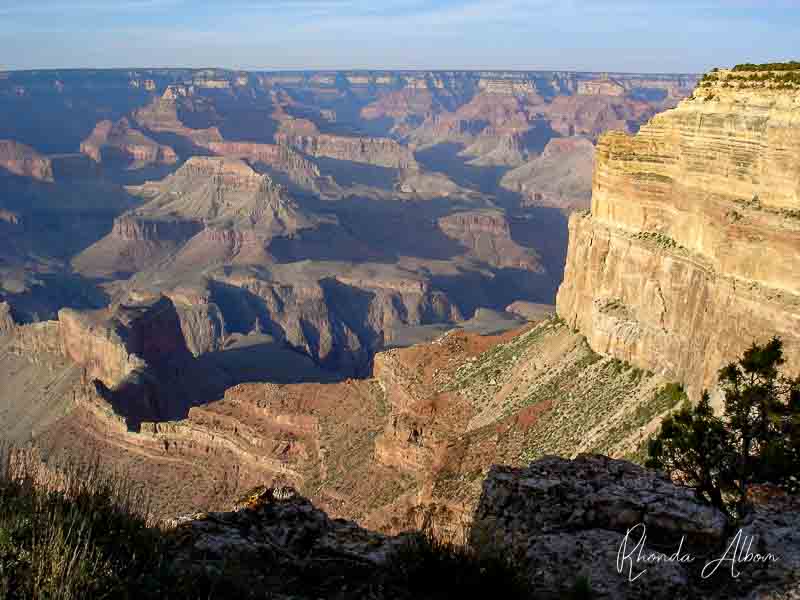 We have all seen photos of the Grand Canyon, but nothing quite prepares you for that first breathtaking view.
At 277 miles (446 km) long, 18 miles (29 km) wide (widest point), and depths of 6,093 feet or (1,857 meters), there is not much like it in the world; therefore, one of the unique things to do in Arizona. (Although we did see the Grand Canyon of Oman when we were in the Arabian Peninsula.)
You can pay a separate entry to the Grand Canyon National Park or use the National Parks Pass.
Note: If you skip Antelope Canyon, it will take you about 4.5 hours to drive from Las Vegas to the Grand Canyon.
Sedona
Visiting Sedona is definitely one of the more unique things to do in Arizona. Whether you visit to enjoy the impressive natural scenery created by the stunning red mountains and sharp rocky precipices, to see Sedona's key sights, or for a spiritual experience, it is worth a stop on your Arizona road trip.
Many people report a general feeling of euphoria or tingling in their skin while in parts of Sedona, and these are within its seven vortexes. The vortices are believed to be concentrated centers of energy that are beneficial in healing, meditation, and enlightenment. Reserve your vortex jeep tour here.
Montezuma Castle National Monument
As we looked up at this five-story, 20-room apartment nestled into the cliff, both the building and its inherent safety impressed us. Constructed nearly 1,000 years ago by the indigenous Sinagua people, it stands 90 feet from the valley floor, carved into a sheer limestone cliff face.
Access was by ladders that, when removed, protected the inhabitants from any intruders (human or animal).
Although visitors are not permitted inside the dwelling, it is well worth a visit. The easy walking trail is about .33 miles (.5 km) For us, it tops our list of unique things to do in Arizona.
Use your National Parks Pass to enter the national park and see Montezuma Castle.
Unique things to do in Arizona: Phoenix
There are several unique things to do in Phoenix, the capital of Arizona. Our three favorites are the Musical Instrument Museum, the Desert Botanical Gardens, and a hike up Camelback mountain.
Musical Instrument Museum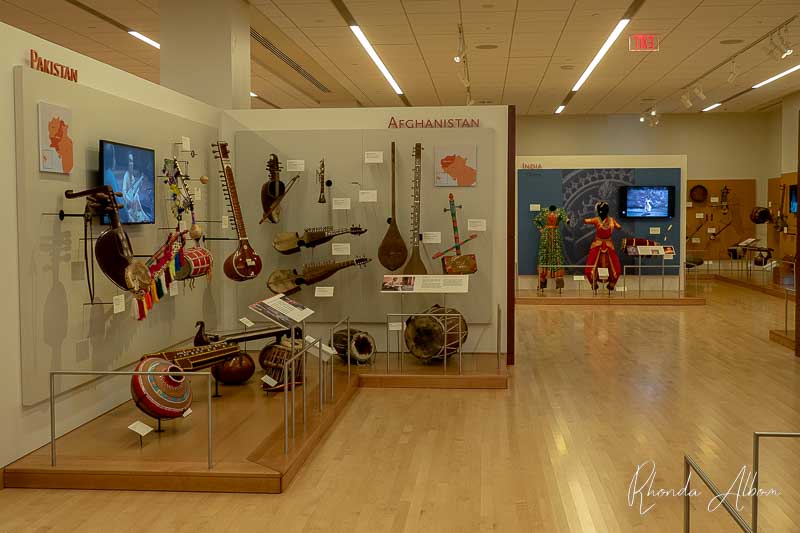 My favorite museum in Phoenix is MIM (Musical Instrument Museum), and we tend to spend longer here than we would expect. The museum's collection of 8,000+ instruments represents more than 200 countries.
Audio or video enhances the physical displays of instruments representing many of the countries, thus bringing it alive. There are also areas with hands-on displays featuring instruments to try.
Don't miss the "Apollonia" Orchestrion, with demonstrations several times daily, or watch it on YouTube here.
Camelback Mountain

It's a rare day when I can see what is apparently obvious to most people. Camelback mountain appears like a reclining camel resting on the ground.
For me, it was a challenge, a morning hike on one of the many trails that range in elevation gain from 1,280 to 2704 ft (390-824 meters). Getting an early start long before the heat of the day is pretty essential.
I have taken on the challenge a few times, the most interesting being in the late 1990s. To be honest, I never verified if it was real or not, but here is my memory:
As I stopped and rested on a large boulder, several fit adults whizzed past, hiking or jogging. Feeling a bit embarrassed by my need for a rest, I turned and looked at the man resting alongside me on the boulder. It was none other than Richard Simmons. I figured if this exercise king needed a rest, it was okay for me.
Desert Botanical Gardens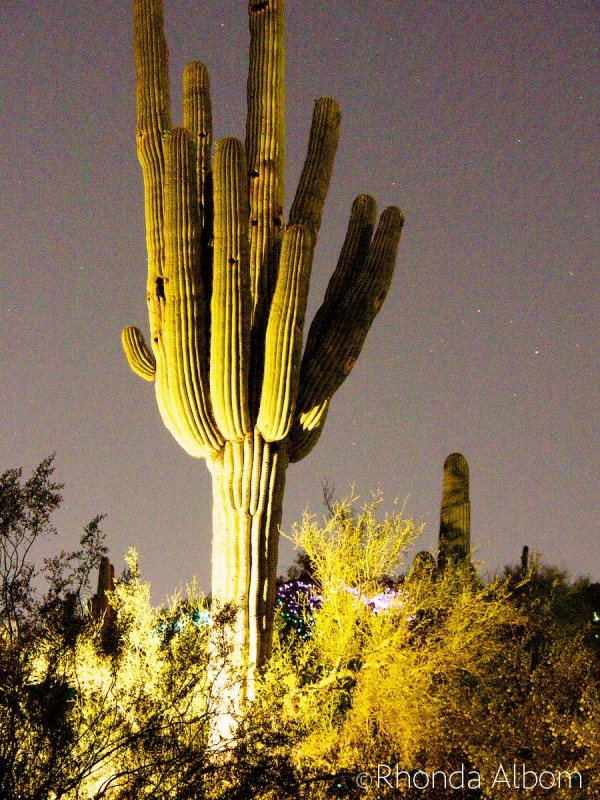 The Desert Botanical Garden is the world's first botanical garden with a mission focused solely on desert plants. Over 10,000 plants from around the world occupy 40 acres.
The gardens are hot during the day, so remember to bring a sun hat and water to drink.
On one visit several years ago, we enjoyed a special Sonoran Lights display. The annual show features a different artist each year, and the images above were created by Bruce Munro.
More unique things to do in Arizona
Saguaro National Park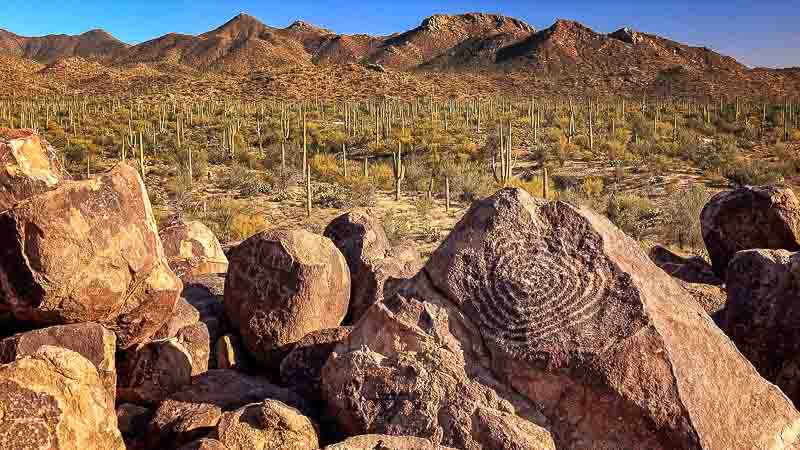 To me, nothing says Arizona quite like saguaro (pronounced: suh·waa·row) cacti. Growing tall and reaching up to the sky, they are an icon of this state. In fact, within the US, they are only found in this small corner near Tucson.
The national park is one of many places to see saguaro, the largest cacti in the USA.
There are over 200 prehistoric Native American petroglyphs at the Signal Hill Petroglyph Area. Many can be seen from the 1-mile (1.6 km) area trail.
You can either pay to enter the Saguaro National Park or use your National Parks Pass.
Note: We also saw petroglyphs at Deer Valley Petroglyph Preserve in Glendale (just outside of Phoenix).
Biosphere 2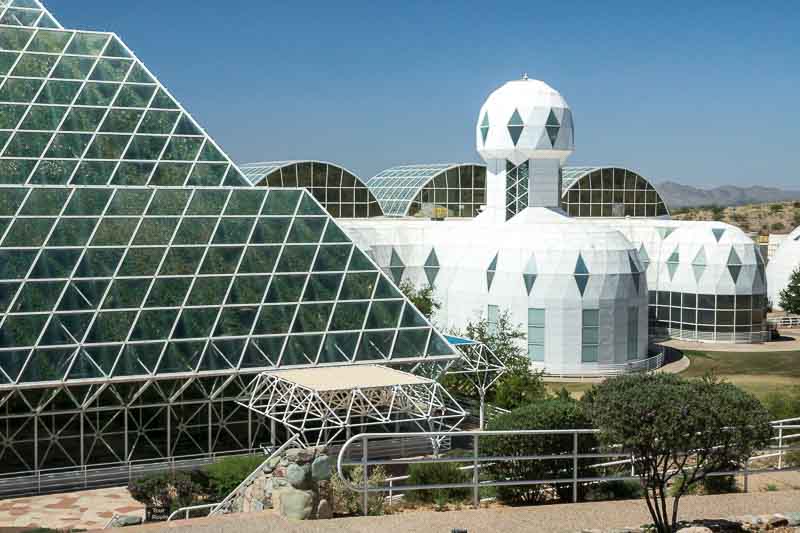 The original plan for Biosphere 2 was to allow scientists to study the potential for space colonization inside a 3.15-acre sealed environment. While the experiment ultimately failed, Biosphere 2 remains an interesting place for a tour.
Texas oil tycoon Ed Bass privately funded Biosphere 2. He named it this, as he considered planet earth to be Biosphere 1.
Once built (1991), a team of seven people was sealed inside for two years. They were to grow their own food, conduct experiments, and survive without outside intervention.
Today, the facility is owned by the University of Arizona, and its scientists use it for climate research.
Tombstone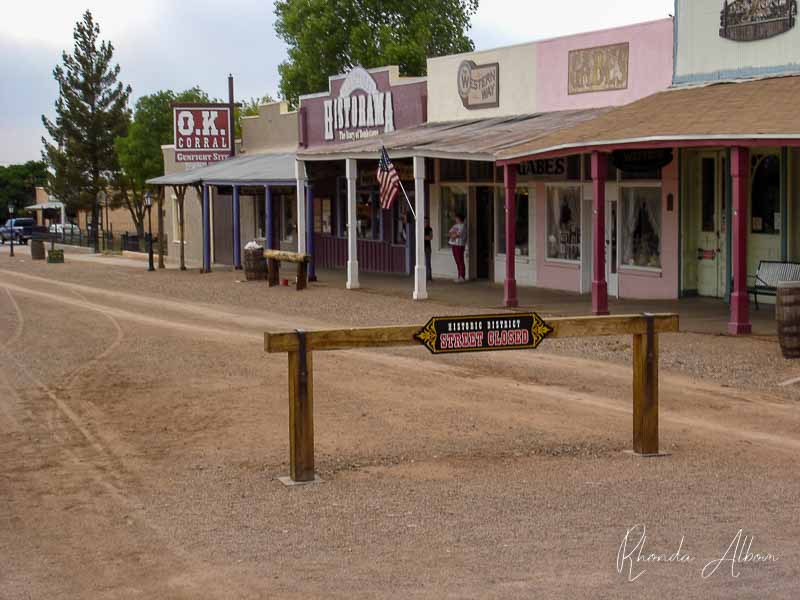 A classic ghost town, Tombstone is an icon of the Wild West. Probably best known for the shootout at the OK Corral, complete with a touristy yet fun, 30-minute gunfight show.
Also in town, wander the main street, head into a saloon, see the courthouse, the 1878 Boothill cemetery, and the bullet-riddled Bird Cage Theater.
Of course, this town is haunted, and therefore loads of fun with a guide. There are plenty of stories about brothels, murders, suicides, and even demonic entities. If you visit in the evening, without the kids, we recommend bringing it all alive and reserving an adults-only walking tour here.
London Bridge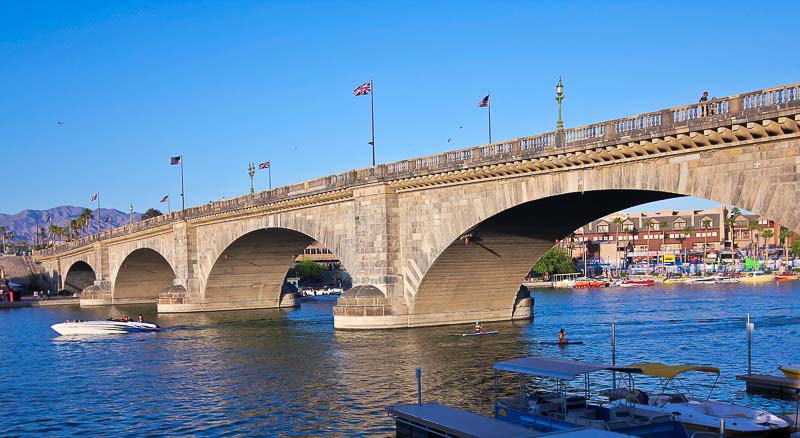 Yes, this really is 'The' London Bridge. Originally built in 1831, it was purchased for $2.46 million in 1968 by businessman Robert McCulloch to effectively bring tourism to Lake Havasu.
Also, in 1968, it was moved from London to Lake Havasu, Arizona, where it was made shorter and reconstructed over then dry land. Today, it crosses a man-made canal. It features alternating American flags and the Union Jack.
Petrified Forest National Park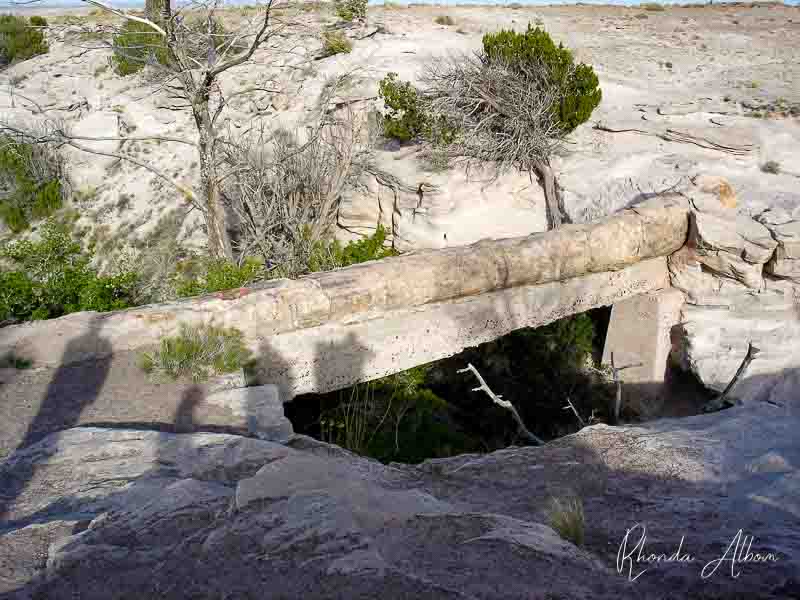 Home to one of the largest collections of petrified wood in the world, the Petrified Forest National Park is a natural occurrence. Located along the I40, it's worth a visit, especially if you are headed to Albuquerque.
Over millions of years (sometimes only thousands of years), petrified wood is formed when mineral water seeps into the wood, and the minerals gradually replace the wood turning the trees into stone. Some date back as far as the Triassic Period.
In addition to the petrified wood, there are both plant and fish fossils throughout the park and in the visitor's center.
There is a fee to enter the Petrified Forest National Park, or you can get entry with your National Parks Pass.
Read next: National Parks in Western US: Our Top 21 Epic Picks
Save on your trip with these resources
These are our go-to companies when we travel. We believe this list to be the best in each category. You can't go wrong using them on your trip too.
Flights: we use Expedia for the best and cheapest flight options.
Accommodations: we use Booking.com (hotels), VRBO (self-contained), or Hostelworld (budget).
Cars (gas or electric): we use RentalCars to search for deals and dealer ratings.
Campervans or Motorhomes: we use Campstar where Albom Adventures readers get a 3% discount.
Motorcycles: we have heard good things about BikesBooking.
Private guides: we love the private guides at Tours by Locals.
Travel Insurance: while not required, we always opt for travel insurance and start at InsureMyTrip to compare coverage plans.
Check out our travel resources page for more companies that we use when you travel.
Save for later
If you enjoyed this article, please share it on social media and save it for later on Pinterest.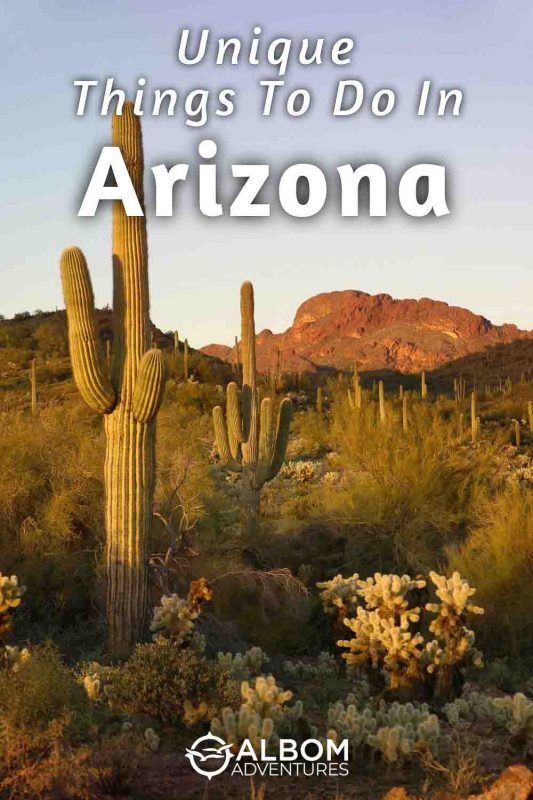 What do you think are the most unique things to do in Arizona?
Photo Credits:
All photos on this page are either shot by our team and watermarked as such or stock images from Depositphotos.