Are you dreaming about a getaway vacation to some of the most beautiful waterfalls in South Carolina? We were, so we went to Lorena Maia, an expert who shares her suggestions below.
While North Carolina is renowned as the waterfall capital, the South Carolina region is not far behind in offering magnificent sights showcasing waterfalls.
Most of the waterfalls we have listed here are easy to hike, so get ready to explore stunning places!
Let's dive in and discover the ten best waterfalls in South Carolina that would make a great addition to your vacation.
10 best waterfalls in South Carolina
King Creek Falls – Sumter National Forest, Oconee County
Yellow Branch Falls – Walhalla
Twin Falls/Eastatoe Falls – Pickens County
Issaqueena Falls – Sumter National Forest, Oconee County
Station Cove Falls – Walhalla
Lower and Upper Whitewater Falls – Oconee County
Spoonauger Falls – Sumter National Forest, Oconee Country
Falls Creek Falls – Mountain Bridge Wilderness Area
Laurel Fork Falls – Pickens County
Rainbow Falls – Jones Gap State Park
More on each of the best waterfalls in South Carolina
King Creek Falls – Sumter National Forest, Oconee County
King Creek Falls is in the Sumter National Forest near Oconee County. It is 75 feet tall, and the special feature of this waterfall is that it has a small, clean beach on the left side, which is a key attraction for visitors.
This fall starts from the trailhead and has a roundtrip distance of 3 kilometers. It takes about 2 hours to cover the round trip.
Its upper cascade section is about 700 feet, and the best months to visit these waterfalls are June, July, August, and September.
You can access King Creek Falls through a back hike or loop. The first half is through a meadow. Then this loop turns to the left, along the upper cascade that is a spectacular sight to see, and then finally descends towards Kings Creek Falls.
Take caution if you hike King Creek Falls in winter or spring, as the trail can get slippery. Hiking safety should always be taken seriously. Make sure to wear proper footwear and use trekking poles to maintain balance during unideal conditions.
Take plenty of water, frequent breaks during the hike and stay behind the overlook railing for your safety.
Yellow Branch Falls – Walhalla
The Yellow Branch Falls is located in Sumter National Forest close to Walhalla, South Carolina, and it is under the authority of the United State Department of Agriculture (USDA) forest service.
Yellow Branch Falls is 50 feet high, and its width is about 75 feet. There is a 3-mile out-and-back hike which equals about 2.5 – 3 hours of hiking.
This waterfall hike is smooth, gentle and peaceful.
The rainbows that refract from the water spray make the scenery stunning. There are lovely tall trees surrounding the waterfalls to add to the picturesque views.
You may also come across some wildlife. If you are lucky, you may spot blackbelly salamanders, they usually hang out near falls. There are also about three water streams you will see on your hike.
If you plan on going to Yellow Branch Falls, it is best to check the current weather conditions and other accessibilities.
Apparently, Yellow Branch Falls has characteristics similar to the Issaqueena Falls, another waterfall that flows nearby.

Twin Falls/Eastatoe Falls – Pickens County
Twin Falls is also called Reedy Cove Falls. This waterfall offers much of a pleasant view, especially in spring. It is 739 meters long, 30 meters wide, and is located in Silver Falls State Park.
While you are hiking, you must follow the woody pathway rather than the trail containing old Appalachian tracks that have become twisted from past floods.
The woody track offers hardwood and pine forests, which are breathtaking to witness. The trail starts with a rocky path, but after some distance, it evens out. Numerous timber steps and bridges are made for hikers to make the trek easy.
When you move towards the trail's end, you will catch a sequence of bubbling cascades that feed into the waterfall.
The hike to these waterfalls is not risky or challenging. In winter, you can see the Eastatoe Valley, where Reedy Cove Creek meets with Eastatoe Creek.
Issaqueena Falls – Sumter National Forest, Oconee County
Hiking to the Issaqueena Falls delivers an excellent vantage point and beautiful long-range for viewing from above.
This waterfall is located a few miles from Walhalla. The journey to the top of the waterfall is usually easy, but reaching the bottom is a bit challenging as this waterfall is a 100-foot cascade.
The hike offers a fantastic view from the bottom, and you can watch the same scenery from an entirely shifted perspective. The view from the top makes you feel like a king surveying the lay of the land. Both views are worth seeing for visitors.
The waterfall is famous for a tale where a Native American woman tricked her attackers by making them think she had jumped off the waterfall and died. Then, they rode off when they could not find her anywhere. This tale adds an extra layer of attraction for visitors, making this waterfall more memorable than most.
Station Cove Falls
Station Cove is one of the most attractive natural waterfalls in Palmetto State. The length of Station Cove Falls is about 80 feet, near Walhalla.
To get there, you need to hike 1.5 miles along a gorgeous trail. A canopy of trees occupies this trail, and it takes about 20 to 30 minutes to reach the fall.
During your hike, when you are near the fall, you will be able to hear the gush falling down the waterfall. This creates a calm and peaceful environment that is not only therapeutic for visitors but memorable as well.
Lower and Upper Whitewater Falls – Oconee County
Lower Whitewater Falls is the tallest waterfall in South Carolina, Eastern USA. It presents impressive scenery over the Whitewater River in North Carolina. However, this waterfall offers an even more splendid view across the border in South Carolina.
The Lower Whitewater Falls pours water at about 200 feet into Jocassee Gorge. The trail to Lower Whitewater Falls lies off Bad Creek Road. The trail offers good signage that contains mileage at trail intersections.
After parking their cars, the visitors need to hike for about two miles along this trailhead to both the Upper and Lower White Waterfall overlooks. It is an easy hike for all age groups.
You can reach the Upper White Waterfalls by hiking from a different parking lot on SR 281. The Forest Service manages this parking lot and the trail area. Both trails are well-marked.
Both Upper and Lower Whitewater Falls are mesmerizing and worth seeing.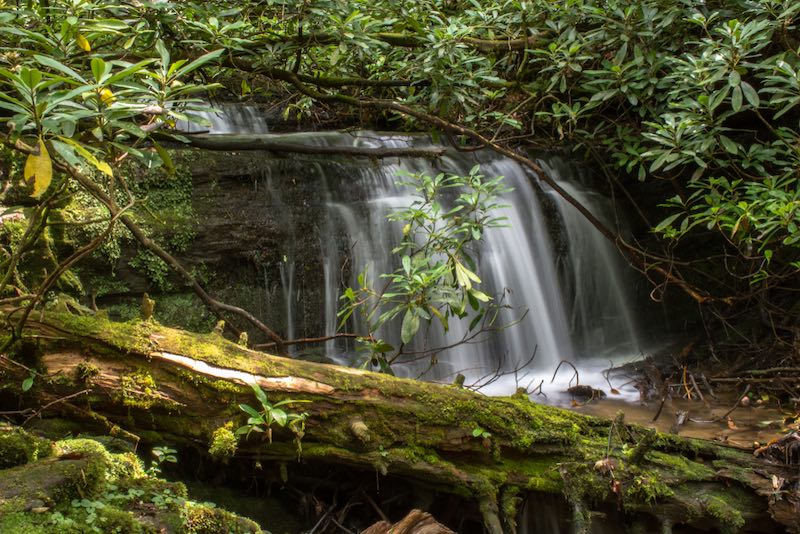 Spoonauger Falls – Sumter National Forest, Oconee Country
Being highly peaceful and woodsy, Spoonauger Falls is one of the magnificent waterfalls in South Carolina.
It is situated along Burrells Ford Road Mountain Rest at a distance of one and a half hours from Greenville, close to the border of Georgia.
There is a trailhead sign for the Chattooga River trail after driving about a half-mile from the Burrells Ford campground. Unfortunately, this trail is sometimes difficult to find, and visitors may have to navigate a bit to search for the trailhead.
You can reach the top of the 50 feet waterfall in about 20 minutes from the trailhead. The Spoonauger Falls is a suitable trail for all ages.
This lovely trail passes through a grassy green hillside covered with trees and shrubs. Upon reaching the top, you can see water running down along the face of a stepped rock and entering a pool.
An appealing spot in the summertime where visitors can dip their feet in cold water on a hot sunny day. It's a great place to take impressive photographs.
You can enjoy the waterfall while catching salamanders in the pool. However, some caution is needed as the rocks can be slippery.
Make your trip more worthwhile by visiting King's Creek Falls, which is situated nearby Spoonauger Falls, only half a mile down the road.
Falls Creek Falls – Mountain Bridge Wilderness Area
Falls Creek Falls is about 125 feet high and is situated near Mountain Rest. It is a three-in-one waterfall. You can also see two other waterfalls, Andrew Ramey Falls & Pristine Falls, along the way.
The visitors can reach Falls Creek Falls by two different trails: the Falls Creek Trail and Hospital Rock Trail.
Falls Creek Trail, named after the falls, is a short trail of about two miles containing several long and steep sections with an overall ascent of about 600 feet.
Hospital Rock Trail is a long strenuous trail on the other side of the falls. It requires a five-mile rugged hike to reach the falls.
You can see Andrew Ramey Falls below the hill when you begin your hike. Continuing on the same path and going left to the split leads you to Pristine Falls, over the creek, on a slight hill.
Moving down a steep bank takes you to the base of Pristine Falls. You can see the Falls Creek Falls by standing on the right side of the split following the creek.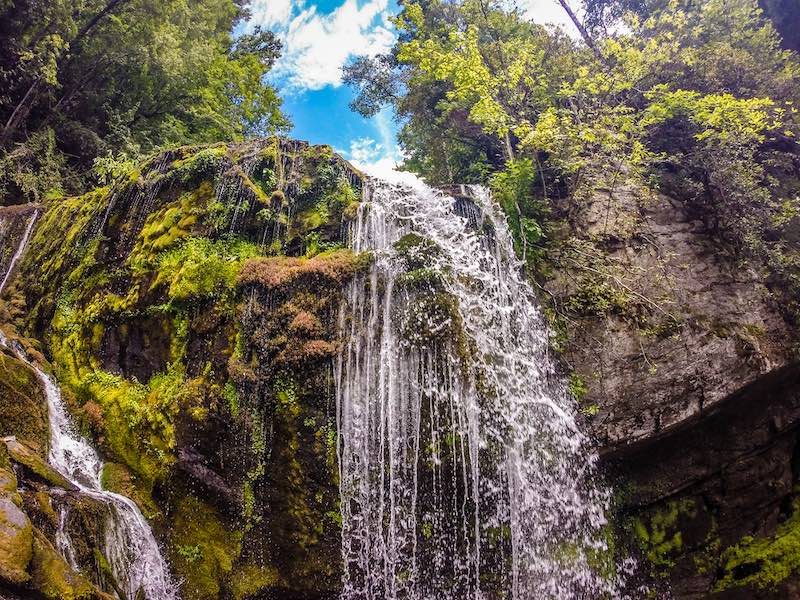 Laurel Fork Falls – Pickens County
Laurel Fork Falls is best to visit during the heavy rainfall season. It has a height of about 80 feet, and it pours into Lake Jocassee, giving visitors a splendid view. You can reach Laurel Fork Falls in two ways: easy and difficult.
The relaxing way is to see the waterfall from a boat over Jocassee Lake. If you just want to take it easy, we recommend you choose this way to enjoy the crescent-shaped cave behind the rock and 80 feet high waterfall.
The difficult way is an 8-mile hike requiring five to six hours along the Foothills Trail, containing many wooden steps. If you choose to see the waterfalls by hiking, we recommend camping overnight.
If you love waterfalls, then you must explore the waterfalls in Lake Jocassee, there is so much to see and the views are breathtaking!
Rainbow Falls – Jones Gap State Park
Rainbow Falls is a must-see place during the spring season at Jones Gap State Park.
It has a height of about 100 feet, complete with wild azaleas in full bloom. Below the central Rainbow Falls, visitors can see a chain of cascades requiring a 1.5-mile hike.
If you are planning to visit Rainbow Falls, it is recommended to choose your dates of departure carefully, preferably in late winter and spring, as the falls are not very impressive during the summer season.
Final thoughts on the best waterfalls in South Carolina
I hope you enjoyed our top 10 best waterfalls in South Carolina.
There is no better way to spend the weekend and connect with nature. These waterfalls offer an attractive natural environment where you can have a picnic with your family and friends and make memories that will last a lifetime.
Save on your trip with these resources
These are our go-to companies when we travel. We believe this list to be the best in each category. You can't go wrong using them on your trip too.
Flights: we use Expedia for the best and cheapest flight options.
Accommodations: we use Booking.com (hotels), VRBO (self-contained), or Hostelworld (budget).
Cars (gas or electric): we use RentalCars to search for deals and dealer ratings.
Campervans or Motorhomes: we use Campstar where Albom Adventures readers get a 3% discount.
Motorcycles: we have heard good things about BikesBooking.
Private guides: we love the private guides at Tours by Locals.
Travel Insurance: while not required, we always opt for travel insurance and start at InsureMyTrip to compare coverage plans.
Check out our travel resources page for more companies that we use when you travel.
Save for later
If you enjoyed this article, please share it on social media and save it for later on Pinterest.
Which of the best waterfalls in South Carolina do you want to see?
Photo credits and tips:
All photos on this page are licensed under the Shutterstock standard license, and all were supplied by Lorena Maia.
If you are taking your own shots, don't miss these tips on photographing waterfalls.
About the author

This post was written by Lorena Maia from Travel Croc. Lorena loves exploring nature with her family. She enjoys hiking and spending time outdoors. You can find Lorena's adventures on her travel blog.