Like so many adventurers, I love waterfalls. As a photographer, capturing the magic of the water rushing over the cliff is a favourite subject. Do you know how to photograph waterfalls?
The secret lies in the how you have chosen the camera settings for waterfalls. There are simple tricks you can do whether you have a DSLR or a point-and-shoot. It's all about the amount of time the camera opens to allow the waterfall to imprint itself on your digital card (or film). This is the shutter speed, and its average time is 1/60 of a second. Regardless of your camera, you probably have more control than you realise.
Take a look at a few of my favourite waterfalls:
How to photograph waterfalls:
If you want to freeze the water you need to use a faster shutter speed:
If you have a DSLR or mirrorless camera and typically use an automatic setting, you will want to set the camera to "S" for shutter priority (may be different on your camera). This will allow you to set the shutter speed while the camera will make the rest of the adjustments. Set your shutter speed for 1/100 to get started.
If you have a point and shoot camera you can trick your camera into a faster shutter speed by putting it in sports mode.
If you want the effect of smooth water, you need to use a slower shutter speed.
The average person cannot hold a camera steady for longer than 1/30 second and will use a tripod starting at 1/20 seconds.
Similar to above, set your DSLR or mirrorless camera to "S" for shutter priority. If you are taking a hand held shot, try it first at 1/20 second. To help yourself stay steady, hold the camera with both hands, elbows down at your side, and gently hold your breath before you take the shot. If your shot is clear, try again at 1/15 seconds. Or, if your original shot is blurry, try again at 1/30 second.
If you have a tripod, set your camera on shutter priority, and set the shutter no faster than 1/20 second. I usually start at 1/5 seconds or slower if I have an ND filter. If it is too bright, try a shorter time.
If you have a point and shoot camera this effect is a bit more difficult, as they are not designed for tripod shots. Your best option is the setting for the lowest light, either candlelight or night shooting.  However, if this triggers your flash, you could try covering it up.
How to Photograph Waterfalls Summary: Set shutter at 1/20 or slower if you have a tripod to give the effect of flowing water rather than freezing the motion.


My Camera Gear:
If you found these tips on how to photograph waterfalls useful, please pin this on Pinterest: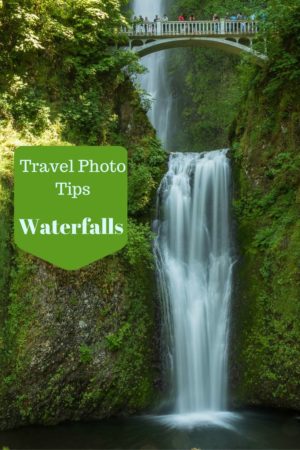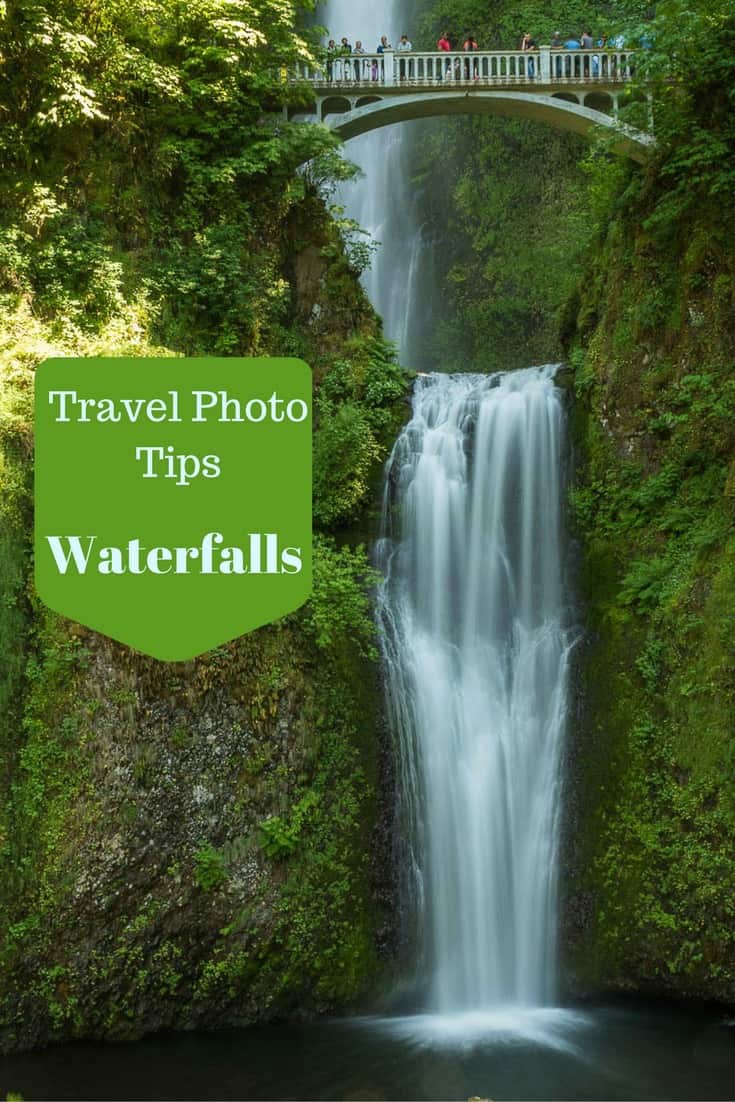 Want more travel photo tips?
Check out my latest ebook for easy travel photo tips. You can download a free copy. You will also receive our newsletter offering more tips and blog highlights.

Seven ridiculously simple tips that WILL improve your photos
Whether you shoot with a phone or a DSLR, let me share my secrets.
Subscribe to Albom Adventure's newsletter and download our free ebook.

Smooth or rushing water, how do you photograph waterfalls?