The top of New Zealand is too often overlooked by tourists, as there are so many amazing places to visit in this country. However, an Auckland to Cape Reinga road trip is a paradise filled with amazing natural history and cultural folklore. We have made the journey a few times as it's one of my two favourite road trips from Auckland. This flexible New Zealand itinerary can be done in 3-days if you hurry, although I think 5-6 days is optimal.
Auckland to Cape Reinga:
If you want to do the maximum your Auckland to Cape Reinga road trip in the least amount of time, drive to Paihia in the Bay of Islands. Spend the night and in the morning take one of the all-day bus tours to from Paihia to Cape Reinga. On day three drive back to Auckland.
From Auckland to Bay of Island
If you are on a tight schedule, this is an easy three-hour drive. If you have an extra day, a few interesting stops along the way are Sheep World, Whangarei or Piroa Falls (to find Piroa Falls look for 80 Waipu Gorge Rd on Google Maps), and Waipu Caves.
You will want to spend at least one night in the Bay of Islands, locals (and many tourists) often spend a week. Paihia is centrally located, Russell requires a ferry passage and is both more relaxed and more expensive, and Kerikeri is ideal if you are going to see it all on the first day. Just be ready to head out again on Day 2.
Top 10 Things to do in the Bay of Islands (in the order you will come to them driving north from Auckland):
From Paihia to Karikari Peninsula
The Karikari Peninsula (this is a different spot than the city Kerikeri in the Bay of Islands) will not take you to the top of New Zealand. It is a stunning peninsula before the road to Cape Reinga (top of New Zealand).
Spend the night on KariKari Peninsula, in Coopers Beach or Cable Bay, unless you are doing a condensed or budget version, in which case you will want to continue on and spend the night in Pukenui. The campground at Pukenui also has bunk rooms and shared kitchens.
Aupouri Peninsula – to Cape Reinga the Top of New Zealand
The final stretch of your Auckland to Cape Reinga road trip will be travelling up and back 90 minutes each way on the same road. The order presented here heads north, but you can save half of the stops for the way back down.
*If you have an extra day, stay the night in Pukenui and enjoy Ninety-mile beach in the morning. Then stay in Opononi after crossing the Hokianga Harbour on the ferry.
Kaitaia to Auckland along the Hokianga Coast (West Coast)
General Information
What is your favourite New Zealand Itinerary? How many days will you spend to drive from Auckland to Cape Reinga?
If you enjoyed this New Zealand North Island itinerary, please share it on social media. Please pin this on Pinterest: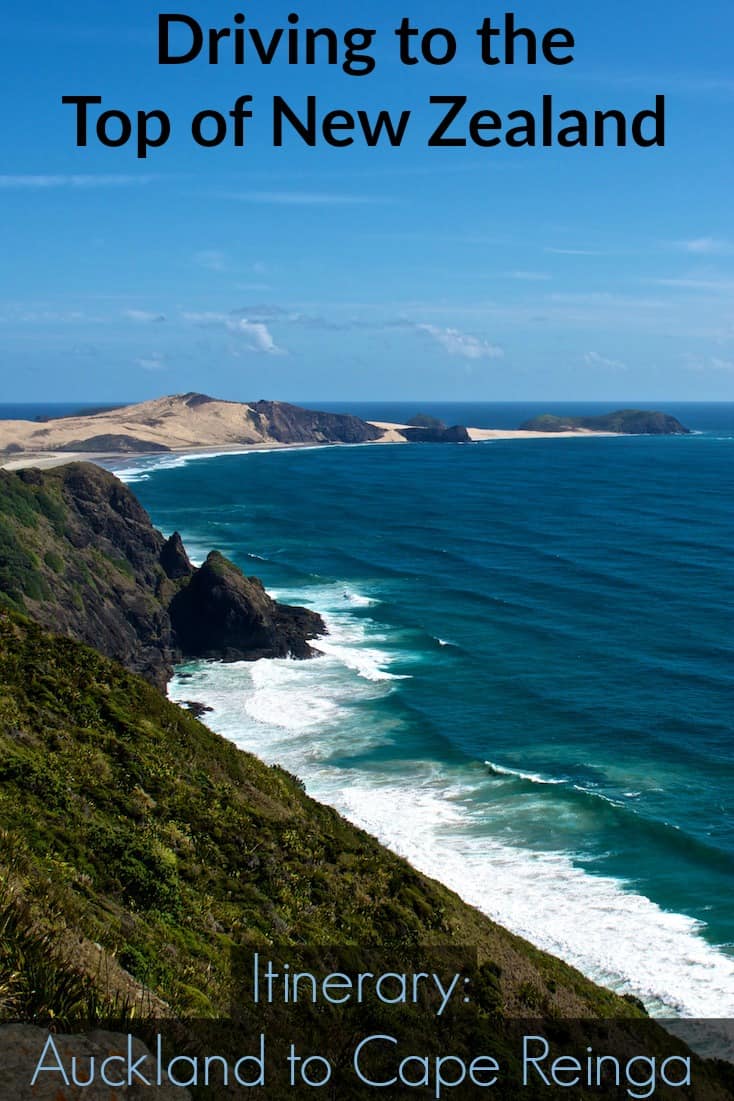 Disclaimer: We were frequently provided with complementary services as we travelled from Auckland to Cape Reinga and back. All opinions expressed here are strictly my own.