The northern edge of New Zealand welcomes visitors with endless coastlines, deep blue seas, giant sand dunes, ancient kauri forests, white sand beaches, and some of the best fish and chips in the country. Auckland to Cape Reinga is a New Zealand road trip filled with unusual natural history and cultural folklore. This flexible New Zealand itinerary can range from a slow adventure to a 2-day whirlwind of excitement. We have found four to five days to be optimal for this North Island road trip.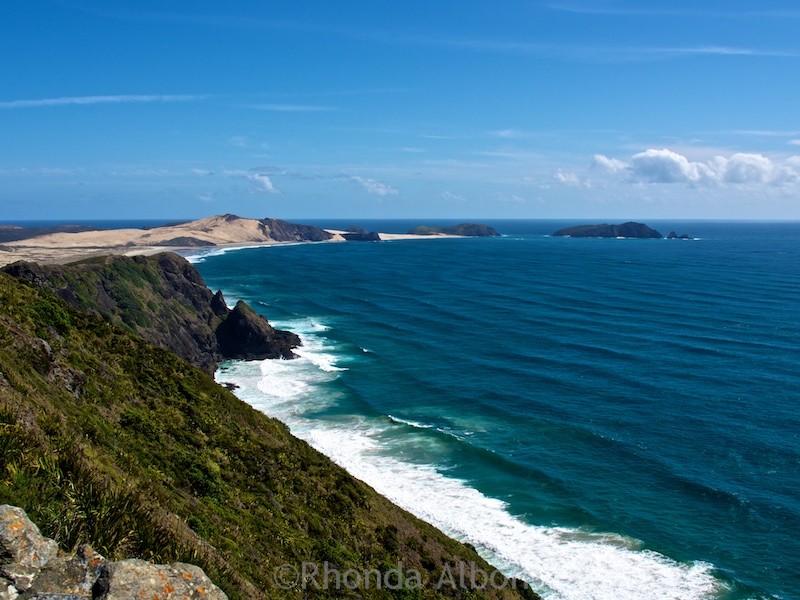 Our Auckland to Cape Reinga New Zealand Road Trip Itinerary
Straight through, it's a 425 km drive from Auckland to Cape Reinga that takes just under six hours. However, there is plenty to see and do along the way. Each of our recommended four to seven day Auckland to Cape Reinga self-drive itineraries follow the same basic route. However, the details are determined by the specific number of days allocated for your trip. If you have less than four days, skip down the page for alternate suggestions.
The basic itinerary is written in four sections:
First is Auckland to the Bay of Islands (east coast).
Next, continue north to Kaitaia, with an optional drive on the Karikari Peninsula.
Then, drive along the Aupouri Peninsula (the narrow strip of land leading to the top of the island).
Finally, return from Cape Reinga to Auckland along the west coast.
Auckland to Cape Reinga – Four to Seven Day Itinerary
We prefer a self-guided New Zealand road trip over a guided tour. If you are the opposite, click here to skip to the two to three day guided itinerary options below.
Segment 1: Auckland to Bay of Islands
Get an early start and plan to spend the first night in the Bay of Islands. It is an easy three-hour drive from Auckland. If you are on a tight schedule (four or five day itinerary), drive straight through. You will be in the Bay of Islands by 11 am, with over half a day to spend in the area.
If you have allocated six or more days for the top of the island, you can enjoy a leisurely drive from Auckland to Paihia. We typically stop at Sheep World, two waterfalls (Whangarei and Piroa), and Waipu Caves.
PRO TIP: To find Piroa Falls using GPS, search for "80 Waipu Gorge Rd" on Google Maps.
Bay of Islands activities
The Bay of Islands is an enclave of 144 islands. They are a playground for New Zealand holidaymakers and a source of history for students and visitors. There is an abundance of Bay of Islands activities ranging from relaxation to extreme sport. In the order you will come to them driving north from Auckland:
Kawakawa
Visit the Hundertwasser Toilets, the only structure designed by Fredrick Hundertwasser in the Southern Hemisphere. This is a quick stop that can be included in any itinerary.
Opua
Walk to the Opua Forest Paihia lookout, or take the car ferry from Opua to Russell. This is only included in our itineraries of six or more days.
Paihia
Regardless of how many days you allocated for this adventure, you will want to spend the first night in Paihia (on our seven-day itinerary, you will spend two nights here). Locals and many tourists often spend a week. Paihia is centrally located, and while nearby Russell is more relaxed it requires ferry passage and is more expensive. Paihia Beach is ideal for swimming, kayaking, parasailing, or relaxing. Paihia's port is the starting point for an excursion to the Hole in the Rock, the passenger ferry to Russell, or a swim with the dolphins. On the four to five day itinerary, you will have time for only one of these water activities.

Russell
We love to walk around New Zealand's first capital city, and when we feel energetic we hike up Flagstaff Hill. We typically leave our car in Paihia and take a passenger ferry.
Waitangi
Everyone should explore the Waitangi Treaty Grounds, the birthplace of New Zealand and what I believe is the country's most important historic site. Don't miss the nearby Haruru Falls and, if you have extra time, hike the trails in the surrounding forest.

Cultural show at the Waitangi Treaty Grounds.

Kerikeri Mission Station
Visit two of New Zealand's oldest buildings; the Old Stone Store (built in 1832) and the Kemp House.

Old Stone Store
If you only have one day, check out these road trips from Auckland.
Segment 2: Bay of Islands to Pukenui with an Optional Drive on the Karikari Peninsula
As you continue your drive north from Kerikeri, there are several sites you won't want to miss:
Rainbow Falls
It's a short walk from the car park.
Mangonui
Often thought of as the best fish and chips in the country, it's the lovely views that actually keep me coming back to the famous Mangonui Fish Shop.

Mangonui Fish Shop

North coast beaches
There is one beach after the next. On our last visit, we stayed right on Cable Bay beach.
Karikari Peninsula
This is the first point where our itineraries split. If you have only four days, you will continue on from Manganui, skipping the Karikari Peninsula, and spend the night in Pukenui. If you have longer, spend the night on Karikari Peninsula or a north coast beach city. In the morning, detour onto the striking Karikari Peninsula for a relaxing glass of wine at Karikari Estate or a swim in the gentle waters at the picturesque Matai Bay Beach. Rumour has it that there are little blue penguins at the beach in Whatuwhiwhi, but we didn't see any.
After the Karikari Peninsula, or instead of it on the four-day itinerary, spend the night in a cabin at the Pukenui campground. The next day is long and exciting, and this gives you a head start on the Aupouri Peninsula.
Segment 3: Aupouri Peninsula – Kaitaia to Cape Reinga
The pinnacle of your Auckland to Cape Reinga road trip is the Aupouri Peninsula, the narrow strip of land running approximately 100 km north to the top of the island. Get an early start as, in addition to the three hours of driving today, there is plenty to see and do along the way. We stopped to swim, to drive on the beach, to sandboard, and to walk through an ancient buried forest.
The peninsula shares its name with the local Maori iwi (tribe) Aupōuri. In legend, it is known as Te Hiku-o-te-ika-a-Māui, which translates to the tail of Māui's fish.
The order presented here heads north along the peninsula, but we recommend saving some of the stops for the return drive.
Ninety-Mile Beach
With 4WD you can drive on this beach, which is actually classified as a section of Hwy 1. We can't stress this enough: read the warning signs and know the tides. If doing the six to seven-day itinerary, stay an extra night in Pukenui and visit the beach in the morning.
Gumdiggers Park
An ancient buried kauri forest, this is a fascinating stop.
Pukenui Pacific Cafe
Our favourite eatery on the peninsula.
Rarawa Beach
If you are quiet as you walk across the white silica sand, you will hear the oddest squeaking noise.
Te Kao Store
A country store famous for serving huge, creamy, and delicious ice cream.
Giant Sand Dunes of Te Paki
Adventure seekers will want to go sandboarding on these giant sand dunes.
Cape Reinga
Finally, you will reach Cape Reinga. More than just the top of New Zealand, it is a spiritual place for the Māori people and the meeting place of two major bodies of water.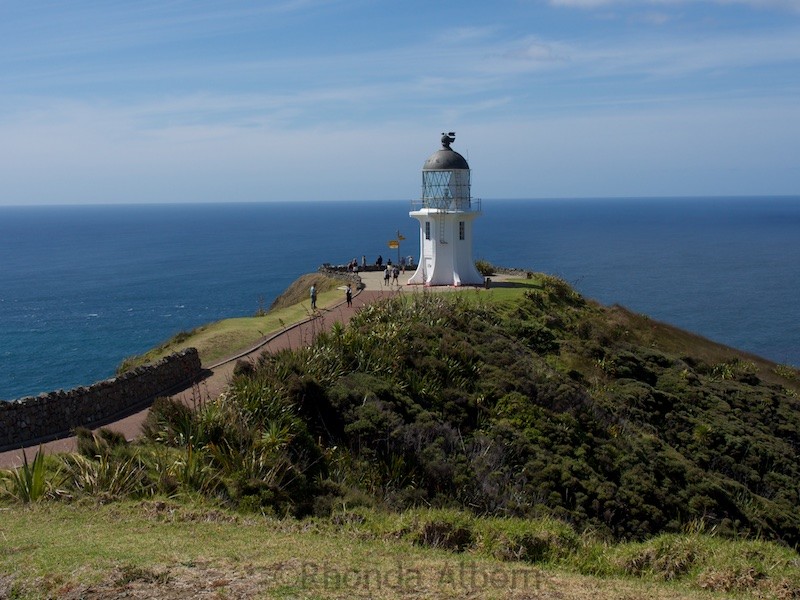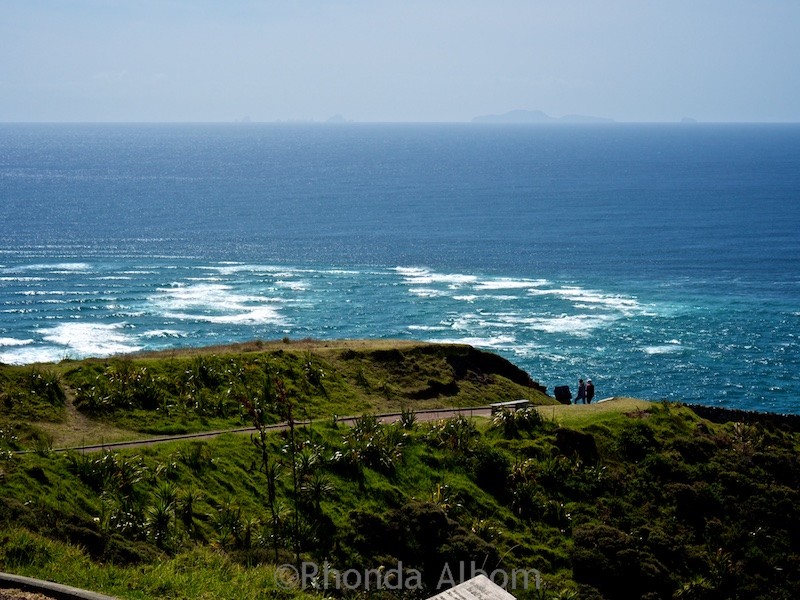 Segment 4: Pukenui to Auckland along the Hokianga Coast (West Coast)
As you drive down the west coast, you can lob about an hour off the drive by taking the Hokianga car ferry from just past Kokukohu to Rawene. Check the Hokianga Ferry schedule to be sure you don't miss the last ferry of the day.
Once on the other side, you will want to have lunch in the quaint Opononi Village. If you are on the six or seven-day itinerary, spend a night at Opononi Lighthouse Motel.
On the four or five day schedule, you will be spending most of this day driving and enjoying New Zealand scenery. If you don't get an early start, you will have time for only one stop, and that will be the Waipoua Kauri Forest.
Waipoua Kauri Forest
Home to New Zealand's largest living kauri tree, it is only a five-minute walk from the trail marker to the 2000-year-old Tane Mahuta 'Lord of the Forest'. Also, take the short drive to the next car park, where there is an easy 20-minute (one way) walk to see The 'Four Sisters' and  Te Matua Ngahere, 'Father of the Forest' (the second largest tree).

Tane Mahuta, Lord of the Forest – for perspective, notice my niece in an orange shirt in the bush at the base of the tree.

The Kauri Museum
Located in Matakohe, it is a favourite museum of many of our guests. However, if you try to make the return trip from Pukenui in one day, you probably won't get to the museum before it closes.
Auckland to Cape Reinga Three-Day Guided Tour
If you are visiting New Zealand without a vehicle, or if you prefer the knowledge of a local guide, this is the Northland tour we recommend. It starts and ends in Auckland and does it all in just three days.
⇒ Click here to check the availability of the three-day Bay of Islands tour from Auckland
This tour takes you via an air-conditioned coach and spends two nights in the Bay of Islands. Highlights include:
Visit Cape Reinga.
Drive along 90-mile beach.
Scenic drive through Puketi Kauri Forest.
Entrance to Waitangi Treaty Grounds.
Cruise to the famous Hole in the Rock.
Tour historic Russell.
Free time to explore the Bay of Islands.
Or start in the Bay of Islands with one of these tours:
Auckland to Cape Reinga 2-Day Adventure
It is possible to travel from Auckland to Cape Reinga and back in just two days. The total drive time in one direction can be as short as six hours. However, there are a few places you would want to stop and see along the way. If your time is extremely limited and Cape Reinga is a must-see, we recommend driving to Paihia in the Bay of Islands, exploring the area, and spending the night. On day two take the 11.5 hour Cape Reinga and 90-Mile Beach Tour in the table just above. After it returns to Paihia make the 3.5-hour drive back to Auckland. This is not optimal, but possible.
Tips For Everyone Travelling from Auckland to Cape Reinga
Cars drive on the left side of the road in New Zealand.
Our speed limits are somewhat lower than in other countries. Allow enough time to get to your destination.
Know the driving rules. Be sure to understand how to cross the one-way bridges you will encounter driving from Auckland to Cape Reinga.
In each city, there is a range of accommodation options. We use and recommend both booking.com and HotelsCombined to find the best prices in New Zealand.
Be sure your travel insurance covers any medical expenses you might incur. Albom Adventures readers can Save 5% on Travel Insurance with World Nomads* when you Use this Code: ALBOMADV  (*For our Canadian and US travellers, unfortunately, due to financial services laws, we cannot provide a discount. This promotional code cannot be used with any other discount offer, including World Nomads Members' discount for travel insurance policyholders.)
If you enjoyed these itinerary options, please share this article on social media including Pinterest: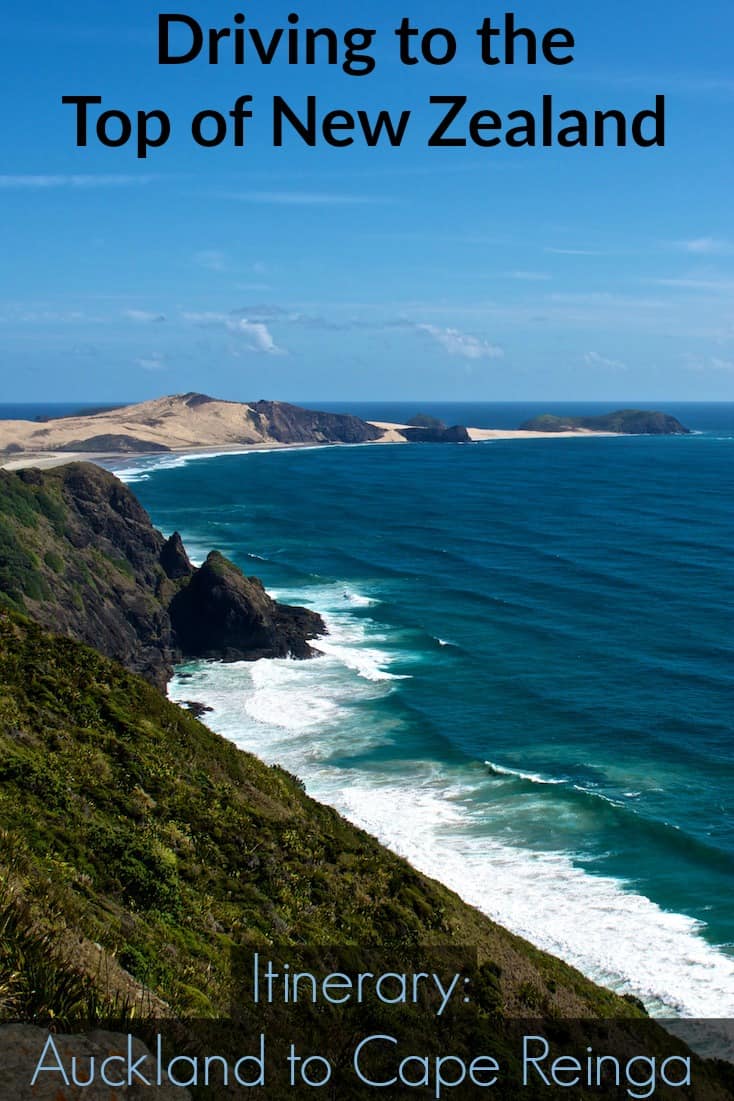 What is your favourite New Zealand road trip? How many days will you spend to drive from Auckland to Cape Reinga?
Disclaimer: We were frequently provided with complementary services as we travelled from Auckland to Cape Reinga and back. All opinions expressed here are strictly my own.