Rarawa Beach is pure white silica sand, crystal clear turquoise water, and a quiet that seems out of place. While gentle waves and the occasional squawk of a nesting bird disrupt the silence, there is an innate peacefulness about this stunning beach that enhances its tranquility.
Somewhat isolated, and well off of the main road, we think of it as a place for relaxation and reflection. We know it, and so do the dolphins frequently seen frolicking in the waves.
While Rarawa Beach claims to have a busy season, we last arrived in December, at the height of the season, and were alone on the beach, as we have been on past visits.
We have been told it's a popular place for swimming, surfing, and fishing, but we have never seen it.
More of New Zealand on Albom Adventures
What is white silica sand?
White silica sand consists of well-rounded sand composed of almost pure quartz grains. It's not common on New Zealand beaches. In fact, the sand from this region is used for glass-making in Whangarei and Auckland.
The stark white of the silica sand dunes was impressive, and on a blue sky day, sunglasses cut the glare Personally, I loved to walk along the beach as the white silica sand beneath my feet makes the oddest squeaking noise. But even more unusual, and never quite explained to us, we didn't leave footprints on much of the beach. Take a look around Jeff's feet.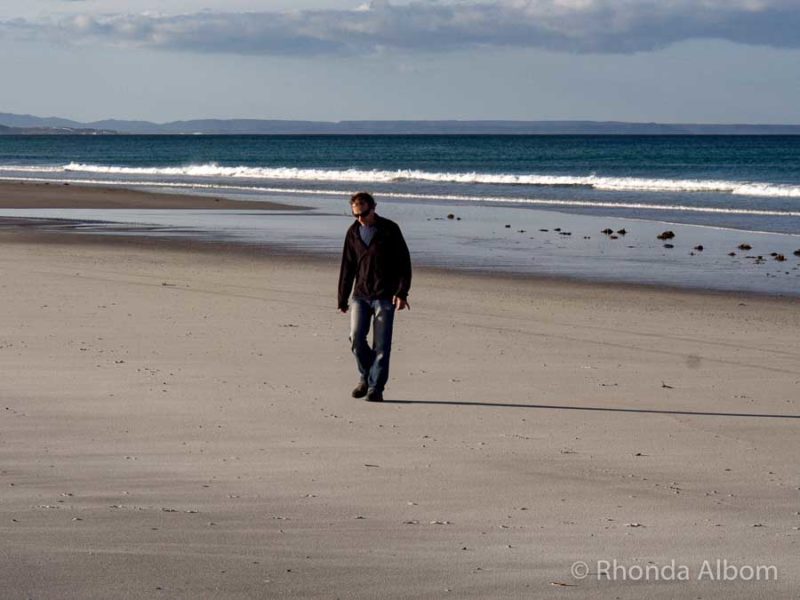 What to do on Rarawa Beach
Like many New Zealand beaches, swimming, surfing, fishing, kayaking, and bird watching top the list of the things to do. While we have only seen gentle waves on the days we have visited, we know they must get much larger as the beach was a host to the National Scholastic Surfing Championships in 2011.
The white sand against the blue sky also makes it a photographer's paradise.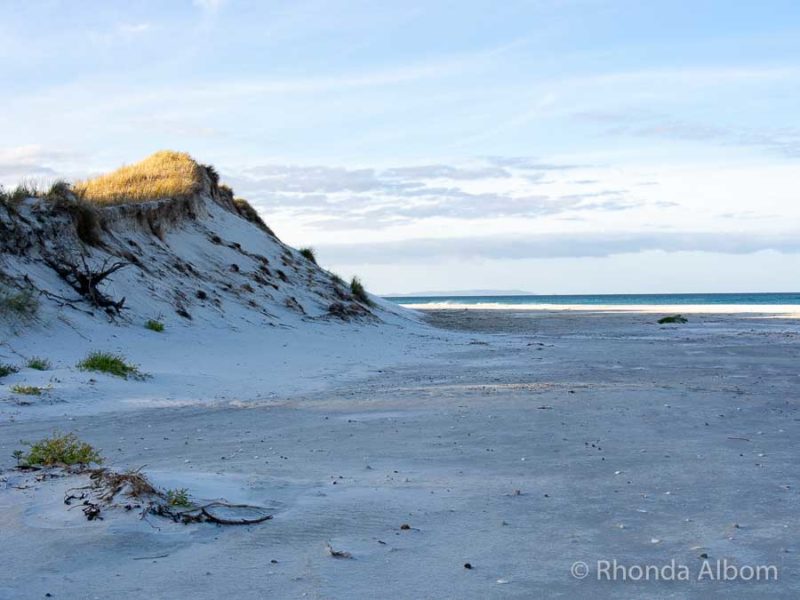 Birdlife on Rarawa Beach
The beach is home to many native bird species. Importantly, it is a nesting ground for the endangered Northern New Zealand dotterel and to several species of oystercatchers. Nesting season runs from August to March, through the more busy summer season. Although, the photos on this page were taken during December, and as you can see, we were alone on the beach.
It is important not to disturb nesting shorebirds, and give them a wide berth should you come across them. If you hear them squawking, you know you have come too close.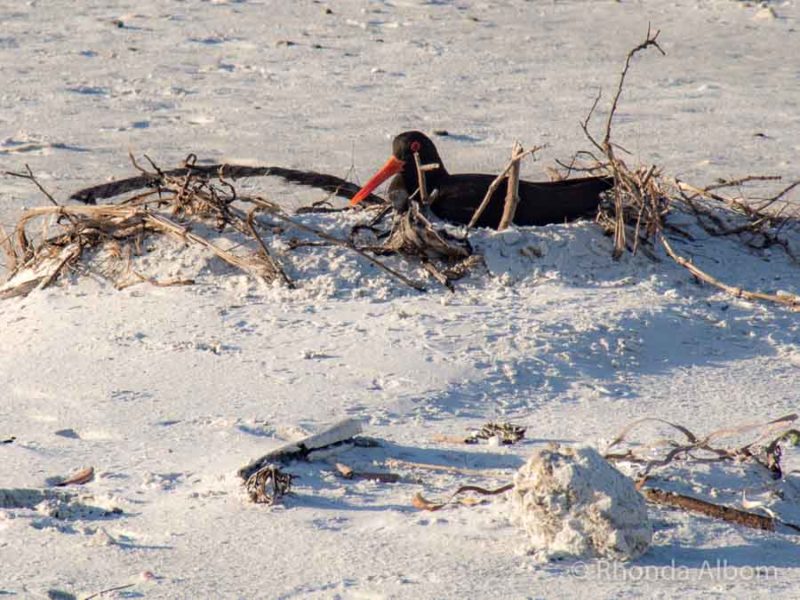 Where is Rarawa Beach?
Located on the eastern shore of the Aupouri Peninsula, it is often overlooked for the more iconic ninety-mile beach and sandboarding on the giant dunes along the western shores on the way to Cape Reinga.
Rarawa Beach is in the Paxton Point Conservation Area at Te Paki, although on the opposite side of the peninsula from the well known Te Paki Sand dunes. (Despite their name, the sand dunes are actually located in Cape Reinga.)
Getting to Rarawa Beach
Getting to Rarawa Beach is easy with your own vehicle. Although, be aware that the final four kilometres of your drive will be on a gravel road.
The drive from Kaitaia will take approximately 45 minutes.
Follow SH1 north through the Aupouri Peninsula until you pass the town of Ngataki.
About 3 km after entering the town, pass Ngataki School, then turn right (signposted) onto the Rarawa Beach Road. This is a 4 km gravel road that will bring you to to the beach.
Final thoughts on Rarawa Beach
Bring insect repellent. Rarawa Beach attracts many mosquitoes.
Even though it is white, the sand can get very hot in the summertime. Bring sandals just in case it is too hot for you.
If you like tent camping, there is a Department of Conservation Rarawa Beach campsite.
The stark white hills seen in the distance while driving up north are actually the dunes of this beach.
Rarawa Beach is one of the recommended stops on our favourite North Island itinerary around the top of the Island

.

Even if you just stop by for a look, it's worth the effort.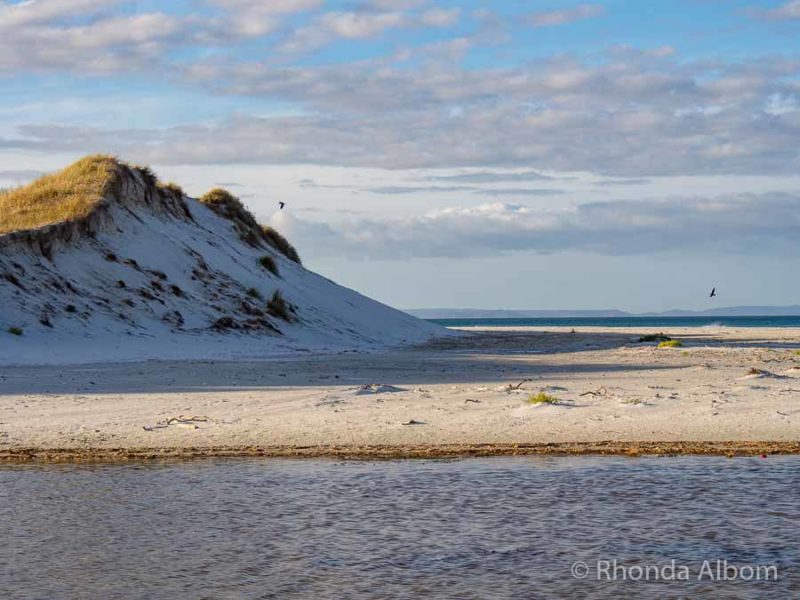 Booking tips for New Zealand travel planning
We often have affiliate partnerships with companies that we trust and recommend. We receive a small compensation if you make a purchase using these links. In some cases, the links can save you up to 70%.
First-time visitors start here: New Zealand travel guide or with our favourite New Zealand road trips.

Flights: We use Skyscanner to find all the available flight options at the best prices.

Rental Vehicles: For cars, we always use RentalCars.com, a rental car search engine with no hidden costs. For campervans (and larger cars), note that Spaceships Rentals NZ offers free one-way drop-off between Auckland and Christchurch.
**Albom Adventures readers can check for discounts off Spaceships campervans.**

Accommodations: We use Tripadvisor to find ratings and reserve accommodations in most NZ cities.

Activity Discounts: We use Bookme.co.nz to find discounts on entry tickets and tours in New Zealand.

Travel Insurance: We purchase insurance that covers medical and travel emergencies when we head overseas. We start with Travel Insurance Master, an aggregator that gives us a free and easy-to-read comparison of the inclusions of each policy.

Packing Tips: Get a free copy of our New Zealand packing list when you sign up for our mailing list.

**Find more money-saving resources on our Travel Resources page.
Save for your next visit to Northland
If you enjoyed this article, please share it on social media, including Pinterest:
Have you walked on white silica sand?
More on New Zealand you might enjoy: