North Head historic reserve lies across the bay from Auckland City, at the end of Devonport. It's one of the first places we tend to take visitors to enjoy the expansive panoramic views of the city and the surrounding waters. We also bring a torch (flashlight) and explore the abandoned military tunnel complex.
The Maori people were the first to use this extinct volcano for defence and named it Maungauika.
Its geographic location made it a perfect stop for guiding ships into the harbour, thus aiding in the settling of Auckland city. It was declared a public reserve in 1878.
Later, in 1885, it became one of New Zealand's military defence sites set up to protect the country from the perceived threat of Russian invasion.
We visited recently and enjoyed climbing the hillsides, walking through the maze of the military tunnels, examining the cannons and gun encasements; and we learned about the history through a free 20-minute movie in the old stone kitchen.
Where is North Head?
An extinct volcano at the end of a peninsula, North Head Historic Reserve is strategically located in Devonport, overviewing the main harbour and Auckland city. Therefore it's often referred to as either North Head Devonport or North Head Auckland, even though it's the only location with that name in the country.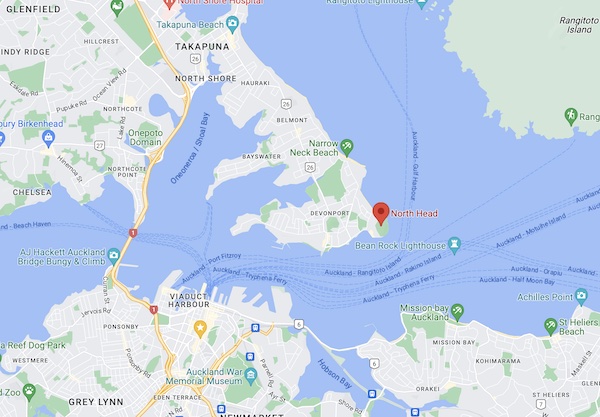 Entering the North Head tunnels
Bring a torch (flashlight) if you want to explore every corner of the tunnels. Many of the corridors are blocked off, bringing you to unexpected dead ends.
However, the maze-like series of tunnels have frequent exits so there is no worry of getting trapped.
While the image below shows the tunnel entrance, there is a way out on the other end, offering a different, but also fabulous view.
Be sure to read the signage on the building if you want a more detailed explanation of what you are seeing.
From a recent exploration, here is one of my girls entering the tunnel complex and the other already inside: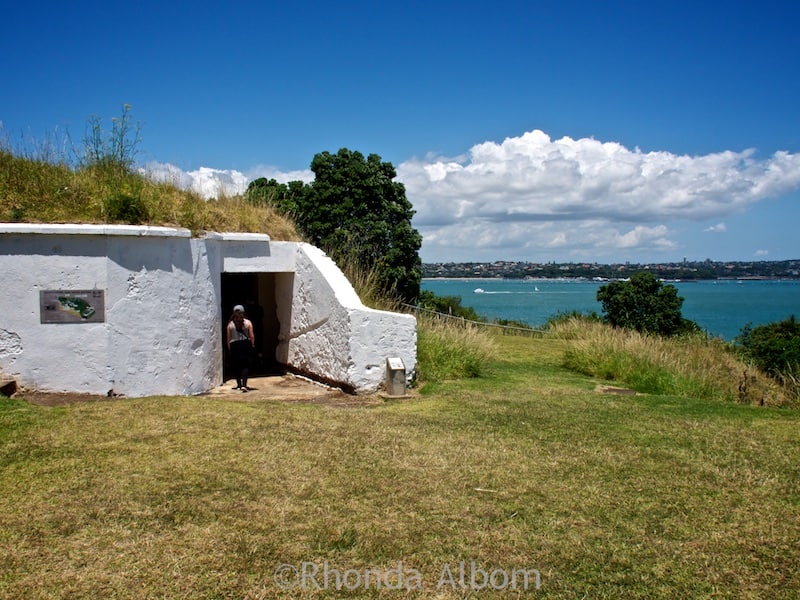 Armstrong disappearing gun
Aptly named "disappearing gun," it vanished underground after each shot. It was state-of-the-art when installed in 1887.
More precisely, it's an "8-inch disappearing gun" that fired a shell 8 inches in diameter.
Few guns of this type remain anywhere in the world. However, there is a similar 6-inch disappearing gun at Fort Taiaroa at the Royal Albatross Centre in Dunedin.
History buffs can read more about the gun from the Department of Conservation (DOC).
Note that DOC is not the current administrator of the reverse as ownership of Maungauika/North Head Historic Reserve has transferred to Ngā Mana Whenua o Tāmaki Makaurau (the Tāmaki Collective) as part of Treaty Settlement negotiations (Source)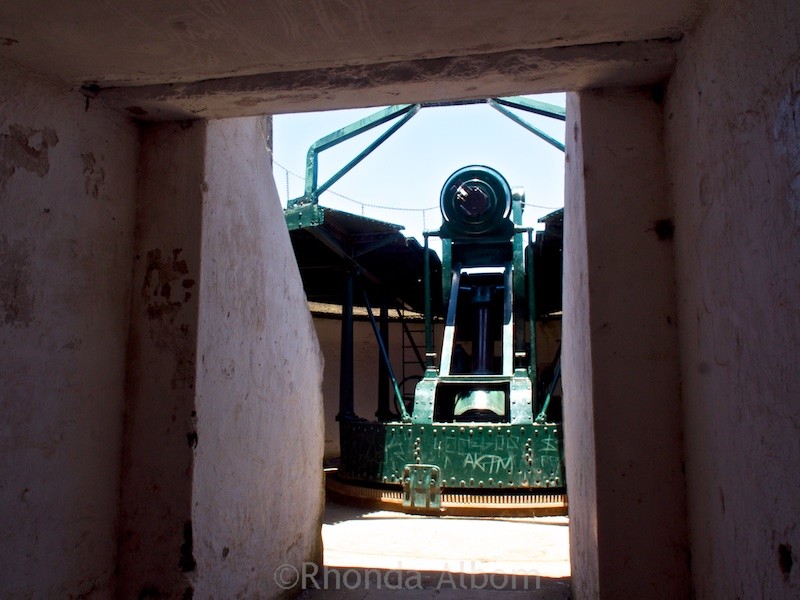 WWI field guns
Now ornamental, four WWI field guns appear to guard the shore, with a larger one just behind (out of view in this shot). These have never been fired in defence but have been used in ceremonies.
You can see the big gun being fired in 2004 here.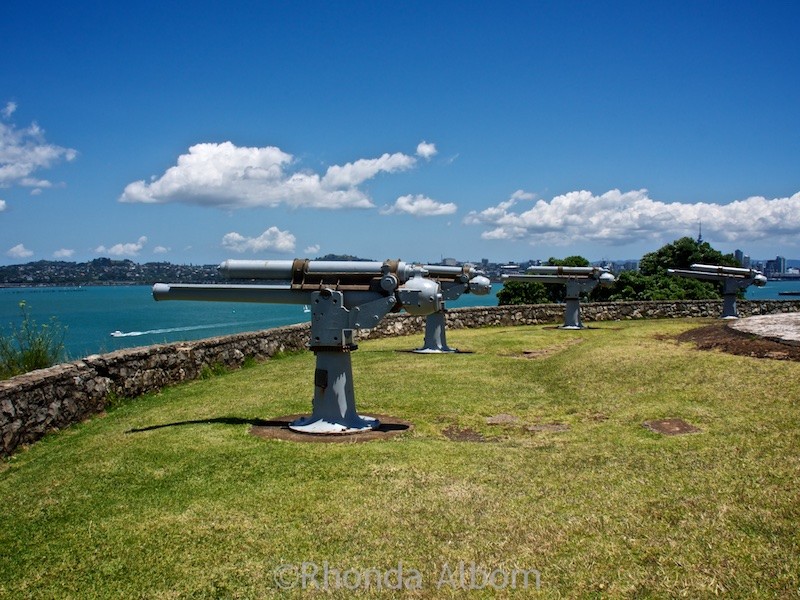 Former military buildings
These buildings have been used by thousands of New Zealand soldiers for training exercises and as living quarters. They were also used by prisoners living here while expanding and strengthening the fortifications and tunnel system.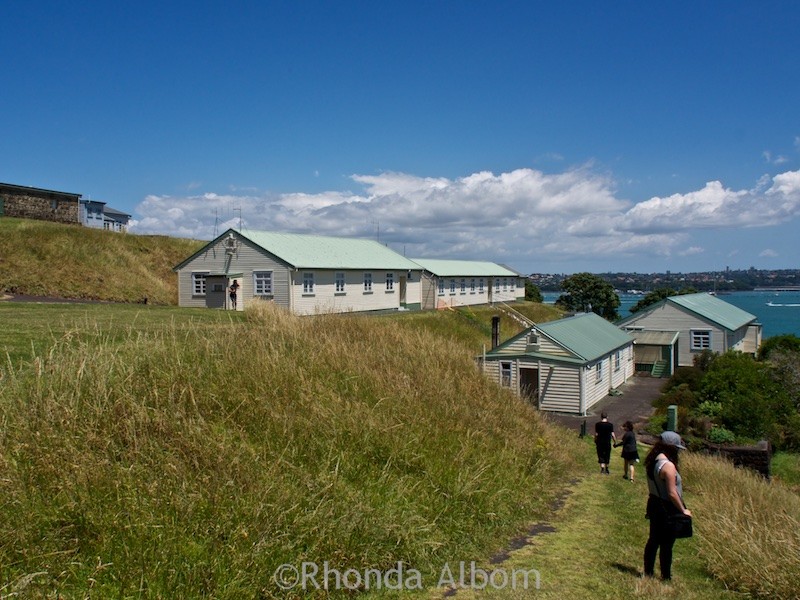 Beautiful views surround the North Head tunnels
The spectacular views span all directions and include the inlet towards the city. It's an obvious defence choice. We have also seen similar defence sites, built to defend against the same perceived Russian invasion, in Shakespear Park, Mission Bay, and Wellington.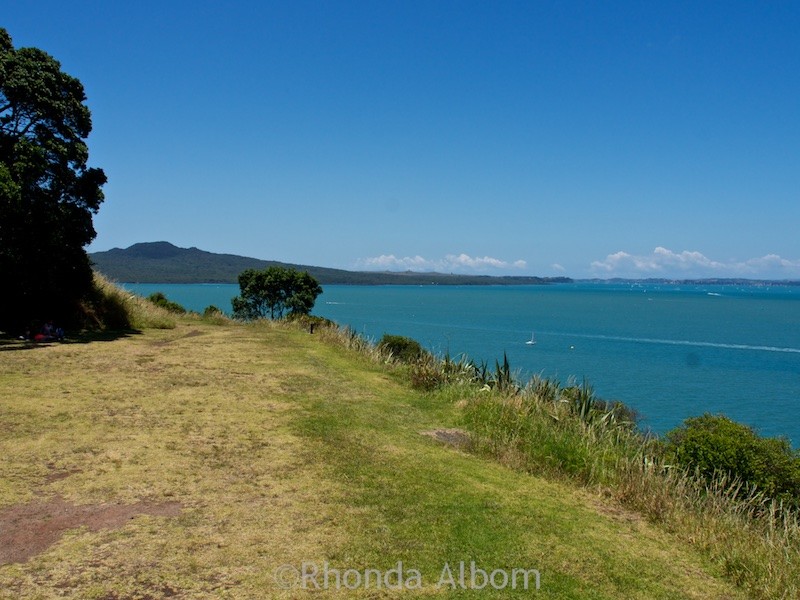 Visiting North Head
We always drive our own vehicle as there is plenty of parking at the bottom and the top of the hill.
Alternatively, the ferry from Auckland to Devonport Wharf takes only 12 minutes, and then you can enjoy a 1.5 km walk along the waterfront to the North Head historic reserve.
It's always free to enter and open from 6 am to 10 pm, although the vehicle gates close at 8 pm.
There is plenty of places to stroll or light hikes, and wide-open grassy fields overlooking impressive views that are perfect spots for a family picnic. Download a free self-guided walk from DOC.
Regardless of how you arrive, try to include a visit to the top of nearby Mount Victoria for different views of the city and fabulous sunsets.
A visit to North Head is just one of 75 free or nearly free things to do in Auckland and one of the more unique activities in the city.
Save on your NZ trip with these resources
These are our go-to companies when we travel. We believe this list to be the best in each category. You can't go wrong using them on your trip too.
Flights: we use Expedia for the best and cheapest flight options.
Accommodations: we use Booking.com (hotels), Bookabach (self-contained in NZ) or Hostelworld (budget).
Cars (gas or electric): we use RentalCars to search for deals and dealer ratings.
Motorcycles: we have heard good things about BikesBooking.
Campervans or Motorhomes: we use Campstar where Albom Adventures readers get a 3% discount.
Activity discounts: we check Bookme.com for discounts of up to 70% on activities.
Private guides: we love the private guides at Tours by Locals.
Travel Insurance: while not required, we always opt for travel insurance and start at InsureMyTrip to compare coverage plans.
Check out our travel resources page for more companies that we use when you travel.
Save on Pinterest for your next visit to Devonport
If you enjoyed this article on North Head Auckland, please share it on social media, including Pinterest: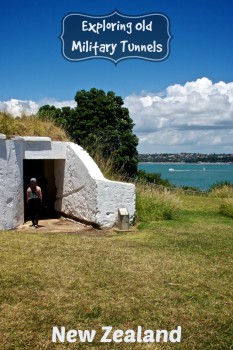 Will you visit the North Head Historic Reserve for the history, the views, or to have a chance to enter the tunnels?
More on the shore you might enjoy …
SaveSave