Parry Kauri Park is home to some of New Zealand's oldest and tallest native trees. Strolling through the tall trees is probably my favourite of the many things to do in Warkworth and the nearby New Zealand towns.
A relaxed, residential community about an hour north of Auckland, Warkworth offers a few surprises to its visitors.
Aside from Parry Kauri Park and its native kauri trees, there are crystal clear beaches and hours of hiking trails inside several regional parks, wildlife to be spotted, farm animals to enjoy, a museum, and wine tasting.
Generally, we bring visitors to walk through Parry Kauri Park. Then we head into town to enjoy a meal or a coffee before choosing from the other things to do in Warkworth.
If you are heading north of Auckland, either to the Bay of Islands or all the way to the Cape Reinga or anywhere in between, if you can, allow time to stop and explore the kauri trees.
First, be inspired …
Parry Kauri Park – our favourite of the things to do in Warkworth
Parry Kauri Park is home to the two largest living kauri trees on the east coast of New Zealand. It's an ideal place to stop and stretch your legs if you are headed up north or a great destination on its own.
There is a walking loop track with several lookouts and strolls ranging in length from 10 to 45 minutes. Although mostly boardwalk, there are some stairs and areas of hard-packed dirt.
The McKinney Kauri
Named to honour Rev McKinney, the first minister of the Presbyterian Church in Warkworth and the Mahurangi, this 800-year-old McKinney Kauri greeted us as we walked towards the boardwalk.
Take a look at the group of students standing at the tree's base as they offer a bit of perspective on size, although it's difficult to see that the tree has a girth of more than 7 metres. In fact, the McKinney kauri tree is estimated to be the largest kauri tree on New Zealand's east coast.
The students were learning a bit about Kauri, the largest native tree species in New Zealand, which grows only in the subtropical north portion of the North Island. A thousand years ago, when the first people arrived on the island, there were many more kauri forests. In fact, Kauri remained prolific until the European settlers arrived in the 1700-1800s.
Kauri can grow to over 50 m tall, with trunk girths up to 16 m, and live for over 2,000 years. New Zealand's largest, Tane Mahuta, is on the West Coast of the North Island. When we drive around the top of the North Island, we can see both trees.
Today, they are protected. If you want to learn more about the history, past uses, and current threats to this masterpiece of nature, check out the New Zealand Department of Conservation.
Maori legend tells us that anyone can place both their hands on the 800-year-old kauri tree, close their eyes and make a wish.
Parry Kauri Park loop track
The boardwalk winds through the dense trees. It's an easy walk, although the intermixed stairs suggest it is not very accessible for strollers or wheelchairs.
Well signposted, there are loop options, with the shortest being only about 10 minutes to the first viewing platform, which contains a bird feeding station.
It only takes about 30-45 minutes to walk the entire loop, and the result is a peaceful calm that often lasts for days.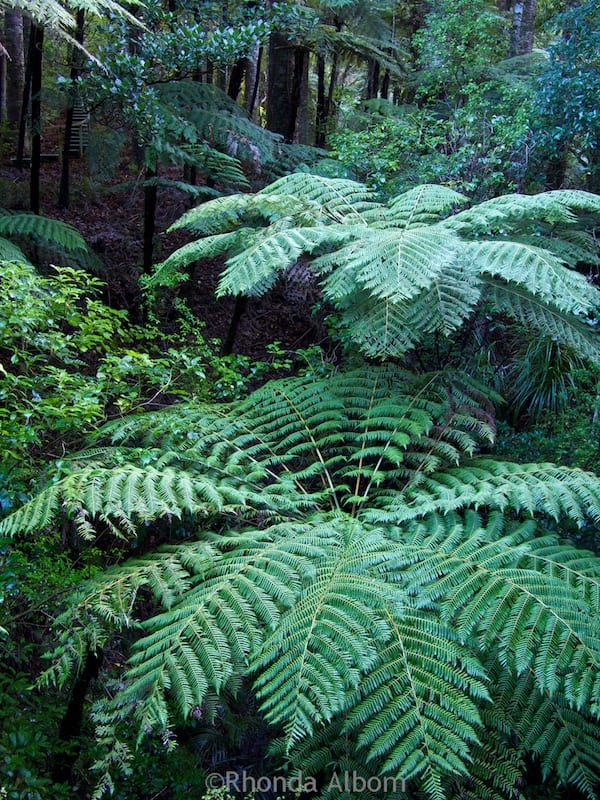 Where is Parry Kauri Park?
Parry Kauri Park is about an hour north of Auckland by car, just before the township of Warkworth. The town is part of the Auckland region.
Specifically, the park is off Tudor Collins Drive in Warkworth. It's several minutes off the main road and has a carved wooden entrance sign. Follow signs to Warkworth Museum.
Other things to do in Warkworth
Warkworth Museum
The Warkworth and District Museum is actually located in Parry Kauri Park. This local museum shares the history of the region. You'll want to stop here before heading to the boardwalk and pick up a free brochure that will help you to identify the native trees and shrubs found throughout the park.
Inside the museum, you will find more about kauri trees and the gum-diggers who worked with them, including plenty of photos, tools, kauri gum, and even a bushman's hut.
Enjoy a meal, coffee, or just a stroll along the river
The Warkworth town centre is home to several delicious cafes and restaurants. We like to stroll along the Mahurnagi River boardwalk and just enjoy the day.
Sheepworld
Ever wonder about all those New Zealand sheep? Spend a few hours at Sheepworld, and you will be sorted. There is an opportunity to get up close to a variety of friendly farm and exotic animals and to learn the story of New Zealand wool. The real highlight for me is the Sheep and Dog Show, which currently runs Thursday to Sunday at 11am. Check for discounts and reserve your Sheepworld entrance here.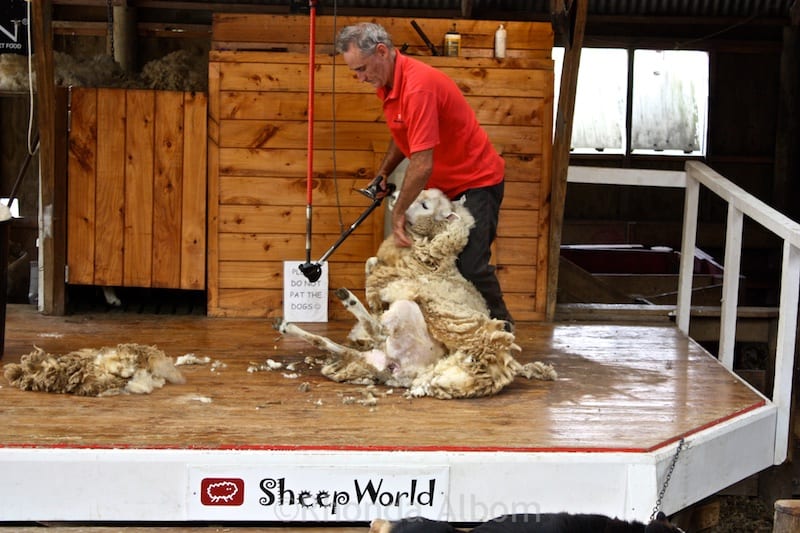 Things to do in Warkworth – nearby towns
Matakana Wine Tour
If you are staying in Warkworth, you might enjoy a full-day wine-tasting tour that visits three of Matakana's best wineries. Tour pick-up starts in Warkworth (or Auckland or Matakana) and travels through the stunning Matakana region. Not only will you try wines, but you will also share a gourmet lunch platter. Check for wine tour discounts and reserve your tour here.
Head to the beach
There are some stunning beaches in the area, including three Auckland regional parks: Tarwharanui, Mahurangi, and Wenderholm. Each is home to plenty of great hiking tracks and beautiful beaches. And, if you don't want to visit a park, then just head to the white sands of Omaha beach.
In the evening, look for kiwi birds at Tawharanui
Seeing these nocturnal birds in the wild is a rare treat reserved for only a few. Experts know how to find them and take small groups out to experience the Northern Brown Kiwi bird habitat. Learning a lot about the birds, you will hopefully find one on your tour, which heads out at dusk for a three-hour adventure. Check for kiwi bird tour discounts and reserve your tour here.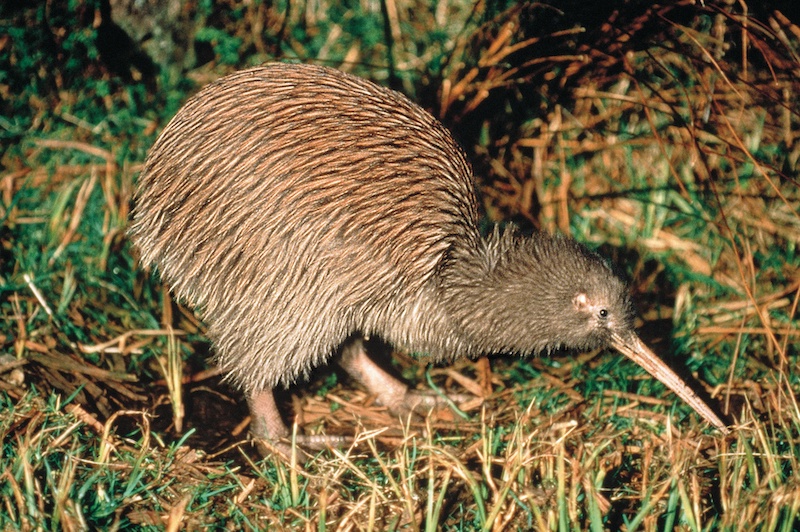 Discover marine life at Goat Island
Nearby Goat Island is well known as the place to see marine life either via snorkelling or on a glass-bottom boat. If you're into kayaking, one of the newer ways to enjoy the marine life is on a clear kayak, allowing you to move through the water at your own pace yet see everything below.
Snorkellers can just head into the water on their own. However, if you are new to snorkelling or prefer to have a guide, there are snorkel tours available.
Take a cruise out to Kawau Island
Leaving from nearby Sandspit, the Kawau Island Super Cruise will follow the Royal Mail delivery route around Kawau. Did you know that was the longest watercraft mail run in the Southern Hemisphere?
Ideally, you'll enjoy bird and marine life before going ashore and visiting the Mansion House and some of the walking paths. There's even an ancient Māori Pa site and a seashore copper mine. Check for discounts on this great day out to Kawau.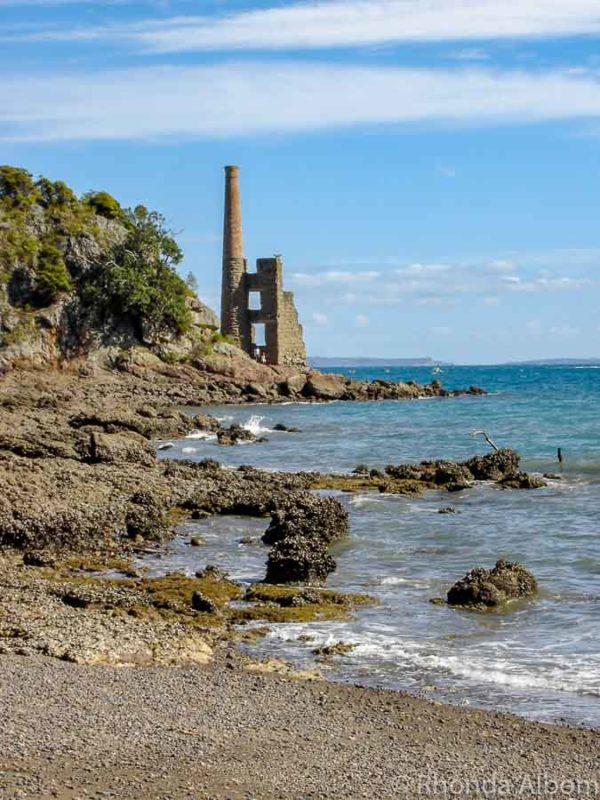 Save on your NZ trip with these resources
These are our go-to companies when we travel. We believe this list to be the best in each category. You can't go wrong using them on your trip too.
Check out our travel resources page for more companies that we use when you travel.
Save for later on Pinterest
If you enjoyed this article, please pin it or share it on social media.
What's your favourite of the things to do in Warkworth? Have you walked through Parry Kauri Park?
You might also like: