New Zealand's Bay of Islands holds the key to the country's history. Visitors and school children flock to the region as it is home to the Waitangi Treaty Grounds. This is where Māori chiefs and Britain's representatives signed the original document creating the New Zealand we know today. Locals come back year after year for the safe Bay of Islands beaches, stunning sunsets, hiking, water sports, and overall family-friendly attitude.
The Bay of Islands is located about 225 kilometres north of Auckland along the Pacific coast. It is an enclave containing 144 islands. The main towns in the region are Opua (the port of entry to New Zealand for boats), Paihia (where we stayed), Russell (New Zealand's first capital), and Kerikeri (home to New Zealand's first European settlement that was protected by Māori).
Top 10 Unique Things to Do in the Bay of Islands
1. Discover history at Waitangi Treaty Grounds
The birthplace of New Zealand, Waitangi Treaty Grounds is possibly the country's most important historic site. It was at this location in 1840 that native Māori and the British representatives signed the Treaty of Waitangi thus founding New Zealand.
Visitors can take a guided tour to understand the history, walk around the grounds, and get up close to several waka (canoes). Those who opt for the cultural show will be welcomed with a traditional greeting and enjoy a performance inside the carved meeting house. Finally, you won't want to miss the museum.
There is an optional hāngi, a traditional meal cooked using heated rocks buried in a pit oven. You'll want to allow at least two hours here. We usually spend half a day.

⇒ Check prices for Waitangi Treaty Grounds Day Pass
OR for a Waitangi Treaty Grounds Day Pass, Hāngi, and Concert
2. Take an early morning walk along the beach before the crowds wake up
Mist often settles across the water in the early morning, especially in the winter (when I took the shot just below). Typically, it burns off, resulting in a warm sunny afternoon. To our surprise, the dog walker on Paihia Beach was practically the only other person we saw on our early morning walk.
As the day progresses, the beach will fill with families, and while many children will swim, the winter water is way too cold for me.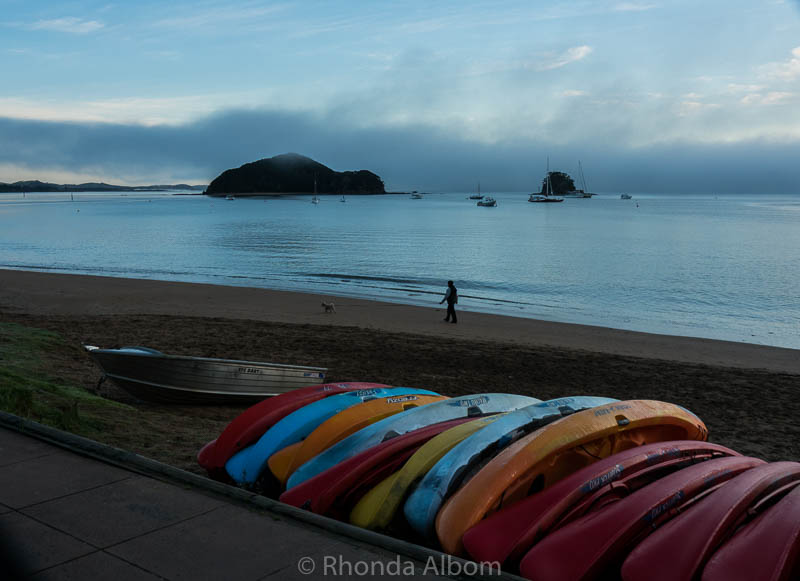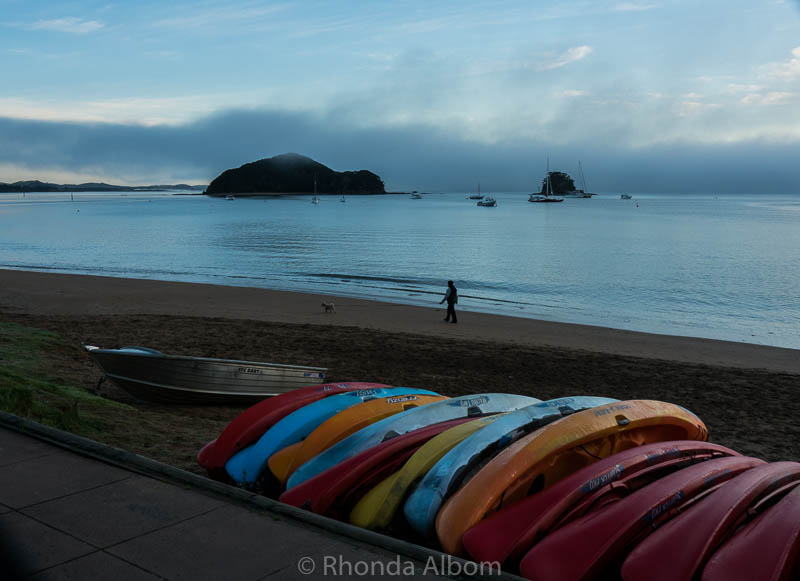 3. Get out on the water to the famous Hole in the Rock
A relaxing day cruise or heart-pounding speed, the choice is yours, but either way, you will want to get out to the famous "Hole in the Rock." Officially it is named Motu Kōkako in Te Reo Māori, or Piercy Island in English. It is at the northern tip of Cape Brett in the Bay of Islands.
Most of our friends and family who have visited headed out to Hole in the Rock. The exception being one unplanned summer visit that was sold out before we arrived.
⇒ Don't miss out. Check availability of a Cruise to the Hole in the Rock
4. Explore New Zealand's first settlement
Across the bay from Paihia is Russell. It's New Zealand's first capital, a 19th-century whaling town, and at one point in its history referred to as the Hell Hole of the Pacific. Today, historic Russell is a charming piece of New Zealand history. It's accessed either by passenger ferry from Paihia or car ferry from Opua.
Russell is an easy town to explore on foot, although it's best to pick up a map at the Paihia tourist information site before boarding the ferry as we have never been able to find one in Russell. A visit to Russell is one of my favourite Bay of Islands activities.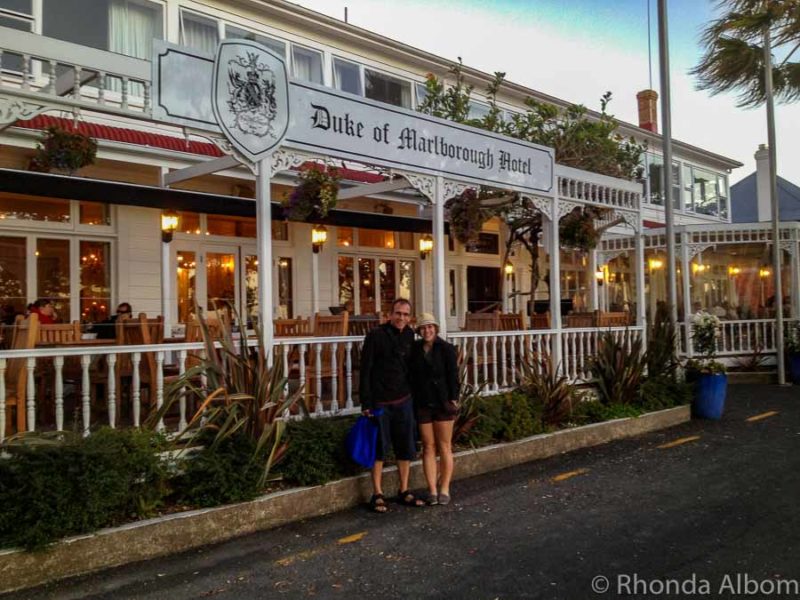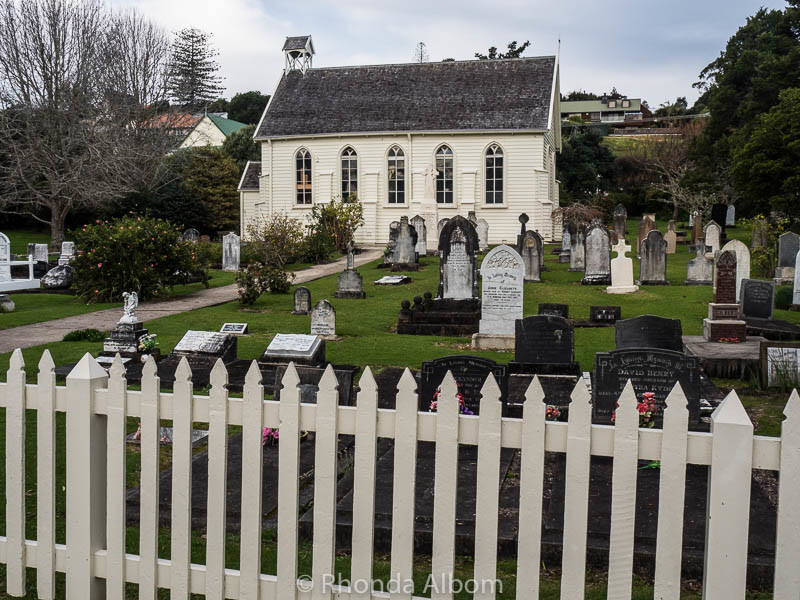 5. Use the facilities at the artistic Hundertwasser Toilets in Kawakawa
Toilets? Really? These are not just any toilets. Designed by internationally renowned artist, architect, and ecologist Fredrick Hundertwasser, this toilet block is the only Hundertwasser structure in the Southern Hemisphere. The small village of Kawakawa is located about 16 km south of Paihia and is usually our first stop before we roll into town. There is no charge for using the toilets.
6. Be adventurous: go parasailing, but don't swim with the dolphins
New Zealand is famous for extreme sports, and they are not just found in Rotorua or on the South Island. The list of active things to do in the Bay of Islands sometimes seems endless. However, one of the most popular just became illegal. People can no longer swim with wild dolphins in the Bay of Islands. Parasailing is one of the more popular active things to do in the Bay of Islands.
⇒Check price and reviews here.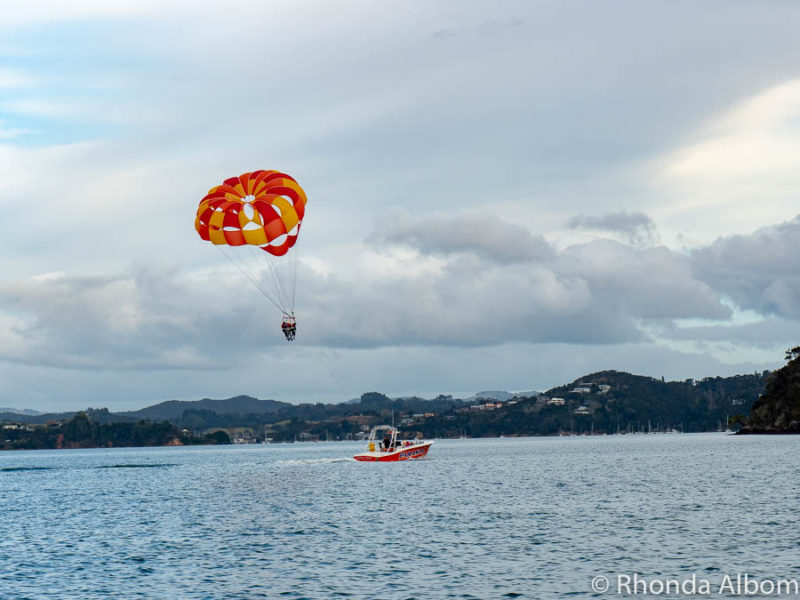 7. Enjoy breakfast, lunch, or dinner overlooking the sea
While the food is good, it is the views that keep us coming back to Zane Grey's Dock Restaurant & Bar right on the wharf. Of course, for an even closer view of the sea, we could choose a lunch cruise on a tall ship.
⇒ Check availability of a Tall Ship Lunch Cruise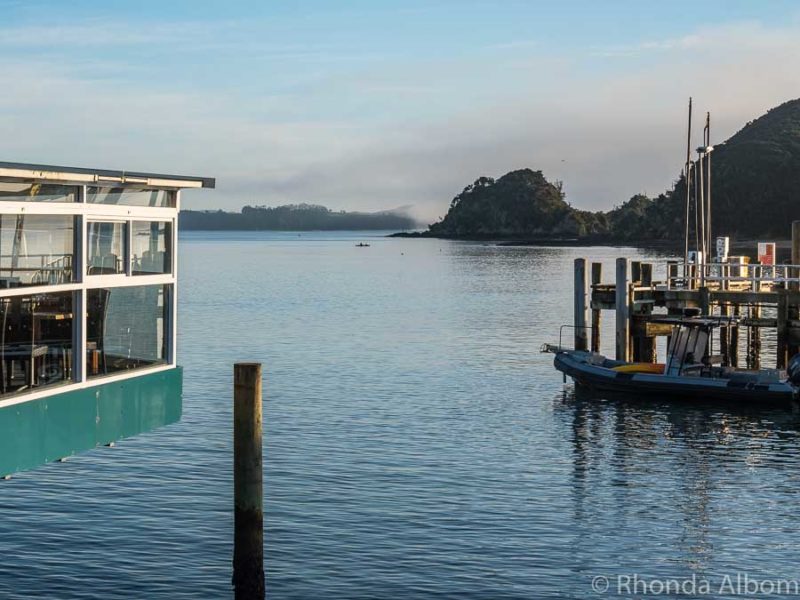 8. Hike to a very loud waterfall
There are four waterfalls that we generally stop at when we visit the region. Two are on the way from Auckland and the other two are in the Bay of Islands. They all offer the option of a bit of either hiking or taking a very short walk from the car park.
Haruru Falls is probably the most famous of the waterfalls, although it is the shortest. And, it is the loudest, Haruru translating to "big noise" in Maori. The falls popular for visiting, for kayaking below the falls, and as a swimming hole for those brave enough to jump in (be sure to ask a local to know where it is safe).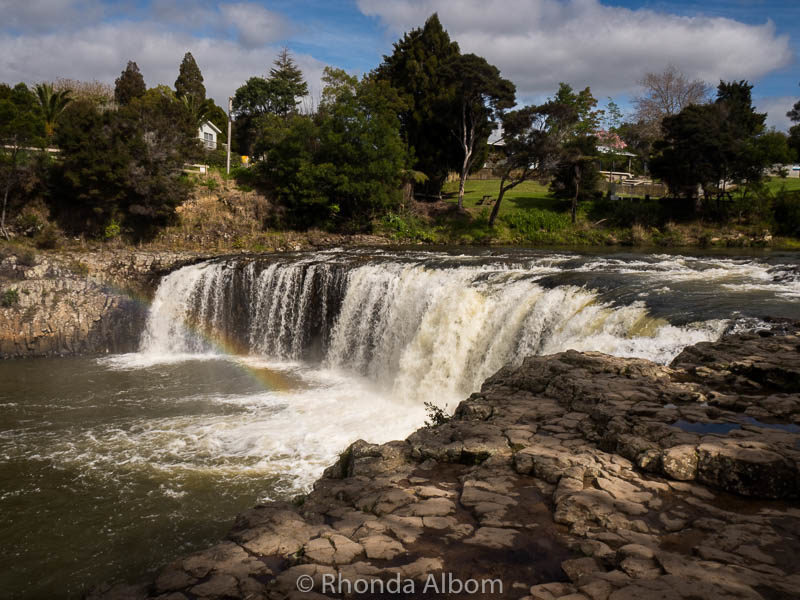 9. Shop in New Zealand's oldest stone building
New Zealand's oldest surviving stone building has been operating as a general store since the 1870s. It is part of the Kerikeri Mission Station established before the signing of the Treaty of Waitangi. It is New Zealand's first European settlement built under the protection of local Māori chiefs.
Shopping here is always fun as it offers an eclectic mix of modern and old. The second floor is a museum.
10. End the day with a fabulous Bay of Islands sunset
On our last visit, the deep golden colours of the sunset were nearly warm enough to allow us to forget it was winter in New Zealand. As we waited for the ferry from Russell, we looked out across the water to the west. This is the Bay of Islands sunset that captivated us: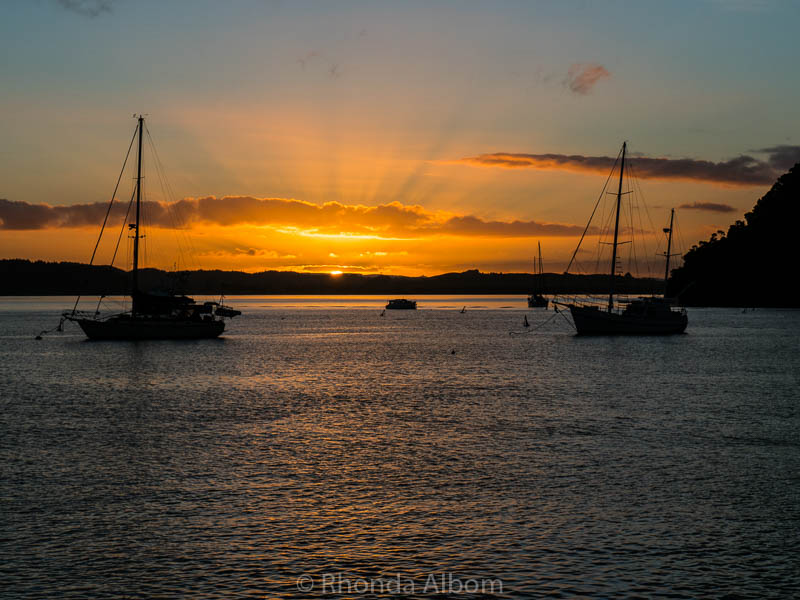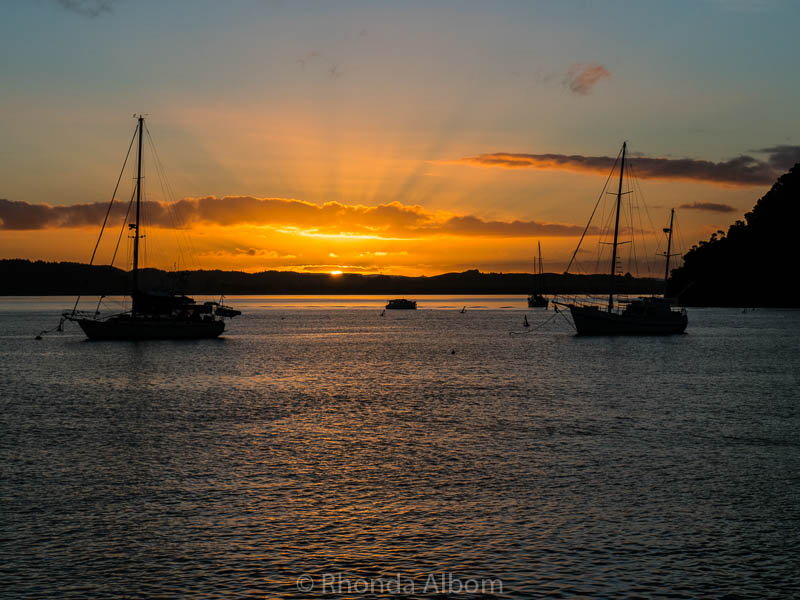 Where is the Bay of Island?
Bay of Islands Cruise Port
If you are arriving via cruise ship, you will be tendered into port as there is no dock large enough for a cruise ship in the Bay of Islands.
Where to stay in the Bay of Islands
We prefer to stay in Paihia as it is centrally located. Russell requires a ferry passage and is both more relaxed and more expensive, and Kerikeri is a bit farther, but still a good choice.
Bay of Islands Accommodations in Paihia New Zealand that we recommend:
Edgewater Palms Apartments: This is our favourite place to stay if we are travelling for multiple days. With sea views from every room, the spacious apartments have both a kitchen and laundry.  When we want to head out, it's only a five-minute walk to the Paihia wharf and beach, but more likely you will find us relaxing in the infinity pool.
⇒ Check pricing and reviews for Edgewater Palms Apartments
Kingsgate Hotel Autolodge: Another option with fabulous sea views, Kingsgate is even closer to the wharf and beach. They offer a swimming pool, hot tub and free bicycle usage, however, do not have laundry.
⇒ Check pricing and reviews for Kingsgate Hotel Autolodge
Allegra House: This is the option for people who prefer a more personal visit. This cosy bed and breakfast also offers spectacular sea views and is an eight-minute walk to the wharf and beach.  
⇒ Check pricing and reviews for Allegra House
Haka Lodge For the budget travellers, the Haka Lodge is a highly rated backpackers for when you need a quick and inexpensive place to stay.
⇒ Check pricing and reviews for Haka Lodge
Tour the Bay of Islands in a Day
Not the optimal way to do it, but if you only have one day, you can take an all-day highlights tour from Auckland. You will travel via coach from Auckland, spot dolphins from a catamaran, sail through the Hole in the Rock (weather permitting), have some free time to walk around Paihia, and then return to Auckland.
Or check out these other one day options from Auckland.
Save for later
If you enjoyed this article, please share it on social media and save it for later on Pinterest.
Final Thoughts
The Bay of Islands is one of many fascinating places to visit in the north of New Zealand. While it is frequently a destination on its own, if you are a visitor to New Zealand, you may want to consider our favourite Northland itinerary. It's a four to seven-day adventure with the first stop in the Bay of Islands.
Want more?
Sign up for our email newsletter and we will send you a free copy of our New Zealand packing light checklist
We invite you to join our New Zealand Facebook group at Explore NZ to ask questions, share photos, and discover tips.
First-time visitors to New Zealand: don't miss these New Zealand travel tips.
Active or passive, which of these things to do in the Bay of Islands calls to you?
You might also like: