Did you know that New Zealand has a world-famous loo? Imagine a frequently photographed toilet block that is actually a tourist attraction, and you have the Hundertwasser Toilets. Internationally acclaimed artist Friedensreich Hundertwasser designed the structure.
And, it remained the only Hundertwasser designed structure in the Southern Hemisphere for a long time. Or did it?
It's a long story, made short here. For years, all reports stated that this is it. The artist passed away shortly after the 1999 opening; therefore, there could be no more of his designs. So imagine my surprise to discover the Hundertwasser Pavilion for Nature.
And now there is more. In February 2022, the Hundertwasser Art Centre, Wairau Māori Art Gallery opened in Whangarei. Another structure designed by the master himself, it is a masterpiece worth the trip up north. Of course, you will find plenty of other cool things to do in Whangarei.
First, a bit about the man himself.
Who is Friedensreich Hundertwasser?
Friedensreich Hundertwasser was an Austrian-born, somewhat reclusive artist, architect, and ecologist. Born in 1928 as Friedrich Stowasser, he officially changed his name to Friedenscreich Regentag Dunkelbunt Hundertwasser at some point.
In the mid-1970s, he visited and ultimately moved to New Zealand, purchased a farm east of Kawakawa, and gained NZ citizenship. He designed and gifted a proposed second New Zealand flag design, which can be spotted in the mosaic work in the toilet block.
His contemporary art style features vivid, multi-coloured mosaic collages, integrated sculpture and glass, and undulating lines. It's fun and funky, and worth a stop to see.
See two of New Zealand's Hundertwasser buildings
Hundertwasser Toilets, New Zealand
There is no question about it, this Kawakawa toilet block is a work of art. It's also a working facility, with both a men's and women's side. To date, I have only entered the women's side.
It opened in 1999, shortly before the artist passed away, making it his final artistic project completed during his lifetime. On one visit (many years ago), there was actually an official Hundertwasser toilet guide.
Okay, so she carried disinfectant and a toilet brush, but she proudly exclaimed, "I am more than the woman who cleans, I am an official tour guide, who also happens to scrub toilets." She even showed us her badge, confirming that she was a representative of the Hundertwasser charitable trust.
A bit of history on the Hundertwasser toilets in Kawakawa
Christine confidently reported, "As a result of the untimely death of the artist in 2000, this building will remain the only Hundertwasser structure in the southern hemisphere, as well as being his final major project." And at that time, this was true.
She added a detailed history of the building, telling us that the local Bay of Islands College students prepared the ceramic tiles, the bricks were from a former Bank of New Zealand building, recycled bottles were used, and the construction was completed by community volunteers. Hundertwasser's ecological background is apparent on the structure's roof, which contains replanting of all vegetation removed for construction.
Christine concluded that these are considered to be the most photographed toilets in New Zealand, and possibly in the world.
It's all in the details:
Hundertwasser Pavilion for Nature
For years, I have written and talked about these famous toilets, always pointing out that they are the only Hundertwasser-designed structure in the southern hemisphere. Then, through a random course of events, we discovered this at Birkdale Intermediate School:
Even without the sign identifying it, the bright colours, undulating lines, and the inclusion of nature screams Hundertwasser. We slowed down but drove past the first time we saw it, as school was in session and there were children everywhere.
The good news is that on our return, we read the signage that welcomed us to take a closer look, and we took advantage of this. Thus, we share with you the second public structure of Hundertwasser design that is built in New Zealand.
The "Pavilion for Nature' is a Freidensreich Hundertwasser design released after his architectural design sketches. The design was dedicated to us by The Hundertwasser Non-Profit Foundation in Vienna, Austria. Built in 2014.

When the school is open you are welcome to come in and take a closer look. Our office has an information pamphlet should you wish to know more.
Apparently, I was the first to ask for this information in years. Here's a summary of what I learned about the structure:
Built after his death, it is based on Hundertwasser's architectural design sketches, and he even provided the name 'Pavilion for Nature'.
The key elements of the structure are the onion dome, the columns, and the planted roof. Each has significant meaning to Hundertwasser.
Under supervision, students participated in the creation, adding tiles for the mosaic designs and doing the planting. Hundertwasser had regularly used local creative input.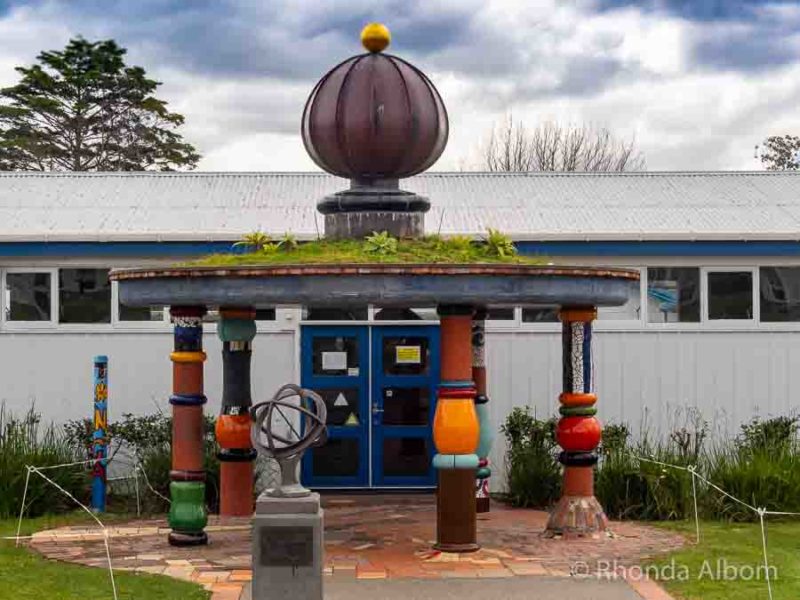 In Hundertwasser's own words
A few quotes from the artist, obtained from the school's literature:
"I think the onion shape means richness and happiness and wealth and opulence and fertility . . . it's a dream out of the Arabian Nights.

"Against the disease of the modern architecture of far overhanging canopies, balconies, and building proportions, we have only one remedy: columns . . . Next to a column one feels as under a tree. A column must be beautiful and colourful and shine in the rain and in the moonlight of its own accord. Each column is unique and does not resemble to another one."

"The true proportions in this world are the views to the stars and views down to the surface of the earth. Grass and vegetation in the city should grow on all horizontal spaces – that is to say, wherever rain and snow falls vegetation should grow, on the roads and on the roofs."
Hundertwasser Art Centre in Whangarei
The latest Hundertwasser structure in New Zealand was designed nearly 30 years ago and now sits proudly along the Whangarei waterfront. Despite construction delays (due to lockdown), the centre opened in early 2022.
Called the Hundertwasser Arts Centre, it is home to the Wairau Māori Art Gallery, New Zealand's only dedicated public Māori Art Gallery. It is also scheduled to have the southern hemisphere's largest rooftop garden.
Like the Pavilion for Nature, construction was overseen by the Hundertwasser Foundation, and by German architect Heinz Springmann, who personally collaborated with Hundertwasser on many past projects.
Visiting the Hundertwasser Toilets, Pavilion for Nature, or Hundertwasser Arts Centre
All three structures are available for public viewing, at least some of the time.
The Hundertwasser Toilets are easy to spot and well-signposted. They are located on Kawakawa's main road at 60 Gillies Street.
While you are in Kawakawa, take note of the railroad track. Kawakawa is the only New Zealand town to have a track running through the centre of town. It's a remnant of the coal mining days.
Visiting these toilets is one of the first stops on our around the top of the North island itinerary.
The Hundertwasser Pavilion for Nature is located on the grounds of the Birkdale Intermediate School at 200 Birkdale Road, Birkdale, Auckland.
According to the sign on the school gate about the pavilion, when the school is open, visitors are welcome to come in and take a closer look. We went a step further and tried to sign in at the office, but that wasn't necessary.
Whangarei's Hundertwasser Arts Centre is open daily from 10am to 5pm. However, the architectural structure is available for viewing anytime.
More about Hundertwasser
If you want to know more about the man, check out one of these books:
As an Amazon Associate and member of other affiliate programs, I earn from qualifying purchases.
Save on your NZ trip with these resources
These are our go-to companies when we travel. We believe this list to be the best in each category. You can't go wrong using them on your trip too.
Check out our travel resources page for more companies that we use when you travel.
*World Nomads provides travel insurance for travellers in over 100 countries. As an affiliate, we receive a fee when you get a quote from World Nomads using this link. We do not represent World Nomads. This is information only and not a recommendation to buy travel insurance.
Save for later
If you enjoyed this article, please share it on social media and save it for later on Pinterest.
Did you stop at the Hundertwasser Toilets?
Disclaimer: Thanks to the Birkdale Intermediate School for allowing me to share this information.