Did you know that there are dozens of Hibiscus Coast restaurants that offer substantial gluten-free options? If you, or someone you dine with, has coeliac disease, as do members of our family, it's critical to know which establishments can keep your food safe. And if gluten-free dining is your lifestyle choice, we've got you covered too.
Great news for gluten-free eaters – there are plenty of fabulous Hibiscus Coast restaurants that cater to food allergies and gluten-free dining, and they do it well.
The Hibiscus Coast is north of Auckland, encompassing Silverdale to Orewa, Hatfields Beach, and the Whangaparaoa Peninsula all the way to Shakespear Park. We are amongst over 52,000 Aucklanders who call this paradise our home.
We have it all, including heaps of Hibiscus Coast restaurants. They serve the full gambit, from cafes featuring great coffees, breakfasts and lunches to full-service all-day dining venues.
Hibiscus Coast restaurants that offer gluten-free cover an eclectic mix of tastes ranging from modern Kiwi fare to ethnic flavours from Asia, the Middle East, and Europe.
It's okay to clarify when a menu says gluten-free
While some people choose gluten-free as a lifestyle, those with coeliac disease eat this way to stay healthy.
Importantly, menus with gluten-free labels aren't always safe for everyone. People with coeliacs (estimated to be at least 1% of the population) have an autoimmune disease that is triggered by any tiny spec of gluten.
Therefore, for coeliacs, gluten-free requires an extra level of care to avoid cross-contamination, which most commonly occurs in food preparation.
A toaster used for wheat bread will contaminate gluten-free bread. A fryer used for flour-breaded items will contaminate the gluten-free chips. Even the shared use of a knife or spatula is enough to affect someone with coeliac disease.
We look for restaurants that offer coeliac-safe options. And while few restaurants can guarantee it, to date, we have eaten safely at all of the restaurants we personally recommend.
As we can't eat everywhere, we also added to our list restaurants that have been recommended to us.
We know our list is not exhaustive.
Hibiscus Coast restaurants we love in Orewa (that do gluten-free)
Cheek and Chong
Location: 348 Hibiscus Coast Highway, Orewa
Phone: 09 421 1123
Southeast Asian fusion at its best. Many of the menu items are naturally gluten-free, while others can be made GF. From the first time we ate here, Cheek and Chong took over as our favourite restaurant in Orewa. And we are not alone, so book ahead as they are quite popular.
Important note: rather than identifying the gluten-free dishes, they use a G to identify those that do contain gluten.
Keto by D
Location: 19/8 Moana Avenue, Orewa
Phone: 027 287 8409
Coeliac-friendly, Keto by D offers gluten-free and sugar-free goodness. Being keto-friendly, everything here is also low-carb. They have some dairy-free items. From savoury to sweet, it's perfect for mornings or afternoons.
GoodHub
Location: 326 Hibiscus Coast Highway, Orewa
Phone: 09 426 4238
GoodHub is a cafe along the main road featuring great coffee and plenty of gluten-free, vegan, and keto options on the menu. I am a big fan of the interesting gluten-free salads made fresh daily. Open early, they are great for breakfast, lunch, or snack time.
Little Lato
Location: Bakeaboo, 6 Moana Avenue, Orewa
Phone: 021 473 492
So many delicious gluten and dairy-free gelato favourites, I have trouble choosing. They always seem careful to avoid any cross-contamination, but the gelato tubs are all displayed in the same freezer, alongside those with gluten. To date, I have had no problems here, only happiness. When you visit, be sure to notice the awesome cakes on display, like nothing you have seen before.
Orewa restaurants recommended to us that we haven't tried yet
These Orewa restaurants have been recommended for this list by other gluten-free locals. As we personally try them, if we fall in love, they will move to the section just above.
Real Food Kitchen: Hillary Square, Orewa – Phone: 022 403 0492
With an owner having first-hand experience with coeliac disease, you know they go the extra mile to keep you safe.
The Tent Cafe: 10 Tamariki Avenue, Orewa – Phone: 09 426 8997
I am not sure why we haven't made it to this always-popular cafe yet. Some of the GF (or GF option) items identified on the menu include eggs benedict, pancakes, smashed avocado on hash browns, sweet corn fritters, omelettes, and egg dishes.
Kawau Bay Kitchen: A/316 Hibiscus Coast Highway, Orewa – Phone: 022 673 9388
Well known amongst coeliacs for their delicious food, they also have a completely gluten-free fryer.
Shoreward: 350 Hibiscus Coast Highway, Orewa – Phone: 09 222 3231
With a dedicated gluten-free fryer, GF pizza bases, and GF buns for their burgers, this gastrobar is the place to go to enjoy sporting events with your friends.
Coast – Bites & Brews: 342 Hibiscus Coast Highway, Orewa – Phone: 09 421 1016
A brewpub with several gluten-free items on the menu. They are a place to hang out with friends.
Oliver's: 340 Hibiscus Coast Highway, Orewa – Phone: 09 421 1156
A cafe building its reputation on great coffee with a variety of gluten-free breakfasts and lunches on the menu.
Dear Coasties: 9 Bakehouse Lane, Orewa – Phone: 09 427 5150
Although we haven't tried them yet, this cafe always seems crowded when we pass by. The menu includes several gluten-free options for both breakfast and lunch.
Hibiscus Coast restaurants in Silverdale that we love (that do gluten-free)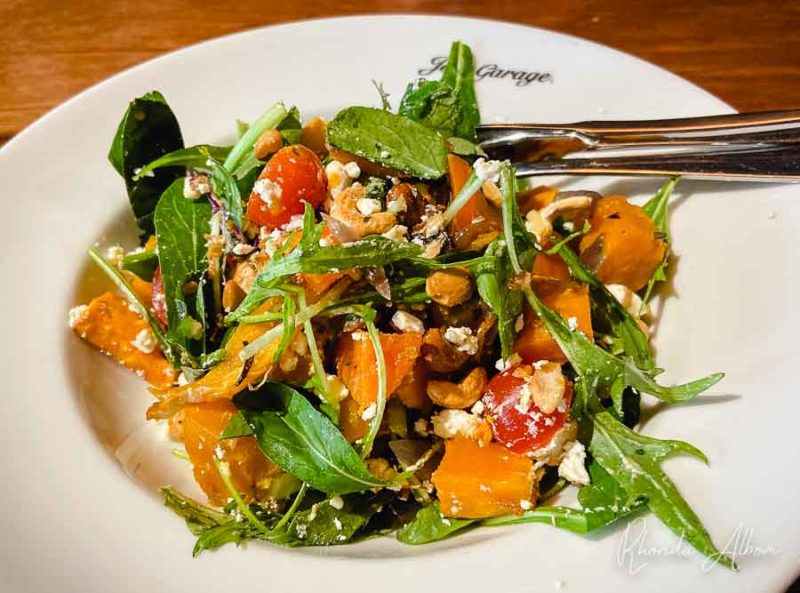 Joe's Garage
Location: 1 Alberto Lane, Silverdale
Phone: 09 869 2924
A new kid on the block, Joe's Garage has several locations throughout New Zealand. There are plenty of gluten-free options on the menu, and the food is well-presented and quite tasty. Everything they serve that goes into a fryer is gluten-free, leaving no room for mistakes.
Recommended to us – Silverdale restaurants we haven't tried yet
Charm Thai: 2 Milner Avenue, Silverdale – Phone: 09 426 2977
All the classic Thai dishes seem to be on this menu, with plenty of curries, noodle dishes, soups, salads and more identified as gluten-free.
The Coffee Club: 16 Wainui Rd, Silverdale Town Centre – Phone: 09 426 1440
Featuring gluten-free meals for breakfast and lunch, gluten-free carrot muffins, caramel slices, and gluten-free cookies. A favourite from the person who recommended it is the gluten-free rosti.
Coffee Club also has a location in Orewa at 2/7-9 Florence Avenue – Phone: 09 427 4126
Hibiscus Coast restaurants on Whangaparaoa Peninsula that we love (that do gluten-free)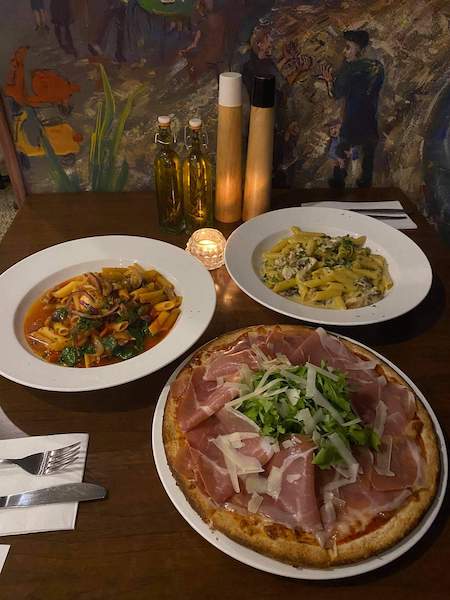 Two Spoons
Location: 1 Wade River Road, Arkles Bay
Phone: 09 428 7624
Bar none, Two Spoons is home to the best gluten and dairy-free brownie I have ever tried. Their double chocolate brownie is even loved by the non-restricted eaters in our family. It's just that good! And now it has a rival; their new (to me) chocolate raspberry brownie. It's not just for sweets, Two Spoons cafe also offers an array of delicious cafe options alongside wonderful coffee, but I am hooked on the brownie.
St Pierre's Sushi
Location: 4/651 Whangaparaoa Rd, Whangaparaoa
Phone: 09 424 0243
I only wish that all restaurants were as careful as St Pierre's sushi in Whangaparaoa. Tell them you are coeliac, and they go the extra mile to be sure there is no cross-contamination. They even have gluten-free soy sauce, if you ask for it.
Please note: We have personally been in several other St Pierre's Sushi locations in New Zealand that do not offer coeliac-safe options.
Hell Pizza
Location: 6/637 Whangaparaoa Rd, Stanmore Bay
Phone: 09 424 6660
If you thought your coeliac diagnosis meant you could no longer enjoy pizza, think again. Hell Pizza is not only the first fast-food chain in New Zealand to be certified by Coeliac New Zealand's Dining Out Programme, it's also great! They even seal the box with a "gluten-free" sticker, so you know they put in the extra care to get it right.
Manly Cafe
Location: 54 Rawhiti Road, Manly
Phone: 09 428 2211
Located in Manly village, this is our go-to spot for a local and tasty breakfast, brunch, or lunch. With a dedicated gluten-free area of the kitchen, even the coeliacs in our family feel safe eating here.
Big Tikka
Location: 570 Whangaparaoa Rd, Stanmore Bay
Phone: 021 264 0692
Flavourful traditional Indian cuisine with a modern twist, all of their curries are gluten-free, and the ones I have tried have all been delicious. More than just the food, the decor makes the whole experience fun.
Manly Bar and Grill
Location: 3/49 Rawhiti Road, Manly
Phone: 09 424 5423
Huge meals, perfectly prepared, and affordable prices are what I remember most from my last visit to Manly Bar and Grill. The menu ranges from pizza to steak, with lots of GF options. They even have two desserts that are gluten-free: the chocolate brownie and the crème brûlée (without the biscotti).
Burger Fuel
Location: 651 Whangaparaoa Rd, Whangaparaoa
Phone: 9 424 3333
Burger Fuel is gourmet fast-food burgers that I enjoy now just as much as I did before my diagnosis. More than just offering gluten-free buns, Burger Fuel takes extra care with preparation to avoid cross-contamination. Note that they do NOT have a dedicated fryer, so the chips are not coeliac-safe.
Burger Fuel also has a location at Unit G07, 16 Wainui Rd, Silverdale. – Phone: 09 421 0333
Peninsula restaurants recommended to us that we haven't tried yet
Due Amici
Location: 49 Rawhiti Road, Manly
Phone: 09 424 7201
Did you know there is a place for gluten-free pasta on the coast? This is exciting news to me, as we haven't been out to an Italian restaurant since our diagnosis. I have talked with the owners, and they are proud of the care they take to keep the pasta coeliac safe. In fact, all of their mains can be made gluten-free. I will add my first-hand report here soon, but for now, big thanks to the readers who recommended it be on the list.
Hello Manly
Location: 54 Rawhiti Road, Manly
Phone: 09 947 5213
Recommended by readers, I can't believe we haven't tried this all-day eatery, whose ethos is "no bad days".
Still want more?
Don't miss our list of 28 Gluten-Free Restaurants in Auckland and 20 Unique Restaurants in Auckland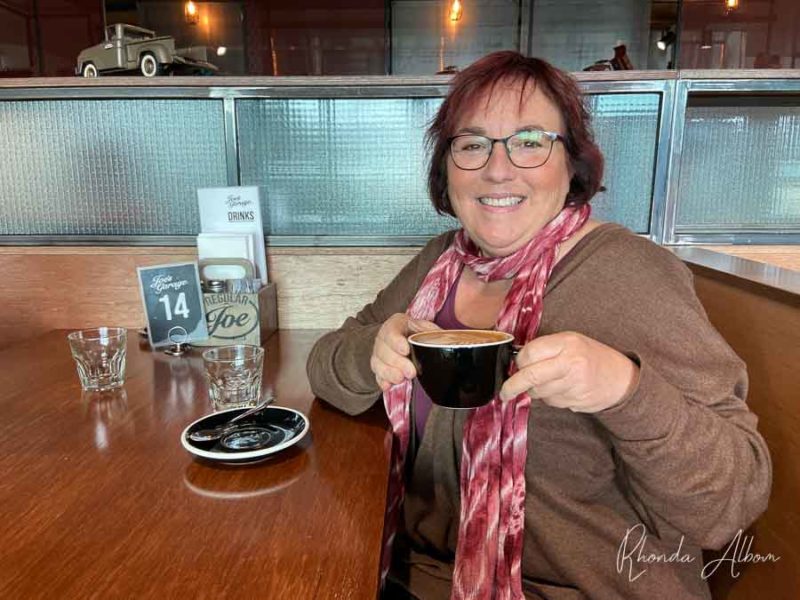 Practical information for dining gluten-free
If you have dietary requirements, it is okay to always ask as many questions as you need to feel safe about the food you order.
We not only tell our server of our dietary requirements, we always request to have gluten-free or coeliac written on our order, so the chefs are aware of the extra caution needed.
Things change. Confirm that your food will be coeliac-safe this time, even if you have ordered the same meal in the past.
More specifically, we always verify that anything fried is made in a dedicated gluten-free fryer. It only takes one gluten-coated item to cross-contaminate everything in a fryer. I also confirm that a gluten-free toaster is used if there is bread in my meal.
There is a Find Me Gluten Free app (free to download and use) to search for user-reviewed gluten-free options near you.
Coeliac New Zealand members may want to check out their Dining Out Guide.
If you didn't find what you were looking for here, check out the Coeliac Disease New Zealand Facebook group.
Keep your gluten-free lifestyle everywhere with these tips to make your own kitchen gluten-free.
How to get dining deals in Auckland
Before you go, check bookme for discounts on heaps of cool Auckland restaurants. This page of dining deals will have something for everyone.
Save for later on Pinterest
If you enjoyed this article, please share it on social media and save it for later on Pinterest until you are hungry.
Which Hibiscus Coast restaurants are your favourites for gluten-free meals?
More from Hibiscus Coast and the North Shore you might like:
Photo Credits:
All photos on this page are copyrighted and protected. Most were shot by either Rhonda Albom or Jeff Albom, except as follows:
Due Amici: Photo of three gluten-free meals supplied by Due Amici. Used with written permission.
Hell Pizza: Photo of three gluten-free pizzas supplied by Hell Pizza. Used with written permission.
Disclaimer: The information provided above is true and accurate at the time we wrote it and is all based on personal experience. We encourage you to always ask about your own meals every time.