Initially, we created this list of gluten-free restaurants in Auckland for ourselves years ago, after a diagnosis of coeliac disease and the instant need for a gluten-free diet. Over the years, we have refined our list, removing places that failed us, and adding recommendations from other coeliacs. What you see below is a collaborative effort to find the best gluten-free Auckland dining options.
Dietary restrictions are never fun. Food often dominates social events, and eating out is a big part of everyday life. That's why we put together this list of safe places to eat if you are looking for gluten-free restaurants in Auckland.
If you have coeliac disease or are gluten-free, we know first-hand the challenge you face every time you want to eat out.
Thankfully, we have been doing it for a while now and have found plenty of gluten-free restaurants in Auckland, or at least those with gluten-free options.
Always verify it's fully gluten-free
Importantly, and something we only learned over the past few years, just because a menu says gluten-free doesn't necessarily mean it's safe for people with coeliac disease.
There are lots of contributing factors, most of which can be summed up in the term "cross-contamination" (that speck, or more of gluten that got into our gluten-free food).
It most commonly happens in food preparation. A toaster used for wheat bread will contaminate gluten-free bread. A fryer used for flour-breaded items will contaminate the gluten-free chips. Even the shared use of a knife or spatula is enough to affect someone with coeliac disease.
Therefore, finding gluten-free restaurants in Auckland, or ones that offer gluten-free options, is essential for our health and safety.
We know our list is not exhaustive, but rather it represents what we believe are the best options.
What is it really like having coeliac disease?
If you want to understand what it's like to live as a coeliac, check out this short documentary by Sarah Albom in association with Coeliac New Zealand.
Don't Pass the Bread follows several people with coeliac disease and how their lives have been impacted since getting diagnosed with the gluten-based autoimmune disease.
Gluten-free restaurants in Auckland city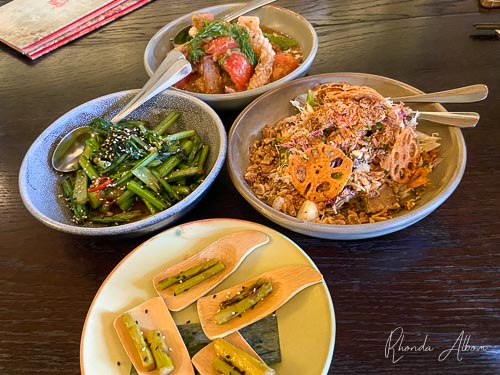 Masu
Location: 90 Federal Street, Auckland CBD
Phone: 09 363 6278
Dedicated Gluten-free menu
Masu is not only our favourite Japanese restaurant, but it's also listed amongst the top 10% of restaurants worldwide in the 2020 TripAdvisor Traveller's Choice Awards. They offer a separate gluten-free menu, and the staff has a clear understanding of coeliacs and dietary requirements. Best of all, the food is outstanding, the service impeccable, and it's one of my favourite gluten-free restaurants in Auckland, especially for special occasions.

Mezze Bar
Location: 9 Durham Street East, Auckland CBD
Phone: 09 307 2029
Dedicated Gluten-free menu
Imagine espresso, Mediterranean tapas, and wine in a casual setting, and you have Mezze Bar. Offering generous portions made for sharing, they have an extensive gluten-free menu. Personally, I love their patatas bravas (photo above). They can't guarantee zero cross-contamination, but to date, we have had no issues.

Good Luck Coconut
Location: 39 Jellicoe St., Wynyard Quarter
Phone: 09 303 0440
Gluten-free identified on the menu
We were so excited when we stumbled upon Good Luck Coconut in Wynard Quarter. Their cuisine is a mix of Pacific Asian delights. And the menu is filled with so many gluten and dairy-free options we still haven't tried them all. Delicious food and management that cares not only about the food but also about sustainability make this a winner.

Cafe Hanoi
Location: 2Tuawhiti Lane, 7 Galway Street, Britomart
Phone: 09 302 3478
Gluten-free items available
Cafe Hanoi is delicious street-inspired Vietnamese meals, the majority of which can be made coeliac safe. The menu is filled with gluten-free, nut-free, dairy-free, and vegan options intermixed with a bit of everything Vietnamese. As the meals are made for sharing, and we often have multiple servers, we clarify often that everything must be coeliac safe. Note: None of the tofu dishes can be made coeliac safe.

Federal Delicatessen
Location: 86 Federal Street, Auckland CBD
Phone: 021 905 345

Gluten-free items available
Nicknamed "The Fed," New Zealand's version of a classic New York Jewish-style deli has been a favourite long before we were diagnosed. After hearing they could do gluten-free well, we gave them a try and were pleasantly surprised despite the limited number of GF options. While they don't have a dedicated gluten-free menu, the staff is well aware of what can be made coeliac safe vs what is just gluten-free with possible traces. To date, we have had no issue with cross-contamination.

Mexican Cafe
Location: 67 Victoria Street West, Auckland CBD
Phone: 09 373 2311
Dedicated Gluten-free menu
Our favourite American-style Mexican food in Auckland now has a dedicated gluten-free menu. We haven't tried them since our diagnosis. Salsa fans flock here on Friday nights after 10.30 pm when the tables push back, and the dancing begins.

Sugar Club or Orbit 360º
Location: 72 Victoria Street West, Sky Tower, Auckland CBD
Phone: Sugar Club: 09 363 6365; Orbit: 0800 759 2489
Gluten-free identified on the menu
If you want to impress your date or just enjoy the city view, dine high up in the Sky Tower. Choose either Sugar Club (level 53) for a high-end dinner or Orbit 360º (level 52) to enjoy New Zealand's only rotating restaurant. Both restaurants offer gluten-free and vegan options.

Tony's Original Steak and Seafood Restaurant
Location: 27 Wellesley Street West, Auckland City
Phone: 09 373 4196
Dedicated Gluten-free menu
As the name implies, Tony's serves steak and seafood with a European flair. While I haven't personally been here, they do offer a gluten-free menu, and we have been told by several coeliac friends that the food comes out flagged as gluten-free.

Gluten-free restaurants in Auckland: Ponsonby / Grey Lynn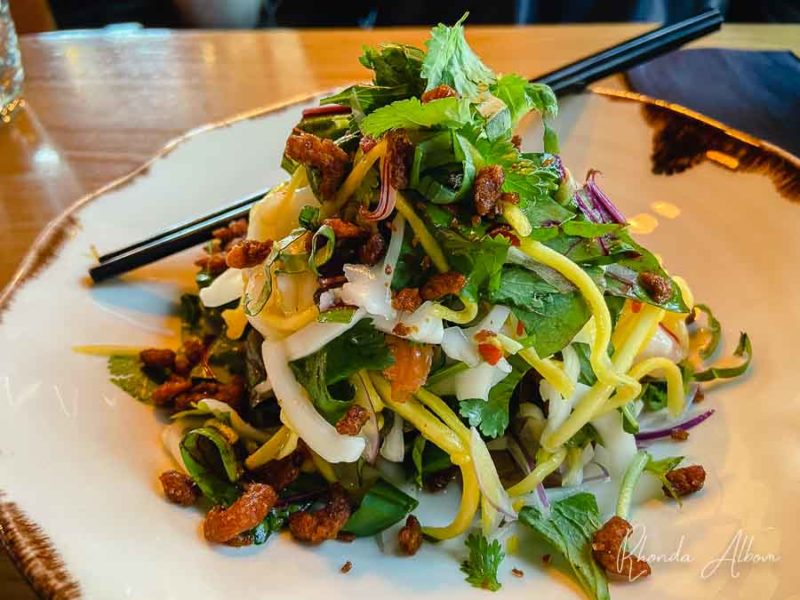 Taco Medic
Location: Shop 1, 130 Ponsonby Road, Grey Lynn
Phone: 09 883 3078
Taco Medic is New Zealand's 1st craft taqueria, inspired by Mexico, born in Queenstown and now in Auckland! While we haven't tried it personally yet, we have heard great things. They craft traditional tortillas by hand every day and fill them with the best ingredients New Zealand has to offer, from land to sea.
Blue Breeze Inn
Location: 146 Ponsonby Road, Ponsonby Central, Ponsonby
Phone: 09 360 0303
Gluten-free items available
Modern Pacific Thai food with surprisingly large portions made for sharing. Gluten-free, as well as spicy, hot spicy, and longer prep time are all identified on the menu.

El Sizzling Chorizo
Location: 136/138 Ponsonby Road, Ponsonby Central, Ponsonby
Phone: 09 378 0119
Gluten-free items available
If you have been to South America, you're probably familiar with asado, that slow-cooked Argentinian barbecue resulting in meat so tender, it is no surprise that El Sizzling Chorizo is often crowded. They can do most meals gluten-free, and we have watched them carefully use separate tongs to turn our meat.

Olas Arepas
Location: 136 Ponsonby Road, Ponsonby Central, Ponsonby
Phone: 0210 233 7695
Also, in Ponsonby Central, they are specialists in Venezuelan-style arepas. Made from white corn, arepas are fresh, healthy and 100% gluten-free. If you haven't tried one, prepare to find a new favourite meal and it will quickly become one of your favourite gluten-free restaurants in Auckland.

Mekong Baby
Location: 262 Ponsonby Road, Ponsonby
Phone: 09 360 1113
Gluten-free identified on the menu
Southeast Asian flavours dominate this menu loaded with gluten-free options. Made for sharing, the wait staff seemed pretty on to it, and clear about what could also be made dairy-free. The menu identifies spicy items, so if you want a mild meal, avoid these.

Gluten-free restaurants in Auckland: Mt Eden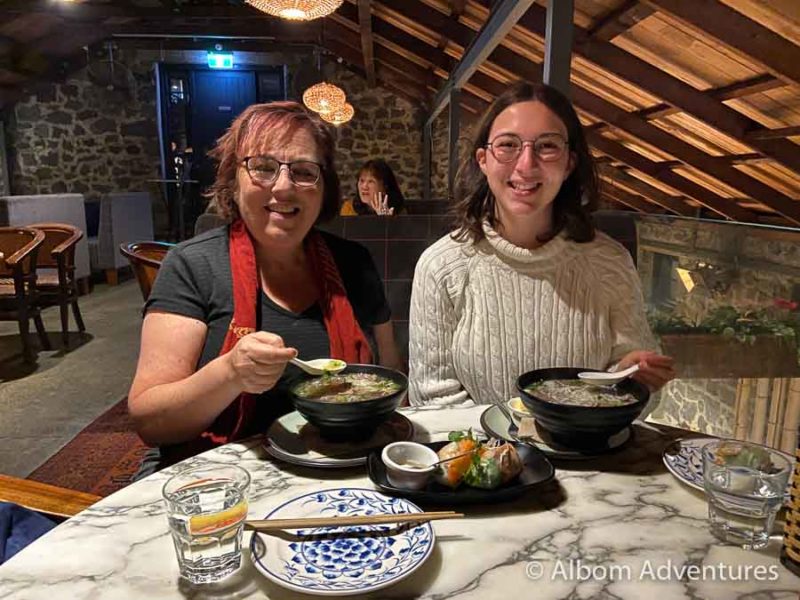 Sen Vietnamese Kitchen & Bar
Location: 26 Normanby Road, Mount Eden
Phone: 09 630 5790
Gluten-free items available
Sen is our new favourite gluten-free restaurant in Auckland for dinner. Featuring Vietnamese street food, nearly everything on the menu is gluten-free. The staff is very aware of the coeliac difference and can advise the few items that cannot be made coeliac safe (they have only one fryer). We frequently order the main size of the pho (photo above), an item listed on the menu only as an entree.

Frasers
Location: 434 Mount Eden Rd, Mount Eden
Phone: 09 600 2685
Gluten-free items available
Frasers only offer a few gluten-free items on the menu. If it's early, I get the breakfast bowl; at lunchtime, I choose a Caesar salad without croutons (the chicken paleo salad is photographed, but it's off the current menu); and, at dinner, I get an eye filet. Be sure to get an almond milk latte, as I think it's one of the best in the city, and it goes great with gluten-free orange cake.

Gluten-free restaurants in Auckland: Other neighbourhoods
The Attic (New Lynn)
Location: 3 Totara Avenue
Phone: 09 521 0000
Approved by Coeliac New Zealand
Gluten-free items identified on the menu
A 100% family-owned and operated restaurant approved by Coeliac New Zealand, I have wanted to eat here since we first heard about it. Finally, on Mother's Day this year, I had a perfectly prepared plate of ribs, chips, and coleslaw (photo above), all coeliac safe and made with New Zealand free-range produce. A special night, it was a preset menu. I can't wait to get back and try some of the other options.
The Chip Shop (Royal Oak)
Location: 711 Manukau Road, Royal Oak
Phone: 09 625 3833
Dedicated Gluten-free menu
Dedicated Gluten-free fryer
Fish and chips are amongst the delightful treats I thought I would have to sacrifice forever with a diagnosis that keeps me gluten-free. Not true. The Chip Shop in Royal Oak does coeliac safe take away in a dedicated GF fryer. They also do seafood and several vegetarian fritters. As a bonus, they are loved even by the normal eaters in our family.

The Chosen Bun (Stonefields)
Location: 40 Stonefields Ave, Stonefields
Phone: 09 218 8239
Gluten-free menu
Gluten-free items identified on the menu
Who would have thought there would be so many options for tasty burgers once I was gluten-free? The Chosen Bun makes everything from scratch. As a result, they have great control over their ingredients and processes. Plus, they have a strictly gluten-free fryer.

Gluten-free desserts in Auckland
Sometimes it's not the meal we are looking for, but rather that gluten-free sweet finish.
We have four favourites, and interestingly, they all serve ice cream, each offering gluten and dairy-free options.
None offer bookings. Just show up, order, and enjoy.
Giapo
Location: 12 Gore Street, Auckland CBD
Phone: 021 412 402
What can I say about Giapo? This is it, the pinnacle of ice cream shops, and if outstanding service, delicate flavours, and world-famous status aren't enough, Giapo is 100% gluten-free. Taking ice cream eating to new levels, Giapo also features dairy-free and vegan options. Importantly, the staff is super attentive to allergies.
Duck Island
Three Locations in Auckland:
1/182 Ponsonby Road, Ponsonby
Shop 8 / 2-8 Osborne Lane, Newmarket
Shop 67-73 Hurstmere Road, Takapuna
Another handcrafted ice cream shop that is well-known amongst the coeliac crowd. They offer plenty of gluten-free flavours, although they rotate which ones are in the cabinet on any given day. Their extensive range of vegan (dairy-free) options are made with coconut milk.
Gilatiamo
Location: 1-17, Jellicoe Street, Auckland CBD
Phone: 09 373 2686
Gluten-free in a separate case
For us, no visit to Wynard Quarter is complete without a gelato from Gilatiamo. They keep the gluten-free options in a separate case (photo above), and carefully use dedicated serving utensils to prevent any cross-contamination.
Ben and Jerry's
Three Auckland locations:
160 Ponsonby Road, Ponsonby
286 Mount, Mount Wellington
7 Queen Street, Commercial Bay
This is the classic Vermont ice cream, famous in the USA. We have only been in the Ponsonby location, and they always go the extra mile to protect against cross-contamination. Once they know of my restrictions, they sterilize the tools, then remove the top several centimetres of ice cream to serve from the untouched section of the tub.
Gluten-free: Auckland takeaways with multiple locations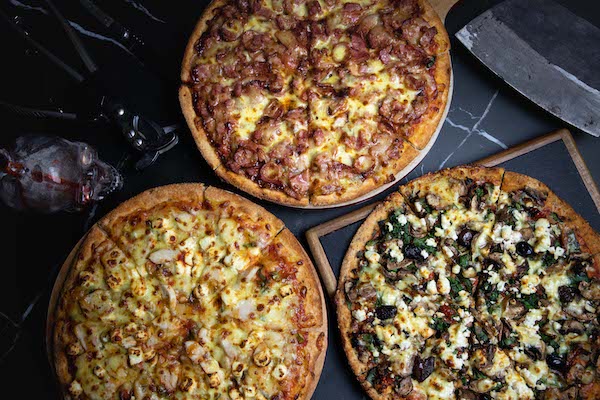 Hell's Pizza
If you thought gluten-free meant never having a good pizza again, you are wrong. Hell Pizza will change your views forever. Even their gluten and dairy-free pizza is tasty. They are the first fast-food chain in New Zealand to be certified by Coeliac New Zealand's Dining Out Programme.
St. Pierre's Sushi
They understand coeliac safety, always changing to fresh gloves and a new workspace when I walk in. We generally eat at the Whangaparaoa location. They even offer me gluten-free soy sauce that is stored separately. Please note: not all St. Pierres locations offer coeliac-safe gluten-free food, so be sure to ask and be satisfied with the answer.
Burger Fuel
Burger Fuel is gourmet fast-food burgers that I enjoy now just as much as I did before my diagnosis. More than just offering gluten-free buns, Burger Fuel takes extra care with preparation to avoid cross-contamination. Note that they do NOT have a dedicated fryer, so the chips are not coeliac safe.
Pita Pit
Another fast-food option that fully understands how to prepare a GF meal. Pita Pit has gluten-free pita bread and usually does a great job avoiding cross-contamination. The one time they messed up, my daughter got a phone call apologizing, along with an assurance of retraining.
How to get dining deals in Auckland
Before you go, check Bookme for discounts on heaps of cool Auckland restaurants. This page of dining deals will have something for everyone.
Practical information for eating at gluten-free restaurants in Auckland or anywhere
Always ask questions, as many as you need to feel safe about your meal.
Even if the menu stipulates gluten-free, be sure to tell the server of your dietary requirements and always request to have gluten-free or coeliac written on your order to the kitchen.
To avoid cross-contamination, verify that they have a separate gluten-free fryer if you are ordering anything fried. Similarly, if your meal has toast, you will want to confirm that a gluten-free toaster is used.
Things change. Confirm that your food will be coeliac-safe this time, even if you have ordered the same meal in the past.
There is a Find Me Gluten Free app (free to download and use) to search for user-reviewed gluten-free restaurants in Auckland.
If you are a member of Coeliac New Zealand, check out their Dining Out Guide.
If you didn't find what you were looking for here, check out the Coeliac Disease New Zealand Facebook group.
Although it didn't really fit anywhere above, I wanted to mention that the Auckland Harbour Dinner Cruise offers a gluten-free option.
If you're staying in, here are tips to make your own kitchen gluten-free.
Heading over the bridge? Don't miss these gluten-free restaurants on the Hibiscus Coast.
Save on your NZ trip with these resources
These are our go-to companies when we travel. We believe this list to be the best in each category. You can't go wrong using them on your trip too.
Flights: we use Expedia for the best and cheapest flight options.
Accommodations: we use Booking.com (hotels), Bookabach (self-contained in NZ) or Hostelworld (budget).
Cars (gas or electric): we use RentalCars to search for deals and dealer ratings.
Motorcycles: we have heard good things about BikesBooking.
Campervans or Motorhomes: we use Campstar where Albom Adventures readers get a 3% discount.
Activity discounts: we check Bookme.com for discounts of up to 70% on activities.
Private guides: we love the private guides at Tours by Locals.
Travel Insurance: while not required, we always opt for travel insurance and start at InsureMyTrip to compare coverage plans.
Check out our travel resources page for more companies that we use when you travel.
Save for later on Pinterest
If you enjoyed this article, please share it on social media and save it for later on Pinterest until you are hungry.
Where will you eat gluten-free in Auckland?
More from Auckland you might like:
Disclaimer: The information provided above is true and accurate at the time we wrote it and is all based on personal experience. We encourage you to always ask about your own meals every time.